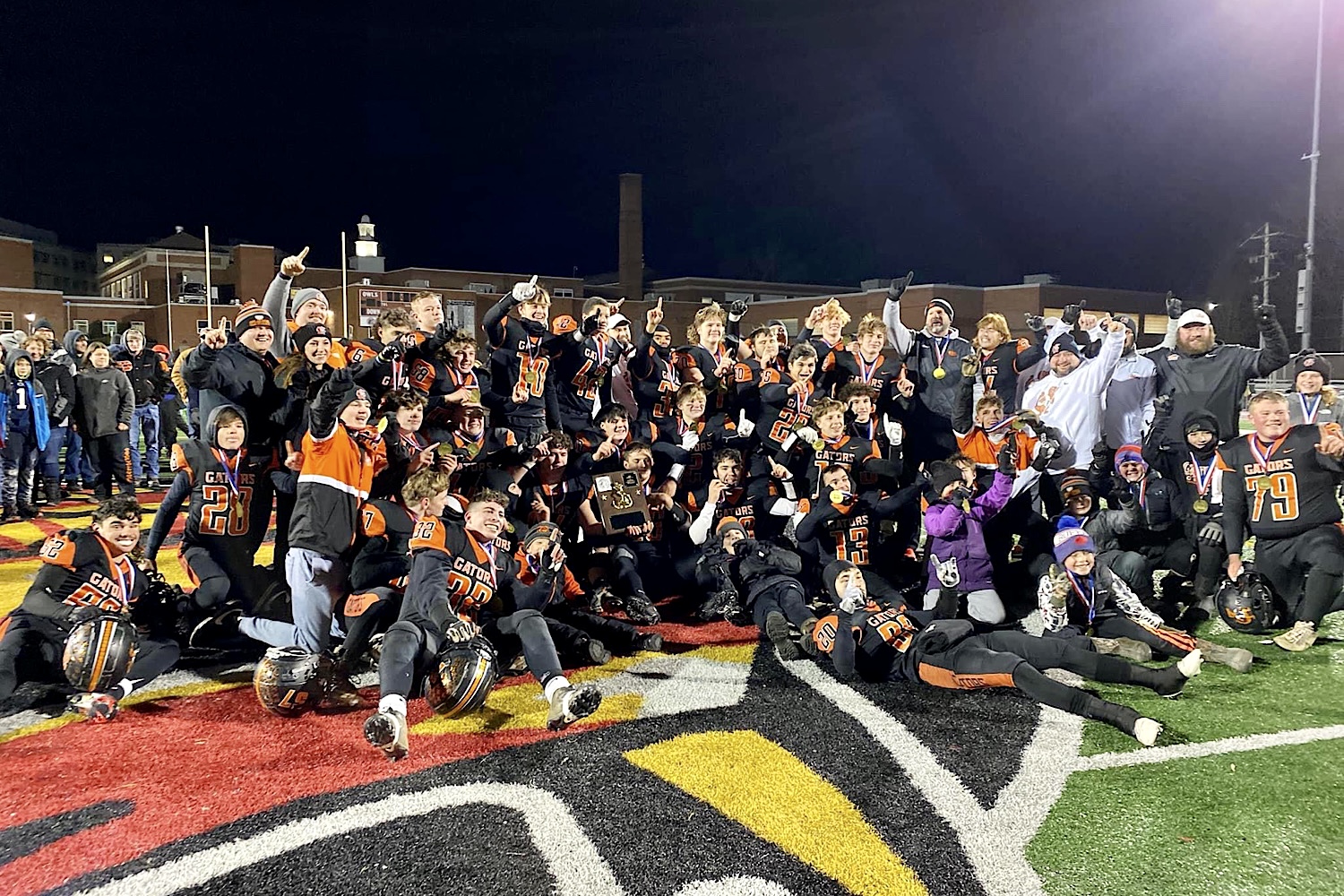 PORT ALLEGANY, Pa. (EYT/D9) — Long before the turkey is golden brown, long before the gravy flows and the pumpkin pie is served, members of the Port Allegany football team will be practicing on their home field.
That comes with a proud distinction.
It means the Gators are still alive in the postseason.
It's been a decade since a Port Allegany football team has put on the helmets and shoulder pads for a Thanksgiving Day practice.
It's special and Port coach Justin Bienkowski wants to make sure his team knows it.
"It's just an anomaly to have the holidays get involved with your football," Bienkowski said. "It's interesting to schedule your practice around our team's family plans. We're going to practice tomorrow morning and we can't wait. It's going to be fun. Back in 2010, '11 and '12, when we went to the district championship three times in a row, we had to practice on Thanksgiving and our head coach back in the day always made it a point to make it something special. We'll get our work in and then we'll have some personal-type activities and conversations that makes football really, really special, especially during the incredible year we've had so far."
But business will be done, too, on Thanksgiving morning. There's a PIAA Class A football playoff game to prepare for and the opponent is formidable.
Reynolds (11-1), which has won three straight District 10 championships, will take on the Gators at 7 p.m. on Friday night at Bradford.
The Raiders have steamrolled just about everyone they have played this season.
Reynolds put up 64 points on Maplewood in September and 78 against Saegertown in October.
On Saturday, the Raiders beat Eisenhower 28-14, to win the district title.
There's no mystery what Reynolds likes to do or who it likes to punish teams with.
Jalen Wagner, a 6-foot-1, 190-pound senior running back, has rushed for 2,698 yards and 37 touchdowns this season.
"He's big and athletic," Bienkowski said of Wagner. "One of our football assistant coaches is a wrestling coach and he enlightened us about how Reynolds wrestling is Reynolds wrestling and that Wagner kid is a wrestler and a pretty good one. He's a heck of a football player, too."
Reynolds also has a standout quarterback in senior Brayden McCloskey, who has passed for 1,669 yards and 15 TDs and rushed for 372 yards and eight more scores.
"He'll lower the boom when he runs," Bienkowski said of McCloskey. "You better be ready to tackle low. He'll certainly make you feel him."
Reynolds has also shown a penchant for the big play in the passing game. Haydin McLaughlin has 823 yards and just 21 receptions and 10 touchdowns for the Raiders.
"Their physicality jumps off the tape as soon as you turn it on," Bienkowski said. "You can tell they are well-coached up front. They have very physical linemen and they are moving all over the place — they're not just entrenched in that hole. They're pulling and getting out in space.
"They are the three-time District 10 Class A champions for a reason," the coach added. "They're not the new guy on the block. We're the young pup trying to earn some street cred and being worthy of being talked about."
Port's profile is certainly on the rise this season.
The Gators (11-1) have gotten it done with their own physical play on both sides of the ball.
Senior Blaine Moses has bulled his way to 988 yards and 18 touchdowns this season. Shifty Noah Archer has added 869 yards and 11 scores and quarterback Drew Evens has thrown for 1,189 yards and nine TDs and rushed for 469 yards and five touchdowns.
Port is also stout on defense — especially against the run — giving up fewer than 10 points per game.
Only two running backs have cracked 100 yards against the Gators this season — Kyle Nellis of Keystone and Jendy Cuello of Brockway.
"We pride ourselves on that," Bienkowski said. "We want to make them work for it. We want them to earn every yard."
Reynolds is also strong defensively. The Raiders have yielded just 1,150 yards on the ground and a 3.5 yards-per-carry average.
Meanwhile Reynolds is averaging 9.4 yards per rushing attempt.
It'll be strength on strength.
"I've coached in the state playoffs before and sometimes you think, 'Holy crap, we're aren't set for this,'" Bienkowski said. "But our team is built for November. And so is Reynolds. They are built for it, too. I know neither of us are ready to hang it up yet.
"Us winning this football game, just like they are gonna say, means seven more days with our kids," Bienkowski added. "The group of human beings that we get to coach are phenomenal. We're not ready to be done. We're not ready to watch them play basketball or get on the wrestling mat just yet."