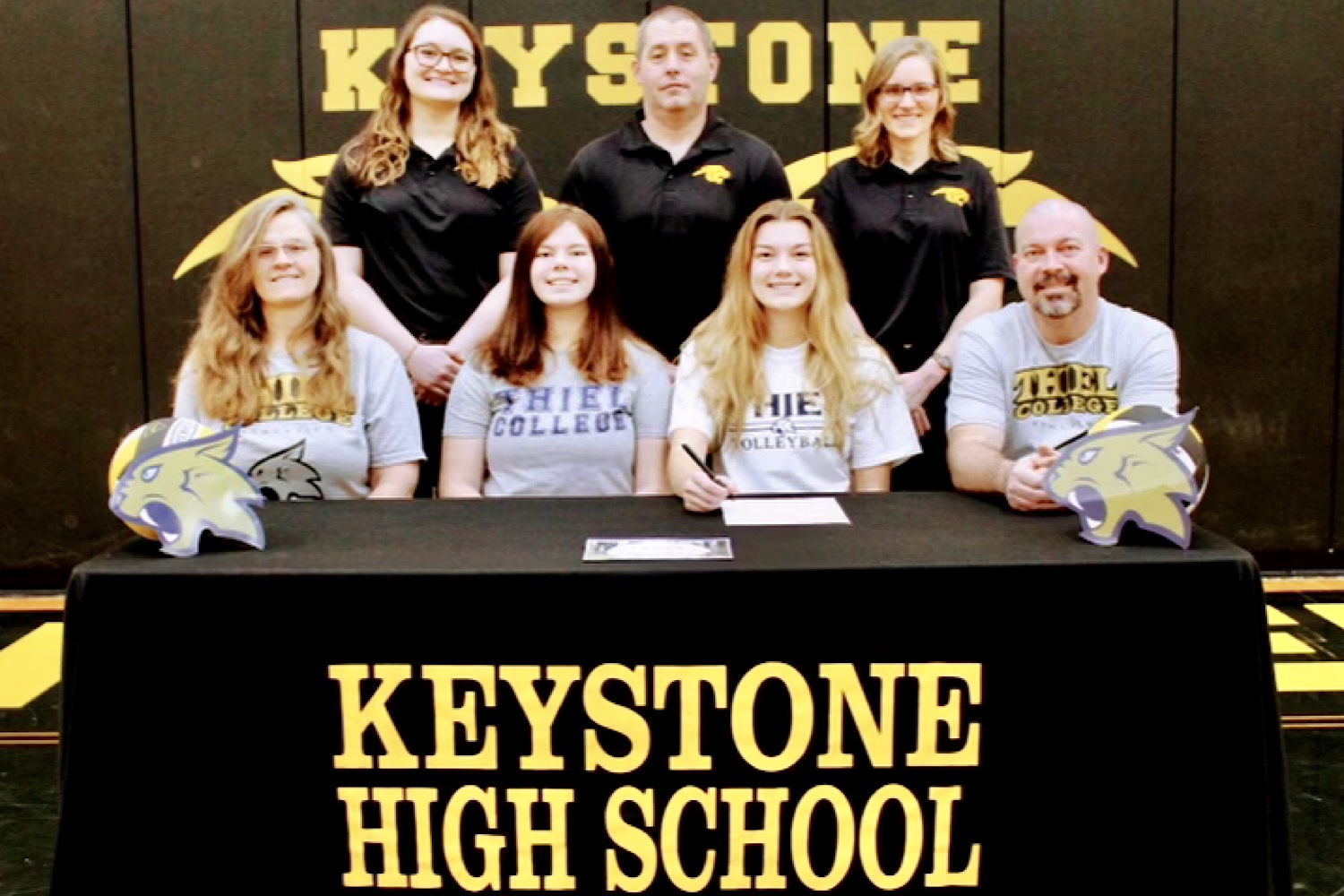 KNOX, Pa. (EYT/D9) — Sydney Bell marvels at how quickly things can change.
Momentum on the volleyball court. Momentum in life, too. How things can appear to carry you in one direction as if caught in an eddy, only to cast you onto an unexpected shore.
For Bell, that atoll is college volleyball.
It wasn't long ago when Bell, a senior at Keystone High School, figured her career making blocks and slamming down kills would be finished after her final season with the Panthers.
But fate — and an unfortunate injury — intervened.
(Pictured above, Keystone senior Sydney Bell, pen in hand, signs to play volleyball at Thiel. With her in the front row, from left, are her mother Carol, sister Jerzey and father Chad. Standing behind her are, from left, junior high head volleyball coach and high school assistant coach Ashley Custer, head varsity coach Bryan Mong and varsity assistant coach Hope Mays.)
"I wasn't going to play in college," Bell said. "I think having my ankle injury, it's like giving me another chance to play."
It wasn't your run-of-the-mill ankle twist. It was far worse — a break at the very bottom of her tibia. Pieces of bone were splintering off.
All the while, Bell battled and turned in a solid senior campaign despite the pain and swelling and discomfort in her leg and ankle. She helped Keystone reach the District 9 Class 2A championship for the second straight season and put up 31 service aces, 88 kills, 19 blocks and 52 digs.

Redbank Valley, Keystone, and Union/A-C Valley sports coverage on Explore and D9Sports.com is brought to you by Heeter Lumber.
"She persevered," said Keystone volleyball coach Bryan Mong. "The more and more it went on, we kind of questioned that maybe there was something more serious here. She's a fighter and she was gonna stay after it regardless. It was her senior year and she didn't know that she had an opportunity to play on. She wanted to fight through as best she could.
"Even a 90% Sydney," Mong added, "was better than a no Sydney."
The injury changed the way she thought about volleyball.
It showed her she wasn't quite ready to say goodbye.
Bell had interest from several colleges, Thiel chief among them. She made a visit. Then another.
The second time on campus convinced her that she wanted to be a Tomcat.
"I decided to visit again and that kind of made me decide," Bell said. "I got to see the campus again and there were things I didn't get to see the first time because it was still COVID. I got to meet some of the players and the coach and that was really it for me."
Bell put pen to paper and made it official on Monday.
She takes with her to Thiel a knack for blocking — by no means an easy skill to master.
Bell finished her career at Keystone with a school-record 75 blocks.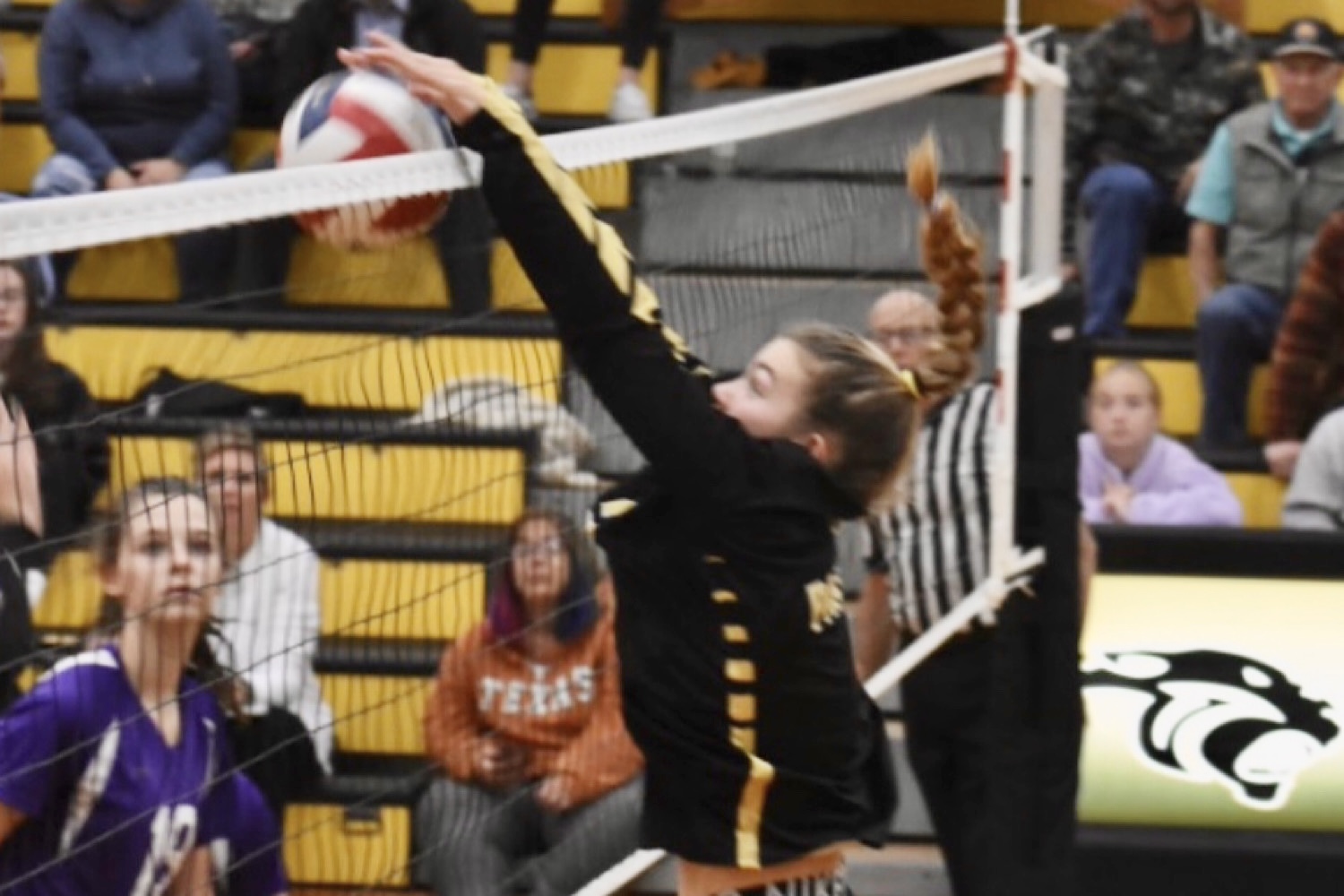 (Bell set the school record for career blocks)
As a junior she set the single-season mark with 36 blocks as the Panthers won the District 9 title.
Bell craves the rush of a good stonewalling.
"A kill you can see coming," she said. "A block is a surprise."
It's also a momentum swinger. Bell has seen up-close how turning away a good swing on the ball with a well-timed block can swing the pendulum in a different direction.
"It really picks the team up, especially if you are losing," Bell said. "If you get a big block, it just spikes your confidence and also spikes the confidence of the team. I love blocking. I love the feeling of it, just making sure that ball is not coming back over."
Bell figures to get plenty of opportunities at Thiel to do the same.
She may also play some right-side and outside hitter for the Tomcats. Those positions aren't completely foreign to the 5-foot-9 Bell, who also had 365 kills in her career at Keystone.
"There were rotations where I would play right-side and outside," Bell said. "Usually when I did that, I would get a pretty good kill. I like right-side. I like outside. It really doesn't matter."
Bell is just happy to have her decision made.
She was tired of blocking questions about her future from friends and family like she blocked kill attempts.
"Everyone would ask, 'Did you make a choice? Did you choose a college? Did you choose a college?'" Bell said. "The teachers at Keystone didn't force anything, but then you have your family members who are like, 'Where are you going?' I'm like, 'Just chill.'"
There will be no time to chill for Bell.
She's still recovering from the ankle injury, which she says continues to give her pain and swelling from time to time.
Bell decided to not play softball this spring or play her club volleyball season to allow it more time to heal.
She is going to give track and field a try at Keystone, though, where she will throw the javelin, run a leg of the 4×200 relay and do the pole vault.
Yes, the pole vault.
"I figured I'd try it," Bell said, chuckling. "If I don't like it, no big deal."
What is a big deal is the mark she left on the program.
She was part of a senior class that brought the first D9 volleyball championship to Keystone in 29 years.
"She was one of a very important group of classes that came through and set the standard high with showing up and putting the extra work in and showing that you get out of of it what you put into it," Mong said. "She was very good at showing up for optional practices and putting her time in to play. She leads by example and the results speak for themselves."

Redbank Valley, Keystone, and Union/A-C Valley sports coverage on Explore and D9Sports.com is brought to you by Heeter Lumber.