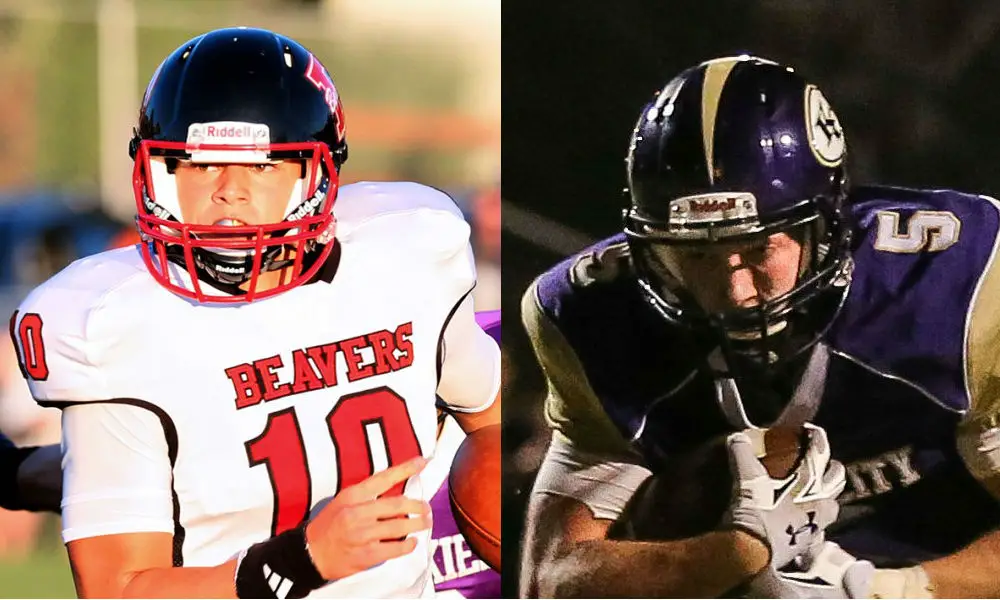 Photo: DuBois quarterback Gabe French and Karns City running back Tristan Rhoades
Playoff scenarios below ..
By Rich Rhoades
Counting Saturday's District 9 Class AAA Championship game, 14 games are on the Week 10 schedule this week. The rest of the schedule is the 13-game Friday night slate.
Check out the Class AAA final preview here.
Along with the Class AAA final — both Clearfield and Punxsutawney will play in the four-team District 5-6-8-9 sub-regional playoffs starting next week — are some other noteworthy games:
— The Allegheny Mountain League Championship game in Emporium where Cameron County hosts Ridgway.
— The battle for the final Class A playoff berth. Either Union or Cameron County will be the eighth seed with the other seven seeds already clinched. The Knights host Moniteau needing to beat the Warriors and hoping that Ridgway beats the Red Raiders.
However, there appears to be an indication that if Cameron County loses to Ridgway and finishes 4-6, it will not accept the No. 8 playoff spot if they receive a berth. If Union loses to Moniteau and Ridgway beats Cameron County, Smethport would actually land in the No. 8 spot since it would be the No. 9 team and have a choice to accept the berth.
The Knights, in this situation, have the inside track for the No. 10 spot but could be surpassed by Keystone if the Panthers beat Penns Manor and Otto-Eldred defeats Cowanesque Valley.
Here are the Class A scenarios, without the consideration of Cameron County turning down a berth.
— Then there is the game of the week and it's none of the above. It's a non-conference matchup featuring state-ranked and undefeated Karns City (9-0) visiting DuBois (7-2) at E.J. Mansell Stadium Friday night.
It's an intriguing matchup with the Class AA Gremlins, who are ranked No. 6 in state by the Pennsylvania Football News, taking on the Class AAAA Beavers. According to the latest First Commonwealth Bank/D9Sports.com Football Rankings, it's a matchup between the No. 1 Gremlins and No. 3 Beavers.
The teams share just one common opponent in Punxsutawney. The Gremlins just beat the Chucks, 43-16, last week. The Beavers beat them, 69-26, in Week 6.
Statistically, it's hard to match up with the Beavers, whose 54.9 points per game average rank second in the state only behind Clairton's gaudy 67.8 ppg. average.
On a five-game winning streak since losing back-to-back losses to Conneaut Area and Cathedral Prep (ranked No. 3 in Class AAA by PFN), the Beavers rack up 557 yards per game — 352 passing and 205 rushing — offensively.
Leading the way is senior quarterback Gabe French. He's thrown for 3,032 yards and 37 touchdowns, completing 162 of 217, or over 74 percent of his passes. Cole Kriner (38 catches, 895 yards, 11 TDs), Dante Dawson (42 catches, 796 yards, 11 TDs) and Kevin Foley (27 catches, 573 yards, 7 TDs) are his top targets.
On the ground, Devin Clark is closing in on 1,000 yards with 865 yards and 13 touchdowns.
Karns City goes into the game with 18 straight regular-season wins. It ranks 14th in the state in point differential (35.7) and 27th in scoring (45 ppg.).
The Gremlins average a solid 430 yards per game offensively — 138 passing and 292 rushing. Senior quarterback Caleb King, who has shared snaps with Cody Deal, is the leading passer with 903 yards and seven touchdowns.
To say Karns City's running game has a varied approach is an understatement as 19 different players have at least one carry and 11 have at least one touchdown. Leading the way are Tristan Rhoades (559 yards, 9 TDs), Collin Dunmyre (484 yards, 10 TDs) and Christian Turner (343 yards).
In other games
Allegheny Mountain League Championship
Ridgway (8-1) at Cameron County (4-5)
The Elkers haven't been to the AML title game since they won it in 1993. They lost in their only other trip to the league championship game in 1992. AML title game history.
It'll be the second meeting of the season between the Elkers and Red Raiders, who might be playing for their playoff lives. A loss and 4-6 record may lead them to decline any playoff berth if they qualify.
In the first meeting back in Week 2, the Elkers led 35-0 at halftime and cruised to a 42-8 win at home. Quarterback Ben MacDonald ran for 155 yards on only eight carries and scored two touchdowns.
For the season, MacDonald has rushed for 813 yards and 17 touchdowns while throwing for 583 yards and 10 touchdowns. Cole Myers has run for 680 yards and seven touchdowns while J.P. Cerroni has 555 yards and two touchdowns.
For the Red Raiders, Caleb Burnside ran for 92 yards on 16 carries in the loss to the Elkers. He lead the team with 702 yards and three touchdowns. Rusty Setzer has run for 647 yards and three touchdowns while quarterback Keith Spehalski has thrown for 993 yards and six touchdowns, his top receiver Brandon Saline catching 26 passes for 540 yards.
KSAC-Crossover
Moniteau (5-4) at Union (4-5)
The Knights look to make the playoff scenario in Class A much simpler by beating the Warriors.
Quarterback Lane Cicciarelli moved into second place on the team's all-time passing yardage list with 3,449 yards after last week's win over Clarion-Limestone. Now at 1,711 yards for the season, he's the team record-holder in that category. His top receiver is Cole Morris, who's caught 48 balls for 803 yards.
Moniteau's running duo of Josh McBride (1,148 yards, 11 TDs) and Cody Skiver (922 yards, 11 TDs) has been bottled up of late. In losses to Redbank Valley and St. Marys the past two weeks, they've run for a combined 132 yards.
Brookville (2-7) at Clarion (8-1)
Fresh off their shootout win over Redbank Valley, the Bobcats finish off the regular season with the Raiders.
With last year's 397 yards against the Bulldogs, Ian Corbett bumped his season rushing total to 1,573 yards with 26 touchdowns. He's now at 3,233 career yards and 52 rushing TDs.
Non-Conference
Elk County Catholic (8-1) at St. Marys (6-3)
It's the 41st matching and first meeting between City rivals since 2007 and it's only the third time the Crusaders and Flying Dutchmen have played since 2003. St. Marys leads the all-time series, 20-17-3.
For the Dutch, T.J. Hogan has rushed for 887 yards and eight touchdowns while Kyle Glatt has 689 yards and 11 touchdowns.
The Crusaders have Noah Werner (582 yards, 4 TDs), Mitchell Smith (595 yards, 11 TDs) and Dan Singer (477 yards, 3 TDs) leading their ground game. Smith has passed for 690 yards and 13 touchdowns.
Kane (5-3) at Clarion-Limestone (1-8)
The Lions and Wolves haven't met since the 2002 District 9 Class A Championship game in Brockway. The Lions beat the Wolves, 27-14. Lions head coach Dave Eggleton was a junior and a two-way starter at offensive tackle and defensive end for that Lions squad.
Redbank Valley (7-1) at Blairsville (9-0)
After a shootout loss with one-loss Clarion last week, the Bulldogs travel to Indiana County to take on unbeaten Blairsville.
It'll be curious to see how long the Bulldogs stay with their starters in a non-conference game that cannot help or hurt the them in the playoff standings and it'll also be interesting to see what quarterback Jake Dougherty pulls off after his 614-yard state-record passing game last week.
With his 614 yards, Dougherty went over 2,000 yards for the season at 2,077 with 30 touchdowns. He's now at 5,619 career yards as last week's effort bumped him up three spots on the Jim Kelly Honor Roll (All-Time D9 passing list) to No. 6.
Dougherty has spread it out to four receivers with over 300 yards — Wyatt Hetrick (715), Connor Shoemaker (421), Nick Shoemaker (406) and Korbin Hornberger (349).
The Bobcats are led by Deion Robinson, who has rushed for 1,249 yards rushing, 21 TDs for Blairsville
Sheffield (1-8) at Eisenhower (4-5)
It's a battle between Warren County rivals as the Wolverines head to Russell to take on the Knights.
Sheffield quarterback Adam Higby has thrown for 1,433 yards with 13 TDs and 16 interceptions. Marquis Clark is his top receiver with 35 catches for 657 yards and 6 TDs.
Eisenhower has a passing game as well. Quarterback Louie Head has thrown for 1,537 yards and 12 TDs. Receiver Jarrett Johnson has 50 receptions for 909 yards.
Penns Manor (7-2) at Keystone (3-6)
It's the third straight season the teams meet in Week 10. The Comets have won the past two games by identical 35-8 scores.
A-C Valley (0-9) at Cochranton (5-3)
The Falcons head to Crawford County for their final game against the Cardinals trying to end a 21-game losing streak.
Cochranton quarterback James Groover has passed for 820 yards and 9 TDs and leads team with 647 yards rushing 8 TDs.
West Shamokin (4-5) at Curwensville (6-3)
The Golden Tide added West Shamokin of the WPIAL for their regular-season finale at home.
Tide freshman Nick Stewart is the district's second-leading rusher at 1,327 yards with 13 TDs. The Wolves have Zac Horner with 1,007 rushing yards and 9 TDs.
Mercer (1-8) at Brockway (5-4)
The Rovers host District 10's Mustangs, who are 1-8 despite first-year senior quarterback Logan Clarke's 2,167 yards passing and 17 touchdowns to go along with 14 interceptions.
The problem for the Mustangs is them giving up 38.2 points per game.
Otto-Eldred (3-6) at Cowanesque Valley (1-8)
The Terrors have beaten the Indians 11 straight times in their annual season-ending game, including 42-13 last year.
Seth Drummond went over the 1,000-yard milestone last week. He's at 1,002 yards rushing and 11 touchdowns. He's also leads the team in receiving yardage with 286 and three touchdowns.
PLAYOFF OUTLOOK
Here's the latest, by classification:
CLASS A
Explained above, with the scenarios posted here.
CLASS AA
Karns City looks to have a first-round bye next week in a three-team bracket as St. Marys and Moniteau appear to be headed for a second meeting in three weeks next week.
Where that game will be played depends on what happens this week. A St. Marys win over Elk County Catholic secures the Dutch a second home game against the Warriors. A loss gives a Warriors a chance at a home game if they can beat Union.
CLASS AAA
With University Prep losing to Brashear, 27-8, in last week's City League semifinals, Prep won't enter the District 5-6-8-9 Sub-Regional playoffs starting next week.
That leaves this week's District 9 Championship game — Clearfield and Punxsutawney — joining Somerset and Johnstown in a four-team bracket.
CLASS AAAA
As stated last week, the District 6-9 sub-regional bracket can have up to four teams — there are only four teams — but only DuBois at this point has a winning record at 7-2. State College, after losing its fourth straight game last week to Cumberland Valley, is 3-6 while Central Mountain and Mifflin County are both 1-8.