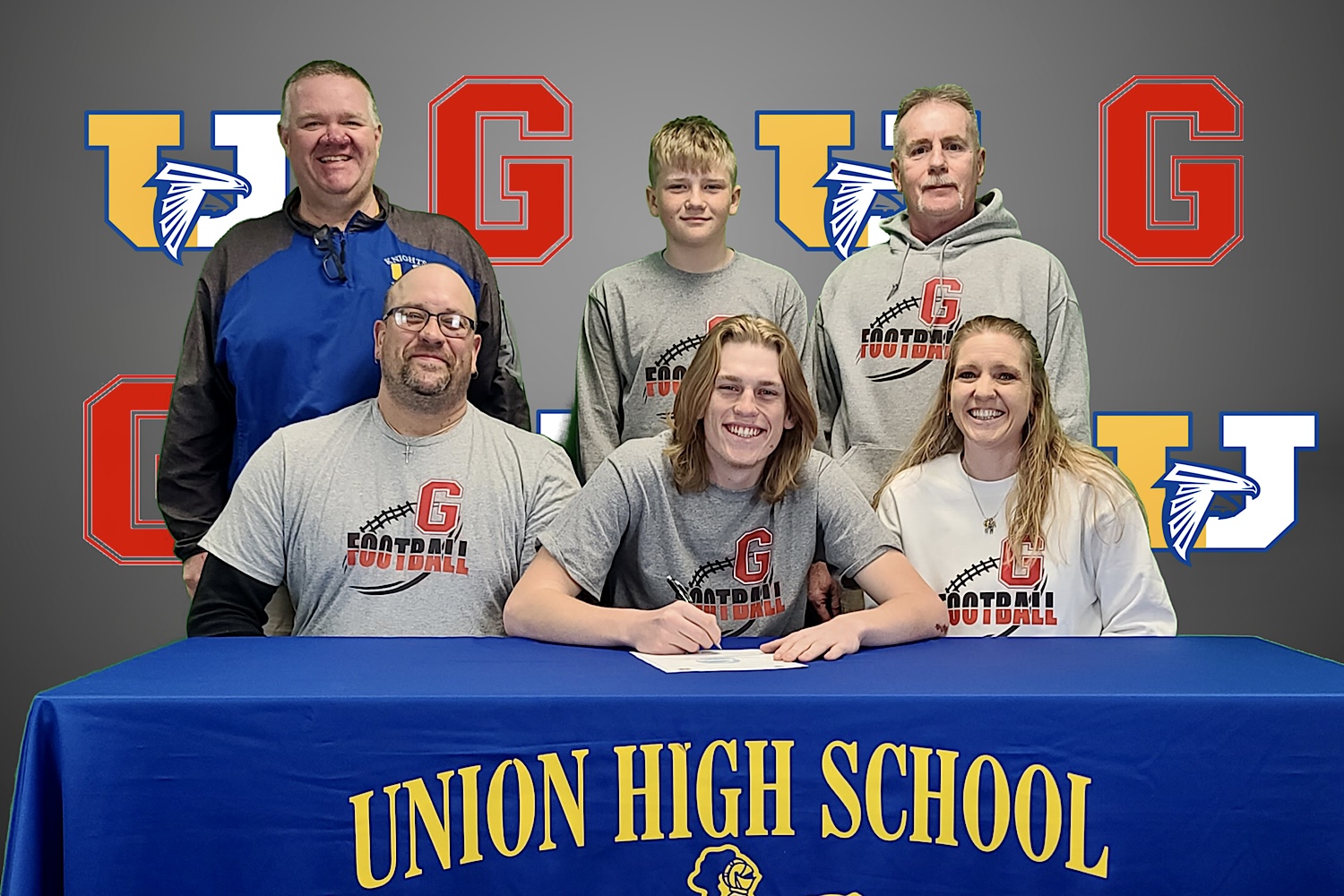 RIMERSBURG, Pa. (EYT/D9) — Bailey Crissman towers over almost everyone.
At 6-foot-7, the Union senior cuts an imposing figure — and can appear to be something out of mythology with his flowing locks of shoulder-length blonde hair, broad shoulders and cut jaw.
He is intimidating on the football field as well as the baseball diamond.
(Pictured above, Union senior Bailey Crissman signs to play both football and baseball at Grove City College. Flanking him are his parents, Jason and Stephanie Crissman. Behind him, from left to right, are: Union athletic director Scott Kindel, younger brother Carson Crissman and grandfather Mike Boltz)
There is one demographic, though, that doesn't find Crissman all that scary.
Children.
"I'm good dealing with little kids," Crissman said. "They kind of enjoy how tall I am. They think I'm like a big tree."

Redbank Valley, Keystone, and Union/A-C Valley sports coverage on Explore and D9Sports.com is brought to you by Heeter Lumber.
Crissman plans on working with young children as an early childhood education teacher one day.
In the meantime, he'll just go on being fearsome on the field.
Crissman was a force for the Union/A-C Valley football team at linebacker/defensive end, registering 48 tackles — three for a loss — two quarterback sacks and two fumble recoveries last season as a senior.
As a pitcher for the A-C Valley baseball team last spring, Crissman was 3-4 with a 3.27 ERA. In 40⅔ innings, he struck out 56.
His size and play certainly got him noticed by college scouts in both sports.
Last week, Crissman committed to Grove City College to chase a rare opportunity with the Wolverines.
The chance to play two collegiate sports.
"Doing both was a big thing for me," Crissman said. "The football coaches said it was better for me to miss spring football to play baseball because they want to keep me active."
Not many high school athletes have the ability to play one sport at the next level, let alone two.
But Crissman isn't like most high school athletes.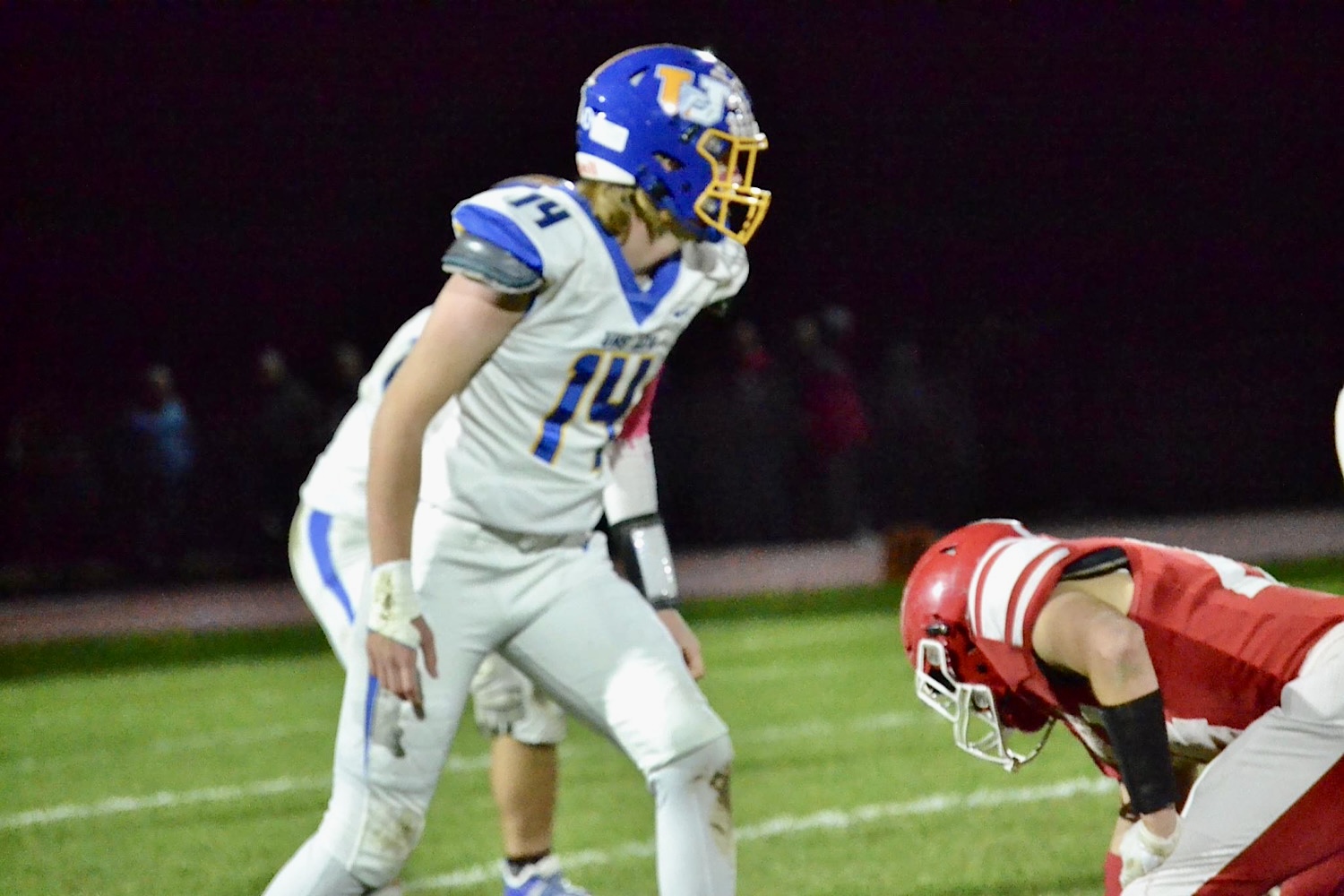 "It's a great opportunity," Crissman said. "I'm glad I got the chance to be able to play my favorite sports in college."
Crissman is already off to a good start this spring for the Union/A-C Valley baseball team.
He went 6⅔ innings, scattering six hits while giving up just one run in a 7-1 win over North Clarion on March 28 in the season-opener.
Crissman is now the staff ace with Ryan Cooper out for the season after undergoing shoulder surgery.
Crissman was determined to step up.
"I knew I was probably going to be our No. 1 with Ryan out for probably the season," Crissman said.
On the football field in the fall, Crissman played mostly defense after being the starting quarterback for most of his junior season.
A hip injury slowed him down at the tail end of 2022. Crissman was hoping to get another chance under center for UnionA-C Valley this fall, but Brody Dittman won the job and started at QB for the Falcon Knights.
"I really didn't know I wasn't going to be the quarterback coming into the season," Crissman said. "I played QB1 during the scrimmage, but later that week, they decided to go with Brody. It was hard. I enjoyed playing quarterback but they did what they needed to do."
Crissman instead put most of his energy into the defensive side of the ball and dominating there. He turned in a strong season.
At Grove City, he figures to get a chance to be a dominant defensive end there for the Wolverines.
To do that, Crissman knows he has some work to do — mainly in the weight room.
"I have to get some muscle on me," he said.
Crissman said he is looking forward to seeing what he can do in both sports at Grove City College, which is a school that has been very open to multi-sport stars.
The most recently example is Moniteau grad and Wolverine senior James Parenti, who has excelled as both a defensive tackle on the football team and as a thrower on the track and field team.
"I'm just very grateful," Crissman said. "I know not a lot of people get a chance to do this."

Redbank Valley, Keystone, and Union/A-C Valley sports coverage on Explore and D9Sports.com is brought to you by Heeter Lumber.