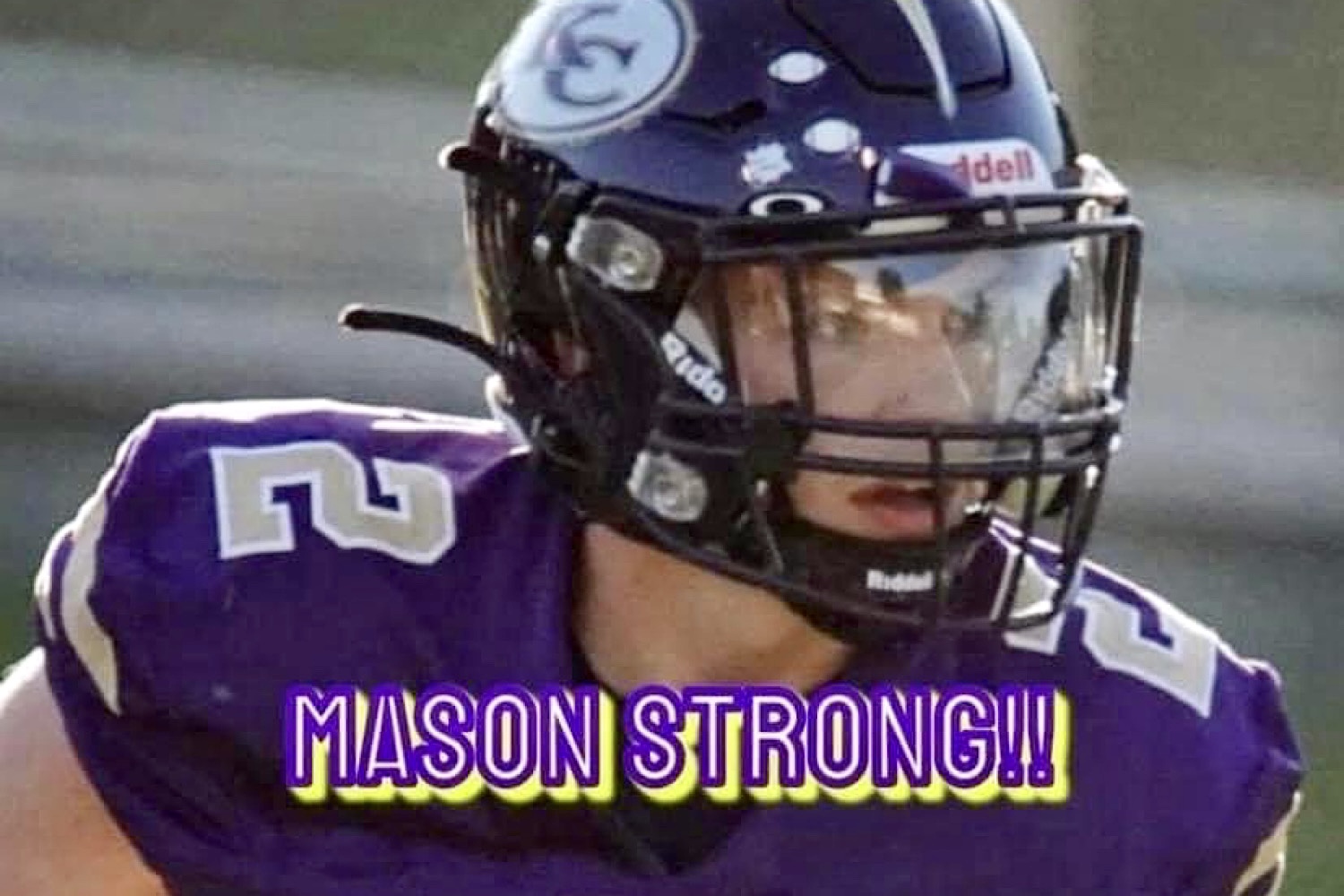 KARNS CITY, Pa. (EYT/D9) — Tattooed on Mason Martin's right thigh is his favorite passage from the Bible.
Jeremiah 29:11.
"For I know the plans I have for you," declares the Lord, "plans to prosper you and not to harm you, plans to give you hope and a future."
That verse is particularly relevant to Martin and his family now as he fights for his life.
Martin, a senior on the Karns City football team, collapsed on the field on Friday night in the third quarter of a game against Redbank Valley.
He was transported by medical helicopter to UPMC Presbyterian Hospital in Pittsburgh where he underwent emergency surgery overnight on Friday and into Saturday morning.
According to several sources close to the family who wished to remain anonymous, Martin suffered a significant brain bleed, as well as a collapsed lung.
"The next 24 hours are critical," a source said.
A time of public prayer has been scheduled for 7 p.m. on Sunday at Karns City High School.
Martin played an entire defensive series for Karns City that resulted in a Redbank Valley touchdown. He left the field for the extra point and came back onto the field to take his position as a return man when head official Mike Vasbinder noticed him wobbling and swaying.
Vasbinder asked Martin if he was all right and Martin responded, "No," before crumpling to the turf at Diehl Stadium.
First responders and Karns City medical trainers and staff worked frantically on Martin to stabilize him before he was transported to UMPC Presbyterian.
Social media was flooded late Friday night and Saturday morning with thoughts and prayers for Martin and his family.
Martin's mother, Stacy, has been waging a long battle with breast cancer.
"Dear Karns City Community,
Last night, one of our football players was seriously injured during the home game. Medical professionals on site quickly responded and transported the student to the hospital. Our prayers are with him and his family as he recovers.
"I know many of our students and families were at the game and saw this happen. We will have counselors available at school on Tuesday if any of our students or staff members need to talk to somebody.
I also want to share that our students and community have organized a community prayer vigil for Sunday at 7 p.m. at Diehl Stadium. All are welcome to gather with us in prayer. We will also have counselors available during the community prayer vigil for those in need of support.
"Thank you for your continued thoughts, prayers, and support of our student and his family."