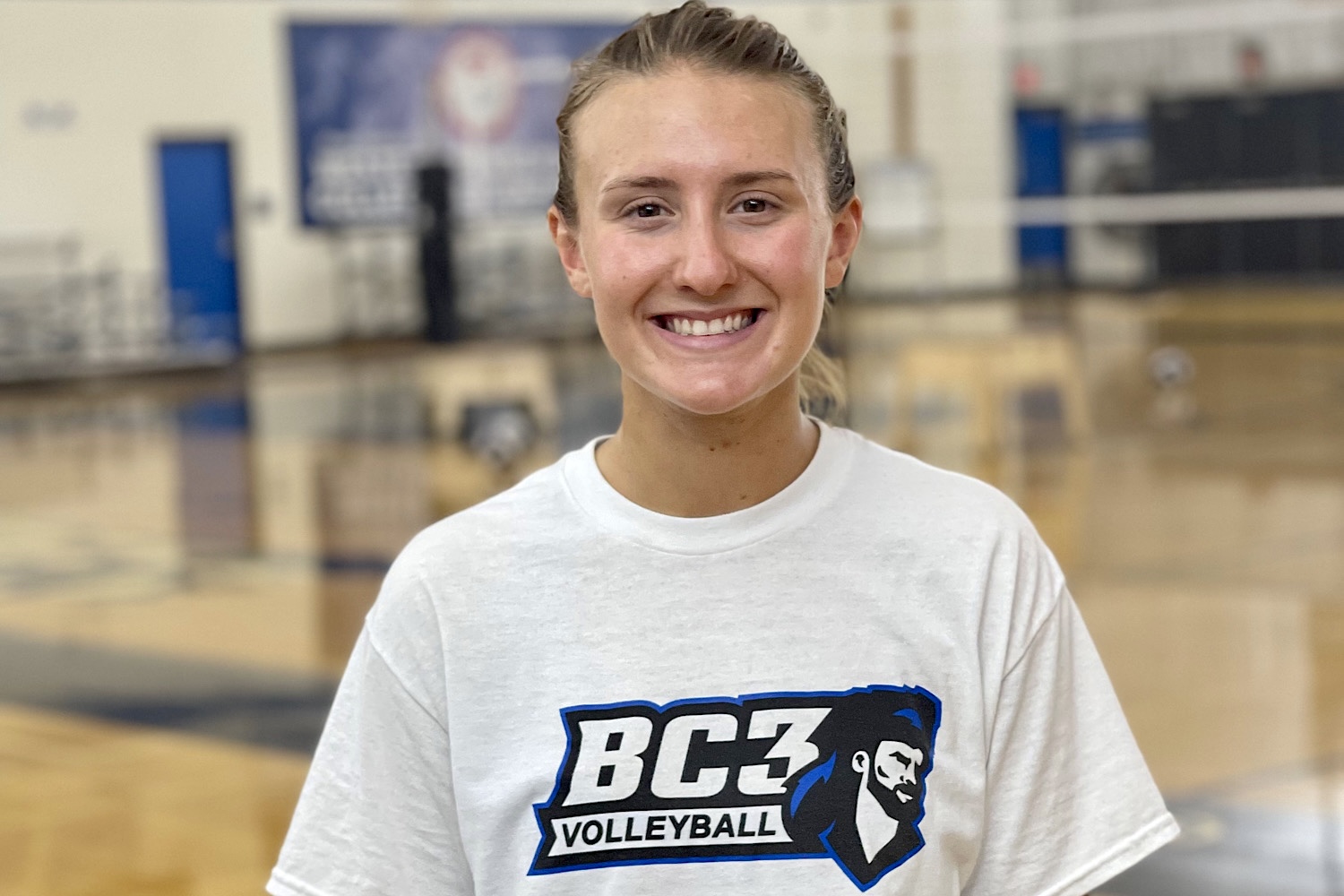 BUTLER, Pa. (EYT/D9) — The first time Jozee Weaver worked out — really worked out — after her knee surgery and long rehabilitation, she got sick.
Very sick.
"Trust me. When I started working out, I definitely was like, 'Oh, man, this is the most I've been out of shape,'" said the 2022 Keystone graduate and former three-sport star with the Panthers. "My first workout was this agility speed training thing. I threw up. It was pretty intense."
(Pictured above, Jozee Weaver)
That was in April. Now as the summer fades into fall, Weaver is back on the volleyball court, spiking, setting, serving and diving all over the Field House floor at Butler County Community College, nearly two years removed from her last live action.
Weaver's journey back to the court as been a long — and sometimes painful — one.
"I mean, I've played sports my whole life, so I couldn't really imagine not playing a sport," Weaver said. "It would just feel weird. I missed playing. I just missed playing."

Redbank Valley, Keystone, and Union/A-C Valley sports coverage on Explore and D9Sports.com is brought to you by Heeter Lumber.
Weaver was a standout athlete at Keystone, where she starred in volleyball, basketball and track and field.
During her senior season, the outside hitter helped lead the Panthers' volleyball team to their first District 9 championship in 29 years.
She was named to the Pennsylvania Volleyball Coaches Association all-state team in Class 2A following that campaign.
But for most of her life, Weaver had nagging issues with her left knee. Her patella would often dislocated — sometimes while she was sleeping. When it happened, excruciating pain gripped her. It only got worse over the years and over the course of season after season of constant pounding on the joint.
By the start of her senior basketball season, the injury to her knee had reached critical mass.
Weaver was coming off a successful junior campaign in which the guard averaged 9.1 points per game and was a big factor in Keystone's District 9 title run.
The knee, though, wouldn't allow an encore.
She needed surgery to repair her torn medial patellofemoral ligament, which attaches the inside part of the patella to the femur.
Painful rehab followed.
Weaver came to the unsettling conclusion that her athletic career was over.
After she graduated from Keystone, she spent a year away from school and sports.
"I worked," Weaver said. "I just worked."
But she never lost that desire to compete.
It wasn't until she read an article on D9sports and ExploreClarion about Karns City graduate Emma Johns and her return to the basketball court at Butler County Community College that her desire to play again was reignited.
"I didn't know if I wanted to play a sport and I never really thought about (BC3), but I actually read one of your stories," Weaver said. "My dad read it, too — it was about Emma. I was thinking about playing basketball first, which I still might. And we talked about it and he was like, 'You get to play and have fun.'"
Several months later and Weaver is wearing BC3 garb, trying to round back into the form she played with nearly two years ago at Keystone.
It's been a slow process.
"It's been a little rough," Weaver said, cracking a small smile. "I haven't played volleyball since that knee surgery. But (BC3 volleyball coach Rob Snyder) is a good coach and he got me back into it pretty easily. He's just a really good coach. I've been working out, even before, once I figured out I was going to start playing sports again."
Weaver attended open gyms once a week during the summer to get a head start on her comeback.
It proved invaluable for her.
"Honestly, compared to high school — I didn't focus that much on volleyball — I'm just swinging a lot better, more consistently since I started working on it more," Weaver said. "It's definitely helped."
Weaver had a mild scare not long ago when she dislocated the knee cap of her right knee.
"Well, funny story," Weaver said, chuckling while pointing to her left knee. "I got this knee fixed. Then a couple of months ago my dog and I were messing around and he stepped on my other knee and the knee cap went out. I was like, 'Are you kidding me right now?' But it's fine. I think I'll be fine."
Snyder has a long history of success with the BC3 volleyball program. The Pioneers are perennially ranked nationally and were the No. 1 team in the country for several weeks last season.
Part of that success has been unearthing players like Weaver.
Players who are looking for a volleyball rebirth. A second chance.
"I really like the way she plays," Snyder said of Weaver. "What I mean by that is she just jumps into anything. She's not afraid to be an outside. We're kind of low on middles, and she said he'd try to be a middle if we need her to. She just wants to be out there playing. When we're playing, she steps up and sets. She plays back row. She does a little bit of everything.
"I just like that mentality of as long as I'm out there, I don't care what I'm doing. I've been really impressed with her all-around ability to contribute."

Redbank Valley, Keystone, and Union/A-C Valley sports coverage on Explore and D9Sports.com is brought to you by Heeter Lumber.