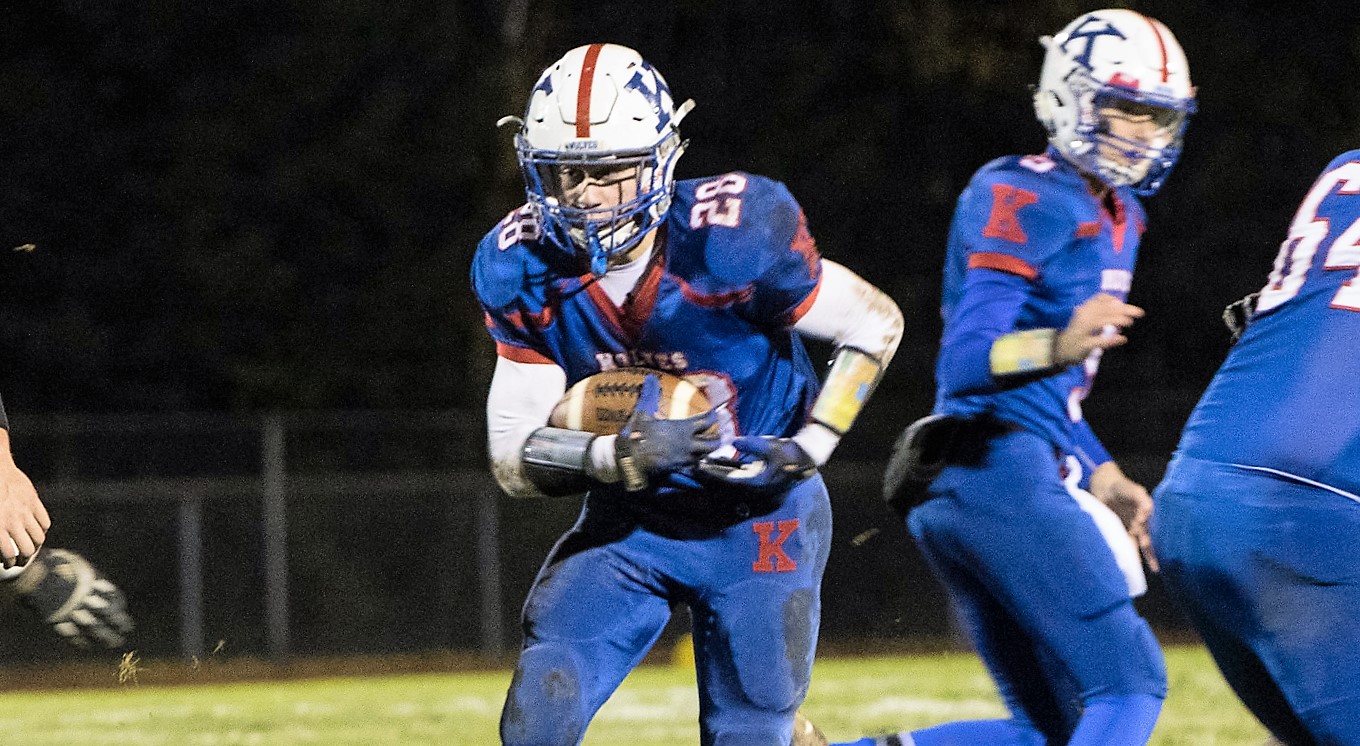 With the scrimmage season officially over as five District 9 teams finished their preseason last weekend while the rest of the district's 19 teams opened in Week 0, this is Week 1 and all 24 teams are in action in a 12-game schedule with two games set for Saturday afternoon.
Erik DeLong and the Kane Wolves host Otto-Eldred in a rematch of last year's AML Championship game and a possible preview of this year's title game Friday night.
It's another week of AML Crossover games and last week it was a predictable 6-0 start for the AML-South.
The headline game of the week? Is it the rematch of last year's AML Championship game between Kane and Otto-Eldred? Could it possibly be Karns City at Brookville? Or maybe it's Moniteau at St. Marys considering that three of the last four times they've met it's been a one-point game.
Rankings
It's early, but here are some rankings:
The latest Allegheny Grille of Foxburg D9Sports.Com rankings are here
State rankings at a glance, with D9 teams noted:
Class 4A: 7. Clearfield
Class 2A: 7. Kane. Honorable Mention: Clarion
Class 1A: 8. Ridgway
pennlive.com (Harrisburg Patriot-News)
Class 4A: 9. Clearfield
Class 3A: 9. Karns City (down from 3)
Class 2A: 6. Kane, 10. Clarion
THIS WEEK'S GAMES
KSAC Large School
Karns City (0-1) at Brookville (1-0)
The Raiders' impressive start on the road at Warren last week certainly makes this early KSAC-Large matchup more compelling. Brookville roughed up Warren 54-20 while Karns City fell to Armstrong 41-14.
Raiders freshman quarterback Jack Krug made a big splash in his debut by passing for a team-record 372 yards and five touchdowns while receiver Bryan Dworek caught a team-record 12 passes for 169 yards. The Raiders had their biggest scoring game since putting up 57 on the board in a win over Clarion-Limestone in 2010.
Gremlins sophomore quarterback Anthony Kamenski completed 6 of 17 passes for 52 yards in his debut. Clay Garing's 6-yard run accounted for the Gremlins' only offensive touchdown.
Karns City has won seven straight meetings against Brookville, including a combined scoring margin of 198-18 over the past four victories.
Moniteau (0-0) at St. Marys (0-0)
It's the safest bet in the district lately for a close game with three of the last four meetings decided by one point. It was the Dutch 26-25 last year after the Warriors won 29-28 in the 2015 regular season before beating St. Marys in the postseason, 17-6. In the 2014 playoffs, St. Marys notched a 7-6 win.
Clarion (0-1) at Punxsutawney (0-1)
While the Chucks dropped a 22-21 opener at Penns Valley last week, the Bobcats wrapped up their preseason.
Chucks quarterback Dylan Ishman completed 16 of 40 passes for 194 yards and three touchdowns and ran for 55 yards. Tyler Richardson caught eight passes for 116 yards. He, Alexander Gianvito and Brent Huey each caught a TD pass.
The Bobcats have shut out the Chucks in their last three wins, 41-0 last year, 55-0 in 2013, and 42-0 in 2012.
KSAC Small School
Note: One-third of the division's schedule will be played this week and of the six total division games, only one is played after the end of September and four are played Sept. 16, so yeah, these first two games are big.
C-L (1-0) at Union/ACV (0-1)
The Falcon Knights play at home again, but at their other venue at A-C Valley High School. While the Lions walked over Saegertown last week, the Falcon Knights dropped a 28-point decision to WPIAL Class 1A contender Imani Christian.
So who got more out of last week? Union/ACV outscored Imani 22-20 after falling behind 30-0 early in the second quarter while the Lions weren't tested at all. Either way, this could be a close one like last year when the Lions held off the Falcon Knights, 20-18, in Strattanville.
Chris Peace (133) and Riley Hummell (100) both ran for over 100 yards while Brenden Makray threw for three TDs for the Lions while Greg Duncan ran for 124 yards on 24 carries to lead the Falcon Knights.
Keystone (0-0) at Redbank Valley (0-0)
The Bulldogs have owned the Panthers historically, beating them 24 out of their last 28 meetings and 43 of 53 all-time.
Last year, the Bulldogs beat the Panthers, 41-0.
Mountain League
Penns Valley (1-0) at Clearfield (1-0)
Both teams won non-conference season-openers at home as the Rams edged Punxsutawney and the Bison blanked DuBois.
The Bison limited DuBois to just 171 yards of offense while quarterback Isaac Rumery threw for 173 yards and two touchdowns while rushing for 69 yards and a score. Ty Bender ran for 53 yards on 17 carries.
The Rams put up 351 yards on the Chucks as quarterbacks Aaron Tobias and Justin Sands combined to throw for 146 yards. Cole Breon caught eight passes for 96 yards while running back Ryan Ripka ran for 110 yards on 24 carries and two touchdowns.
District 10 Region 5
DuBois (0-1) at Conneaut Area (1-0)
The Beavers try to shake off a shutout loss to start the season when they take on a Conneaut Area squad that had its way with Fairview in a 55-6 rout.
The Eagles' Bailey Kersnick rushed for 135 yards on just nine carries with two touchdowns while also catching four passes for 79 yards and a touchdown. Quarterback Kyle Sheets completed 7 of 11 passes for 125 yards while rushing for 50 yards and two TDs.
Beavers quarterback Matt Miller completed 7 of 23 passes for 61 yards while Dylan McCluskey rushed for 72 yards on 15 carries.
AML Crossover
Otto-Eldred (0-1) at Kane (1-0)
The Wolves have won 29 straight games against District 9 opponents and they're coming off an easy 56-6 opening win over Port Allegany. This is a rematch of last year's AML Championship game won by Kane, 37-26, after the Wolves beat the Terrors 42-7 in the regular season.
Last week, Ange Costanzo and Erik DeLong each ran for over 100 yards and Reed Williams passed for 172 yards with three TDs and another one rushing. Jake Alcorn returned a kick 87 yards for a touchdown.
The Terrors gave the Rovers some trouble in their opener before Brockway pulled away late for the win. Quarterback Sawyer Drummond completed 16 of 34 passes for 234 yards but was intercepted three times. Cameron Magee caught 10 passes for 183 yards, but the Terrors failed to score offensively.
Ridgway (1-0) at Port Allegany (0-1)
Last week's opener wasn't an easy one for the Elkers, but they played defense as usual and limited Coudersport to just 61 yards of offense.
Ridgway ran for over 300 yards with Neil MacDonald (144) and quarterback Johnny Mitchell (93) leading the way.
The Gators have lost 12 straight games dating back to the end of the 2015 season.
Curwensville (1-0) at Smethport (0-1)
The Golden Tide, who did have to overcome five turnovers in a win over Cameron County, they seemd to manage fine without workhorse running back Nick Stewart who was held out to recover more from an injury. The Tide ran for 258 yards overall with senior Matthew Carter (10-90), junior Blake Passerelli (15-67) and junior Avery Francisco (8-66) doing most of the work. Touchdowns were scored from four different players as Noah Von Gunden also caught a TD pass from Bryce Timko.
Smethport trailed Bradford 37-0 by halftime in its 56-0 opening loss to the Owls.
Coudersport (0-1) at Bradford (1-0)
The Owls were the only AML-South loser in the first four weeks of last year's crossover portion of the AML schedule and they lost at Coudersport. So they'll look to avenge that loss by, most likely, handing the ball a lot to John Eakin.
Eakin ran for 210 yards and four touchdowns as the Owls piled up 325 yards in their rout of Smethport. Anthony Bruno caught two passes for 45 yards and a TD.
Coudersport, in its loss to Ridgway, didn't do much offensively in its season-opener. Quarterback Jared Green threw a TD pass to David Burd for the Falcons' lone score.
Two Saturday games:
Brockway (1-0) at Sheffield (0-1)
The Rovers head to Warren County for a 1:30 p.m. Saturday kickoff. Brockway's takeaway ability helped it get by Otto-Eldred last week as the Rovers forced four turnovers, three of them interceptions and two of those by Cameron Baka. A Baka interception return for a TD in the fourth quarter put the game away.
The Rovers were outgained 262-242 by Otto-Eldred. Running back Tyler Serafini ran for 60 yards on 16 carries.
Sheffield's Kevin Evans caught nine passes for 100 yards and ran for 92 yards on 12 carries.
Cameron County (0-1) at Elk Co. Catholic (1-0)
Kickoff at Dutch Country Stadium is 7 p.m. Saturday night. Last week, the Crusaders handed the ball a lot to Alec Bittler and he delivered by running for 245 yards on 29 carries and three touchdowns in the Crusaders' win over Sheffield. Stephen Bobby returned a kick 87 yards for a TD.
Jared Whitling ran for 71 yards on 18 carries to lead the Red Raiders' offense.