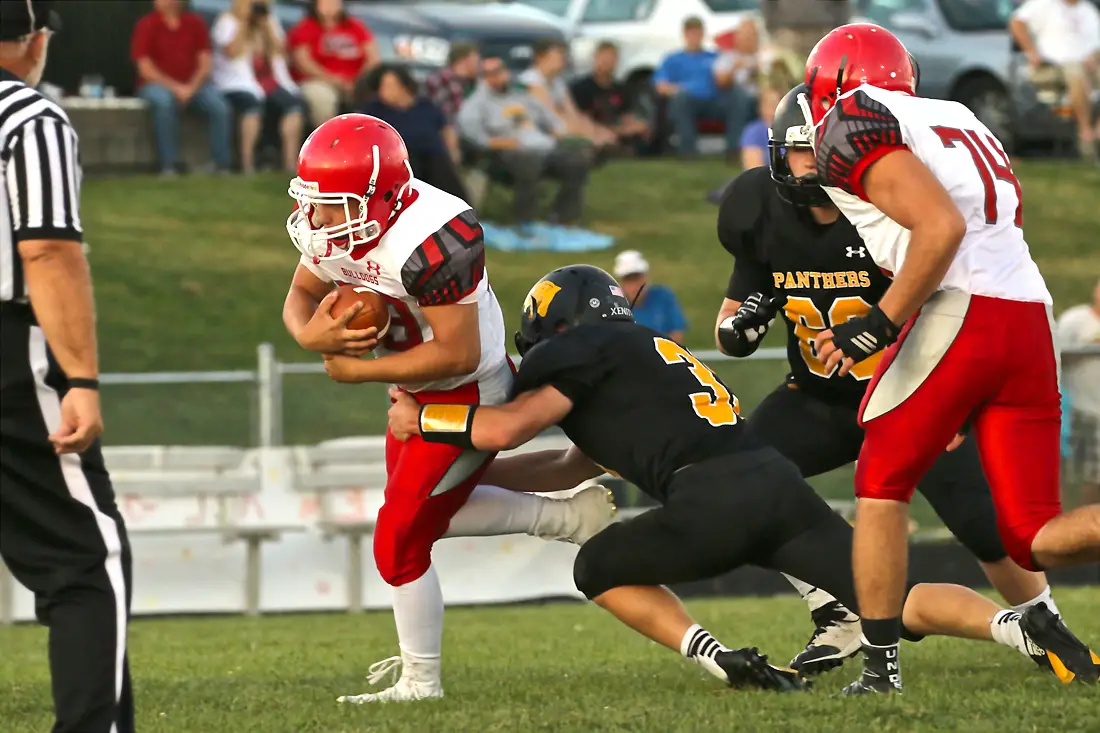 Mercifully, four weeks of Allegheny Mountain League crossover divisional games come to an end this weekend in District 9 football.
Curtis Mohney and the Redbank Valley Bulldogs head to Clarion-Limestone Friday for a key KSAC-Small matchup
Predictably, it hasn't been pretty.
The AML-South, with the addition of Class 4A Bradford, has even more of an advantage against its AML-North foes. However, the irony to that is that the Owls have the only loss to an AML-North team in a 36-34 overtime loss to Coudersport.
So it's the AML-South owning a 17-1 advantage going into this weekend, outscoring the AML-North 860-131 with the average margin of 43 points per game in the 17 wins. Of those 17 wins, 13 were by Mercy Rule (35 points) margins. Only two games were decided by less than three touchdowns.
The trend of these blowouts extend beyond this year and it hardly seems possible that Port Allegany stormed through the AML and into the state playoffs back in 2012. Now, the Gators are 0-3 without scoring a point.
So why is there an AML Championship game anyway? North vs. South has already been decided. And with all six AML-North teams making up almost half of the District 9 Class A field, what's the playoff race going to look like?
The rash of blowouts led to Chris Rossetti's flash column last week. More on the AML games below after some other looks at this week's 13-game schedule, 12 of them Friday night:
KSAC-Small
Redbank Valley (1-1 overall, 1-0 KSAC-Small) at Clarion-Limestone (2-0, 1-0)
The Bulldogs were beat up by Karns City last week while the Lions came up with a big win on the road at St. Marys. The winner of this one goes a long way to securing one of the two automatic Class A playoff berths from the KSAC.
The Bulldogs, Lions, Union/A-C Valley and Keystone are the four Class A teams and with Keystone appeared headed for a long season, the race for the two autos looks to be among the other three. C-L already has a 20-18 win over Union/ACV.
The Lions' Mike Macefe has rushed for 302 yards on 45 carries while quarterback Brendan Makray has thrown for 213 yards and two TDs. He was intercepted four times against the
Dutch, but his defense helped him out by forcing four Dutch turnovers.
The Bulldogs lost starting quarterback Keaton Kahle to a knee injury early in the second half against Karns City, but he's likely to see action. Brock Barrett filled him for him and would get the snaps if Kahle doesn't go. Barrett returned an interception 89 yards for a score against Karns City. He had a punt return for a TD in the opener against Keystone.
C-L hasn't beaten Redbank Valley since 2005.
Clarion (2-0) at Keystone (0-3)
The Bobcats head to Knox without giving up a point yet in two wins to start the season. On the flip side, the Panthers have given up 54 points or more in three straight losses.
For Clarion, Colton Rapp has rushed for 261 yards while quarterback Spencer Miller has thrown for 225 yards and four touchdowns.
Quarterback Nate Wingard has thrown for 386 yards and three TDs for the Panthers, who have managed just 21 yards rushing so far. Junior Corey Rapp has 13 receptions for 204 yards and 2 TDs.
KSAC-Large
St. Marys (1-1, 1-0) at Karns City (2-1, 1-0)
The winner of this game will likely take the KSAC-Large title as the Gremlins go into the game with a 19-game winning streak against division foes dating back to their last loss to Moniteau (26-24) in the 2011 season-opener.
The Gremlins have beaten the Dutch eight straight times dating back to their last loss in 2010.
Punxsutawney (0-2, 0-1) at Brookville (0-2, 0-1)
The Route 36 Trophy game features two struggling teams out of the gate. The Raiders have been outscored 80-6 in losses to Karns City and Clarion while the Chucks own a similar negative margin of 67-6 in losses to Clarion and Moniteau.
It's the second straight meeting at Brookville with the KSAC schedule cycle affecting things. The Chucks won last year, 34-20.
Punxsutawney (0-2, 0-1) at Brookville (0-2, 0-1)
It's the annual Route 36 Trophy game between the Chucks and Raiders, who have been hammered the first two weeks of the season. The Raiders have lost to Karns City (49-6) and Clarion (31-0) while the Chucks have fallen to Clarion (41-0) and Moniteau (27-6).
It's the 43rd meeting between the teams. The Chucks own a 25-16-1 advantage and beat the Raiders, 34-20, last year also in Brookville, but the game is back there again because of the KSAC schedule cycling.
KSAC-Crossover
Moniteau (1-1) at Union/ACV (1-1), at A-C Valley
The Warriors head to A-C Valley for the first of two Homecoming dates for the Falcon Knights who will play one at each school naturally.
Jeffrey Ginn (10-124) and Lane Chalmers (33-116), both A-C Valley students, lead the Union/ACV running game while quarterback Lucas Bowser has thrown for 272 yards and four TDs. Gavin Hawk has caught 11 passes for 181 yards and all four of Bowser's scoring strikes.
Dalton Anderson has six catches for 243 yards for the Warriors, who have a new quarterback in Chance Nagy. Nick Martino scored twice last week against Punxsutawney, including a 60 yard interception return. Kicker Steven Fawcett kicked two field goals of 29 and 34 yards. He booted seven last year.
District 10 Region 5
Oil City (0-3, 0-2) at DuBois (1-2, 0-2)
The Beavers look to end a two-game losing streak against the winless Oilers, who are coming off a 35-12 loss to Conneaut (Ohio).
The Oilers mostly a running team. Seth Thompson leads the team with 100 yards on 28 carries, but Jahmeer Jordan ran for 93 yards on 12 carries in his season debut last week.
Beavers quarterback Braden Paulinellie has thrown for 588 yards and five TDs while rushing for 385 yards and four TDs. Kyle Hopson (18 catches, 330 yards, 4 TDs) is the top receiver.
Mountain League
Clearfield (2-1, 2-0) at Huntingdon (1-2, 0-1)
The Bison have won two in a row as they head south to face the Bearcats, who are coming off a 48-42 overtime loss to Tyrone.
Bison quarterback Isaac Rumery, coming off his Player of the Week performance against Central-Martinsburg, has completed 30 of 54 passes for 609 yards while rushing for 196 yards. Running back Seth Caldwell (60-301, 4 TDs) is now at 3,441 career rushing yards.
Rumery has two top receiving targets in Micah Heichel (12-305) and Ryan Lezzer (10-236).
Junior Ian Border is the running workhorse for Huntingdon with 432 yards on 63 carries and eight touchdowns.
Allegheny Mountain League-Crossover
Elk County Catholic (3-0) at Coudersport (1-2)
Could this actually be the preview of the AML Championship game? Of the two, Coudersport might be the most likely since it's been the most competitive team in the AML-North. The Crusaders, while impressive early, have some work to do in the competitive AML-South.
The Crusaders have yet to give up a point, owning a 134-0 advantage in three wins over Sheffield, Cameron County and Otto-Eldred. Quarterback Nate DaCanal has completed 14 of 22 passes for 276 yards and five TDs. Four backs are over 100 yards rushing, led by Dan Stauffer (164) and Jared Braun (162).
Aaron Wolfinger has thrown for 404 yards and three TDs for the Falcons.
Otto-Eldred (0-3) at Bradford (2-1)
The Owls, with a PIAA male enrollment classification number of 298 or the third-largest number in D9, take on the Terrors and their 98 male number. Bradford beat Cameron County's 70-male enrollment number last week, which is the lowest in D9, although Coudersport's 105 beat them in overtime two weeks ago.
The Owls have rushed for 980 yards in three games. Donny Pattison has rushed for 383 yards and four TDs, John Eakin has 321 yards and 4 TDs.
Running back Seth Drummond (42-105) has the only significant numbers for the Terrors, who have gained 380 yards in their three games.
Smethport (0-3) at Brockway (3-0)
The Rovers have cruised to three easy wins as well by a margin of 185-15 against Otto-Eldred, Sheffield and Port Allegany as 13 different players have combined to score 25 touchdowns.
Rovers quarterback Hunter Miller has completed 27 of 38 passes for 631 yards and eight TDs which have gone to seven different players. Mark Latuska has rushed for 285 yards and six TDs.
Could the Hubbers be the second-best team in the AML-North? Based on a 41-21 loss to Curwensville, they just might be.
Kane (3-0) at Cameron County (0-3)
The Wolves have outscored their three opponents, 155-15, and head to Emporium to take on a team that lost 76-12 last week to Bradford.
Kane quarterback Reed Williams has completed 26 of 37 passes for 637 yards and nine TDs. Erik Delong (34-306) and Jake Alcorn (11-273) lead the Wolves' running game. Davis Gardner (11-273) and Ray Maze (11-247) are Williams' top receiving targets.
The Red Raiders have been outscored 131-12 in their last two losses to Bradford and Elk County Catholic after a season-opening 37-20 loss to Curwensville.
Port Allegany (0-3) at Curwensville (3-0)
Could it get any worse for the Gators, who have been outscored 242-0 in their three losses? It might depend on how much they have to try to stop Golden Tide running back Nick Stewart.
Stewart has rushed for 672 yards on 56 carries. He's at 4,176 career yards and 55 touchdowns. He's 282 yards shot of tying No. 5 Kyle Cathcart of Clarion on the district's all-time rushing list.
SATURDAY
Ridgway (3-0) at Sheffield (0-3)
The Elkers head to Warren County to take on the Wolverines with a two-game streak of shutouts.
Ridgway blanked Smethport 38-0 and Port Allegany 50-0 the past two weeks while Sheffield has managed just nine points all season in losses to Elk County Catholic, Brockway and Curwensville (43-0 last week).
Neil MacDonald (30-233, 4 TDs) leads the Elkers' rushers.