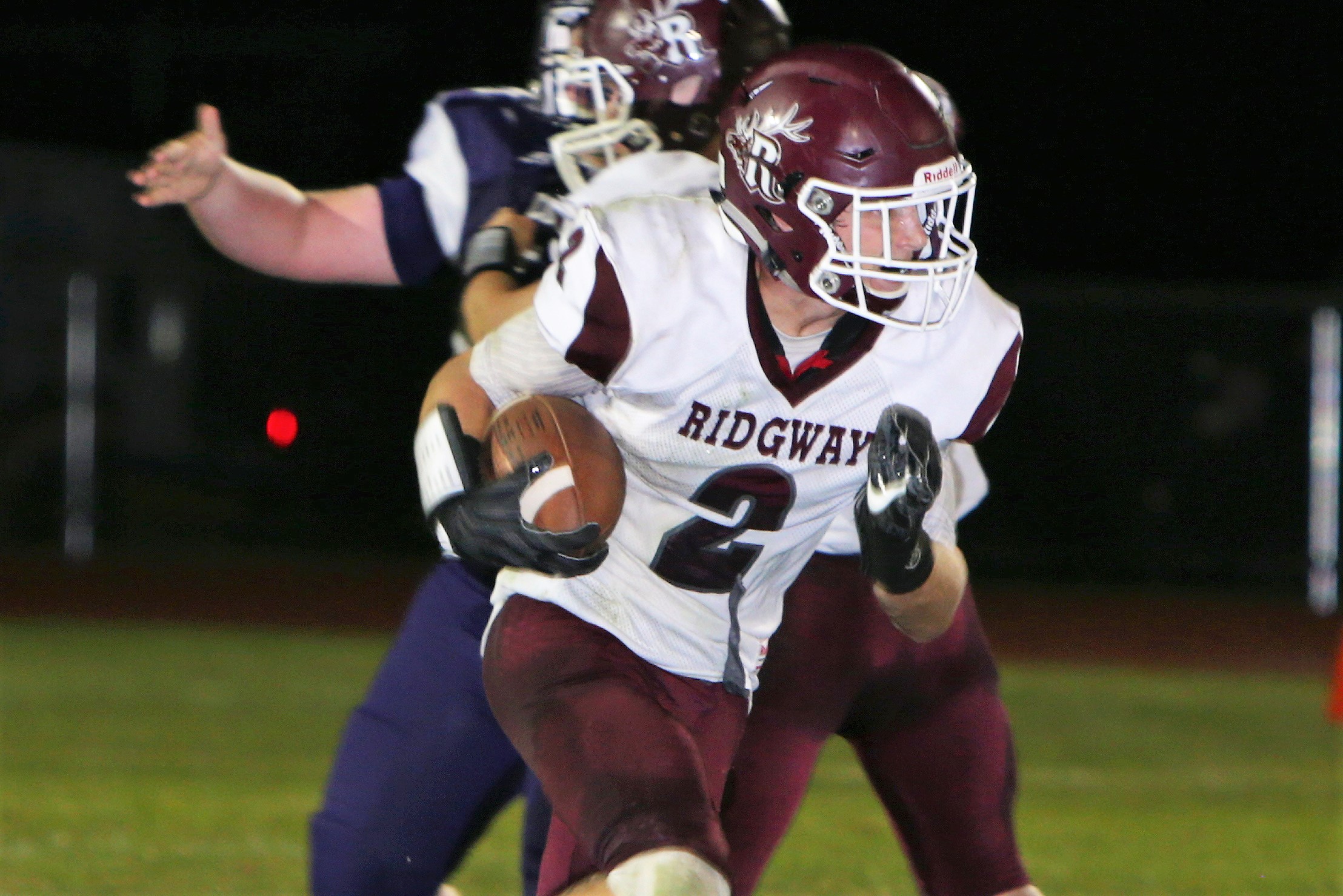 Not surprisingly, five of District 9's six unbeaten football teams reside in the Allegheny Mountain League's South Division.
Ridgway's Neil MacDonald helps lead the Elkers into their AML South matchup at Brockway Friday night.
Defending AML champion Kane and reigning Class 1A champion Ridgway, and Bradford, Curwensville and Brockway head into divisional play with 4-0 records after feasting on AML-North opponents in their first four games. The only AML-North wins against the South came against Elk County Catholic.
So this week, look for the matchups that have four of those teams playing each other. Brockway hosts Ridgway while Curwensville visits Kane. Bradford hosts Elk County Catholic (2-2).
This week has 13 games on the schedule, 12 of them Friday night with a Saturday afternoon game in Sheffield.
Here is a breakdown of this week's games:
AML-South
Ridgway (4-0) at Brockway (4-0)
Neither one of these teams face Kane until October, so to stay in position to knock the defending division champion Wolves off their perch this is a big game in September.
The Elkers fattened up on the AML-North, giving up just two touchdowns and 14 points and just 252 yards defensively while scoring 177. The Rovers were similar, outscoring their four routed foes, 152-43.
But more important is the health of Ridgway's standout senior Joey Elinski, who injured his spinal cord in last week's win over Sheffield. Here's the update story on him earlier this week.
Elinski will likely be out for the season, taking a key player out of the Elkers lineup. Senior Neil MacDonald (382 yards, 6 TDs) leads the Elkers' running game. Evan Furlong and MacDonald are the top tacklers on defense at 11 and 8.8 stops per game.
Rovers junior quarterback Peter Downer (36-for-58, 604 yards, 6 TDs, 2 Ints.) and sophomore running back Jon Wood (26 carries, 381 yards, 3 TDs) lead the offense.
Brockway has beaten Ridgway the last three games, with the Elkers' last win a 28-14 decision in 2013.
Curwensville (4-0) at Kane (4-0)
The Wolves' winning streak against D9 foes is up to 32 straight games and they'll take on newly-minted D9 all-time leading rusher Nick Stewart of the Golden Tide.
Stewart has rushed for 511 yards, averaging 11.6 yards per carry, with 11 TDs in three games. Almost half of those numbers came in last week's 228-yard performance that got him into the No. 1 spot on the district's all-time list ahead of former Tide great Nick Sipes. He sits at 6,045 yards and 78 career TDs.
Stewart has rushed for over 100 yards in three of four games against the Wolves, including a 184 yards on a career-high 39 carries in last year's 43-12.
The Wolves have allowed just four touchdowns in their four games and have some solid offensive numbers to combine with that as quarterback Reed Williams (41-for-70, 732 yards, 10 TDs), running backs Erik DeLong (51-479, 8 TDs) and Ange Costanzo (28-326, 7 TDs), and receiver Ray Maze (15-343, 6 TDs).
Other AML games: The Owls haven't been 5-0 since 2007 and they haven't won five games in a season since 2010, so they'll try to get over that hurdle when they host 2-2 Elk County Catholic. John Eakin (57-626, 11 TDs) has four straight 100-yard rushing games to start the year. … In the AML-North, Smethport (0-4) visits Cameron County (0-4) as the teams have combined for just four TDs this year. The Hubbers have one TD in four losses to Bradford, Curwensville, Ridgway and Brockway. … Otto-Eldred (1-3) travels to Port Allegany (0-4) and Coudersport (1-3) heads to Sheffield (0-4) for a 1:30 p.m. Saturday kickoff. The Falcons are coming off a 14-12 win over Elk County Catholic.
KSAC
Just one divisional game is on the Keystone Shortway Athletic Conference schedule with Punxsutawney (1-3) at Karns City (2-2) in the Large School as veteran head coach Ed Conto looks for his 199th career win. The crossover divisional games have Brookville (3-1) hosting Redbank Valley (2-1), unbeaten Clarion (3-0) visiting C-L (3-1), Keystone (1-2) visiting Moniteau (2-1) and St. Marys (0-3) heading to Foxburg to take on Union/A-C Valley (0-4).
The most interesting matchup of the week in the conference has the Bulldogs heading north on Route 28 to take on the Raiders. The Bulldogs dealt C-L a 40-14 loss to get the inside track on winning the KSAC-Small while the Raiders blanked Punxsutawney for their first shutout in seven  years.
The Raiders boast the top passing game in the district as freshman quarterback Jack Krug has thrown for a D9-leading 1,031 yards on over 71-percent passing (75-for-105) with 15 TDs, much of that going to junior receiver Bryan Dworek (36-546, 7 TDs).
Coming off a 400-yard rushing game against the Lions, the Bulldogs are even more confident in their running game led by senior Clint Thurston (58-548 yards, 13 TDs). Brock Barrett, a wideout, went over 100 yards last week after having just six yards on the ground going into the C-L game. Quarterback Keaton Kahle nearly went over 100 yards with 87 on the ground including a 70-yard TD run.
At C-L, it's the 48th meeting between the Lions and Bobcats, who have won the last 13 games between next-door rivals. Colton Rapp (528 yards, 7 TDs) is off to a strong start on the ground for the Bobcats. Lions quarterback Brenden Makray (39-for-60, 756 yards, 10 TDs, 3 Ints.) leads a balanced C-L offense with both Chris Peace (58-395) and Riley Hummell (30-354) over 300 yards rushing.
District 10 Region 5
Warren (1-3) at DuBois (1-3)
It appears to be a close matchup based on similar scores in back-to-back games with Meadville. The Dragons lost to the Bulldogs, 54-19, last week one week after the Beavers fell to the same team, 55-21.
Running back Noah Myers (70-569 yards, 2 TDs) and quarterback Jake Kupchella (27-for-54, 370 yards, 5 TDs, 3 Ints.) lead the Warren offense.
Beavers quarterback Matt Miller (60-for-118, 846 yards, 7 TDs, 1 Int.) jumped into the No. 4 spot on the district's all-time passing yardage list two weeks ago, passing Smethport's Mike DeFilippi (6,638). He trails Port Allegany's Matt Bodamer (10,948), Brockway's Derek Buganza (9,752) and DuBois' Gabe French (7,940).
Miller's top target is Kyle Hopson (28-457, 4 TDs).
Non-Conference
Clearfield (2-2) at Central Mountain (0-4)
The Bison haven't lost three in a row since 2005, so they'll step out of the Mountain League schedule to take on a winless Wildcats team that's coming off a triple-overtime loss to Bellefonte.
Bison quarterback Isaac Rumery (59-for-94, 931 yards, 11 TDs, 4 Ints.), coming off a 300-yard passing game in their loss to Huntingdon last week, nears the 1,000-yard level. He's also rushed for 200 yards. Rumery's top receiving target is Micah Heichel (21-397, 3 TDs).
The Wildcats have given up 137 points in losses to Bellefonte, Shikellamy, Hughesville and Williamsport.