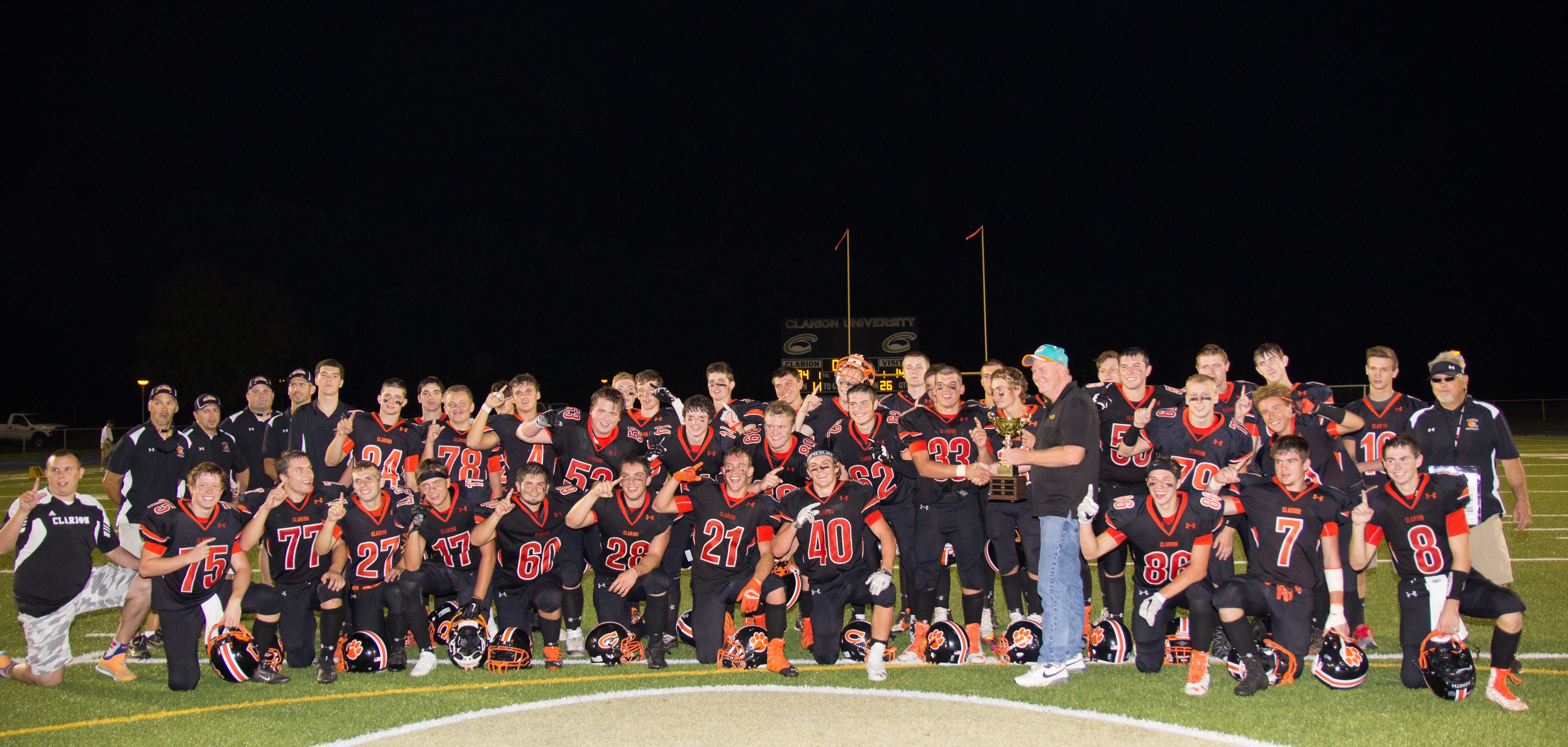 Football recaps from Week 4. Recaps updated through all weekend action. 
(Cover photo of Clarion receiving the Black & Blue Brawl Trophy after beating C-L Friday Night for head coach Larry Wiser's 200th win. Photo courtesy of Bri Nellis)
ELK COUNTY CATHOLIC 27, BRADFORD 7
ST. MARYS, Pa. – Scoring two fourth-quarter touchdowns, Elk County Catholic pulled away from visiting Bradford for a 27-7 win in the AML South opener for both teams Saturday night at Dutch Country Stadium in St. Marys.
The Crusaders (5-0) led by just seven, 14-7, after an 8-yard Donny Pattison touchdown run in the third quarter got Bradford on the board.
But ECC answered with a 3-yard Nate DaCanal touchdown run followed by a 65-yard Jared Braun interception return for a touchdown to seal the victory.
Braun's defensive touchdown was his second score of the game. He gave ECC a 7-0 halftime lead with a 58-yard second-quarter run. A Bradford defensive stop on an ECC play on fourth-and-goal from the 1-yard line kept the game a one-score game just before halftime.
ECC, however, got that touchdown to make it  14-0 in the third quarter thanks to a 2-yard Dan Stauffer run before Pattison scored for the Owls (3-2) following a Crusader fumble.
Braun ran 15 times for 140 yards for ECC, while Stauffer added 18 carries for 67 yards.
Pattison had 64 yards rushing on six carries while catching two passes for 36 yards to lead Bradford, while Kyle Kirk was 7 of 17 for 93 yards and an interception.
CLARION 34, CLARION-LIMESTONE 14
CLARION, Pa. – Mike McCloskey scored five times, as Clarion gave head coach Larry Wiser his 200th career win while also making its claim for the inaugural Black & Blue Brawl Cup with a 34-14 win over Clarion-Limestone at Clarion University's Memorial Stadium.
McCloskey had a lot to do with the Bobcats (4-0) 13th straight victory over the Lions (3-1).
He scored on runs of 37, 5, 3 and 2 yards and on a 6-yard a pass from Spencer Miller.
C-L grabbed an early 8-0 lead on a 14-yard Brendan Makray to Riley Hummell touchdown pass on the game's first drive, but Clarion rolled off the next 34 points, including 28 before halftime, to put the game away.
McCloskey ran for 71 yards on seven carries finishing the work of Colton Rapp who exploded for 210 yards on 26 carries.
Makray was 17 of 34 passing for C-L for 204 yards, two touchdowns and an interception. Both scores went to Hummell, who caught five passes for 95 yards.
Clarion limited the Lions to 38 yards rushing led by Mike Macefe's 58 on 14 carries.
KANE 43, CURWENSVILLE 12
CURWENSVILLE, Pa. – Evan DeLong ran 16 times for 168 yards and two touchdowns to lead Kane to its first win in Curwensville since 2003, 43-12.
Reed Williams added 70 yards passing on 4 of 10 with a touchdown and an interception. The touchdown was a highlight-reel 35-yard pass to Davis Gardner, who snagged the toss one-handed.
Austin Labesky added four carries for 53 yards and a touchdown for Kane, and Frank Truden had five totes for 72 yards and a score.
Nick Stewart ran 39 times for 184 yards and one touchdown for Curwensville.
Kane is now 5-0 and has won 21 straight games against District 9 opponents. Curwensville falls to 4-1.
SMETHPORT 12, CAMERON COUNTY 7
SMETHPORT, Pa. – Akete Kindle scored on a 22-yard run with 6:13 to play to give Smethport a 12-7 win over visiting Cameron County.
The Hubbers (1-4) trailed 7-6 after Tristan Reed's 2-yard scoring run midway through the third quarter gave Cameron County (0-5) but rallied to get the victory.
The game was scoreless at halftime before Smethport got on the board first on a 6-yard Devon Brown touchdown run.
All of Smethport's offense came on the ground with the Hubbers rushing for 237 yards led by Browns' 135 on 25 carries with the score. Kindle added six carries for 76 yards and the touchdown. Brown chipped in on defense with a team-best nine stops, including a sack.
Reed ran 30 times for 97 yards and the score for Cameron County and caught one pass for 38 yards. He also made seven tackles.
Adam Streich was 9 of 17 passing for 160 yards and ran 11 times for 39 yards.
Three of his passes went to Derek Rieder for 71 yards.
COUDERSPORT 28, SHEFFIELD 20
COUDERSPORT, Pa. – Aaron Wolfinger threw a pair of touchdown passes to David Burd, as Coudersport held off visiting Sheffield, 28-20.
Wolfinger hit Burd with a 43-yard strike to open the scoring and then connected to him from 17 yards out in the third quarter to give the Falcons (2-3) a 28-13 lead.
But Sheffield scored when Drew Higby recovered a fumble to make it 28-20 six seconds into the fourth quarter.
The Wolverines then moved the ball to the Coudy 8-yard line with 9:15 to play before the Falcons defense rose to the occasion stopping the Wolverines a ½ yard short of pay dirt.
Jared Green (5-yard run) and Brock Wilson (30-yard run) also scored for Coudersport.
Also scoring for Sheffield were Kevin Evan on a 65-yard punt return and Darnell Mason on a 3-yard Cale Albaugh pass.
Wolfinger was 5 of 13 passing for 86 yards and two scores while also rushing 43 times for 14 yards. Wilson had 10 carries for 61 yards, and Green 14 for 35.
Albaugh was 10 of 26 passing for 154 yards with a touchdown and an interception. Evan had two catches for 58 yards and ran seven times for 30 yards.
OTTO-ELDRED 43, PORT ALLEGANY 8
DUKE CENTER, Pa. – Damen Palmer ran for 64 yards and two touchdowns on just six carries, as Otto-Eldred got its first win of the year, 43-8, over visiting Port Allegany.
The Terrors (1-4) exploded for 23 first-quarter points, including an 8-yard Palmer run, to put the game away early. Palmer then added a 35-yard run in the third quarter to get the Mercy Rule rolling with Otto ahead 37-0.
Seth Drummond (8-yard run), Grant West (71-yard fumble recovery), Dylan Close (25-yard pass from Sawyer Drummond) and Cameron Magee (13-yard run) also scored for Otto-Eldred.
Josh Rees' 8-yard scamper with 1:10 to play helped Port Allegany (0-5) avoid its fourth shutout in five games.
Magee, the backup quarterback, ran for 59 yards on two carries and was also 1 of 3 passing for 15 yards.
West had three carries for 49 yards, while Seth Drummond added 46 yards on eight carries.
Rees had a 100-yard game for Port Allegany rushing 17 times for 102 yards and the touchdown. Jake Kallenborn added 50 yards rushing and 24 passing with an interception.
BROCKWAY 36, RIDGWAY 16
JOHNSONBURG, Pa. – Brockway scored 19 points in the final 1:20 of the third quarter to break open a one-score game and pick up a 36-16 win over Ridgway in Johnsonburg.
The Rovers (5-0) led 17-10 before Cameron Baka caught a 32-yard touchdown pass from Hunter Miller, Miller's third touchdown pass of the game, with 1:20 to play in the third. The score was set up when Dylan LeCates, who caught two touchdowns from Miller, picked off his second Ridgway pass of the game. LeCates finished with three interceptions.
At that point, things went completely south for the Elkers (4-1).
A pooch kickoff was recovered by Brockway at the Ridgway 31-yard line and led to a 5-yard Tyler Serafini touchdown run that made it 30-10 with nine seconds left in the quarter.
Things then went from bad to worse for Ridgway when the Elkers fumbled the ensuing kickoff giving the ball to Brockway at the Ridgway 29.
One play was all it took for the Rovers to strike with Miller throwing his fourth scoring aerial of the game, this time a 29 yarder to Andrew Trunzo making it 36-10.
Miller and LeCates hooked up twice in the game's first 15 minutes, once from three yards and once from eight yards, as Brockway grabbed a 14-2 lead three minutes into the second quarter.
But a 6-yard Johnny Mitchell touchdown run just before halftime got Ridgway back into the game at 14-10.
Jarrett Esposito then hit a 27-yard field goal midway through the third quarter to set the score at 17-10 before the last-minute Rover onslaught happened.
Ridgway tried to stay in the game when Mitchell hit Jake Zimmerman with a 56-yard scoring pass early in the fourth quarter to close the gap to 20, but that was as close as the Elkers got.
Miller finished the night going 15 of 24 for 261 yards and four touchdowns while also throwing an interception. LeCates caught five passes for 34 yards and the scores, while Trunzo had three catches for 79 yards and Mark Latuska three for 67. Latuska also ran 14 times for 70 yards.
Mitchell was 5 of 16 passing for 86 yards a touchdown and four interceptions. He added 24 yards rushing. Also for Ridgway, Neil MacDonald ran six times for 31 yards.
DUBOIS 62, WARREN 28
WARREN, Pa. – Matt Miller threw three touchdown passes, Dalton Kruzelak ran for a pair of touchdowns, Kyle Hopson had a monster night receiving with a pair of scores and Braden Paulinellie also scored twice to lead visiting DuBois to a 62-28 win over Warren.
Miller was 15 of 22 for 263 yards with touchdown passes of 27 and 45 yards to Hopson and 44 yards to Paulinellie, who also scored on a 91-yard punt return.
Hopson caught nine passes for 175 yards and the two scores, while Kruzelak ran five times for 33 yards with touchdown runs of 1 and 7 yards.
DuBois' defense also scored three times with Eric Schneider returning a fumble 3 yards for a touchdown, Brock Adams an interception 29 yards for a score and Kenny Garvey an interception 25 yards for a touchdown.
The game actually featured four defensive touchdowns with Warren's Aidan Morrison also returning a fumble 15 yards for a score.
DuBois led 62-14 before Warren scored on a pair of Jake Kupchella touchdown passes in the fourth quarter, one to Brendon Mattson from 22 yards out and one to Morrison from 80 yards away.
Mattson also caught a 2-yard touchdown pass from Kupchella on the final play of the first half to close DuBois' lead to 35-14 at the break.
Kupchella was 9 of 18 passing for 161 yards, the three touchdowns and the two interceptions.
Paulinellie added four catches for 66 yards and the score for DuBois while also rushing for 16 yards on six carries.
REDBANK VALLEY 42, BROOKVILLE 2
NEW BETHLEHEM, Pa. – Quarterback Keaton Kahle threw for two touchdowns and ran for another as the Redbank Valley Bulldogs dumped visiting Brookville, 42-2, in a Keystone Shortway Athletic Conference crossover game Friday night.
Kahle ran for a 73-yard touchdown to start the Bulldogs' 21-point second quarter and then threw a 28-yard touchdown pass to Jared Kespelher. He hooked up with Clint Thurston on a 4-yarder to put the Bulldogs up 35-0 with 2:19 left in the third quarter. He wound up completing 11 of 21 passes for 224 yards while rushing for a team-high 72 yards on eight carries.
Thurston made it 21-0 before halftime on a 4-yard run while Colten Mohney and Travis Crawford scored on runs of 1 and 4 yards respectively in the second half. The Bulldogs outgunned the Raiders, 431-196.
The Raiders' lone points came on a safety when Bulldogs backup quarterback Brock Barrett mishandled a snap and was tackled in the end zone early in the fourth quarter. Brandon McGranor led the Raiders in rushing with 74 yards on 10 carries.
The two points scored by Brookville (1-3) mark the fourth time in school history the Raiders have scored two points in a game and the first since losing to Clarion 26-2 in 1964.
Redbank Valley (2-2) held an opponent to two points for the first time since 1978 when the Bulldogs beat Clarion-Limestone 1978.
MONITEAU 33, KEYSTONE 6
KNOX, Pa. – Chance Nagy ran for a pair of third-quarter touchdowns to help visiting Moniteau pull away from Keystone for a 33-6 win.
The Warriors (2-2) led by just 10, 16-6 at halftime, but outscored Keystone 17-0 in the second half.
Steven Fawcett added a pair of field goals for Moniteau hitting from 37 and 26 yards out, Mitch DiMaria scored on a 6-yard run and Dalton Anderson returned the opening kickoff 77 yards for a touchdown.
Nate Wingard tossed a 21-yard pass to Austin Ion for Keystone's lone score.
Nagy, who scored on runs of 1 and 38 yards, ran 12 times for 54 yards and was 1 of 9 passing for 28 yards and an interception.
Nick Martino led Moniteau with 79 yards rushing on 14 carries with DiMaria chipping in 37 yards on seven carries.
Wingard was 10 of 24 passing for 124 yards, the touchdown and an interception.
Corey Rapp had five catches for 81 yards for Keystone (0-5) with Kyle Kapp adding four for 74 and Ion three for 26. The Panthers, though, were held to negative 22 yards rushing.
ST. MARYS 32, UNION/A-C VALLEY 14
ST. MARYS, Pa. – Matt Marconi ran for two touchdowns, and Pat Schlimm threw a pair of touchdown passes to Parker Smith, as St. Marys held off visiting Union/A-C Valley, 32-14.
Marconi, who ran 21 times for 122 yards, scored on first-quarter runs of six and seven yards to give the Dutch a 12-0 lead at the end of the quarter.
Schlimm, who was 9 of 18 passing for 116 yards, then Smith with passes of 21 and 22 yards, the second one coming on the final play of the first half, to expand the St. Marys' lead to 25-0 at halftime.
Smith had four catches for 69 yards.
Union/A-C Valley, though, stormed back in the third quarter on a pair of Lucas Bowser to Kody Wolfe touchdown passes, the first from 21 yards and the second from 22 yards, to get within 11, 25-14, at the end of the quarter.
But Jeff Wehler picked off a Bowser pass late in the game and returned it 25 yards for a touchdown to set the final score.
Bowser was 7 of 21 for 171 yards and the two touchdowns while also throwing three interceptions. Wolfe caught three passes for 53 yards.
St. Marys bottled up the Falcon Knights' running attack holding Union/A-C Valley to negative four yards rushing. The Falcons Knights also had four turnovers.
CLEARFIELD 28, CENTRAL MOUNTAIN 7
CLEARFIELD, Pa. – After spotting visiting Central Mountain an early 7-0 lead, Clearfield rolled off 28 points to pick up its fourth straight win with a 28-7 victory.
The Bison (4-1) led 14-7 at halftime and then scored twice in a span of 23 seconds midway through the fourth quarter to put the game away.
Seth Caldwell's 1-yard touchdown run with 7:39 to play gave Clearfield a 21-7 lead, and 23 seconds later Matt Collins returned an interception for a touchdown.
After Justin Neff's 23-yard scoring run had given Central Mountain a 7-0 lead at the end of the first quarter, Isaac Rumery got the Bison the lead at halftime.
He tied the game with a 15-yard pass to Micah Heichel and then scored on a 16-yard run with just 16.9 seconds left in the half.
Rummery finished 5 of 12 passingfor 66 yards, a touchdown and two interceptions while also rushing for 50 yards and a touchdown on 10 carries.
Caldwell paced the Bison with 27 carries for 120 yards and the score. Heichel had three catches for 44 yards.
KARNS CITY 47, PUNXSUTAWNEY 0
PUNXSUTAWNEY, Pa. – Karns City scored four touchdowns of 50 or more yards on its way to a 47-0 win at Punxsutawney.
Chandler Turner, Kaiden Powers and Cullen Williams each scored twice for the Gremlins (4-1), who made the big play a habit in keeping the Chucks (0-4) winless.
Powers scored on runs of 86 and 66 yards, Turner caught a 75-yard screen pass from Jacob King on the final play of the first half and Williams scored on a 52-yard run.
Turner added a 22-yard scamper, and Williams and 11-yard run for Karns City, which also scored on a 27-yard King to Clay Garing touchdown pass.
Karns City led 33-0 at halftime.
Karns City rushed for 363 yards despite no back getting more than five carries on the night and 11 runners carrying the ball.
Powers led the ground game with four carries for 168 yards, while King threw for 198 yards and the two scores going 6 of 15 while also throwing two interceptions. Williams added five carries for 79 yards and one catch for 43 yards, while Turner had five carries for 42 yards and two catches for 89
Tyler Richardson had nine carries for 63 yards for Punxsutawney with Dylan Ishman going 11 of 19 passing for 54 yards and an interception.