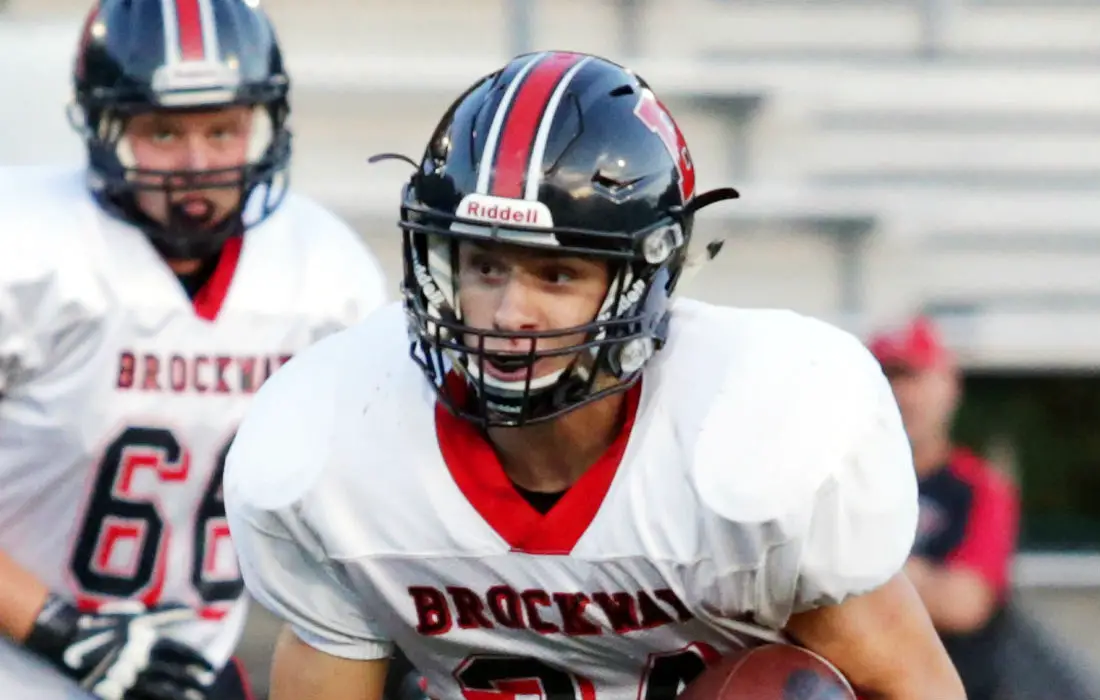 It's a guarantee that this week's schedule in District 9 football will start one day earlier and eliminate at least one of the remaining four undefeated teams.
Brockway's Dylan LeCates and the rest of his teammates host Curwensville in a key AML South matchup Friday. (Photo by Paul Burdick)
This week's 13-game schedule starts Thursday night when Union/A-C Valley travels to New Bethlehem to take on Redbank Valley in the Keystone Shortway Athletic Conference's annual Autumn Leaf Festival week game.
Then on Friday, the Allegheny Mountain League's South Division has a couple of headliner games, including a battle of two 5-0 teams in Kane where the defending Allegheny Mountain League champion Wolves host 5-0 Elk County Catholic and 4-1 Curwensville's trip to 5-0 Brockway.
In Kane, two of the stingiest defenses in the state statistically are locking up as the Wolves (4 ppg.) and Crusaders (4.6 ppg.) rank tied for eighth and 13th in the state respectively in points allowed. The Wolves also rank 10th in the state in scoring at 52 points per game.
The Crusaders are the last D9 team to beat the Wolves in a 13-12 Week 8 win in 2014. Since then, it's been 20 straight wins for the Wolves against D9 opponents with two wins against the Crusaders in the first round of the 2014 playoffs (39-0) and last year's 26-0 win.
Kane averages 455 yards per game offensively (134 pass, 321 rush), led by running back Erik Delong (80-718, 12 TDs) with Austin Labesky (25-259, 5 TDs) and Jake Alcorn (11-237, 2 TDs) contributing out of the backfield as well. Quarterback Reed Williams (30-for-54, 668 yards, 8 TDs, 1 Int.) and receivers Davis Gardner (12-230, 3 TDs) and Ray Maze (10-211, 3 TDs) lead the passing game.
ECC isn't quite as flashy as the Wolves offensively, averaging 312 yards per game (247 rush, 65 pass) with just 46 passing attempts in its five wins. Quarterback Nate DaCanal (22-for-44, 326 yards, 5 TDs, 2 Ints.) is a two-way threat with 253 yards rushing on 35 carries and shares the team lead in rushing touchdowns with Jared Braun (49-401) with six. Dan Stauffer (60-299, 3 TDs) leads the team in carries. Brad Dippold (8-110, 4 TDs) is the leading receiver.
Meanwhile, the Rovers have beaten the Tide in five out of the last six meetings, including last year's 24-14 win at Curwensville. The Golden Tide are coming off their first loss in a 43-12 defeat to Kane at home while the Rovers opened their AML South schedule with a 36-16 win over RIdgway in Johnsonburg.
Brockway quarterback Hunter Miller (50-for-70, 1,146 yards, 14 TDs, 3 Ints.) is coming off his Co-Player of the Week performance last week and leads a Rovers offense that averages 439 yards per game and leads the district in scoring at 54.4 points per game. That number also ranks sixth in the state.
Mark Latuska (49-413, 7 TDs) leads the running game while Andrew Trunzo (15-371, 2 TDs) and Dylan LeCates (12-275, 5 TDs) are the top receiving targets. Some 14 different Rovers have combined to score their 37 touchdowns.
Most Curwensville's 349 yards of offense per game comes on the ground, led by junior Nick Stewart (107-1,017, 5 TDs) who went over 1,000 yards in last week's loss. Against the Wolves, he toted the ball a career-high 39 times for 184 yards and passed Clarion's Kyle Cathcart for the No. 5 spot on the district's all-time rushing list. Now with 4,521 yards, he trails No. 4 all-time leading rusher Dave Richards of Clearfield by 120 yards and No. 3 Aaron Cantafio of Brockway by 173 yards.
Stewart accounts for 64.1 percent of the Tide's yards from scrimmage. Quarterback Bryce Timko has completed 26 of 54 passes for 371 yards and five touchdowns and two interceptions.
Since we're safely in the mid-point range of the regular-season schedule, you can glance at the D9 football playoff standings here.
Here's a closer look at the rest of the schedule:
THURSDAY
KSAC Small
Union/A-C Valley (2-2 overall, 1-1 KSAC Small) at Redbank Valley (2-2, 1-1)
A-C Valley gets thrown into the mix of the longtime rivalry between the other schools. Last year, Redbank Valley closed that chapter in the 80th meeting with a Bulldogs 49-22.
This time around, it's a huge matchup as the second automatic Class A playoff berth allotted to the KSAC Small is at stake. Both teams have lost to Clarion-Limestone and routed Keystone, so the winner of this one finishes second among the four-team Class A KSAC field — no, Clarion is Class AA.
For Redbank Valley, sophomore quarterback Keaton Kahle (27-for-53, 409 yards, 4 TDs, 2 Ints.) is coming off a strong performance against Brookville. He ran for a 73-yard yard TD against the Raiders, although Curtis (37-204) and Colten Mohney (36-187) are the team's leading rushers. Jared Kespelher (8-160) is the leading receiver.
For Union/ACV, quarterback Lucas Bowser (32-for-69, 503 yards, 8 TDs, 5 Ints.) and the rest of his teammates are coming off a 32-14 loss at St. Marys in which the Falcon Knights struggled stopping the Dutch, especially early on. Gavin Hawk (12-206, 4 TDs) has been Bowser's top receiving target while Lane Chalmers (52-224) is the team's leading rusher.
FRIDAY
AML South
Ridgway (4-1 overall, 0-1 AML South) at Bradford (3-2, 0-1)
Both the Elkers and Owls are coming off losses in their AML South openers last week, so they'll be looking for a bounce-back effort.
Junior Neil MacDonald (43-428, 4 TDs) averages just under 10 yards per carry, leading an Elkers offense that gets 206 of its 262 yards per game on the ground.
The Owls are a bit more balanced, although they're averaging 240 rushing yards per game with both Donny Pattison (36-483, 13.4 yards per carry, 5 TDs) and John Eakin (44-440, 10 yards per carry, 4 TDs) over 400 yards rushing. Quarterback Kyle Kirk has thrown for 650 yards and eight touchdowns with Mitchell Vleminckx (8-224, 4 TDs) as his top receiving target.
AML-North
Coudersport (2-3 overall, 1-0 AML-North) at Cameron County (0-5, 0-1)
The Falcons got by Sheffield in their AML-North opener and now they'll travel to Emporium to face the Red Raiders, who lost a 12-7 decision to Smethport.
Coudersport is balanced offensively, averaging 222 yards per game — 117 passing, 105 rushing — with quarterback Aaron Wolfinger (33-for-74, 494 yards, 6 TDs, 8 Ints.) in the middle of both numbers. He's also second on the team in rushing with 153 yards on 50 attempts. Brock Wilson (46-180, 3 TDs) is the leading rusher while Derek Keglovits (10-206, 2 TDs) and Jared Green (11-176, 2 TDs) are the top receivers.
Cameron County has scored just three touchdowns in the past four weeks. Quarterback Adam Streich (38-for-96, 514 yards) and Tristan Reed (74-241) lead the team.
Sheffield (0-5, 0-1) at Otto-Eldred (1-4, 1-0)
After scoring three touchdowns and 19 points in their first four games, the Terrors piled up 43 points in last week's win against Port Allegany.
Meanwhile, the Wolverines, with just nine points in their first four games, dropped a 28-20 decision at Coudersport with the help of a fumble recovery and punt return for two scores. They've lost 15 straight games dating back to the beginning of last year.
KSAC Large
St. Marys (2-2 overall, 1-1 KSAC Large) at Punxsutawney (0-4, 0-3)
The Flying Dutchmen head to Punxsutawney trying to build off last week's solid 32-14 win over Union/A-C Valley. They face a Chucks team that's now dropped eight straight games and 10 of its last 11 since Week 4 of last year.
The Dutch average 305 yards offensively with running back Matt Marconi (85-438, 3 TDs) leading the run-oriented attack. Quarterback Pat Schlimm (27-for-55, 389 yards, 4 TDs, 2 Ints.) runs the passing game with Jeff Wehler (9-211, 2 TDs) being his top target. Wehler has four interceptions to lead the defense.
The Chucks, with three touchdowns in their four games, average 154 yards per game offensively. Quarterback Dylan Ishman (23-for-48, 241 yards, 2 TDs, 3 Ints.) and receivers Ethan Riley (15-146) and Jacob Weaver (14-100) lead the offense.
KSAC-Crossover
C-L (3-1) at Brookville (1-3)
After splitting on their chances to end long losing streaks to next-door rivals Redbank Valley (53-19 win) and Clarion (34-14 loss last week), the Lions have another one they'll try to end this week at Brookville. They've lost eight straight to the Raiders dating back to their last win, a 7-6 victory at Brookville in 2005.
The Lions average 357 yards per game offensively and it's pretty much balanced as quarterback Brendan Makray (45-for-87, 739 yards, 7 TDs, 8 Ints.) and fullback Mike Macefe (83-450, 6 TDs) lead the way. Also for the Lions, Sam Leadbetter (15-335, 3 TDs) and Riley Hummell (13-198, 3 TDs) are the leading receivers.
Scoring just three offensive touchdowns in their four games so far, the Raiders are struggling. Brandon McGranor (42-138) is the team's top rusher.
Keystone (0-5) at Karns City (4-1)
Last year's near-upset win by the Panthers over the Gremlins (Karns City 48-40 win in double-overtime) was a shocker anyway. Something close to that this year would be even more of a surprise considering that the Panthers allow the third-most points in the state at 53 points per game.
The Gremlins have won handily in their four wins since starting the year with a loss to Armstrong. They're averaging 406 yards per game offensively with quarterback Jacob King (49-for-89, 767 yards, 7 TDs, 4 Ints.) and running back Chandler Turner (38-421, 5 TDs) leading the way.
Panthers quarterback Nate Wingard (46-for-93, 620 yards, 5 TDs, 6 Ints.) heads a Keystone offense that has minus-14 yards rushing this year. His top receiver is Corey Rapp (22-344, 2 TDs).
The Gremlins haven't lost to the Panthers since 1995.
Clarion (4-0) at Moniteau (2-2)
The Bobcats head to West Sunbury looking to avenge last year's game that was also on Moniteau's home field — KSAC quirky schedule rotation — where they lost 10-0 in Week 6. It was the first Warriors shutout of the Bobcats since 1970.
Clarion is coming off a solid performance in its Black and Blue Brawl win over Clarion-Limestone last week. The Bobcats trail Kane and Elk County Catholic on points allowed in D9 and their 5.5 per game allowed average ranks 17th in the state.
The Bobcats average 424 yards per game offensively, most of it on the ground from Colton Rapp (75-600, 4 TDs). Mike McCloskey (22-166) scored all five of his TDs in last week's Co-Player of the Week performance against C-L. Quarterback Spencer Miller (22-for-41, 423 yards, 9 TDs, 4 Ints.) runs the passing game.
For Moniteau, receiver Dalton Anderson leads the team with five touchdowns. He returned the opening kickoff for a touchdown against Keystone last week. Quarterback Chance Nagy has thrown for 432 yards, most of that going to Anderson. Corey Goyak was the team's leading rusher going into last week, but Nick MArtino, a freshman, ran for 79 yards on 14 carries against the Panthers.
Mountain League
Bellefonte (3-2 overall, 3-0 ML) at Clearfield (4-1, 3-0)
The Bison have won four straight going into their matchup with the Red Raiders, who are also unbeaten in the Mountain League.
The Red Raiders lost a non-conference game at Central Mountain two weeks ago, 24-21, and then last week Clearfield beat Central Mountain, 28-7. Both teams have played Huntingdon with the Bison winning 35-21 two weeks after Huntingdon beat the Red Raiders, 21-20.
Bison quarterback Isaac Rumery (41-82, 821 yards, 6 TDs, 6 Ints.; 59-311, 3 TDs rushing) continues his strong sophomore season while running back Seth Caldwell (109-575, 8 TDs) closes in on 4,000 career yards. He's at 3,715.
Rumery's top receiving targets at Micah Heichel (18-472, 4 TDs) and Ryan Lezzer (11-246, 1 TD). Senior linebacker Matt Collins has 86 tackles so far, or 17.2 per game.
Non-Conference
Taylor Allderdice (2-3) at DuBois (3-2)
The 4A Beavers host 6A Taylor Allderdice Dragons from the Pittsburgh City League (District 8), the alma mater of hip-hop recording artist Wiz Khalifa. We're not sure if Khalifa, Cameron Jibril Thomaz, is a former football player, but we do know that Hall of Famer Curtis Martin did play football at Allderdice before heading to Pitt and then the NFL.
Allderdice is coming off a 43-6 win over Carrick and 22-19 over USO after starting the season with losses to Altoona (43-0), Brashear (7-6) and Wheeling Park (W.V). The Dragons, 5-5, last year have played in the last three City League title games but lost all three. Their running-based offense is led by Jeremiah Hardrick, who has five TDs. Kyier Hurt is their first-year starting quarterback.
The Beavers have won two straight, scoring 117 points combined in wins over Warren (62-38) last week and Oil City (55-16). They're averaging 418 yards (246 pass, 172 rush) offensively as junior quarterback Mike Miller has completed 31 of 44 passes for 630 yards and eight touchdowns against one interception in his two games since returning from an injury.  Receiver Kyle Hopson (37-729, 8 TDs) is having a lights-out season. Braden Paulinellie (63-403, 4 TDs) and Brock Adams (43-338, 5 TDs) lead the running game.
SATURDAY
AML-North
Smethport (1-4, 1-0) at Port Allegany (0-5, 0-1), 1:30 p.m.
The Hubbers are coming off their first win of the year, a 12-7 win over Cameron County, and it's only their second time in double-figure scoring so far. Meanwhile, the Gators gave up a season-low point total in a 43-8 loss at Otto-Eldred, but still are the worst in the state at surrendering 59.6 points per game.
Devin Brown ran for 135 yards on 25 carries with a touchdown for the Hubbers against Cameron. Akete Kindle ran for 76 yards on six carries with a touchdown that put the Hubbers ahead with 6:13 left in the game. All of Smethport's yards came on the ground.
Josh Rees ran for 102 yards and a touchdown for the Gators against Otto-Eldred.