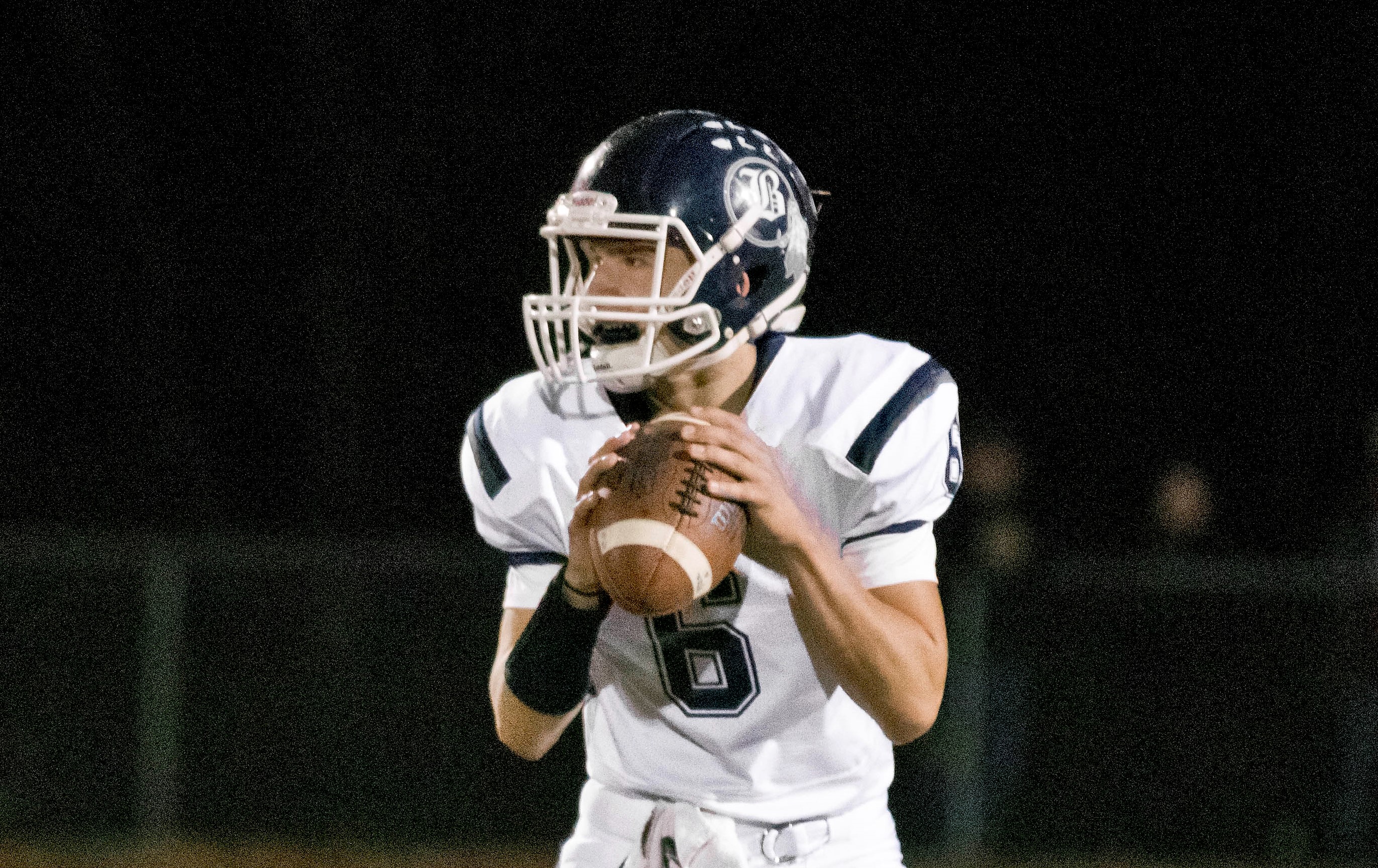 Week 7, Playoff Recaps.
(Photo Courtesy of: Kyle Yates)
Redbank Valley vs. Coudersport
NEW BETHLEHEM, Pa. – Redbank Valley's firm defensive effort and timely playmaking on offense propelled the Bulldogs past Coudersport 28-12 in the D9 Class A Semifinal. The victory puts Redbank Valley into the conference title game against Smethport.
Cam Wagner was the surprise hero for Redbank Valley, completing 12 of his 16 passes for 146 yards and three touchdowns. Marquese Gardlock hauled in four catches for 70 yards, while Trenten Rupp snagged three passes for 56 yards. The Bulldogs' defense had a strong game, forcing four turnovers and stopping Coudersport's running game with a tremendous push from the defensive line. Hayden Keck threw for 106 yards for Coudersport, and Brandt Kightlinger rushed for 120 yards on 27 carries.
Read the full recap here.
Smethport 12, Union/A-C Valley 10
SMETHPORT, Pa. – The Smethport Hubbers put in a trademark gritty performance, outlasting Union/A-C Valley to win 12-10. The win puts the Hubbers into the D9 Class A Finals.
The contest was a hotly contested defensive affair, as Smethport prevented Union/A-C Valley from gaining any meaningful yards, while the Falcon Knights employed a bend-but-don't-break approach to success.
After both sides failed to make headway for most of the second half, Smethport finally broke down the Union/A-C Valley defense as Noah Lent connected with Ryli Burritt for the decisive 22-yard touchdown pass.
Read the full recap here.
Brookville 49, Ridgway 15
BROOKVILLE, Pa. – Brookville quarterback Jack Krug threw for 396 yards and had seven total touchdowns in Brookville's big 49-15 victory over Ridgway. The win advances Brookville into the D9 AA Finals, where they will face Karns City.
Krug had five passing touchdowns, a rushing touchdown, and scored his first career receiving touchdown on a fake punt. Robert Keth was Krug's primary target, reeling in five catches for 154 yards and a touchdown. Keth was also the passer on Krug's fake punt score. Brayden Kunselman also reeled in four catches for 117 yards and a touchdown. Ridgway's Ben Briggs had a solid game under center, throwing for 185 yards and a touchdown in the loss.
Read the full recap here.
Karns City 34, Central Clarion 9
CLARION, Pa. – For much of the season the Central Clarion Wildcats limited their mistakes but on Friday evening in their Semifinal District 9 Class AA playoff game against Karns City they had three interceptions along with a lost fumble which really hurt their cause in a 34-9 setback at Memorial Stadium at Clarion University.
Karns City was able to get revenge from their 43-41 heartbreaking loss from just two weeks ago.
Read the full recap here.
Clearfield 41, St. Marys 30
BROCKWAY, Pa. – A 31 point first half provided the necessary points for the Clearfield Bison to win the District 9 Class AAA Title game 41-30 over St. Marys.
The Bison came out firing on both ends of the football, beginning the game with a touchdown on their opening drive courtesy of a five-yard run by quarterback Oliver Billotte. After St. Marys tied the score, Clearfield scored 17 unanswered points, including a pick-six from Nate Natoli.
After conceding a field goal with seconds remaining in the first half, Clearfield's Billotte hooked up with Logan Firanski on a desperation heave, finding the endzone with five seconds remaining. The score boosted Clearfield's lead to 31-10 at halftime.
The second half bagan slowly, as both teams failed to score in the third quarter. Early in the fourth, St. Marys quarterback Christian Coudriet connected with Logan Mosier for a nine yard passing touchdown to make it a two possession game. Unfortunately for St. Marys, a Clearfield pick-six from Shane Coudriet killed any hope of a Flying Dutch comeback. Two late scores from St. Marys couldn't change the result, as Clearfield cruised home to a 41-30 win.
Clearfield will play Bedford next week in the next round of the PIAA playoffs at a time and place to be determined.
DuBois 49, Brockway 0
DUBOIS, Pa. – 3-4 DuBois used their stifling defense and a solid offensive effort to best 2-5 Brockway, 49-0. DuBois allowed only 24 yards of offense all night while notching 379 yards of offense themselves, cruising to a big win. Zach Henery rushed for 96 yards in the victory, and Cam-Ron Hays threw for 155 yards and a touchdown.
Curwensville 36, Bucktail 0
CURWENSVILLE, Pa. – Curwensville used a powerful rushing attack to earn their first win of the season, defeating visiting Bucktail 36-0. The score was 7-0 at the half, but the Golden Tide scored four second half touchdowns to secure the victory. Gage Sutliff led Curwensville with 140 rushing yards on 25 carries, and the Curwensville offensive line bossed the contest, playing smashmouth football.
Punxsutawney vs. Moniteau
Recap to come.
Elk County Catholic 42, Cameron County 14
EMPORIUM, Pa. – The 4-2 Elk County Catholic Crusaders dominated the trenches to notch their second win of the season over winless Cameron County, 42-14. The Crusaders were unstoppable on the ground, and Sam Kaul led Elk County Catholic with 158 rushing yards. Fellow rusher Nick Crisp added 125 rushing yards for a Crusaders team that ran for a total of 340 yards on the night.
Otto-Eldred 41, Kane 34
KANE, Pa. – 2-3 Otto-Eldred rode a banner night from quarterback Cole Sebastian en route to a 41-34 win over 3-3 Kane. Sebastian provided four touchdowns on the night, including a spectacular 80-yard touchdown run. Kane quarterback Zuke Smith had three rushing touchdowns of his own, proving his dual-threat prowess yet again. With the score tied late, Otto-Eldred pulled ahead for good after a 65-yard touchdown pass from receiver Ethan Smith to receiver Jake Merry.
Port Allegany 30, Bradford 6
PORT ALLEGANY, Pa. – A shorthanded 2-4 Port Allegany squad used a 22 point fourth quarter to upend 0-6 Bradford, 30-6. Bradford's turnover woes popped up yet again, as the Owls turned the ball over twice in the loss. Although the Owls fought hard, the Gators stood up to Bradford's early offensive push and made clutch second half plays to snatch the victory. Port Allegany's Drew Evens threw for 170 yards and two touchdowns. Trey Ayers had a monster game at wideout, catching six passes for 151 yards and a score.