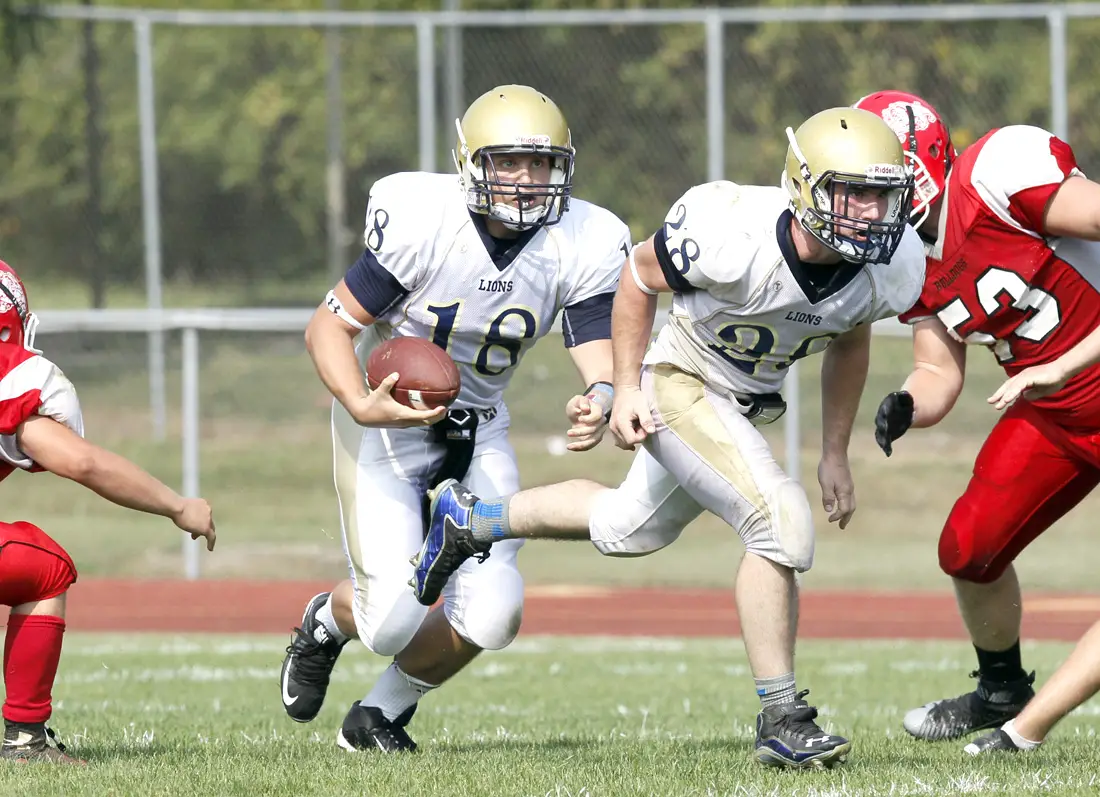 By Rich Rhoades
The Week 9 schedule has a 13-game Friday night and the importance of those games when it comes to playoff scenarios vary. To get a good rundown at the Class A playoff possibilities, go to the story that's already been posted.
With the 13 games this week, we'll rank them in importance regarding playoff implications and/or positioning, or league implications.
Redbank Valley (6-2 overall, 4-0 KSAC-Small) at Clarion (5-3, 3-1)
The Bulldogs and Bobcats erupted for 104 points last year when Redbank's Jake Dougherty threw for a state-record 614 yards, but Clarion had the last laugh in the 58-46 win led by Ian Corbett's 397 yards rushing and six touchdowns.
It's hard to expect that kind of game at Clarion University's Memorial Stadium, but the KSAC-Small Division title is on the line. The Bulldogs can become the first team other than Clarion to win the division since the conference was split into divisions before the 2010 season.
Perhaps the Bobcats can borrow an old Mark Twain quote, "The reports of my death have been greatly exaggerated." They ended a slide of three losses in four weeks with a convincing 35-12 win over once-beaten St. Marys last week.
The Bulldogs haven't beaten the Bobcats since their 2008 regular season win with Clarion winning eight in a row against their neighbors to the south.
Clarion's Colton Rapp (486 yards, 5 TDs) leads the running game while quarterback Brendan Miller is coming off a 9-for-13 passing game for 115 yards and three touchdowns against St. Marys.
Redbank Valley's Connor Shoemaker has thrown for 775 yards and 14 touchdowns while running for 358 yards. Wyatt Hetrick leads the team in rushing (375 yards, 2 TDs), receiving (26 catches, 449 yards, 10 TDs), tackles (51) and interceptions (5) along with all-purpose yards (1,269 yards).
It's the 91st meeting between the teams with Clarion leading the series, 49-36-5.
Curwensville (5-3 overall, 0-3 AML-South) at Ridgway (4-4, 0-3)
Both teams are looking for their first AML-South win, but most importantly trying to get into the Class A playoffs with a win.
The Elkers ended a four-game losing streak with a solid 14-0 shutout win last week at Union while the Golden Tide lost for the third time in four weeks in a 24-14 loss to Brockway.
Ridgway continues to play close games. All but one of their eight games has been decided by more than two touchdowns. The Elkers don't rack up big offensive numbers, averaging just 181 yards per game. Neil MacDonald (280 yards, 4 TDs) leads the team in rushing with Dane Cappiello (276 yards, 3 TDs) not far behind. Against Union, Cappiello was 2-for-7 passing for 72 yards with quarterback Johnny Mitchell carrying the ball 10 times for 58 yards.
Quarterback Jakob Terry (1,197 yards, 15 TDs), running back Nick Stewart (1,213 yards, 15 TDs) and receiver Quamone Newkirk (32 catches, 610 yards, 10 TDs) lead the Golden Tide.
Union (3-5 overall, 2-2 KSAC-Small) at Clarion-Limestone (4-4, 1-3)
It's Senior Night at C-L, meaning that the Union head coach and C-L starting quarterback will be spending a few special moments together before kickoff during festivities. Knights head coach Dave Louder is the father of Lions quarterback Anthony Louder. They live in C-L school district, but dad teaches and coaches in Rimersburg.
The father will try to figure out how his defense is going to stop the son, who has set the Lions' single-season passing yards record previously owned by Scott Davis (1,566 yards in 2005). He's thrown for 1,811 yards with 21 touchdowns and 15 interceptions while rushing for 243 yards and four scores.
Louder's top receiving target, Brady Himes, is closing in on becoming the team's first-ever 1,000-yard receiver. He's at 40 catches for 875 yards and 9 TDs. Conner Keth (32 catches, 460 yards, 5 TDs) is also a threat. On the ground, Mike Macefe is starting to be a factor with 338 yards and 3 TDs.
For Union, Dugan Gallagher has rushed for 1,001 yards and 7 TDs. Cole Morris has rushed for 326 yards and 3 TDs while catching 18 passes for 248 yards and 2 TDs.
Elk County Catholic (7-1 overall, 2-1 AML-South) at Brockway (6-2, 2-1)
It's a big game for positioning with both teams having already clinched Class A playoff berths.
The Crusaders' perfect start to the season was stopped cold in last week's 26-0 loss to Kane while the Rovers picked up a big 24-14 win over Curwensville.
Crusaders quarterback Nate DaCanal (820 yards, 5 TDs passing; 234 yards, 5 TDs rushing), running back Noah Werner (711 yards, 12 TDs) and receiver Eric Gerber (15 catches, 300 yards, 3 TDs) lead the way for ECC.
For Brockway, it's quarterback Hunter Miller (807 yards, 9 TDs passing; 466 yards, 2 TDs rushing), running back Mark Latuska (454 yards, 5 TDs) and receiver Jake Gorham (18 catches, 237 yards, 3 TDs) leading the way.
Karns City (8-0 overall, 3-0 KSAC-Large) at Punxsutawney (3-5, 2-1)
The Gremlins are looking for their fourth straight KSAC-Large title, although they have clinched at least a share of it because if the Chucks pull off the upset, it's a three-way title share that includes St. Marys. Karns City has won 18 straight KSAC-Large games.
Karns City outlasted upset-minded Keystone in a double-overtime thriller last week
The triumvirate of Colin Dunmyre (533 yards, 6 TDs), Maverick Kelsea (488 yards, 11 TDs) and Chandler Turner (484 yards, 7 TDs) lead the Gremlins' running game. Quarterbacks Cullen Williams (377 yards passing; 424 yards rushing) and Jacob King (367 yards passing) split duties behind center.
Quarterback Ryan Jones (1,207 yards, 9 TDs passing; 403 yards, 3 TDs rushing) and receiver Ethan Riley (34 catches, 378 yards, 4 TDs) lead the Chucks.
Sheffield (0-8 overall, 0-4 AML-North) at Port Allegany (5-3, 4-0)
The Gators get in the Class A playoffs for sure despite them already winning the AML-North with a win over the winless Wolverines.
The Gators have won four straight games, including last week's 36-18 win over Smethport that saw quarterback Tre Garzel throw for 274 yards and 4 TDs with Player of the Week honoree Dylan Baumgarner catching 11 passes for 202 yards and all four of those scores. For the year, Garzel has thrown for 766 yards and 8 TDs while Baumgarner has 21 catches for 423 yards and 7 TDs. Mac Tanner has rushed for 597 yards and 6 TDs.
Myquandre Stevenson leads the Wolverines. He ran for 61 yards last week against Otto-Eldred.
Coudersport (4-4 overall, 3-1 AML-North) at Smethport (3-5, 3-1)
The Falcons still have a glimmer of hope in the Class A playoff race and they must beat the Hubbers in what's the 108th meeting between the teams. The Hubbers, winners in three of the last five matchups, lead the all-time series, 60-43-4.
Quarterback Darren Keglovits (943 yards, 12 TDs), Aaron Wolfinger (248 yards rushing) and Jared Green (22 catches, 362 yards, 5 TDs) lead the Falcons.
Running back Adam Shunk (1,204 yards, 11 TDs) leads the Hubbers.
St. Marys (6-2, 2-1) at Moniteau (3-5, 1-2)
The Dutch need to win just in case Punxsutawney upsets Karns City so they could claim part of the KSAC-Large title while the host Warriors probably need to twice, or at least this week, to justify a trip to the postseason. A likely three-team Class AA playoff bracket would have these teams playing again in Week 11 if the Warriors go the postseason.
The Dutch, held to a season-low 197 yards rushing last week, are led by backs Christian Steffan (611 yards, 6 TDs) and Matt Marconi (606 yards, 8 TDs).
Moniteau quarterback Derek Boben has thrown for over 800 yards and rushed for over 600 yards as the centerpiece of the offense.
DuBois (5-3) at General McLane (5-3)
The Beavers and Lancers square off in an interesting non-conference matchup.
In common opponents, General McLane lost to Conneaut (27-13) in Week 5 and beat Oil City (41-6) in Week 4. The Beavers lost to Conneaut (56-21) in Week 3 and beat Oil City (44-34) in Week 6.
Quarterback Matt Miller (2,670 yards, 26 TDs) and receivers Dante Dawson (56 catches, 980 yards, 9 TDs), Colin Read (40 catches, 797 yards, 8 TDs) and Zach Sloan (30 catches, 634 yards, 5 TDs) lead the Beavers' offense.
Lancers running back Kyle Sult has rushed for 1,077 yards and 15 TDs.
A-C Valley (0-8 overall, 0-4 KSAC-Small) at Keystone (4-4, 2-2)
The Panthers need to win to keep their playoff hopes alive against a winless Falcons squad.
Panthers running back Jake Weaver has 1,223 yards and 14 TDs on the ground while quarterback Brayden Shick has thrown for 863 yards and 7 TDs.
Clearfield (7-1 overall, 6-0 Mountain League) at Philipsburg-Osceola (0-8, 0-6)
The Bison have won seven straight games and try to close out their Mountain League and regular-season schedule before playing Punxsutawney for the District 9 Class AAA title in Week 10.
Bison quarterback Cody Spaid has thrown for 1,056 yards and 11 TDs while Seth Caldwell is now over 1,000 rushing yards with 1,004 and 9 TDs..
The winless Mounties have scored 52 points and 8 touchdowns all season, including just 5 in their last 7 games.
Brookville (2-6) at Bradford (0-8)
The Raiders and Owls, former District 9 League foes, meet for the second straight year in a non-conference matchup.
Both share one common opponent. The Owls dropped a season-opening 24-19 decision to St. Marys while the Raiders lost to the Dutch, 21-6, in Week 5.
Quarterback Kyle Kirk (644 yards passing, 6 TDs) and John Eakin (617 yards rushing) lead the Owls. John Frank (267 yards rushing) leads the Raiders, who ran for a season-high 243 yards in last week's win over A-C Valley.
Otto-Eldred (1-7 AML-North, 1-3 overall) at Cameron County (1-7, 1-3)
The Terrors are coming off their first win of the season in their 35-20 win at Sheffield last week, their point output just five points less than their season total going into the game. Meanwhile, the Red Raiders lost their sixth game scoring one or less touchdowns.
Damen Palmer (131 yards, 1 TD) and Heath Stewart (103 yards, 2 TDs) each ran for over 100 yards for the Terrors to spark their 338-yard rushing game against Sheffield. Palmer leads the team with 321 yards while Stewart is at 238 yards and 2 TDs.
Running back Caleb Burnside (585 yards, 4 TDs) and quarterback Derek Rieder (346 yards, 3 TDs) lead the Red Raiders.