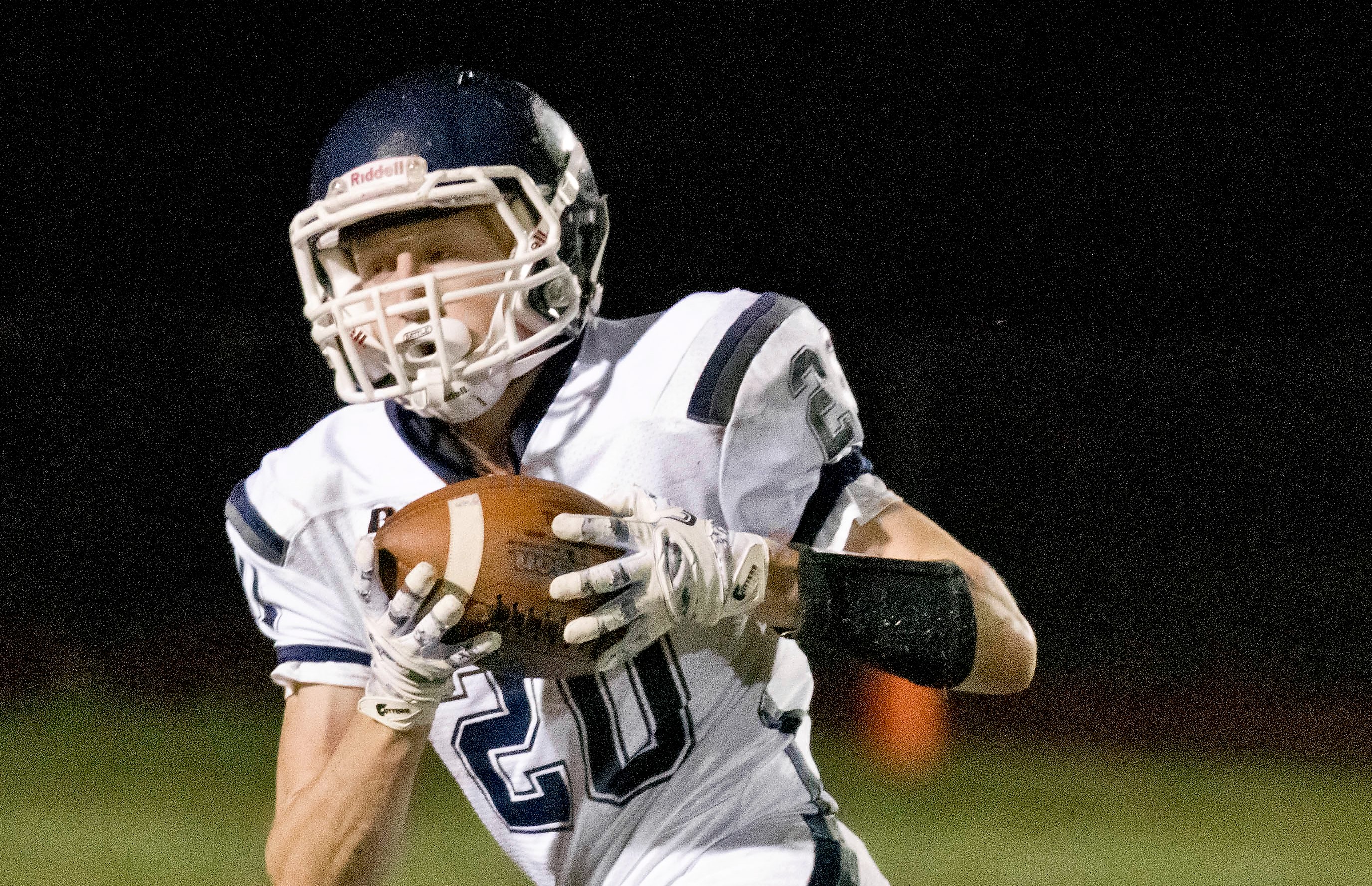 Week 5 football recaps.
All  games are updated.
Click here for Karns City beating Keystone for Ed Conto's 200th win
(Photo by Kyle Yates www.facebook.com/YatesPhoto)
KANE 49, ELK COUNTY CATHOLIC 9
ST. MARYS, Pa. – Make it 34 in a row vs. District 9 opponents for the Kane Wolves.
Thanks to three touchdown passes from Reed Williams and three rushing scores from Erik DeLong, Kane (6-0 overall, 2-0 AML South) rolled to a 49-9 win over Elk County Catholic Saturday night at Dutch Country Stadium in St. Marys.
Williams was 12 of 17 passing for 205 yards and threw two scoring passes to Jake Alcorn and one to Ange Constanzo while also being intercepted once.
DeLong, meanwhile, ran 13 times for 150 yards scoring on a pair of 1-yard runs and a 44-yard run.
Costanzo, who had eight rushes for 96 yards while catching two passes for 35 yards, added a rushing touchdown, while Alcorn had four catches for 72 yards and one carry for 19.
ECC (2-4, 0-2) got a 27-yard Leo Gregory field goal and an 11-yard Stephen Bobby touchdown run. Bobby had a career night running 18 times for 184 yards and the score while adding an interception on defense.
OTTO-ELDRED 40, SHEFFIELD 6
SHEFFIELD, Pa. – Sawyer Drummond threw four touchdowns, and Dylan Close and Gage Babcock each scored twice to lead visiting Otto-Eldred to a 40-6 win over Sheffield Saturday.
Drummond was 12-for-15 passing for 201 yards and threw scoring passes to Close (4 catches, 106 yards), Nick York (3 catches, 18 yards), Babcock (2 catches, 25 yards) and Cole Sebastian (1 catch, 22 yards).
Close added a 45-yard touchdown run on his only carry with Babcock rushing 11 times for 53 yards and score. Drummond chipped in 40 yards on the ground on seven carries, and Sebastian was 1-for-1 passing for 17 yards.
BROOKVILLE 60, CLARION-LIMESTONE 52
STRATTANVILLE, Pa. – In a game that featured 1,149 total yards and 112 total points, visiting Brookville rallied from multiple double-digit deficits to knock off Clarion-Limestone, 60-52.
Interestingly enough, the difference in a game dominated by the offense was a 15-yard Martin Decker interception return of a Brendan Makray screen pass with 2:01 to play that put the Raiders (5-1) ahead 60-46.
Brookville, which had trailed by scores of 12-0, 24-14 and 40-29, had gone ahead for the third time in the contest 37 seconds earlier on a 40-yard Jack Krug to Bryan Dworek touchdown pass, the fourth time the duo connected for six points on the night.
The Raiders defense, though, which gave up 621 yards, allowed C-L to answer right back on a 14-yard Makray to Riley Hummell touchdown pass with 1:44 to play. But Brookville recovered the onside kick and put the game away on a long run by Krug.
Krug finished the night 13 of 23 passing for 288 yards and five touchdowns with an interception and also ran 11 times for 153 yards and a score.
His 94-yard touchdown run early in the fourth quarter was possibly the turning point in the game.
With C-L (3-3), losers of three straight, up 40-37, the Lions drove inside the Brookville 10-yard line before turning the ball over on downs.
Krug answered with his long touchdown run that gave Brookville its first lead since 14-12 in the first quarter with 8:45 to play.
C-L answered right back with a 1-yard Makray to Colby Himes scoring pass, but Krug hit Dworek, who had seven catches for 244 yards, with the go-ahead score late. Dworek missed the school record for receiving yards by five yards.
Hummell had a monster day for C-L rushing 28 times for 212 yards and catching seven passes for 111 yards and three scores. Makray was 19 of 28 for 309 yards, six touchdowns and an interception – he also picked off a pass on defense – with Ayden Wiles adding 19 carries for 112 yards and two touchdowns and three catches for 19 yards. Kyle Kerle caught five passes for 134 yards and two touchdowns while Himes adding four catches for 45 and the score.
Ian Thrush also hauled down a touchdown catch for Brookville and had two grabs for 25 yards with Brandon McGranor running 14 times for 87 yards and a touchdown.
C-L outgained Brookville 621 to 528 but turned the ball over twice to Brookville' one time. The Lions rushed for 312 yards and threw for 309 and had 29 first downs. Brookville threw for 288 and rushed for 240 and had 15 first downs.
CLARION 41, MONITEAU 7
CLARION, Pa. – Despite losing star running back Colton Rapp to a first-quarter injury and falling behind early, Clarion stayed unbeaten with a 41-7 win over visiting Moniteau.
Rapp went down in the first quarter clutching his shoulder and didn't return after rushing twice for 12 yards, but the Bobcats (5-0 overall, 3-0 KSAC Large School Division) still ran for 373 yards five touchdowns with five different runners scoring.
Logan and Sam Minich, twins from North Clarion as part of the co-op, were a huge reason why. Logan ran for 119 yards and a score on 13 carries, while Sam added 86 yards and a touchdown on seven totes.
Spencer Miller added a 3-yard scoring run and ran three times for 49 yards while also throwing a 30-yard screen pass touchdown to Camden Boggess that tied the game at seven after Chance Nagy's early 2-yard run gave Moniteau a 7-0 lead. Miller was 4 of 12 passing for 71 yards, the touchdown and two interceptions.
Also scoring on the ground for Clarion were Keeven Weaver (3 carries, 57 yards) and Brendan Zerfoss (2 carries, 27 yards). Boggess added four carries for 13 yards and the one catch for 30 and the score. Sam Minich had one catch for five yards and Weaver two for 36.
Manny McLean led Moniteau (2-3, 1-2) with 12 carries for 65 yards with most of that coming on the game's opening drive. Nagy was 6 of 12 passing for 51 yards and was picked off once. Hunter Fitzingo went 2 of 8 with two interceptions. Nick Martino had four catches for 37 yards.
Weaver, Sam Minich and Jacob Selker had interceptions for Clarion.
REDBANK VALLEY 55, UNION/A-C VALLEY 13
RIMERSBURG, Pa. – Clint Thurston and Brock Barrett each ran for over 150 yards and Keaton Kahle returned a kickoff 88 yards for a touchdown as Redbank Valley pulled away for a 55-13 rout of Union/A-C Valley Friday night.
The victory clinched the KSAC Small School Division title for the Bulldogs (3-2, 3-0)
Thurston ran for 155 yards on 16 carries with four touchdown runs of 47, 2, 7 and 1 yards while Barrett ran for two third-quarter TDs of 72 and 45 yards to put the Mercy Rule running clock in motion at 49-13 with four minutes left in the third. Barrett ran for 153 yards on six carries.
Kahle returned his kickoff for the touchdown right after Union/A-C Valley's Lucas Bowser connected with Quinton Weaver on a 36-yard TD pass in the second quarter. Bowser also hit Brendan Price on a 13-yarder to get the Falcon Knights within 28-13 at the 5:47 mark of the second quarter.
Bowser completed 15 of 32 passes for 221 yards and was intercepted twice. Noland Cumberland caught two passes for 52 yards for the Falcon Knights (1-5, 0-3).
Kobe Bonanno scored the Bulldogs' last touchdown in the fourth quarter on a 3-yard run
COUDERSPORT 42, CAMERON COUNTY 0
COUDERSPORT, Pa. – Stephen Kelly ran 16 times for 279 yards and four touchdowns to lift Coudersport to a 42-0 win over visiting Cameron County.
Kelly scored on runs of 55, 55, 48 and 32 yards in the first half while rushing for over 200 yards in the half.
Jared Green added 35-yard touchdown pass to Travis Gleason for the Falcons (3-3, 2-0 AML North) and Thomas Wilson scored on a 9-yard run.
Green was 1 of 3 passing for 35 yards and the touchdown while also throwing an interception. He added 12 carries for 62 yards.
Coudersport's defense limited Cameron County (0-6, 0-2) to 70 total yards including zero passing yards. Ebon Jackson paced the Red Raiders on the ground with 38 yards with Derek Beldin adding 35.
SMETHPORT 42, PORT ALLEGANY 8
SMETHPORT, Pa. – Nathan Hollowell and Blake Kinner combined to rush for 284 yards and three touchdowns, as Smethport won for the second straight week thanks to a 42-8 victory over visiting Port Allegany.
Kinner ran 20 times for 147 yards and two touchdowns for the Hubbers (2-4, 2-0 AML North) with Hollowell adding 19 carries for 137 yards and a score. Braedon Johnson also added a rushing touchdown for Smethport while Grant Ognen threw for a pair of scores including one to Alex Sanderson and another to Bradley LaFleur.
Ognen was 4 of 14 passing for 124 yards and the scores with Johnson catching two passes for 90 yards. Kinner added a catch for 28 yards.
Port Allegany dropped to 0-6, 0-2 in the AML North with the loss.
RIDGWAY 21, BRADFORD 7
RIDGWAY, Pa. – Johnny Mitchell ran for a touchdown and threw for two scores, and Ridgway used a strong defensive effort to hand visiting Bradford its first loss of the season, 21-7.
The Elkers (5-1, 1-1 AML South) rebounded nicely from last week's loss at Brockway thanks to the play of Mitchell who ran for a 4-yard touchdown and threw touchdown passes of 23 yards to Neil MacDonald and 14 yards to Andy Breier.
Mitchell was 11 of 21 passing for 137 yards, the two scores and three interceptions while rushing 13 times for 83 yards. MacDonald had four catches for 47 yards and ran 14 times for 62 yards.
Meanwhile, Ridgway's defense limited Bradford (5-1, 1-1) to 163 yards including only 90 on 29 carries. John Eakin led the Owls with 13 carries for 60 yards and scored on a 5-yard run with 1:04 to play.
PUNXSUTAWNEY 23, ST. MARYS 6
ST. MARYS, Pa. – Visiting Punxsutawney scored 14 fourth-quarter points to pull away from St. Marys for a 23-6 win at Dutch Country Stadium.
The Chucks (2-4, 2-3 KSAC Large School Division) led 9-6 going into the fourth quarter but got a 9-yard Dylan Ishman to Tyler Richardson touchdown pass and a 10-yard Alex Gianvito run to put the game away.
Punxsutawney led 9-0 at halftime thanks to a 1-yard Stone Smith run and a safety in the first quarter before St. Marys (0-5, 0-3) answered back on a 1-yard Carter Julian touchdown run.
It was not a game for offenses with the teams combining for 14 first downs – eight by Punxsutawney – and 402 total yards (250 to 152 in favor of the Chucks). The game also featured 10 fumbles – seven by St. Marys – but only two lost fumbles – one on each side – and Punxsutawney also picking off a pair of St. Marys passes.
Smith led Punxsy with 11 carries for 38 yards with Gianvito adding 10 for 26 yards. Ishman was 11 of 17 passing for 189 yards, the touchdown with Richardson catching seven passes for 163 yards and the score.
Tim Beimel paced St. Marys with 14 carries for 121 yards. Julian had 10 for 21.
CURWENSVILLE 15, BROCKWAY 13
CURWENSVILLE, Pa. – Dakota Bloom's fumble recovery of teammate Noah VonGunden's miscue in the end zone with 10:37 to play lifted Curwensville to a 15-13 win over visiting Brockway.
VonGunden appeared headed to the goal line after catching a pass in the flat from Bryce Timko, but the ball was jarred loose around the one and rolled into the end zone where Bloom smartly scooped it up. The Tide then went for two and got it to take the lead.
Brockway jumped out to a 13-0 lead after one quarter thanks to a 1-yard Peter Downer run and a 5-yard scamper by Tyler Serafini, but Curwensville cut the lead to 13-7 at halftime thanks to a 62-yard Nick Stewart scoring run.
The game stayed that way until early in the fourth when Bloom recovered the loose pigskin in the end zone for what turned out to be the game-winner after the successful two-point conversion.
Stewart led Curwensville with 169 yards rushing on 26 carries. He was also part of a hook-and-ladder play that saw him pick up 20 receiving yards with Timko going 8 of 15 passing for 152 yards.
Serafini paced Brockway with 11 carries for 51 yards.
ALLDERDICE 28, DUBOIS 27, OVERTIME
PITTSBURGH – DuBois rallied from a 21-0 deficit only to lose on a blocked extra point in overtime to Allderdice, 28-27, at Cupples Stadium in Pittsburgh.
The Dragos built the 21-0 lead late in the first half on touchdown runs of 7 and 51 yards from Zai Humber and a 5-yard scamper by Tyrell Minniefield before DuBois got a 64-yard Matt Miller to Kyle Hopson touchdown pass before the break to make it 21-7.
A blocked punt in the third quarter by the Beavers then led to a 2-yard Dalton Kruzelak touchdown run to get DuBois within a touchdown at 21-14, and a 4-yard Miller to Chase Husted scoring pass early in the fourth quarter tied the game at 21.
DuBois got in position for a 44-yard field goal try by Dylan McCluskey with 19 seconds to play, but the kick was missed and the game went to overtime.
The Beavers won the toss and elected to play defense, but Allderdice scored on a 2-yard run by Humber, who ran 21 times for 157 yards. Brandon Mauder kicked the extra point, his fourth of the game, to put the Dragons up 28-21.
DuBois answered back on Miller to Hopson scoring pass to make it 28-27 and elected to kick the extra point to force a second overtime. But McCluskey's kick was blocked giving the victory to the home team.
DuBois stats will be posted when they are received.
BELLEFONTE 55, CLEARFIELD 28
BELLEFONTE, Pa. – Dylan Deitrich ran for 203 yards and six touchdowns and added a touchdown pass, as Bellefonte beat visiting Clearfield, 55-28.
It was the Red Raiders (5-1 overall, 3-1 Mountain League) first win over the Bison (3-3, 1-3) since 2007 and leaves Clearfield with three league losses for the first time since they joined the Mountain League in 2004 and with three conference defeats for the first time since going 1-4 in the D9 League in 1995.
Isaac Rumery threw a pair of touchdown passes to Micah Heichel and also scored on an 8-yard run for Clearfield.
Rumery's touchdown run with 2:19 left in the first half following a blocked punt by Eli Glass gave the Bison a 14-13 lead, but Bellefonte scored before halftime to go up 20-14 at the break and never looked back.
Rummery was 20 of 38 passing for 349 yards, two touchdowns and three interceptions while rushing 14 times for 89 yards and the score. Heichel had three catches for 40 yards and the scores with Spencer Graham adding seven catches for 112 yards and Tye Lynch three for 70.