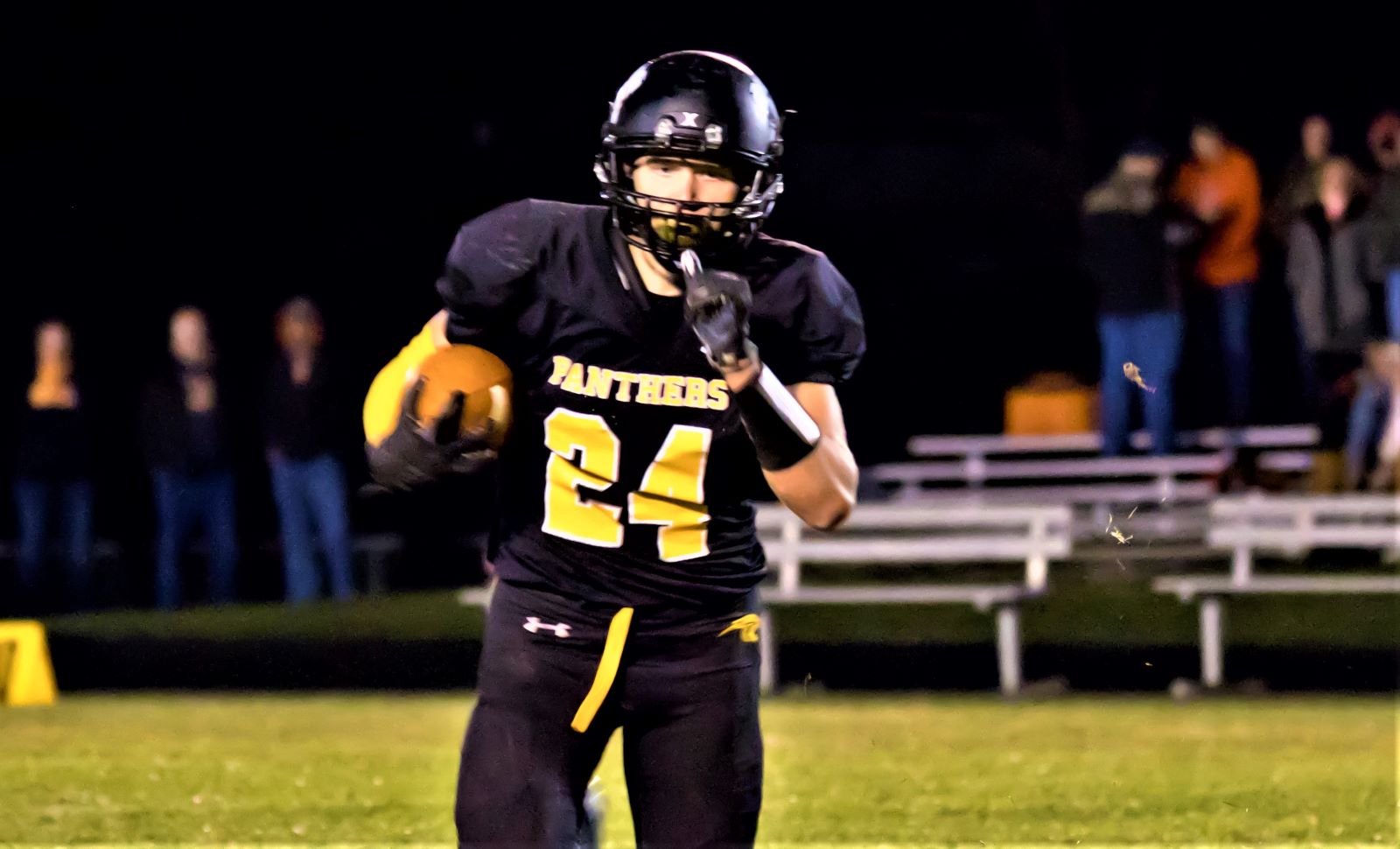 Week Seven Friday football recaps.   
Click here for Saturday recaps
(Photo of Keystone's Nick Weaver. Photo by Kyle Yates www.facebook.com/YatesPhoto)
KEYSTONE 52, SMETHPORT 24
KNOX, Pa. – Scoring 22 points in a span of 4:59 in the fourth quarter, Keystone broke open a six-point game heading to the final 12 minutes to pick up a 52-24 win over visiting Smethport.
Reslisten to the game:
The Panthers led 30-24 with just over two minutes left in the third quarter, and Smethport was driving inside the Keystone 20-yard line.
But the Panther defense held, and Keystone's offense went on an 82-yard drive that was capped by a Nick Weaver 10-yard touchdown run with 9:21 left to push the lead to double digits.
Two Smethport turnovers followed with Weaver and Taylar Altman scoring on touchdown runs of 43 and 20 yards respectively at the 6:50 and 4:22 mark after them to push the game into blowout territory.
Prior to the fourth quarter, the lead changed hands seven times with the teams going toe-to-toe, score-for-score.
Weaver finished with a huge night rushing 14 times for 236 yards and five touchdowns while scoring 36 total points while being named the Hager Paving Player of the Game.
Altman added 15 carries for 141 yards and the score.
Weaver, Caleb Nellis and Travis Greenawalt talked about the win. Nellis and Greenawalt combined on the Burger King Whopper Player of the Game, a strip-sack by Nellis and recovery by Greenawalt that put the game away with Keystone up 38-24.
Also scoring for Keystone (7-1), which tied the 2001 and 2009 teams for the third-most wins in school history, was Keenan Hetter on a 12-yard pass from Isaak Jones, his only catch of the game. Jones was 2 of 4 passing for 10 yards.
Keystone head coach Ryan Smith discussed the victory.
Braedon Johnson and Noah Lent combined for three touchdowns for Smethport with Johnson scoring twice on the ground while rushing 14 times for 84 yards and Lent scoring twice while rushing 17 times for 67 yards and going 4 of 12 passing for 72 yards with two interceptions.
Bryent Johnson had four catches for 86 yards for the Hubbers (5-2).
RIDGWAY 19, KARNS CITY 13
KARNS CITY, Pa. – Paul Gresco ran for a touchdown and threw a touchdown pass, as visiting Ridgway held off Karns City, 19-13.
Gresco scored on a 50-yard run in the fourth quarter to give the Elkers (7-1) a 19-6 lead, but Karns City (5-3) answered back with a 65-yard Kaden Scherer touchdown catch from Anthony Kamenski.
The Gremlins, however, were thwarted late in an attempt to tie the game or take the lead.
Gresco, who also threw a 24-yard touchdown pass to Matt Dush late in the first half to give Ridgway a 13-6 halftime lead, was 9 of 14 passing for 148 yards and the touchdown while throwing two interceptions. His touchdown run was his only run of the game.
Jake Wickett also scored on a 1-yard run for Ridgway and ran 10 times for 31 yards and caught one pass for four yards.
Dush had a huge game receiving with seven catches for 136 yards and the touchdown while adding three carries for 29 yards.
Kamenski, who added a 1-yard touchdown run, ran 20 times for 78 yards and was 5 of 12 passing for 108 yards, the touchdown and an interception.
Sherer had two catches for 99 yards and the score and ran twice for six yards.
BROOKVILLE 33, KANE 14
BROOKVILLE, Pa. – In a game that was not kind to quarterbacks, Brookville kept its hopes for a share of the D9 League Large School Division title alive with a 33-14 win over visiting Kane.
The Raiders (7-1) and Wolves (5-3), who have lost three straight after a 5-0 start, combined to throw nine interceptions – five by Kane and four by Brookville.
But while he threw four picks, Brookville quarterback Jack Krug also threw five touchdown passes, including a pair to Ian Thrush.
Krug finished the game 24 of 44 passing for 291 yards with Thrush catching eight passes for 113 yards and two touchdowns – six yards and 65 yards. Thrush also added one of the five interceptions by the Brookville defense.
Also catching touchdown passes for Brookville were Ryan Daisley (19 yards), Kyle MacBeth (12 yards) and Cole LaBenne (28 yards).
Daisley caught four passes for 46 yards, MacBeth three for 47 and LaBenne three for 44 while also rushing six times for 66 yards.
MacBeth also had one of the five Brookville interceptions and was joined in that parade by Nathan Taylor, Brayden Kunselman and Linkin Radaker.
Jake Alcorn scored a pair of touchdowns for Kane scoring on a 28-yard pass from Zuke Smith and a 54-yard pass from Harley Morris.
Alcorn caught five passes for 117 yards and ran seven times for seven yards.
Smith was 10 of 22 passing for 112 yards, the touchdown and four interceptions, while Morris was 2 of 4 for 79 yards, the touchdown and an interception.
Morris intercepted a pair of passes on defense, while Bobby Rumcik also had two picks for Kane.
The big difference in the game was points off turnovers. Brookville scored 19 off the five Kane interceptions, while Kane scored none off the four Krug picks.
CLARION 51, BRADFORD 6
CLARION, Pa. – Ethan Burford set the Clarion single-season receiving touchdown mark, and the Bobcats shook off their first loss of the year by throttling visiting Bradford, 51-6.
Burford snagged scoring catches of 60 yards and 59 yards from Cal German, with the 59-yard reception late in the third quarter being the record-setting catch giving him 13 touchdowns catches on the year.
The previous program mark was 12 in a season done three times including last year by Sam Minich, in 2016 by Ty Burford, Ethan's older brother, and in 2013 by Cam Hearst.
On the night, Burford hauled down three passes for 140 yards, while German went 12 of 23 passing for 295 yards and four touchdowns.
Cutter Boggess also had a big night for Clarion (7-1) catching seven passes for 137 yards and two touchdowns (21 yards, 24 yards) while adding nine carries for 31 yards.
Colton Zacherl added a pair of touchdown runs scoring on a 13-yard run and a 20-yard run and rushing five times for 103 yards, while offensive lineman Ben Smith got into the scoring act with a 1-yard run of his own, and Beau Verdill kicked a 31-yard field goal while going 6 of 7 on extra points.
Jonah Rowry hauled in a 54-yard scoring pass from Cody Nuzzo early in the game to give Bradford a short-lived 6-0 lead.
Nuzzo was 5 of 13 passing for 110 yards, the touchdown and two interceptions while rushing for 16 yards. Rowry had three catches for 106 yards, while Nolan Gonzalez ran 12 times for 50 yards for the Owls (1-7).
Smith and Burford had the interceptions for the Bobcats.
OTTO-ELDRED 38, CURWENSVILLE 22
CURWENSVILLE, Pa. – Trailing 15-14 at the half, Otto-Eldred used a 24-point third quarter led by a pair of receiving touchdowns from Ethan Smith and a rushing touchdown from Cole Sebastian to defeat Curwensville, 38-22.
Smith caught touchdown passes of 31 yards and a yard while Sebastian added a 2-yard rush in the third quarter for the Terrors (2-6).
Sebastian finished the game with 322 total yards (14 of 30 for 263 passing, 10 carries, 59 rushing) and accounted for five scores (3 pass, 2 rush) while Smith was the leading receiver with six catches for 91 yards and two scores.
Otto-Eldred jumped out to a quick 14-0 lead in the first quarter behind a 41-yard touchdown reception from Cameron Magee and a six-yard run by Sebastian.
Magee had two catches for 52 yards and also added 21 rushing yards on one carry while TJ Vanscoter had 11 carries for 30 yards.
Curwensville (1-7) responded with 15 unanswered points in the second quarter to go up 15-14 with a six-yard touchdown run from Duane Brady and a one-yard keeper from Dan McGarry.
Brady, who finished with 25 carries for 162 yards, added another six-yard rushing touchdown to cut the deficit to 38-22 with 2:24 left.
The Tide recovered the onside kick, however, Smith got his second interception of the day to seal the game.
UNION/A-C VALLEY 52, CAMERON COUNTY 0
FOXBURG, Pa. – Luke Bowser tossed four touchdown passes including three to Tanner Merwin, as Union/A-C Valley rolled past visiting Cameron County, 52-0, at A-C Valley.
Bowser was 16 of 24 passing for 194 yards and the four scores, while Merwin caught four passes for 59 yards and the three touchdowns. Merwin threw an interception but also picked off a pass on defense.
Kyler Culbertson (7 carries, 70 yards) and Eli Penny (3 carries, 62 yards) added rushing touchdowns for the Falcon-Knights (6-2) with Caden Rainey catching six passes for 87 yards and a score.
Colton Hoffman added a defensive touchdown for Union/A-C Valley returning a fumble 39 yards, while Andrew Verostek led the defense with 10 tackles.
Cameron County (0-7) was held to 69 yards of total offense paced by 52 yards rushing on 15 carries by Dylan Reider.
BALD EAGLE AREA 36, CLEARFIELD 28
HYDE, Pa. – Jaden Jones threw three touchdowns and ran for a fourth to lead visiting Bald Eagle Area to a 36-28 win over Clearfield.
Jones ran 14 times for 65 yards and a score and threw for 194 yards and the three touchdowns, as Bald Eagle Area (7-1 overall, 6-1 Mountain League) outscored the Bison (6-2, 4-2), 14-0 after halftime after going into the locker room down 28-22.
Clearfield actually led by two touchdowns three times – 14-0, 21-7 and 28-15, but couldn't put BEA away.
Oliver Billotte scored twice on the ground and threw a touchdown pass for Clearfield going 19 of 30 passing for 191 yards with an interception as well while rushing 11 times for 35 yards.
Brett Zattoni had a 100-yard game for the Bison picking up 111 yards on 25 carries with a touchdown, while Matt Pallo caught seven passes for 80 yards and a score.
Matt Reese caught a pair of touchdowns for Bald Eagle Area with Kaden Bittinger also scoring through the air.
ST. MARYS 47, MONITEAU 11
ST. MARYS, Pa. – Christian Coudriet threw five touchdown passes, including three to Michael Fitzgerald and two to Terry Williams, as St. Marys broke a three-game losing streak with a 47-11 win over visiting Moniteau.
Coudriet went 19 of 27 passing for 374 yards and threw touchdowns passes of 22 and 20 yards to Williams and 17, 76 and 20 yards to Fitzgerald.
Fitzgerald hauled in eight passes for 189 yards with Williams catching four for 75 yards.
Caiden Pfoutz (10-yard run) and Jake Kline (16-yard run) added rushing scores for the Dutch (4-4) with Kline carrying seven times for a team-best 59 yards.
On defense, Sean Lathrop made 20 tackles, including three for a loss with a sack.
Ethan McDeavitt kicked a 30-yard field goal for Moniteau, and Davis Stamm added a 32-yard touchdown run.
JD Dessino led the Warriors (2-6) with 61 yards rushing on 14 carries.
BROCKWAY 48, PUNXSUTAWNEY 20
PUNXSUTAWNEY, Pa. – Jon Wood accounted for five touchdowns – two passing and three rushing – to help visiting Brockway pick up its second win of the year thanks to a 48-20 win over Punxsutawney.
Wood hit Austin Schmader (18 yards) and Ben Glasl (9 yards) with scoring passes and ran for scores of 12, 1 and 51 yards.
Connor Ford also scored twice on the ground for the Rovers (2-6) finding paydirt from seven and three yards out. Ford also recovered a fumble and had an interception on defense.
Wood ran 23 times for 218 yards and was 13 of 15 passing for 146, while Ford carried the ball 18 times for 108 yards. Glasl had eight catches for 111 yards.
For Punxsutawney (0-8), Kam Falgout ran nine times for 128 yards and two touchdowns while catching five passes for 50 yards, while Max London had 12 carries for 71 yards and a touchdown and one catch for 19 yards. Peyton Hetrick threw for 104 yards.
MEADVILLE 62, DUBOIS 21
MEADVILLE, Pa. -Landon Beck and Hayden Parks combined to rush for 376 yards and five touchdowns to lead Meadville to a 62-21 win over visiting DuBois in the final District  10 Region game for the Beavers, who are joining the D9 League Large School Division next year.
Beck ran for a game-high 212 yards and a touchdown, and Park scored four times while running for 164 yards for the Bulldogs (6-2 overall, 5-1 District 10, Region 7).
A bright spot for DuBois (0-8, 0-6) was an 18-yard touchdown pass from freshman quarterback Cam-ron Hays, making his first start in place of the injured Alex Kovalyak. Adian Castro also had an 80-yard kickoff return for a score for the Beavers.