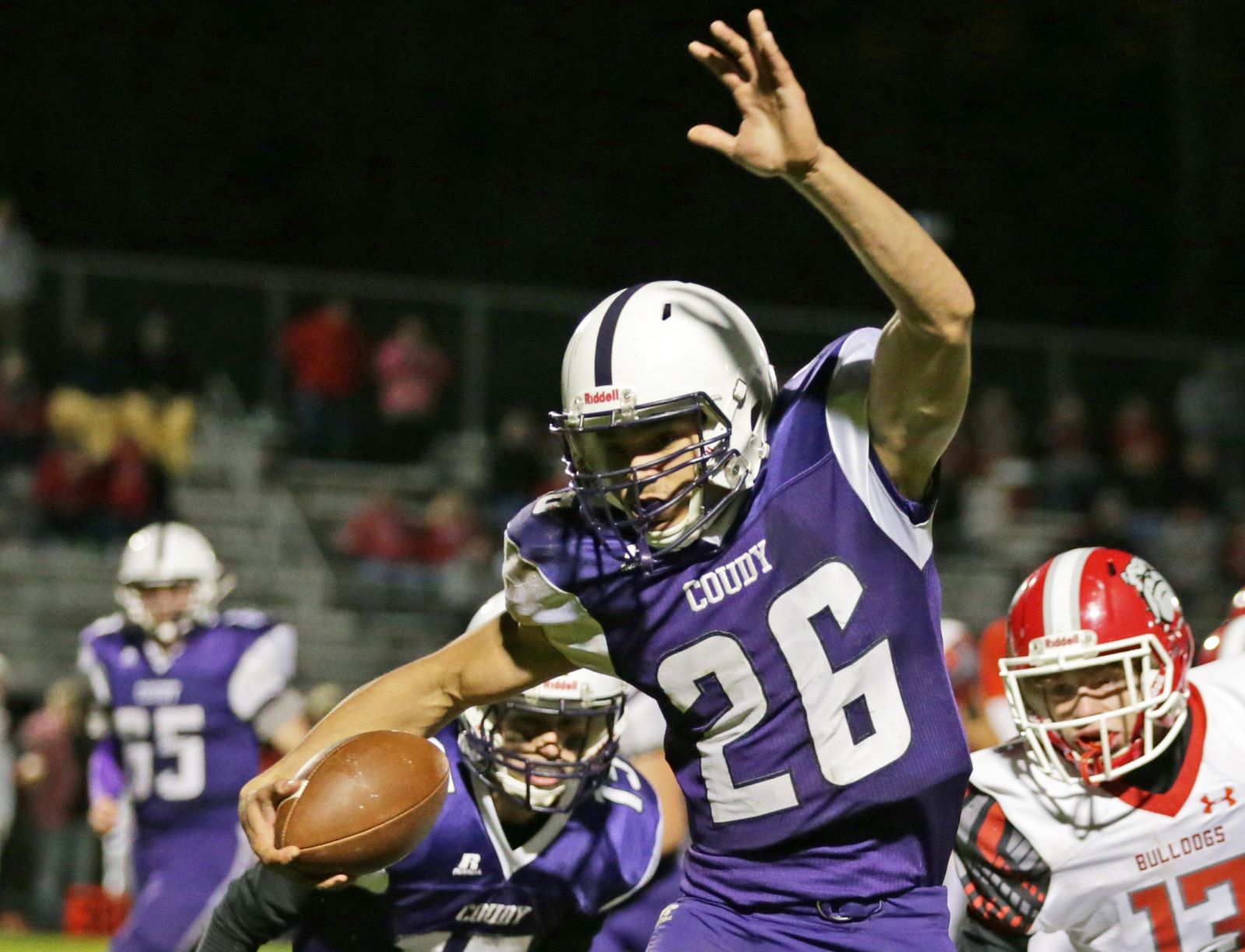 COUDERSPORT, Pa. – It was billed as a matchup of No. 1 vs. No. 2 but it turned out to be a mismatch as Allegheny Grille of Foxburg D9Sports.com No. 2 Coudersport had no trouble rolling past No. 1 Redbank Valley, 56-0, Saturday night at the Coudersport Area Recreation Park.
Click here for Friday night's recaps
(Photo: Travis Gleason of Coudersport avoid some traffic during Saturday night's win over Redbank Valley. Photo by Paul Burdick. Check out more of Burdick's work here)
The Falcons (7-0), the lone unbeaten team remaining in District 9, dominated the line of scrimmage to the tune of outgaining previously unbeaten Redbank Valley (7-1) 373 yards to 83 while picking up 16 first downs to the Bulldogs four.
Relisten to the game:
Coudersport, which scored two touchdowns in each of the four quarters, had two players rush for over 100 yards led by quarterback Hayden Keck (10 carries, 111 yards, 1 TD), who also was 3 of 5 passing for 71 yards and intercepted two balls on defense taking one of them to the house for a touchdown.
Travis Gleason also had a big night for the Falcons running 20 times for 108 yards and three touchdowns.
Gleason talked about the victory.
Coudersport also got rushing scores from Jacob Pitcher (34 yards) and Thomas Wilson (31 yards) while Brandt Kighlinger also returned an interception for a touchdown.
The Falcons picked off Redbank Valley quarterbacks Gunner Mangiantini (three) and Cam Wagner (one) four times on the night.
To make matters worse for the Bulldogs, Mangiantini was lost to an upper-body injury early in the third quarter on a designed running play. He was later seen leaving the field with his arm in a sling prior to the end of the game putting his status for next week's game vs. Union/A-C Valley in jeopardy.
Prior to getting hurt, Mangianti rushed six times for 17 yards and was 4 of 12 passing for 24 yards with the three interceptions.
Justin Ferringer led Redbank Valley with four carries for 21 yards, all in the second half. Ray Shreckengost added 19 yards on nine carries
Both teams have key in-division games next week with divisional titles on the line, as Coudersport travels to Smethport with the winner claiming the D9 League Small School North title and Redbank Valley hosting Union/A-C Valley. If Redbank Valley wins that game, the Bulldogs are the outright champions of the D9 League Small School South, but Union/A-C Valley can either claim the title (with a win and a Keystone loss to Elk County Catholic) or a portion of the title (with a win and a Keystone win over ECC which would create a three-way tie for the title between Redbank Valley, Keystone and Union/A-C Valley).
ELK COUNTY CATHOLIC 57, SHEFFIELD 14
SHEFFIELD, Pa. – Mason McAllister threw three touchdown passes and John Wittman scored three times to lead visiting Elk County Catholic to a 57-14 win over Sheffield Saturday afternoon.
McAllister was 5 of 9 passing for 107 yards and the three scores with two of them going to Wittman, who caught two passes for 76 yards while also picking up a rushing touchdown and rushing five times for 46 yards.
Sam Kaul (16 carries, 149 yards) and Leo Gregory (3 carries, 49 yards) also scored twice on the ground for the Crusaders (4-3), while McAllister added three carries for 56 yards.  Gregory added a pair of sacks on defense.
Ryan Schatz also caught a 7-yard touchdown pass from McAllister, his only catch of the game.
Aujamier Slappy-Washington threw a pair of touchdown passes for Sheffield (2-6) while going 14 of 36 passing for 226 yards and an interception.
Caden Smead (4 catches, 67 yards) and Mirhan Price (1 catch, 10 yards) had the touchdowns for Sheffield, which couldn't run the ball being held to negative 16 yards rushing.