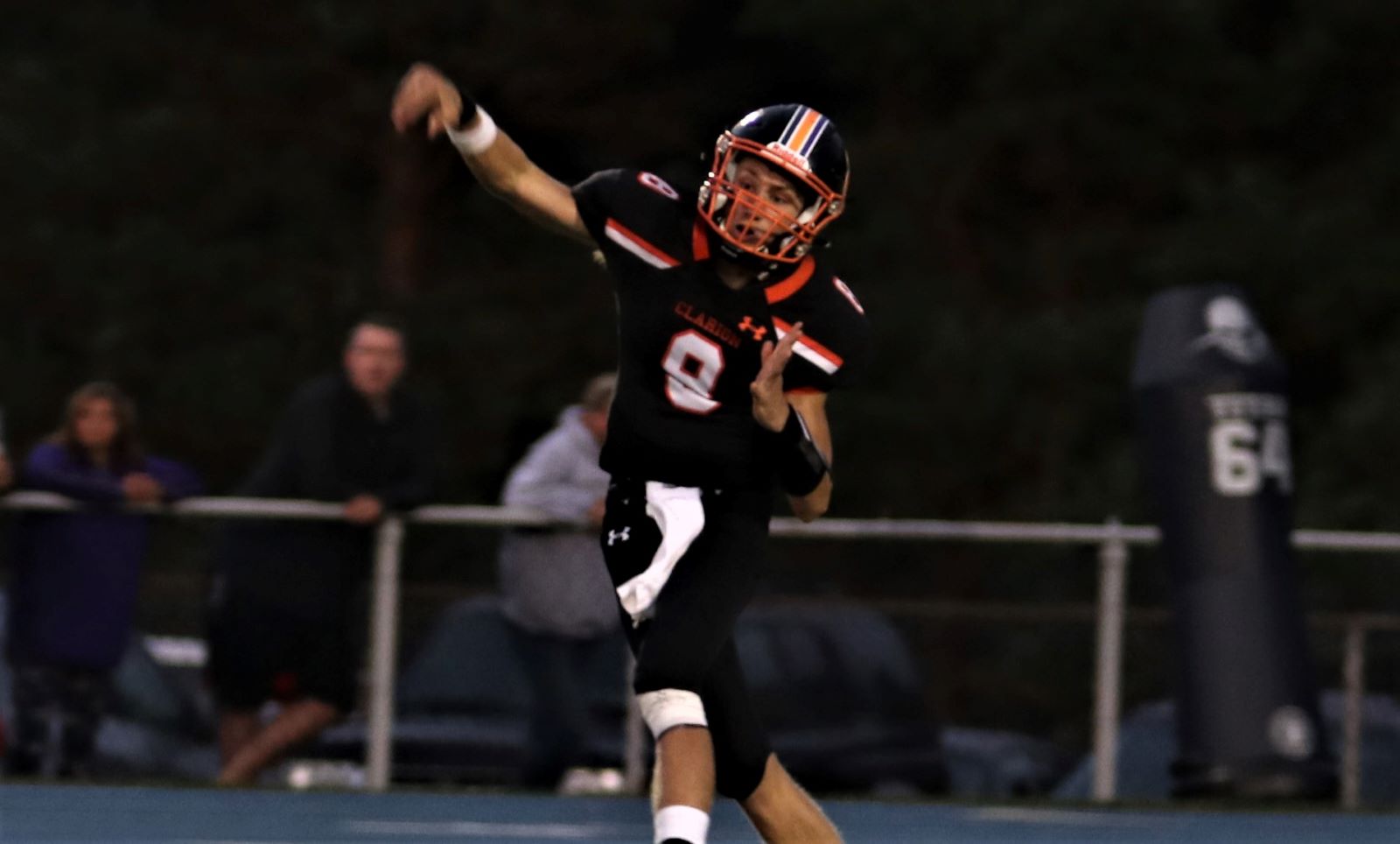 Week Two football recaps. Updated through games on Friday.
(Photo of Clarion's Cal German uncorking a pass during Friday's win over Karns City. German threw for over 200 yards and a touchdown in the victory. Photo by Jared Bakaysa of JB Graphics. See more of Bakaysa's work here)
Click here for the recap of Brookville's win over Punxsutawney Thursday
CLARION 42, KARNS CITY 14
CLARION, Pa. – Austin Newcomb scored four second-half touchdowns, as Clarion exploded for 28 unanswered points after halftime to take a 14-14 game at the half and turn it into a 42-14 win over visiting Karns City at Clarion University's Memorial Stadium.
Relisten to the game:
Newcomb, who ran 17 times for 200 yards and added a catch for 12 yards, scored on runs of 3, 76 and 2 yards in the third quarter and then added a 53-yard jaunt late in the game
Newcomb and Ben Smith, who anchored an offensive line that helped Clarion gain 438 yards on the night, talked about the win.
Cal German, meanwhile, was 8-for-13 passing for 207 yards and a touchdown for Clarion with Ethan Burford catching five passes for 149 yards including a 40-yard score. Kyle Bottaro added a 1-yard scoring run for the Bobcats (3-0).
Karns City (2-1) got a 2-yard run for a score by Luke Garring and a 75-yard kickoff return for a touchdown by Kaden Scherer. Scherer's kickoff return came on the final play of the first half after Bottaro had given Clarion a 14-7 lead with 7.9 seconds left in the half.
Garring ran 13 times for 52 yards, while Anthony Kamenski led the Gremlins ground game with 11 totes for 73 yards but was just 2 of 10 passing for 16 yards and an interception.
COUDERSPORT 67, SHEFFIELD 6
SHEFFIELD, Pa. – Travis Gleason ran eight times for 98 yards and four touchdowns, as visiting Coudersport rolled past Sheffield, 67-6.
Gleason scored on runs of 4, 30, 10 and 19 yards all in the first half helping the Falcons (3-0) to a 54-0 halftime lead.
Hayden Keck added touchdown runs of 46 and 35 yards and ran six times for 103 yards while going 1 of 2 passing for 30 yards.
Brandt Kightlinger added a pair of touchdown runs for Coudersport rushing six times for 55 yards and catching one pass for 30 yards, and Dylan Kelly ran 10 times for 94 yards and a score. Dan Frame also returned an interception 35 yards for a touchdown.
John Minor added an interception and a forced fumble to go with five tackles to help lead the Falcons defense, and James Culvey also had an interception.
Sheffield's touchdown came on a 17-yard Slappy Washington to Mirahn Price touchdown pass in the fourth quarter.
CLEARFIELD 24, CENTRAL-MARTINSBURG 21
ROARING SPRINGS, Pa. – The cardiac kids were at it again Friday night, as Oliver Billotte scored on a short run with 1:54 to play to lift Clearfield to a 24-21 road win over Central-Martinsburg.
A week after scoring in the final seconds to beat Penns Valley, Clearfield needed another late score by the sophomore quarter to top the Dragons, who had erased a 17-0 second-quarter deficit by scoring three times only to be denied in the end.
Billotte accounted for all three Bison touchdowns, all on the ground, running 17 times for 123 yards. He was also 9 of 18 passing for 113 yards with Jake Lezzer catching eight passes for 93 yards while adding an interception on defense. Zach Hess also kicked a 25-yard field goal for Clearfield.
KEYSTONE 56, CAMBRIDGE SPRINGS 7
CAMBRIDGE SPRINGS, Pa. – Scoring its most points in nearly a decade, Keystone rolled to a 56-7 road win over previously unbeaten Cambridge Springs.
The Panthers (2-1) racked up 572 yards of total offense including 368 on the ground while scoring their most points since beating Brockway, 56-40, Nov. 6, 2009. The 56 points tie for the most points scored by the Panthers in nearly 13 years, as the last time Keystone scored more was in a 61-6 win over Clarion-Limestone Oct. 6, 2006.
In addition, Keystone is 2-1 for the first time since 2015 and for just the third time since 2008 having also started the 2009 campaign with two wins in the first three contests.
Friday night it was a total team effort led by quarterback Isaak Jones.
Jones threw a pair of touchdowns to Alex Rapp and ran for two more short scores in the victory. He finished the night 8 of 10 passing for 221 yards and also ran for nine yards.
Rapp, meanwhile, had three catches for 135 yards scoring on passing plays of 32 and 78 yards.
Nick Weaver also went over 100 yards on the ground for Keystone rushing for 113 yards and a score on nine carries and adding a catch for 24 yards, while Tyler Altman had four carries for 64 yards and a touchdown and Steven Shettler eight carries for 46 yards and a score. Caleb Nellis added a 13-yard scoring run.
Jayden Blazosky picked off a pair of passes on defense and added four carries for 58 yards.
Keystone led 29-7 at halftime and blew the game open with a pair of third-quarter touchdowns.
REDBANK VALLEY 22, ELK COUNTY CATHOLIC 6
ST. MARYS, Pa. – Hudson Martz scored a pair of touchdowns to help Redbank Valley to a 22-6 win at shorthanded Elk County Catholic.
Martz ran 11 times for 82 yards and scored on runs of 1 and 4 yards for th Bulldogs (3-0), who also scored 21-yard Gunner Maginantini to Sam Hetrick pass and on a safety.
ECC (1-2), which was playing without star running back Stephen Bobby and was down to 16 healthy bodies, took a 6-0 lead on a 7-yard Sam Kaul run.
Kaul had a nice game for the Crusaders rushing 16 times for 107 yards.
Ray Shreckengost added Redbank Valley with 12 carries for 61 yards.
Maginantini was 9 of 18 for 84 yards and the score while throwing two interceptions.
UNION/A-C VALLEY 24, CURWENSVILLE 0
FOXBURG, Pa. – Luke Bowser threw for two touchdowns to lead Union/A-C Valley to a 24-0 win over visiting Curwensville at A-C Valley.
Bowser 8 of 19 for 141 yards, two touchdowns and an interception. He also ran four times for 23 yards.
Caden Rainey and Tanner Merwin each caught scoring passes for the Falcon Knights with Rainey catching five passes for 94 yards and Merwin catching two for 39 yards and a score.
Rainey also had five tackles and an interception on defense for Union/A-C Valley while Colton Hoffman added eight tackles and an interception. Carter Terwint had nine stops and Gaven Bowser eight.
Gaven Bowser also ran six times for 40 yards.
SMETHPORT 27, PORT ALLEGANY 15
PORT ALLEGANY, Pa. – Visiting Smethport outscored Port Allegany 14-0 in the second half to erase a two-point halftime deficit to get a 27-15 win.
Noah Lent scored on a pair of long second-half runs to give the Hubbers (2-0) the win.
Lent rushed for 171 yards and three total touchdowns on 22 carries adding a 2-yard run in the second quarter to touchdown runs of 40 and 84 yards in the second half.
Hunter Lent added a rushing touchdown for Smethport, while Braedon Johnson ran 14 times for 82 yards.
Josh Rees scored twice on the ground for Port Allegany (1-2) rushing 13 times for 121 yards and two scores, while Shawn McNeil added a 32-yard field goal.
OTTO-ELDRED 38, CAMERON COUNTY 0
EMPORIUM, Pa. – Behind an impressive game from Cole Sebastian, Otto-Eldred rolled to a 38-0 win at Cameron County.
Sebastian was 25 of 32 passing for 428 yards and five touchdowns while also throwing an interception and running five times for 43 yards in the win for the Terrors (1-2).
Cameron Magee caught eight passes for 220 yards and two touchdowns, while Ethan Smith had six grabs for 65 yards and two scores. Jake Merry also caught a touchdown pass and had six catches for 97 yards to help Otto-Eldred outgain the Red Raiders (0-2), 545 yards to 180.
Dylan Baney paced Cameron County rushing nine times for 50 yards, while Nick Peters had 11 tackles for the Red Raiders defense.
KANE 47, BRADFORD 6
BRADFORD, Pa. – Zuke Smith threw a pair of touchdowns and ran for a third and Jake Alcorn returned a pair of kicks for touchdowns to keep Kane unbeaten with a 47-6 road win over Bradford.
Smith was 8 of 13 passing for 78 yards, the two touchdowns and an interception and added a 1-yard touchdown run on his only carry of the game.
Alcorn, meanwhile, returned a punt 70 yards for a score and a kickoff 90 yards for a touchdown with both returns coming during a 25-point second quarter that helped the Wolves (3-0) take a 32-6 halftime lead. In addition to his returns, Alcorn added 41 yards rushing on seven carries and caught two passes for 37 yards.
Smith's touchdown passes went to Kevin Sharba (3 yards) and Caleb Holt (2 yards) while Aaron Hottel kicked a 36-yard field goal and Josh Buhl scored on a 31-yard run.
Buhl ran four times for 51 yards, while Teddy Race led Kane with 90 yards on 11 carries.
Austen Davis hauled in a 7-yard touchdown pass from Caleb Nuzzo for Bradford's lone score.
Nuzzo was 8 of 18 passing for 97 yards and added six carries for a team-high 53 yards. Dalton Dixon had three catches for 74 yards for the Owls (0-3).
ST. MARYS 49, BROCKWAY 22
BROCKWAY, Pa. – Jake Kline scored three times and Cain Pfoutz added a pair of touchdowns to lead visiting St. Marys to a 49-22 win over Brockway.
Kline scored on runs of nine and two yards and also returned a punt 47 yards for a touchdown for the Dutch (2-1) while rushing 12 times for 105 yards and catching three passes for 10 yards.
Pfoutz, who ran nine times for 59 yards, scored on runs of four and 18 yards, as St. Marys built a 49-7 lead after three quarters.
James Davis added a 76-yard interception return for a score for the Dutch, who also scored on a 1-yard Michael Fitzgerald run.
Christian Coudriet, meanwhile, was 21 of 24 passing for 175 yards and an interception and ran three times for 21 yards. Bryce Walker caught 12 passes for 93 yards.
Conner Ford threw a touchdown pass and ran for a score for Brockway (0-3). He was 16 of 24 passing for 147 yards, the score and two interceptions while rushing 12 times for 45 yards. He tosses a 2-yard touchdown pass to Jacob Baird and ran in from 19 yards out.
Jon Wood also scored on a 7-yard run for the Rovers and ran eight times for 17 yards and caught five passes for 22 yards. Ben Glasl had six grabs for 57 yards.
WARREN 50, DUBOIS 28
WARREN, Pa. – Taking advantage of five DuBois turnovers, Warren beat the visiting Beavers, 50-28.
Despite the 22-point spread, the game was fairly even yardage wise with the Dragons (2-1) outgaining DuBois 385 yards to 315.
Michah Passmore, Alex Anderson and Ryan Arnold had big games for Warren.
Passmore threw for three touchdowns and ran for a pair of scores while going 9 of 15 passing for 244 yards with an interception and rushing 11 times for 37 yards.
Anderson caught a pair of the touchdown passes, including a 94-yard catch in the first quarter that helped Warren to a 15-0 lead after 12 minutes. He caught three passes for 153 yards.
Arnold, meanwhile, scored in three different ways rushing for a 34-yard score, catching a 65-yard pass from Passmore and returning an Alex Kovalyak interception 40 yards for a touchdown. He finished the game with 39 yards rushing on four carries and caught five passes for 83 yards.
Kovalyak threw a pair of touchdown passes and was 15 of 19 passing for 220 yards with two interceptions. He hit Nick Dilullo from 13 yards out and Zach Shilala from 20 yards away. Shilala had a team-best seven catches for 102 yards while Dilullo hauled in three catches for 45 yards.
Tyler Christner also returned a kickoff 72 yards for a touchdown for the Beavers (0-3), while Aidan Castro scored on a 1-yard run.
RIDGWAY 42, MONITEAU 7
WEST SUNBURY, Pa. – Jake Wickett scored a pair of touchdowns to help Ridgway get back on the winning track with a 42-7 win over Moniteau.
Matt Dush, Paul Gresco and Tyler Watts also scored the Elkers.
No other details were reported.