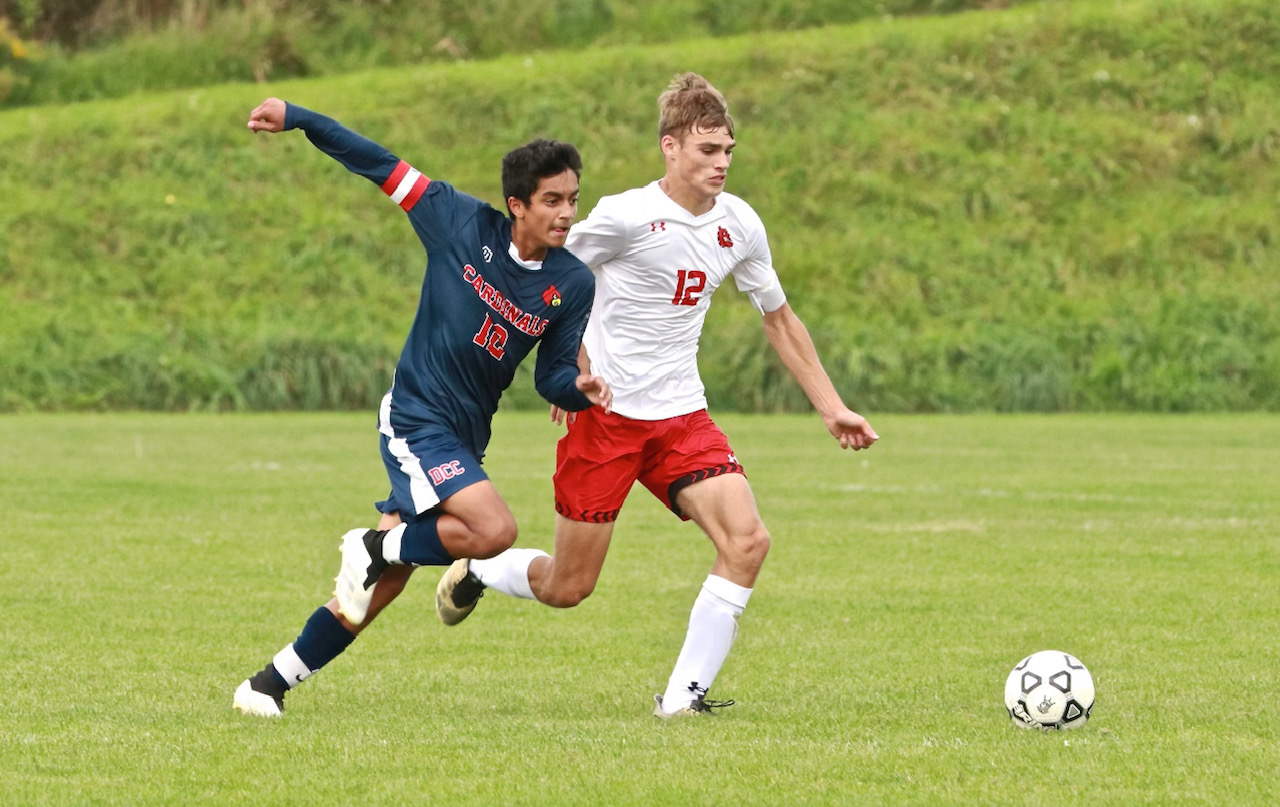 NEW BETHLEHEM, Pa. (EYT/D9) — By the time Owen Clouse was 10, he had already suffered three concussions while playing football.
(Submitted photos)
There was no way his father, Alan, was going to let Owen suffer a fourth.
Owen Clouse's football career was over.
But he found an outlet for his competitive fire in the fall in soccer. Soon, he became quite good at it, using his blazing speed and knack for scoring goals to turn into one of the most feared players on the pitch.
Last season as a sophomore, Clouse broke the Redbank Valley single-season goals scored record with 39. That record had stood for 20 years before Clouse came along.
"It seems crazy now to think about it," Clouse said. "I really wasn't thinking about it at all during the season. It just came through teamwork. Obviously, after that game that I had seven goals, we just connected the rest of the season."

Redbank Valley, Keystone, and Union/A-C Valley sports coverage on Explore and D9Sports.com is brought to you by Heeter Lumber.
Clouse was virtually unstoppable down the stretch for the Bulldogs.
He scored those seven goals against Punxsutawney. He also had a four-goal game against Punxsy.
Clouse only scored four goals his entire freshman season.
But he improved greatly before his sophomore season last fall. He's looking to make a similar leap going into his junior campaign.
"I told him he'd be a lot more dangerous once he learns how to dribble," joked Redbank Valley boys soccer coach Ty Scott. "But that's the thing we are going to focus on with him the most — the dribbling. Dribbling to open his own space and dribbling to get other people open. Once he is able to create more on his own, there's not much that defenders can do with him."
Clouse also thinks the team can make a big leap as well.
"I'm super excited," Clouse said. "We're losing two starters, but I think we're gaining at least six freshmen. I honestly think we have a chance to win a district championship."
Clouse is prepared for the attention he will undoubtably receive this year.
He's no longer an unknown commodity. Opponents will be marking him, trying to keep him in check.
That may open up more opportunities for Owen Harmon and Ty Carrier.
Clouse may score fewer goals, but Redbank may very well improve on its 10-9 record from year ago. He's more than OK with that.
"It might be a little harder since I'm probably going to have two people on me," Clouse said. "That just means someone on the other side will get more goals."
Also a standout on the basketball court and baseball field at Redbank Valley, Clouse is certainly busy.
He'll be even busier this fall.
Clouse will make his return to the football field as a kicker for Redbank Valley.
It was difficult for Clouse to watch his friends play football over the years since he had to leave the game behind. His twin brother, Mason, plays football, and most of his friends from other sports also suit up Friday nights.
"It was hard sitting in the stands, wishing I could be out there last year," Clouse said.
He's excited to be back in the gridiron fold.
"Everyone wanted me to come back and play last year," Clouse said. "Our senior kicker last year, Tyson Adams, obviously won't be back and Coach (Blane) Gold was looking for a kicker. My brother, Mason, is the holder."
The two have practiced a lot this summer.
At first, Clouse struggled booting a football — it's a little different than kicking a soccer ball.
But once he figured it out, he was sending the football flying. Accurately, too.
He was burying closer kicks and could even consistently make field goals from 45 yards out.
"I'm feeling pretty comfortable," Clouse said. "The first time I went out, I was pulling them or just kicking them into the ground. But once I got my plant foot down and learned how to follow through, it started to come together."
In the back of his mind, Clouse is pondering expanding his role beyond kicking.
That will be difficult for several reasons.
One is the time constraints soccer will place on him. And make no mistake about it, Clouse said soccer is his No. 1 priority.
Another is his history with concussions.
Clouse will attend football practice on the special teams days. The rest of the time, he'll be on the soccer pitch, trying to improve his skills and help his team to victories.
Scott has given Clouse his blessing.
"Because we're so small and especially since the football team is so good, I don't blame them," Scott said of soccer players also playing football. "I joked with him that he's kicked enough over out goal, that's he's already made a lot of field goals and extra points that didn't count for us."
Clouse said he is eager to see how much success he can have in two sports this fall with his teammates and friends.
"It's always fun just hanging out with friends, especially if you're winning," Clouse said. "That's even more fun."

Redbank Valley, Keystone, and Union/A-C Valley sports coverage on Explore and D9Sports.com is brought to you by Heeter Lumber.