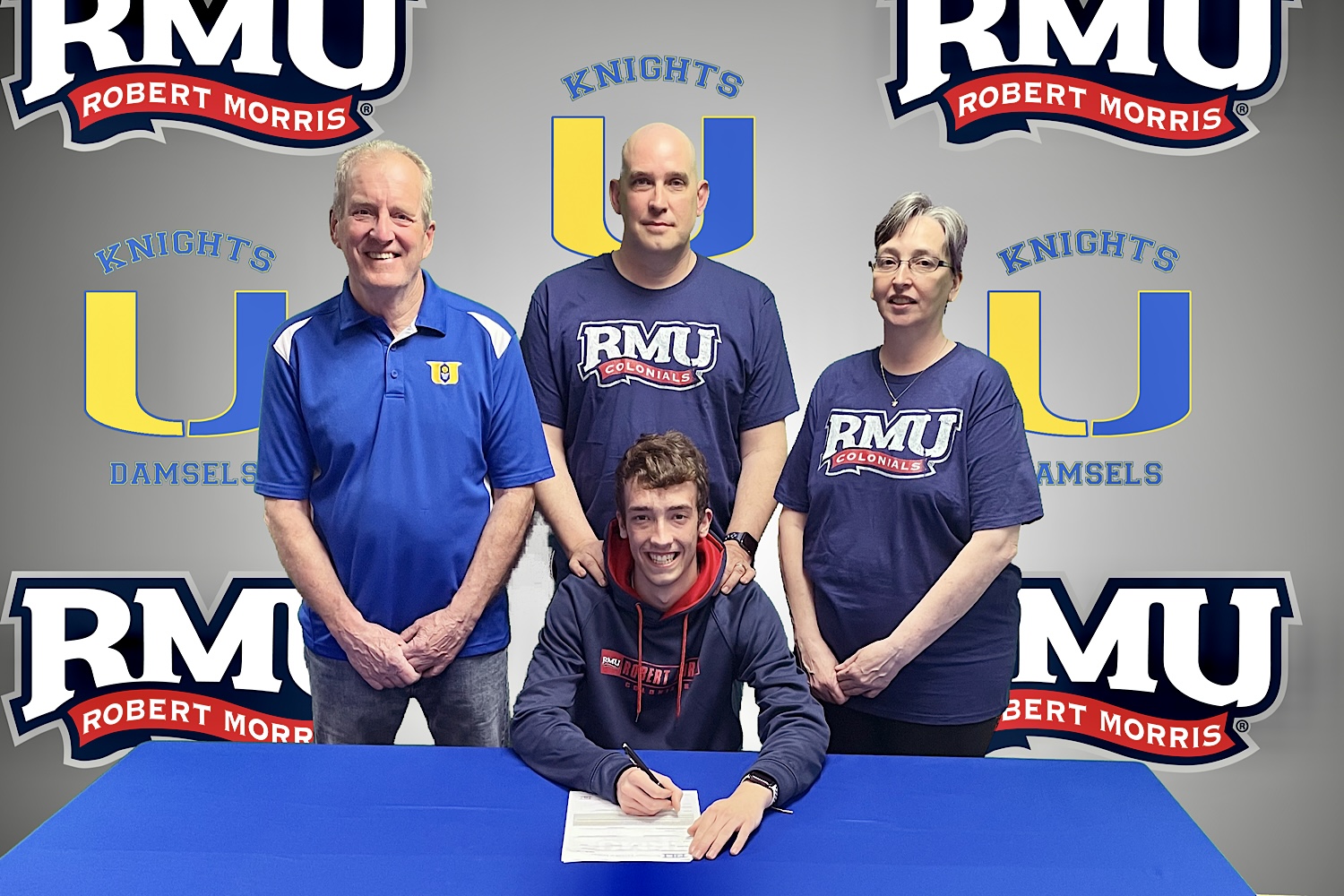 RIMERSBURG, Pa. (EYT/D9) — When Payton Johnston was a freshman, he wasn't elevated to the varsity roster on the Union boys basketball team.
It was a disappointing outcome for Johnston.
And it also served as supreme motivation.
Instead of sulking, Johnston went to work.
(Pictured above, recent Union graduate Payton Johnston signs his national letter of intent to attend Robert Morris University and play basketball there. Behind him, from left, are Union boys basketball coach Eric Mortimer and his parents, Jason and Candie Johnston.)
He made the varsity team as a sophomore, turned in a breakout campaign as a junior when he averaged 12.5 points and 4.8 rebounds per night, and took his game to the next level this year as a senior for the Golden Knights.
Johnston led Union in scoring at 16.8 points per game with a slashing style coupled with shooting touch.
"I'm really proud of how far I've come and improved in everything," Johnston said. "Pretty much every day and every night I worked. I usually put up about 500 shots a day. I'd come home from school — I have a basketball hoop in my back yard — and I'd put up shot after shot. And then at basketball practice, I'd get my shots up."

Redbank Valley, Keystone, and Union/A-C Valley sports coverage on Explore and D9Sports.com is brought to you by Heeter Lumber.
Johnston, a 6-foot-3 guard, willed himself into becoming one of the top players in District 9.
Despite being a shooting guard, Johnston led the team in field goal percentage at 52%. He also averaged 4.6 rebounds, 2.5 assists and 2.4 steals per game as a senior.
His play earned him an opportunity at the next level at Robert Morris University.
In May, Johnston signed his national letter of intent to play there, culminating a dream three years in the making.
"It was always my first choice," Johnston said. "I reached out to the coach my junior year and he contacted me back and we went pretty much from there. It tells me all the hard work I've put in over my life is finally meaning something. I've achieved my goal."
It's just the first of many for Johnston.
He doesn't just want to go to RMU and be on the team. He wants to excel there.
To do that, he intends on adding muscle to his 145-pound frame.
"I definitely have to get a lot stronger," he said. "A lot quicker. Get better at ball handling."
He's already hard at work on that.
Johnston certainly knows what committing to a goal can do.
He had some lofty ones coming into his senior year at Union, both for himself and the team. With a talented roster, Union had some big aspirations.
But a dreadful stretch at midseason threatened to torpedo those expectations.
The Golden Knights bounced back, however, after a team meeting.
"It made me really proud of the team, how we came together toward the end," Johnston said. "We had a big slump and we had a meeting before that (DuBois Central Catholic) game that we lost and we basically said that we had to come together and play as a team and make a push. And we did."
Union got hot and that torrid streak carried the Golden Knights all the way to the District 9 Class A title game.
The Knights lost there to Elk County Catholic, but beat Turkeyfoot Valley in the opening round of the PIAA playoffs for the first state playoff win since 1974.
"It meant a lot," Johnston said. "A lot of people doubted us."
A lot of people have doubted Johnston, too.
But no one did on the Union roster.
The offense ran through him.
"I did enjoy that and it put a lot of pressure on me, but I enjoyed it," Johnston said. "I basically had control of the flow of the game and I liked that."

Redbank Valley, Keystone, and Union/A-C Valley sports coverage on Explore and D9Sports.com is brought to you by Heeter Lumber.