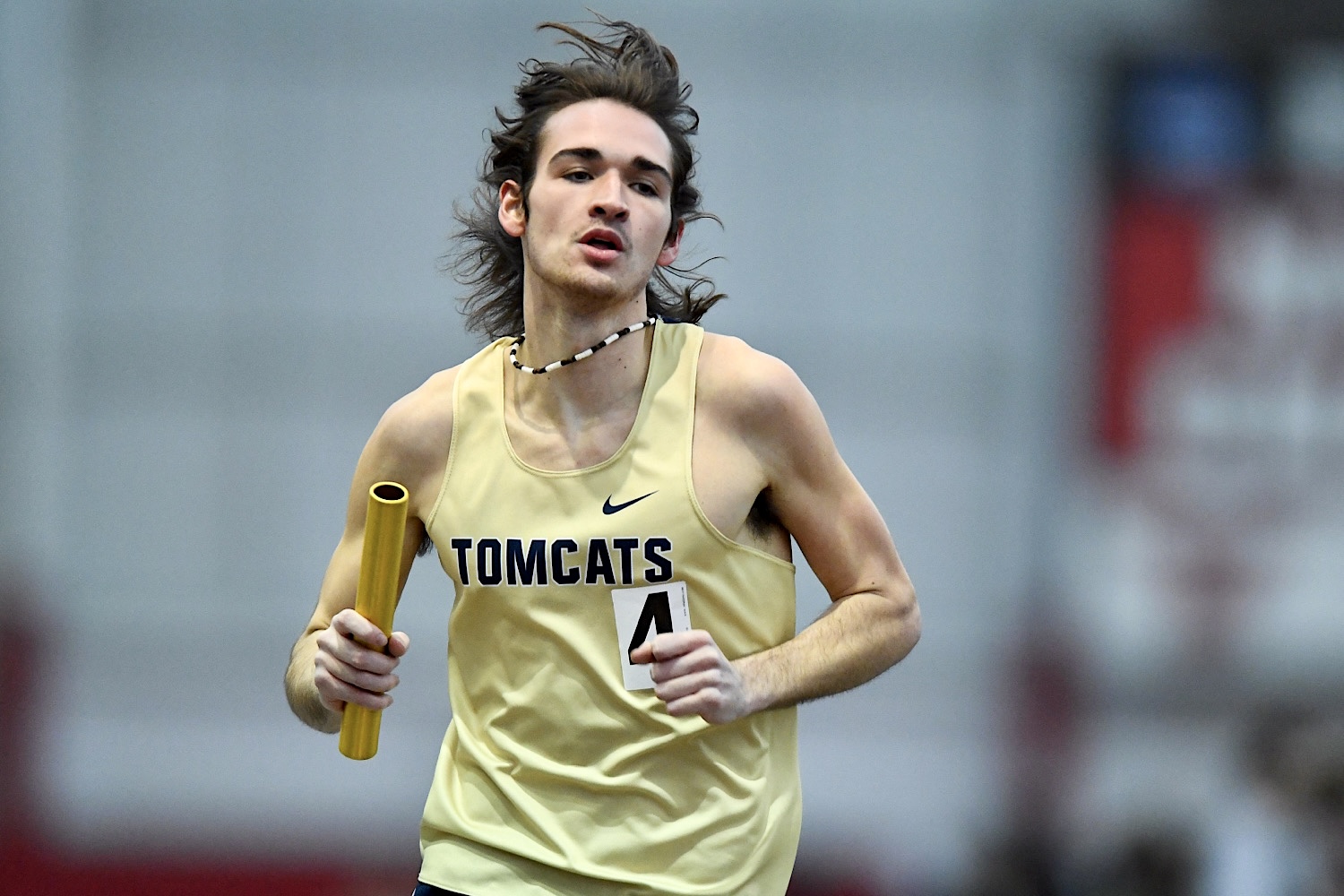 GREENVILLE, Pa. (EYT/D9) — There were times when Quintin Weaver wondered if the wait was worth it.
He left Union High School for the Thiel College men's track and field team eager to show what he could do. Then the COVID-19 pandemic hit, scuttling his freshman season.
It lingered into his sophomore year and he had very few chances to compete.
He thought about hanging up his running cleats.
(Pictured above, Quintin Weaver runs the 800-meter leg of the distance medley relay/photo courtesy of Thiel College)
"It was a pretty rocky road since freshman year until now," Weaver said. "It was definitely hard. Honestly, those first two years was just training and confusion. My freshman year I was thinking about not going back and just being a full-time student and focusing on that."
But Weaver stuck it out thanks to the support of his teammates. They had some of the same doubts and disillusionment.

Redbank Valley, Keystone, and Union/A-C Valley sports coverage on Explore and D9Sports.com is brought to you by Heeter Lumber.
"My teammates really brought me back," Weaver said. "They kind of brought my hunger back. We all needed that internal support from our teammates, coaches and families during that time and that's what really kept pushing me."
Every day Weaver is thankful he didn't give up.
This winter, Weaver had by far his best season, putting his name in the Thiel indoor track record books in three events.
He ran the 800-meter leg of the Tomcats' distance medley relay that broke the school record at the Presidents' Athletic Conference Track and Field Championships over the weekend with a time of 10 minutes, 46.37 seconds.
Weaver also broke his own Thiel mark in the 800 at the conference championships, finishing in 1:57.03 to place fourth.
Weaver also holds the Tomcats' 1,000-meter record — an event he has only run twice in his career — with a time of 2:37.81.
"I didn't have any idea what the records were until I was on campus for a few weeks," Weaver said. "Some of the older guys were talking about it. I didn't really think that was in the realm of possibility for me. I was kind of close to some high school records, but nothing crazy."
But Weaver, now a senior, had a breakout junior season last spring and he carried that momentum into this indoor campaign.
"The real turning point for me was when I realized there's a real possibility for me to do very well this indoor season and outdoor," he said.
Weaver is proud of his 1,000-meter mark.
It's an event that is never run in high school and is only contested in certain indoor meets.
Weaver was eager to take on the challenging race.
"I ran it one time last year and broke the record the one time I ran it this year," Weaver said. "Honestly, I still have no idea how to run it. I think I probably ran it a little too conservatively. At about 800 meters in, my time was off by a few seconds. Luckily I had enough in the tank to push through that last 200 meters. It was kind of the opposite of what I was expecting."
Weaver now has his sights set on some of the Thiel outdoor records.
He's already knocking on the door to the 800-meter outdoor mark, which is 1:56.70. That time has stood since 1996.
"I'm chasing that record," Weaver said. "I'm definitely in range and just looking forward to trying to compete for a medal because I got fourth at indoors. That's just a little motivation for me for outdoor."

Redbank Valley, Keystone, and Union/A-C Valley sports coverage on Explore and D9Sports.com is brought to you by Heeter Lumber.