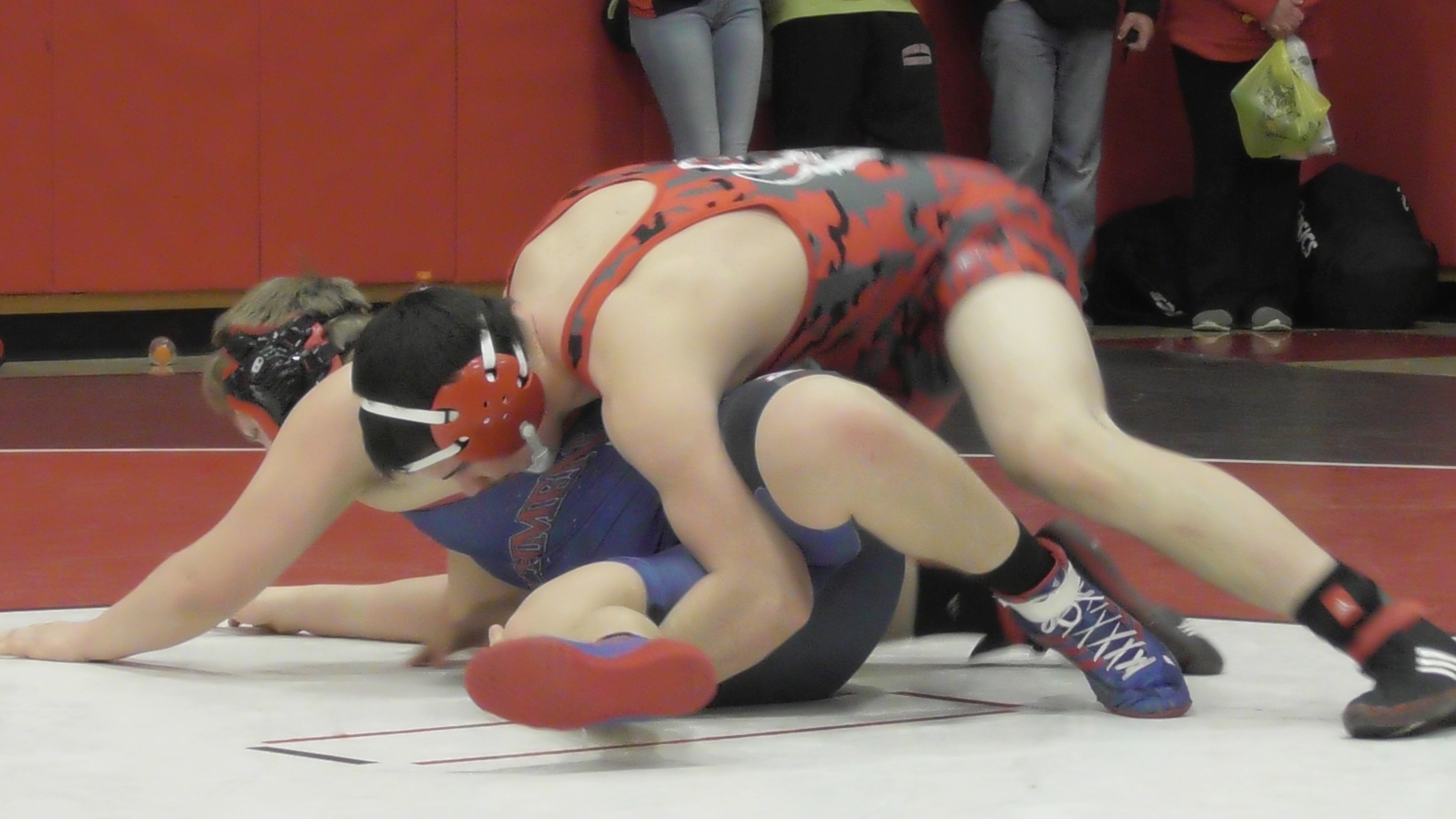 By Scott Shindledecker
HYDE, Pa. — The District 4-9 Class AAA Wrestling Championships featured a mixed bag from the five D-9 schools that participated in it Saturday at Clearfield High School.
But when the dust settled, the host Clearfield Bison crowned three champs, had two other finalists and will send nine to regionals as they won the team standings with 195 points, outdistancing runner-up St. Marys, which finished with 175.5.
Clearfield, which beat St. Marys, 29-28, earlier this month for the team title, had the right combination to take home the individual team title.
Things started quietly for the Bison but they won three of the final five weight classes.
The Bison got on a roll at 170 pounds when sophomore Luke McGonigal majored Williamsport's Torren Potts, 9-1. McGonigal pinned Selinsgrove's Garrett Campbell in the semis. McGonigal was the champ at 145 pounds a year ago.
At 195, Travis Ogden capped a dominant tourney with a pin of St. Marys' Mitchell Cashmer in 2:29 in the finals. Ogden racked up a pair of falls to reach the title match. Ogden was a D-9 champ at 195 pounds in 2015.
Senior Nate Lash capped the night with a 2-1 win over Shikellamy's Jeremy Bacon at 285 pounds. Lash scored a pin of Punxsy's Gage Arrington in the semifinals. Lash was a D-9 champ at 285 a year ago.
Clearfield's two runners-up were 106-pounder Matt Ryan and 132-pounder Josiah McClarren, who both fell to St. Marys wrestlers.
St. Marys crowned the first champ of the night when freshman 106-pounder Tyler Dilley continued his impressive inaugural campaign with a pin of Clearfield's Matt Ryan in 1:39. Dilley scored first-period pins in each of his wins to improve to 26-1.
The Dutchmen added to their medal count at 132 as second-seeded Cameron Resch blanked Clearfield's Josiah McClarren, 1-0, in the finals. Resch won a major decision in the quarters, then a 5-3 decision in the semis. Resch was a  runner-up at 126 a year ago.
St. Marys' third medal came at 182 pounds with Christian Steffan shut out Selinsgrove's Joey Radel, 6-0. Steffan, the top seed, won three matches to run his record to 29-5.
St. Marys will send eight to the regionals with four more in the consolation finals.
The DuBois Beavers put four wrestlers into the finals and crowned two champs.
Freshman Dalton Woodrow hit the 30-win plateau with a 12-6 decision over Shikellamy's Frank Quinones in the finals at 113 pounds. Woodrow opened the tourney with a pin of Williamsport's Izek Brooks in 5:26.
Beavers junior Brock Adams, who missed time with an injury, battled back to win his first District 9 championship at 138 pounds. Adams lived on the edge in each of his three matches, all settled by one, one and two points, but came out on top of all of them. In the finals, Adams beat Shikellamy's Noah Supsic, 8-6.
At 120, Beavers sophomore Kolby Ho nearly forced overtime against Jersey Shore senior Hunter Zondory, but Zondory hung on for a 7-5 win. Ho was the champion at 106 pounds last year.
At 152 pounds, top-seeded Carson Hanna was a hard-luck loser to Jersey Shore's Seth Young, 3-2, in the finals. Hanna opened with a pin, then scored a 1-0 decision to reach the final.
The Punxsutawney Chucks had just one champion, but he was the best. Senior Kaleb Young scored a 44-second pin, then a 89-second pin and a 15-4 major decision of Jersey Shore's Hadyn Swartwood at 160 pounds.
"Ever since last year, losing my last match at states, I've been working toward getting to this point," Young said. "It's the goal, it's been the goal every year and I believe in my training and we'll see."
The top four finishers in each weight class advance to the Class AAA Northwest Regionals in Altoona.
Championship finals
106: Tyler Dilley, SM, pinned Matt Ryan, C, 1:39.
113: Dalton Woodrow, D, dec. Frank Quinones, SHIK, 12-6.
120: Hunter Zondory, JS, dec. Kolby Ho, D, 7-5.
126: Nick Gittens, SHIK, maj. dec. Tyler Thompson, B, 9-0.
132: Cameron Resch, SM, dec. Josiah McClarren, C, 1-0.
138: Brock Adams, D, dec. Noah Supsic, SHIK, 8-6.
145: Jordan Hepler, SHIK, dec. Eli Lambiotte, P, 4-0.
152: Seth Young, JS, dec. Carson Hanna, D, 3-2.
160: Kaleb Young, P, maj. dec. Hadyn Swartwood, JS, 15-4.
170: Luke McGonigal, C, maj. dec. Torren Potts, W, 9-1.
182: Christian Steffan, SM, dec. Joey Radel, SEL, 6-0.
195: Travis Ogden, C, pinned Mitchell Cashmer, SM, 2:29.
220: Drew Boob, SEL, maj. dec. Max Mason, JS, 11-1.
285: Nate Lash, C, dec. Jeremy Bacon, SHIK, 2-1.
Consolation finals
106: Alan Cortright, W, dec. Jeremy Zydallas, JS, 6-5.
113: Izek Brooks, W, dec. Jude Pallo, P, 9-3.
120: John Supsic, SHIK, dec. Justin Schooley, SEL, 3-1.
126: Hunter Blake, C, dec. Bryce Reichenbach, SEL, 1-0.
132: Austin Bouse, JS, dec. Bryce Burgess, SHIK, 1-0.
138: Garrett Cook, SM, pinned Dillon Keane, B, 1:20.
145: Richard Lowrie, W, dec. Tallin Norris, C, 10-6.
152: Kyle Pecht, SM, pinned Dom Parker, SHIK,
160: Brandon Cherry, SM, dec. Hunter Wright, C, 8-3.
170: Garrett Campbell, SEL, dec. Hunter O'Connor, JS, 9-4.
182: Josh Krieger, SHIK, dec. Levi Wisor, C, 5-3.
195: Aaron Boob, SEL, pinned Ajay Baker, SHIK, 2:09.
220: DJ Salinas, SM, maj. dec. Hunter Bumbarger, C, 10-2.
285: Gage Arrington, P, pinned Ray Kline, SM, 2:30.