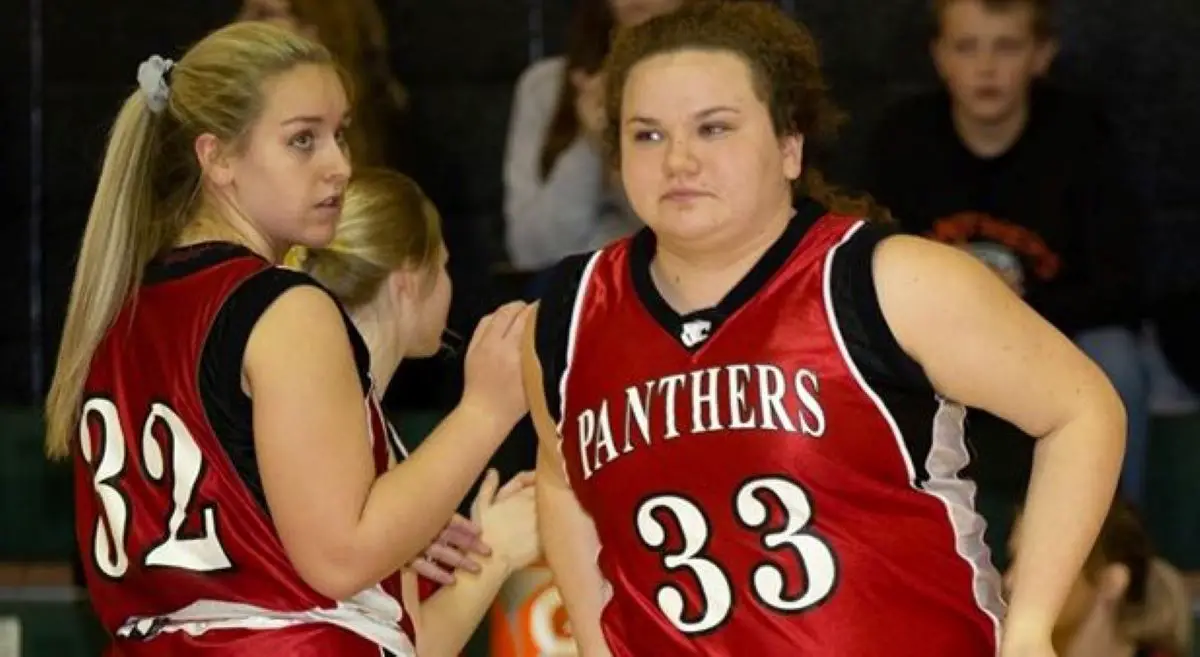 Jan. 7 girls' basketball recaps.
(Photo of Austin's Kendra Valenti (No. 33), whose five points, five steals, five rebounds and two blocked shots helped Austin to its first NTL win in almost six years. Photo by Patrick Crants. See more of Crants work here.)
AUSTIN 23, SMETHPORT 22
AUSTIN, Pa. – Getting fourth-quarter baskets from four different players, Austin rallied past visiting Smethport, 23-22, for its first NTL win since beating Otto-Eldred Feb. 11, 2014.
Kylie Welsh, Kendra Valenti, Shae Setzer and Shaylynn Nichols each scored two points in the fourth quarter to help the Lady Panthers rally from a 20-15 deficit heading to the final eight minutes.
Valenti and Welsh each scored five points to lead Austin with Valenti also contributing five steals, five rebounds and two blocked shots. Setzer added four points with Taylor Brewer scoring three points to go with seven rebounds.
Danielle Nelson had a game-high seven points for Smethport with Abby Lutz scoring five points and Sabrina Tanner contributing seven rebounds.
The victory snapped an 86-game NTL losing streak for the Lady Panthers.
BROCKWAY 28, RIDGWAY 27
RIDGWAY, Pa. – Danielle Wood's free-throw with nine seconds left put Brockway up by one and stuck as the Lady Rovers outlasted Ridgway, 28-27, on the road.
Wood led the Lady Rovers offense with 11 tallies. Selena Butter had seven points and grabbed 13 rebounds.
Christina Fullen paced the Lady Elkers with nine points while Lindsay Steis chipped in eight.
FOREST AREA 41, VENANGO CATHOLIC 35
MARIENVILLE, Pa. – Double-digit outputs from Megan Clow and Jessica Wagner helped Forest Area to its first win of the season and the first under head coach Jeff Wagner, 41-35 over visiting Venango Catholic at East Forest.
Clow led the Fires, who used a 14-4 second-quarter advantage to take an 18-13 halftime lead, with 14 points with Jessica Wagner adding 11 points and 10 rebounds. Desiree Ginnery also chipped in eight points in the win.
Emmy Ekis paced Venango Catholic with 14 points and 10 rebounds, Hope Winger added six points and 10 boards, Alyson Stewart had six points, nine rebounds and two steals and Mariah Wessell chipped in six points, eight steals and four rebounds.
KANE 34, JOHNSONBURG 18
JOHNSONBURG, Pa. – Sarri Swanson and Emily Bucheit combined for 25 points to lead visiting Kane past Johnsonburg, 34-18.
Swanson led the Lady Wolves offense with 13 tallies and went 9-for-10 at the charity stripe. Bucheit netted 12 points including a pair of 3-pointers.
Kaci Stelene paced the Rammettes with seven points in the loss.
ST. MARYS 51, DUBOIS 33
DUBOIS, Pa. – Kaylee Muccio had 15 points to lead a balanced offensive attack, as St. Marys earned a 51-33 D9 League victory over DuBois on the road.
Megan Queensberry added 13 points for the Lady Dutch while Kyla Johnson chipped in 10.
Olivia Johnson paced the Lady Beavers with 11 tallies. Saige Weibel had 10 points and Abby Guiher hit a pair of 3-pointers and finished with nine tallies.
NORTHERN POTTER 42, GALETON 32
ULYSSES, Pa. – Thirteen points from Becca Martin lifted Northern Potter over visiting Galeton, 42-32, in NTL play.
Megan Hyde scored all of her eight points in the fourth quarter for the Lady Panthers. Alyssa Burchell and Abbie Cady each chipped in six tallies. Courtney Martin grabbed 11 rebounds and added four points.
Alli Macensky had a game-high 15 points for the Lady Tigers in the loss. Cara Parsell and Jessie Evans each scored eight points with Parsell adding 11 rebounds.
PORT ALLEGANY 54, OSWAYO VALLEY 20
PORT ALLEGANY, Pa. – Bree Garzel scored all 15 of her game-high points in the first half as Port Allegany topped visiting Oswayo Valley, 54-20, in NTL action.
Cailey Barnett accounted for 14 points and grabbed six boards for the Lady Gators. Evin Stauffer had eight tallies and four steals while Shannon Curfman chipped in seven points.
Macy West accounted for 12 of Oswayo Valley's 20 points.
COUDERSPORT 53, CAMERON COUNTY 19
EMPORIUM, Pa. – Mikayla Gunn led a trio of double-digit scorers with 16 points to help Coudersport handle Cameron County, 53-19, on the road in NTL play.
Gunn hit three 3-pointers to lead the Lady Falcons offense while Rosalyn Page netted 14 points and Sarah Chambers added 10.
Kaelee Bresslin scored 13 points to pace the Lady Raiders in the loss.
BRADFORD 63, OTTO-ELDRED 43
DUKE CENTER, Pa. – Hannah Larry exploded for 23 points to help visiting Bradford top Otto-Eldred, 63-43.
Larry hit three 3-pointers and went 6-for-6 at the line for the Lady Owls. Erica Marshall netted 14 points with Sierra Taylor adding 10. Alanna Benson chipped in nine tallies.
Katie Sheeler had 16 points and went 12-for-15 at the line for the Lady Terrors in the loss. Kayley Heller recorded a double-double with 12 points and 11 rebounds.