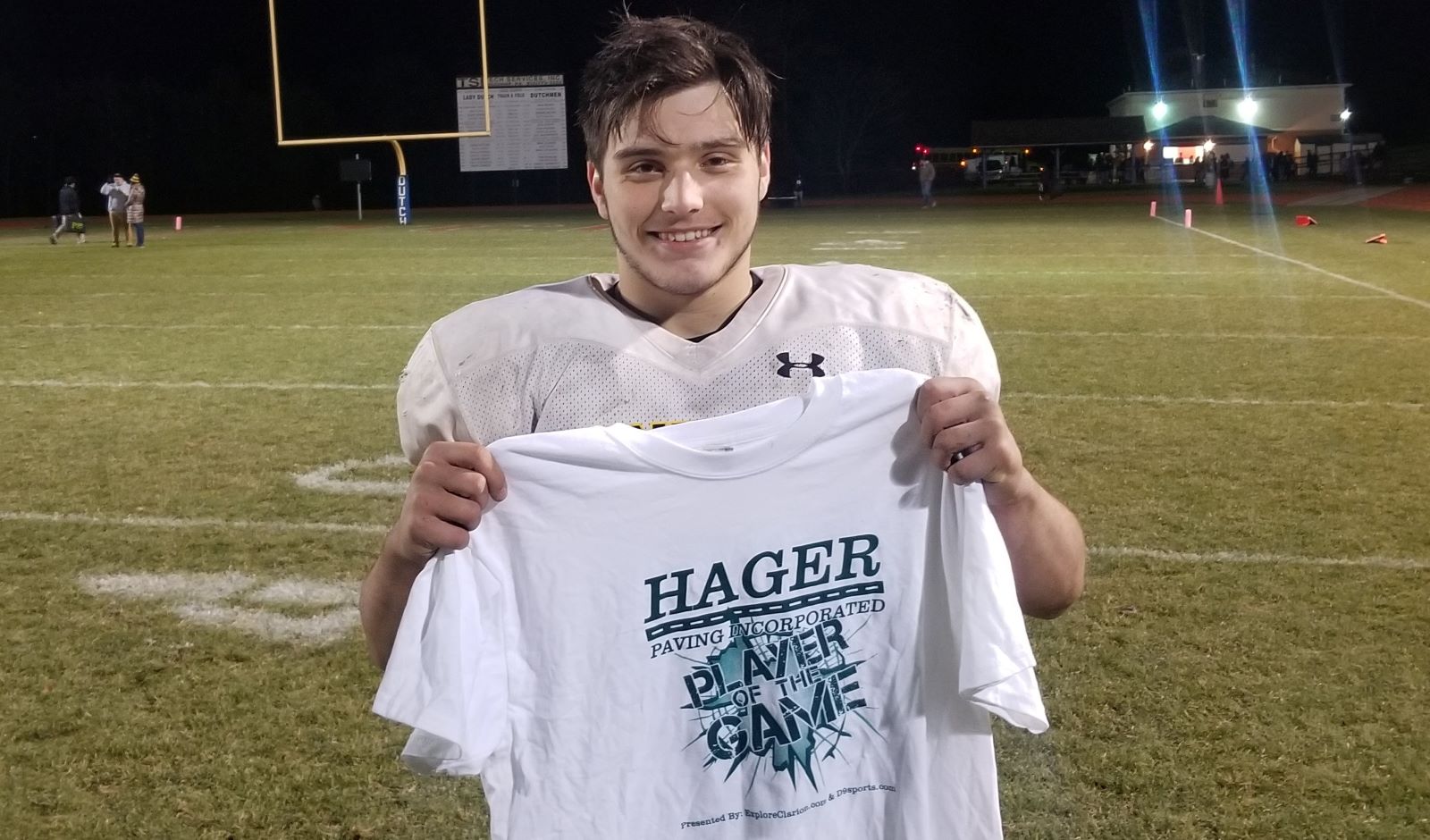 ST. MARYS, Pa. – In a wild turn of events Friday night, three teams ended up tied for the D9 League Small School South title, including two that hadn't won league titles since the 1980s.
(Photo of Keystone's Kirk Wolbert, who led an offensive line charge that allowed the Panthers to have the ball for 39 minutes Friday in a win over ECC. He was named the Hager Paving Player of the Game for his efforts.)
Click here for non-title deciding game recaps • Click here for Small School North/Large School decided recaps
Within minutes of each other visiting Keystone held off a late charge to beat Elk County Catholic, 44-41, and Union/A-C Valley finished off a 28-7 win at Redbank Valley to create an unbreakable three-way tie for the league title between the Panthers, Falcon Knights and Bulldogs, who all finished 3-1 in league play.
The title is Keystone's first since winning Little 12 in 1989 and just the second league crown in school history. Union/A-C Valley technically wins a title for the first time in the four years of the co-opped program. Union's football team last won a league crown in 1984 when it secured the Little 12 title. Union won eight titles as a stand-alone program, while A-C Valley never won a league title as a stand-alone program.
Redbank Valley, meanwhile, did pick up a share of its third league crown since 2015 and the seventh in school history despite the loss.
The Bulldogs beat Keystone in the opening week of the season before Keystone beat Union/A-C Valley two weeks ago to create the three-way unbreakable tie.
Here is a look at both games.
KEYSTONE 44, ELK COUNTY CATHOLIC 41
Despite running 75 plays to ECC's 24 and holding onto the football for 39 minutes compared to nine minutes for the Crusaders, Keystone (8-1) had to hold on for the three-point win.
"I am so proud of these boys," Keystone second-year head coach Ryan Smith said. "I can't thank them enough for what they have done to this program to help change it. I am just so proud of them. We faced some adversity tonight. They have come through the entire year."
Watch more of Smith's postgame interview.
The game looked well in hand when Isaak Jones scored his fourth rushing touchdown on a 1-yard run with 3:51 left to put the Panthers ahead 44-28.
Relisten to the game:
But ECC scored twice in nine seconds to get within three points on a 44-yard Mason McAllister to Sam Kaul touchdown pass with 2:41 left. It was McAllister's fourth touchdown pass of the game, all in the second half, and Kaul's third score of the night with the first two coming on long first-half runs.
ECC's on-side kick – the second on-side kick in a row by the Crusaders, who recovered the first one after a 6-yard McAllister to Bryan Schatz touchdown pass setting up the Kaul score – only went nine yards, however.
The Crusaders had two time outs left and held Keystone to two yards on the first two plays leaving plenty of time if they could come up with the third-down stop to score again. But Keystone went for the win with Jones hitting Keenan Heeter with a 31-yard pass for the first down allowing the Panthers to kneel out the victory.
Jones ran 13 times for 54 yards and the four touchdowns with three of them being from 1-yard out and the other being a 15-yard run. He was also 4-for-8 passing for 76 yards.
Taylar Altman led the Keystone running game, which gained 348 yards on 67 carries, rushing 30 times for 153 yards and a touchdown, while Nick Weaver, who didn't play offense after the first half because of a slight ankle injury – he did play defense – ran 15 times for 90 yards and a score.
Kirk Wolbert, who was named the Hager Paving Player of the Game after leading the charge on the offensive line for the Panthers, who gained 424 yards on the night, along with Jones and Heeter, whose last-minute 31-yard pass play was named the Clarion Burger King Whopper Play of the Game, talked about the victory.
McAllister had a huge night for ECC (4-4 overall, 1-3 D9 Small School South) going 8-for-11 passing for 245 yards and the four scores while also throwing an interception.
He threw a pair of touchdowns to John Wittman, who caught three passes for 125 yards and also hit Bryan Schatz with a 6-yard score.
Kaul, who ran nine times for 147 yards and caught the one pass for 44 yards, scored on first-half runs of 75 and 65 yards.
Of ECC's six touchdowns, four were of at least 44 yards including three of at least 50 yards. In addition, three of those scores came on the first play of drives and a fourth came on the second play of drive which helped lead to the discrepancy in plays and time of possession.
UNION/A-C VALLEY 28, REDBANK VALLEY 7
In New Bethlehem, Union/A-C Valley (7-2) built a 20-0 lead after three quarters and outgained Redbank Valley (7-2) 230 yards to 176.
"These kids are phenomenal to coach," Union/A-C Valley second-year head coach Brad Dittman said. "They're all in. Our motto every week is 'all in on one' and the kid bought into it from day one. We're looking for that one win on Friday night, and they respond to it. They put so much work into it and have so much heart and character. They're a great groud of kids to coach."
Relisten to the game:
Luke Bowser threw two touchdowns and ran for a third for the Falcons Knights going 9 of 20 passing for 106 yards and rushing six times for five yards.
He threw touchdown passes to Karter Vogel (7 yards) and Caiden Rainey (14 yards) and ran for a 2-yard score. Eli Penny also added a 4-yard scoring run.
Rainey caught four passes for 50 yards and also intercepted a pass on defense, while Tony Thompson had a game-best 57 yards on the ground.
Redbank Valley, playing its first game without injured quarterback Gunner Mangiantini, got a 26-yard scoring pass from Cam Wagner to Sam Hetrick early in the fourth quarter to get within 13, 20-7.
Wagner was 10 of 22 for 87 yards, the touchdown and an interception with Sam Hetrick catching three passes for 26 yards. Ethan Hetrick had four catches for 47 yards.
Redbank Valley, though, couldn't run the ball. The Bulldogs, losers of two straight by a combined score of 84-7, ran for just 65 yards on 34 carries led by Ray Schreckengost's 15 carries for 33 yards. Hudson Martz added 30 yards on the ground.
Colton Hoffman led Union/A-C Valley's defense with 13 tackles while Andrew Verostek added 12 stops and Rainey had six tackles and an interception.
NOTES
Union won league titles in 1960, 1962, 1963, 1965, 1966, 1967, 1973 and 1984. Redbank Valley won league crowns in 1985, 1994, 1995, 1996, 2015 and 2017. Keystone's lone league title came in 1989 … Redbank Valley and Union/A-C Valley will most likely meet again in the District 9 Class 1A playoffs as the No. 2 and No. 3 seeds. Seeding will be determined by next week's game with Redbank Valley taking on winless Punxsutawney and Union/A-C Valley facing D9 League Large School Division champion Ridgway … Keystone will play in the Class 2A playoffs after closing its regular season by playing Moniteau next week.