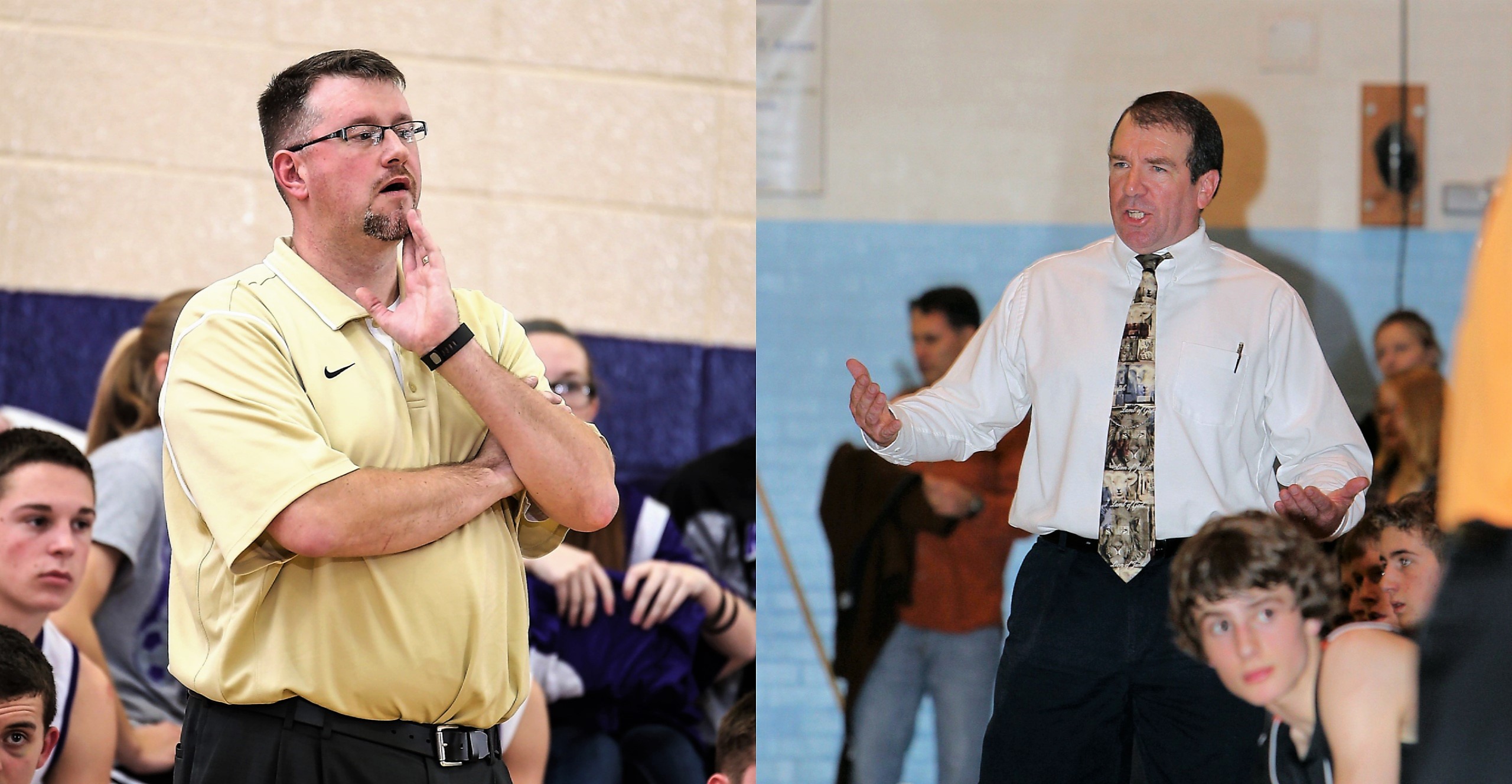 KARNS CITY, Pa. – The KSAC South is Karns City's for the taking when they host Clarion-Limestone Wednesday night, and you can hear all the action as part of the Laurel Eye Clinic KSAC Hoops via exploreRadio and exploreClarion.com.
(Photo: Karns City head coach Chris Bellis (left) and C-L head coach Joe Ferguson (right) lead their teams into action Wednesday night.)
Fans can listen to the game, which will most likely tip-off between 7:15 p.m. and 7:30 p.m. live on exploreClarion.com. Also, new, there is no need to use the app. You can go straight to the website and the player will work on any mobile device (you may need to hit the play button in order to get the stream to play). If you still have the Apple or Android app, it should work for you, and the Android app is still available to download. If you are on an Apple Device, you should just go straight to the site to listen to the game or click here to listen.
The Kerle Tire Pre-Game Show will start at 6:50 p.m. with Mike Kalinowski and "The Governor" Bob Dunkle on the call with Chris Rossetti providing pre- and post-game interviews.
It's quite simple for Karns City. Win and the Gremlins claim the KSAC South with a tiebreaker over Keystone. Lose, and Keystone is the KSAC South champion for the second straight year.
For C-L, it's a matter of who do they want to see in Friday's KSAC Title Game (6 p.m. at Tippin Gym)? The Lions claimed their fifth straight KSAC North championship last week when Clarion beat North Clarion, so Wednesday's game is just a matter of who the Lions will play. Do they want a rematch with Keystone, who beat them in last year's title game or do they want to play Karns City twice in three days?
The teams have met once this season in the opening round of the West Shamokin Holiday Tournament with C-L cruising to an 89-43 win behind 21 points each from Deion Deas and Hayden Callen.
But that was a long time ago.
The Lions, who haven't played in over a week, a 70-49 win over Venango Catholic Feb. 6, are looking to find some momentum going into the postseason having lost two of three while going 7-4 in their last 11.
Do-it-all junior Ian Callen leads C-L at 19.8 points per game with senior Christian Smith adding 15.3 ppg, Deas 13.2 ppg and Hayden Callen, just a freshman, 9.9 ppg.
Karns City, whose top two scorers are underclassmen including freshman Chase Beighley leading the way at 14.7 points per game, is on a roll. The Gremlins have won five in a row including a 74-69 win over Leechburg Monday and have taken home victories in 11 of their last 13 games with the only losses being a two-point setback to West Shamokin and a loss at Clarion.
In addition to Beighley, Karns City also gets scoring from junior Austin Fahlor (11.4 ppg) and seniors Nolan Riley (8.5 ppg) and Jacob Friel (7.9 ppg).
The following local sponsors have signed on to make KSAC Hoops possible: