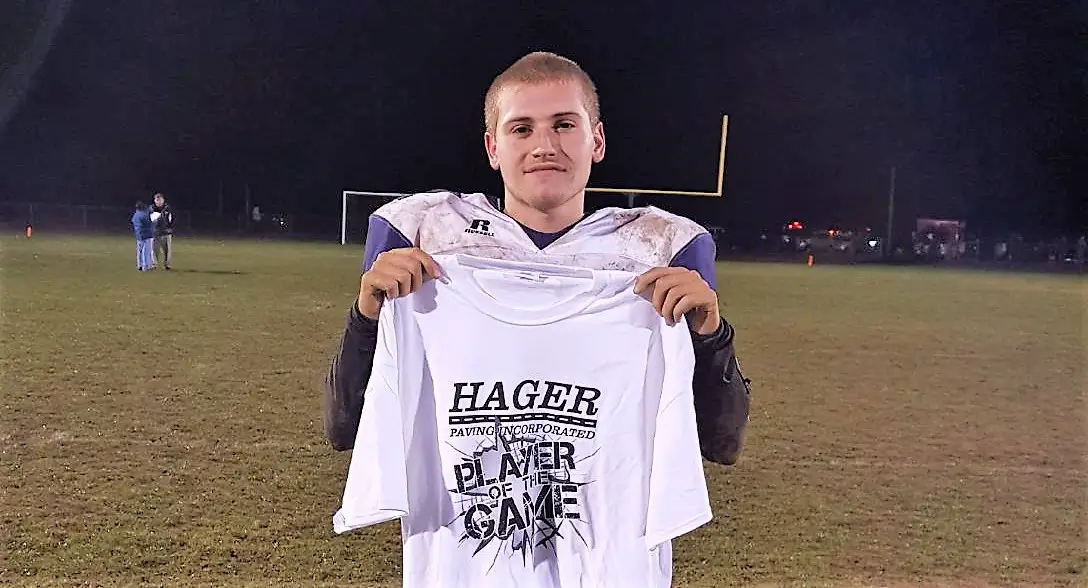 The road teams won out in the District 9 Class 1A playoffs Friday night with sixth-seeded Coudersport and fifth-seeded Redbank Valley coming away with wins.
(Cover photo: Jared Green of Coudersport)
Here is a look at both games:
COUDERSPORT 44, CLARION-LIMESTONE 40
STRATTANVILLE, Pa. – Trailing 20-0 after a quarter, sixth-seeded Coudersport, behind Jared Green, rallied to stun third-seeded Clarion-Limestone, 44-40, in Strattanville.
After C-L raced out to the lead on touchdown runs by Riley Hummell and Austin Newcomb and a Brenden Makray to Kyle Kerle touchdown pass, Coudersport tied the game in a six-minute span in the second quarter thanks to a touchdown pass, a touchdown catch and a touchdown run by Green, who caught his score from Hayden Keck and also threw the touchdown pass to Keck.
The Lions then took a 26-20 lead on another Makray to Kerle touchdown pass midway through the third quarter, but scoring runs by Stevie Kelly and Green put the Falcons up 36-20.
C-L answered with a 1-yard Hummell run with 10:04 to play to cut the lead to four, 36-32, but Coudersport's Derek Keglovits returned the ensuing kickoff inside the 10-yard line, and Green took it in from the 8-yard line to make it 44-32 with 9:50 to play.
The Lions roared back a minute later on a 1-yard Newcomb run to get back within four, 44-40, but that was as close as they got.
Green was 3 of 6 passing for 105 yards, a touchdown and an interception while rushing for 38 yards and catching the one pass for 30 yards. Kelly ran 14 times for 97 yards, while Keck had one catch for 71 yards, four carries for 41 yards and was 1-for-3 passing for 30 yards.
Makray was 14 of 28 for 256 yards and two scores while throwing an interception. Kerle had six catches for 161 yards, while Hummell had four for 52 and Newcomb four for 43. Newcomb also ran 16 times for 19 yards with Hummell adding 75 yards rushing and Ayden Wiles 62.
Coudersport (6-4) will take on second-seeded Ridgway in the semifinals next week at a site and time to be determined. C-L's finished the season 6-5.
REDBANK VALLEY 15, OTTO-ELDRED 8
DUKE CENTER, Pa. – Clint Thurston's 29-yard run in the fourth quarter lifted fifth-seeded Redbank Valley to a 15-8 win over fourth-seeded Otto-Eldred Friday night in Duke Center.
The game had been an 8-7 Otto-Eldred lead since late in the first quarter after Dylan Close caught a 6-yard touchdown pass from Sawyer Drummond and a Cameron Magee two-point conversion for the Terrors and a 6-yard Brock Barrett run and a Thurston extra point for the Bulldogs.
In a quick moving game, the defenses then took over until Otto-Eldred punted the ball away early in the fourth quarter with Redbank Valley taking over at its own 25-yard run.
A heavy dose of running the ball with Thurston, who had 49 yards on the drive, carrying the main load moved the ball to the Otto-Eldred 29-yard line, and Thurston took a handoff from there and found paydirt to give Redbank Valley the lead, which went to 15-8 after a two-point pass from Keaton Kahle to Brock Barrett.
The Terrors looked poised to answer on the ensuing drive moving from their 34 to the Redbank Valley 18-yard line before Drummond was intercepted in the end zone ending the threat.
Otto-Eldred at one last chance late in the game taking over at its 36-yard line and moving to the Redbank Valley 39-yard line on an 11-yard pass from Drummond to Cole Sebastian. But on the game's final play, Drummond's pass was incomplete.
Thurston carried the load for Redbank Valley rushing for 133 yards on 29 carries and becoming the school's all-time leading rusher in the process. With six yards receiving as well, he accounted for 55 percent of the Bulldogs' total offense of 251 yards.
Otto-Eldred actually outgained Redbank Valley in the game gaining 324 yards paced by 214 yards passing by Drummond, who was 19 of 40 with a touchdown and two interceptions. Close had seven catches for 107 yards and the score and added 13 carries for 77 yards, while Magee had nine catches for 63 yards. Drummond chipped in 23 yards rushing on eight carries.
Redbank Valley will take on top-seeded Curwensville in the semifinals next week at a date and time to be determined.
BOX SCORES
COUDERSPORT 44, CLARION-LIMESTONE 40
Score by Quarter
Coudersport 0 20 16 8 – 44
Clarion-Limestone 20 0 6 14 – 40
Scoring Summary
First Quarter
CL- Kyle Kerle 53 pass from Brenden Makray (run failed), 10:37
CL- Riley Hummell 15 run (Austin Newcomb run), 5:56
CL- Austin Newcomb 4 run (run failed), :02
Second Quarter
C- Jared Green 1 run (Hayden Keck pass to David Burd), 9:32
C- Hayden Keck 71 pass from Green (run failed), 7:01
C- Green 30 pass from Keck (run failed), 3:36
Third Quarter
CL- Kerle 28 pass from Makray (pass failed), 6:14
C- Stevie Kelly 38 run (Keck run), 5:50
C- Green 4 run (Keck pass to Burd), 1:51 36-26
Fourth Quarter
CL- Hummell 1 run (run failed), 10:04 36-32
C- Green 8 run (Keck run), 9:50
CL- Newcomb 1 run (Newcomb run), 8:51
TEAM STATS
COUDY – STAT – C-L
10 First Downs 24
35-204 Rushes-Yards 48-214
135 Passing Yards 256
4-9-1 Comp-Att-Int 14-28-1
339 Total Yards 470
0-0 Fumbles-Lost 4-1
8-52 Penalties-Yards 5-25
6-31.3 Punts-Avg. 4-24.8
INDV. STATS
Rushing – Coudersport: Jared Green 10-38, Stevie Kelly 14-97, Hayden Keck 7-41, Derek Keglovits 2-29, Thomas Wilson 1-0, Team 1- (-1). Clarion-Limestone: Riley Hummell 13-75, Ayden Wiles 11-62, Austin Newcomb 16-119, Brenden Makray 6- (-43), Team 2-1.
Passing – Coudersport: Jared Green 3-of-6 105 Yds. 1 TD 1 Int.; Hayden Keck 1-of-3 30 Yds. 1 TD 0 Int. Clarion-Limestone: Brendan Makray 14-of-28 256 Yds. 2 TD 1 Int.
Receiving – Coudersport: Derek Keglovits 2-34, Hayden Keck 1-71, Jared Green 1-30. Clarion-Limestone: Riley Hummell 4-52, Kyle Kerle 6-161, Austin Newcomb 4-43.
Interceptions: Coudersport: Stevie Kelly; Clarion-Limestone: Blaine Anthony.
REDBANK VALLEY 15, OTTO-ELDRED 8
Score by Quarters
Redbank Valley 7 0 0 8 – 15
Otto-Eldred 8 0 0 0 – 8
Scoring Summary
First Quarter
OE – Dylan Close 6 pass from Sawyer Drummond (Cameron Magee run)
RV – Brock Barrett 6 run (Clint Thurston kick)
Fourth Quarter
RV – Clint Thurston 29 run (Barrett pass from Keaton Kahle)
TEAM STATS
Redbank Valley – Stat – Otto-Eldred
11 First Downs 16
48-202 Rushes-Yards 26-112
49 Passing Yards 212
3-9-0 Comp-Att-Int 19-40-2
251 Total Yards 324
1-1 Fumbles-Lost 0-0
3-20 Penalties-Yards 3-25
5-40.5 Punts-Avg. 2-23.0
INDV. STATS
Rushing – Redbank Valley: Clint Thurston 29-133, Brock Barrett 9-43, Hunter Wiles 6-21, Keaton Kagle 4-5. Otto-Eldred: Dylan Close 13-77, Sawyer Drummond 8-23, Team 2-3, Gage Babcock 1-0.
Passing – Redbank Valley: Keaton Kagle 3-for-9, 49 yards. Otto-Eldred: Sawyer Drummond 19-for-40, 212 yards, 1 touchdown, 2 interceptions.
Receiving – Redbank Valley: Brock Barrett 2-43, Clint Thurston 1-6. Otto-Eldred: Dylan Close 7-107, Cameron Magee 9-63, Cole Sebastian 2-31, Nick York 1-13.