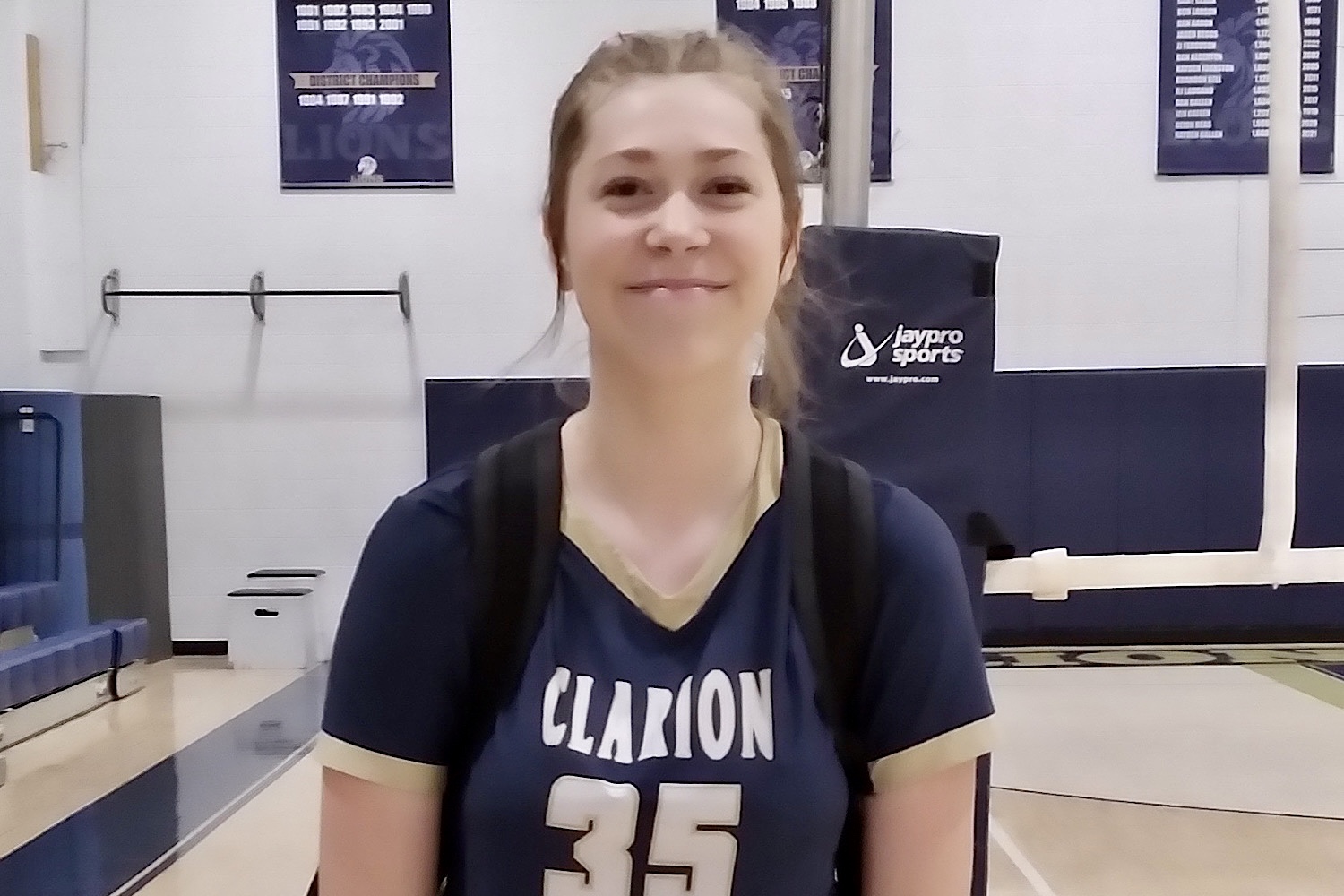 STRATTANVILLE, Pa. (EYT/D9) — A big night from junior Ansley Burke helped the Clarion-Limestone volleyball team come back after dropping the first set to post a 22-25, 26-24, 25-20, 25-18 victory over Redbank Valley on Tuesday evening.
(Above, Ansley Burke)
Burke put away a career-high 13 kills while serving for six points with three aces. Alyssa Wiant added eight kills with 11 points and seven aces. Jenna Dunn and Sarah Bottaro each added six kills with Dunn picking up 10 digs while serving for 10 points.
Kaylee Smith served for nine points with two aces. Kendall Dunn, who was making her first start since being out with an injured knee, handed out 28 assists while serving for seven points with two aces. Abby Knapp picked up 16 digs.
"We wanted Ansley to have a big match," said C-L head coach Ryan Troupe. "She's been due to have a big match. We felt like she's been close, but hasn't been able to break through. Tonight was a nice night for her as she was placing the ball well, and you could tell she was having fun out there.
"Having Kendall back was very uplifting for the players," added Troupe. "We love having Kendall on the floor. We saw how Kaylee did a great job in Kendall's absence and she will do well in the future. It gives us more options having a healthier lineup."
In a back and forth first set, after taking a 17-16 lead and pushing it up to what appeared to be a 23-19 lead, the Lions were called for a net violation, which erased a point and gave a point to the Bulldogs. That put the score at 22-20 instead.
From there Redbank Valley scored the final five points to take the opening set, 25-22.
In the second set, Redbank Valley appeared to have the set in hand, building a 17-9 lead. However, the Lions steadily climbed back into things and eventually tied the set 22-22. Redbank Valley scored the next two points to close to set up a set-point at 24-22, but C-L rallied for the next four points, including the final two serves from Kendall Dunn, the last going fo an ace, to tie the match at a set apiece, 26-24.
C-L broke a 6-6 tie by scoring the next five points to take an 11-6 lead in the third set. The lead grew to as high as nine points at 21-12. Redbank closed to within three at 21-18 before a service error by the Bulldogs started a set-ending 4-2 run by C-L to give the Lions the 25-20 victory.
In the fourth set, Redbank Valley took its only lead at 2-1. C-L regained the lead for good at 3-2 and it eventually grew into an 11-point lead at 18-7 following three consecutive aces from Wiant.
The Bulldogs closed to within six at 21-15, prompting a C-L timeout. The Lions held a 4-3 edge the rest of the way to close out the set and the match, 25-18.
For Redbank Valley, Alivia Huffman put away 14 kills while picking up 20 digs. Taylor Ripple added six kills, Alyssa Bowser and Izzy Bond each added three kills. Caylen Rearick picked up 25 digs. Mylee Harmon handed out 20 assists while picking up 11 digs.
The Bulldogs were coming off a 3-1 loss to Homer Center on Monday, 9-25, 15-25, 25-23, 12-25.
For Clarion-Limestone, the win was a big one for the team.
"We got this win today and we have to keep getting better for tomorrow," said Troupe in talking about the magnitude of the win.
KEYSTONE 3, UNION 0 — Kennedy Kaye had 14 service points, including four aces, and also had a team-leading 15 digs as the Panthers won again, 25-23, 25-9, 25-19 over the Damsels.
Natalie Bowser had 14 assists, Bryanna Mong nine assists, nine points and two aces and Sydney Bell eight kills for Keystone (13-1).
Bri Anthony had five digs and Magen Walzak two aces for Union.
CRANBERRY 3, KARNS CITY 1 — Ayanna Ferringer had 19 kills and Brooke Hart added 17 kills to lead the Berries to the 23-25, 25-15, 25-23, 25-13 victory over the Gremlins.
Ava Fox had nine kills, 16 digs and two aces to lead Karns City.
Rosie Carden had in 17 assists, Natalie Hess six kills and Kendall Ritzert six assists and four digs for the Gremlins.
ELK COUNTY CATHOLIC 3, KANE 1 — Tori Newton had 20 kills and two aces and Madison Marzullo also had a big night with 15 kills and two blocks as the Crusaders won 26-28, 25-20, 25-13, 25-19.
Reagan Bauer pitched in 11 kills and Kiri Emmert had 48 assists for ECC.
CROSS COUNTRY
Logan Lutz ran a scintillating time of 18 minutes to finish first overall for Clarion-Limestone, but North Clarion edged the Lions, 26-29, to remain undefeated.
Kaine McFarland finished second for the Wolves in 18:13. Clarion-Limestone's Ty Rankin was third at 18:16, followed by North Clarion's Aiden Thomas (18:17) and Gabriel Fair (18:40).
Katie Bauer won the girls race for North Clarion. Clara Courson of C-L was second. Neither team had enough runners to score the race.