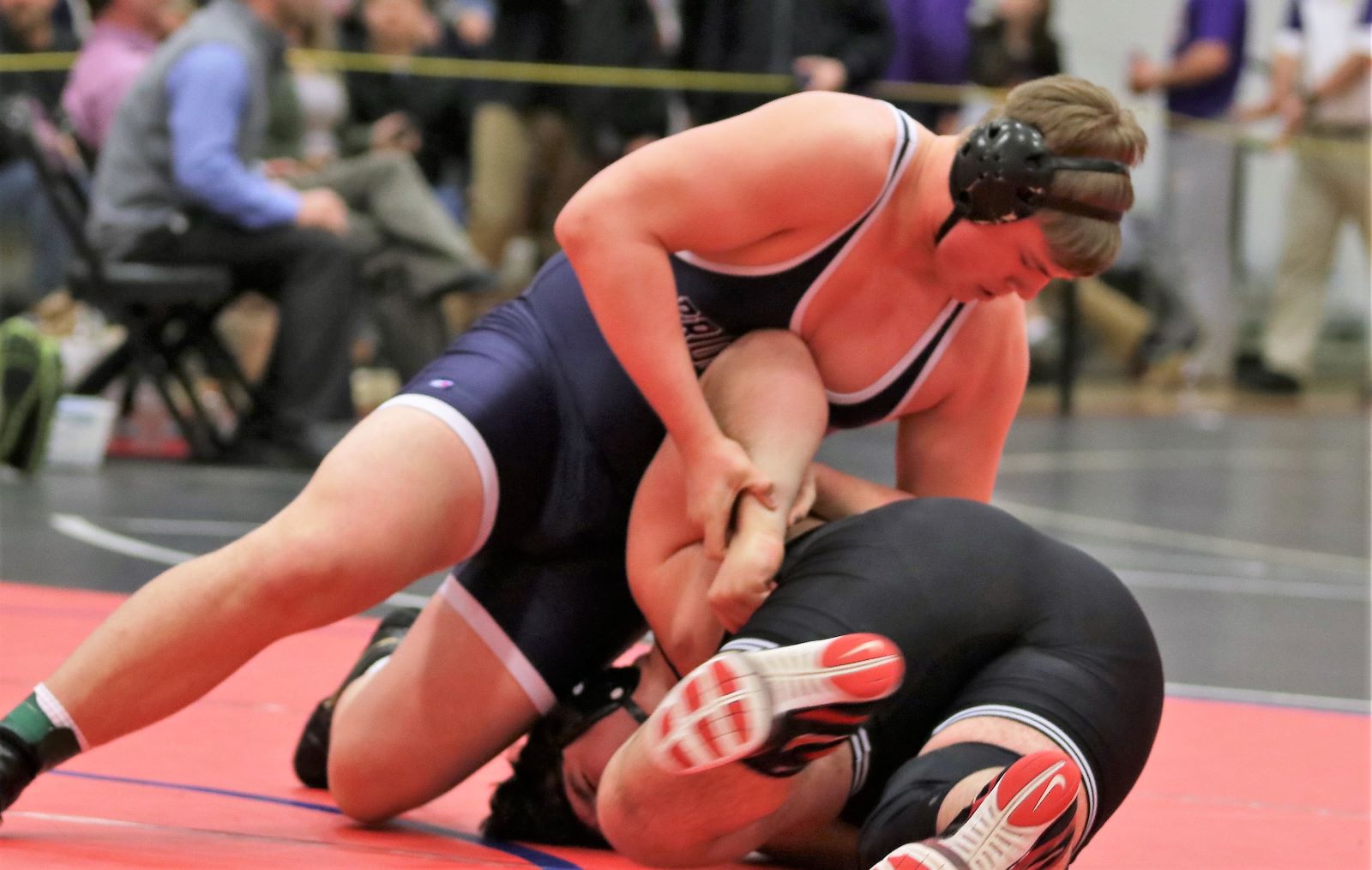 District 9 Class 2A wrestling preview:
(Photo of Brookville's defending PIAA heavyweight champion Colby Whitehill. Photo by Jared Bakaysa of JB Graphics. See more of Bakaysa's work here)
Brockway Rovers (12-5 dual meet record)
Last season's Rovers squad was one of the top in District 9. If they meet coach Eric Greco's goal of generating increased offense from the neutral position, shooting and reshooting more, the Rovers could be even more formidable. Brockway returns three state qualifiers to the 2019-2020 line-up, with senior Anthony Glasl (38-4) leading the way. Glasl, a George Mason University commit, has made the trip to Hershey each of his three previous seasons, earning a place on the podium his freshman (sixth) and junior (fifth) years. He is a three-time district champ and NW Regional runner-up. Though Glasl wrestled at 126 pounds last season, Greco projects him at 138 pounds. FloWrestling currently has Glasl ranked fourth in the state at 132 pounds. Senior Eric Johnson (32-10) and sophomore Mark Palmer (33-12) both made their first trips to the state tournament a season ago. Johnson, who wrestled the postseason at 195 pounds, is a two-time defending District 9 champion and found himself on the second step of the podium at last season's regional tournament. He is ranked ninth in the state at 195 pounds by FloWrestling. Palmer dropped from 113 pounds to 106 pounds for the postseason. He is currently ranked sixth by FloWrestling at 106 pounds, though Greco indicated he might be at 120 pounds this season. Greco has another trio of regional qualifiers in the line-up as well, senior Andrew Hickman (19-19) and juniors Dom Inzana (24-8) and Noah Bash (26-10). Hickman competed at 170 pounds most of last season but is expected to be at 182 pounds this campaign. Likewise, Inzana is looking to jump up a class from 120 pounds to 126 pounds. Noah Bash, the district runner-up at 160 pounds a season ago, is penciled in at 170 pounds. FloWrestling currently has Bash ranked 12th at 160 pounds. Other wrestlers Greco will be counting on are senior Linkin Nichols (13-13) at 160 pounds; juniors Connor Ryckman (4-11) at 152 pounds, Tanner Morrelli (did not wrestle last season, 19-12 as a freshman) at 145 pounds, and Adam Stine (6-6) at 132 pounds; and sophomore Garrett Park (15-14) at 132 pounds. Assistant coaches are Colt Puhala, Bruce Grecco, Curtis Markle, and Dan Inzana.

District 9 wrestling coverage on D9Sports.com is brought to you by Luton's Plumbing, Heating, and Air Conditioning.
Brookville Raiders (21-4 dual meet record)
Coach Dave Klepfer's Raiders have had a virtual stranglehold on the District 9 dual team title as of late, being the squad everybody else wants to beat. Brookville finished fourth in the state as a team last season. Klepfer believes the Raiders have the depth to repeat once again, reporting he has some talented kids moving up from the junior high program to go along with his returning veterans. The most accomplished wrestler in the Brookville line-up has to be defending 285-pound state champion Colby Whitehill (39-0). Whitehill needs eight victories this season to reach the 100-win milestone, another in a long list of accomplishments which includes district championships as a sophomore and junior, as well as a NW Regional title last season. A recent University of Pittsburgh commit, Whitehill is the top-ranked heavyweight in the state by FloWrestling. Sophomore Owen Reinsel (33-6) was also a district champ a season ago, qualifying for the state tournament after taking second at the NW Regionals at 106 pounds. Klepfer figures Reinsel will be at 120 pounds this season, where FloWrestling has him ranked 10th in the state. Returning regional qualifiers also include senior Parker Fleming (13-20) and junior Cayden Walter (25-10). Walter will return to the 113-pound slot this season and is ranked 19th at that weight by FloWrestling. Fleming will fill the 132-pound spot after splitting time between 126 pounds and 132 pounds last season. Elliott Park (21-12), a junior, qualified for regionals as a freshman but did not wrestle last postseason. Also looking to make some noise for the Raiders will be 106-pound freshman Brayden Kunselman, who FloWrestling has ranked 14th in the state, as well as juniors Wyatt Griffin (16-15) at 160 pounds and Nathan Taylor (17-12) at 220 pounds. Taylor's stock is on the rise after he earned All-American status this past summer at the USMC National Championships in Fargo, ND. Joining Klepfer on the bench will be assistants Mick Stormer, Eli Morres, John Matacik, Jimmy Miller, and Brady Mason.
Cameron County Raiders (0-12 dual meet record)
The Kevin Shunk-led Raiders return three seniors, Tim Hasselman (7-12), who wrestled at 285 pounds last season, Eryn Kreig (1-15), who appeared at 132 pounds, and Wendell O'Brien (5-6), a 160-pounder as a junior. Also on the preseason roster is junior Nate Palumbo. Though he only wrestled one match a season ago, he was a regional qualifier at 285 pounds as a freshman.
Clarion Bobcats (3-10 dual meet record)
The Bobcats were limited by low numbers a season ago, though coach Brian Luton reports that situation has improved somewhat going into this campaign. The Bobcats enter this season with a strong work ethic and good attitude. Luton will rely heavily on junior Cutter Boggess (20-10), his 152-pounder last season, as well as seniors Colton Zacherl (10-13), who wrestled primarily at 132 pounds, and Donavan Edmonds (14-13), the regular 160-pounder. Also returning is sophomore Peyton Means (2-11), who filled the 170-pound slot. Luton is assisted by Matt Watterson, Joel Rosko, Kurtis Hargenrader, and Cameron Slike.
Coudersport Falcons (10-9 dual meet record)
Coach Tom Storey will have two returning regional qualifiers in his line-up this season, junior Cale Ayers (25-10), who finished third at districts, and sophomore Dylan Kelly (12-18), who took fourth at the district tournament. Ayers competed at 220 pounds last postseason and Kelly 132 pounds.
Curwensville Golden Tide (5-14)
Curwensville was another team hampered by low numbers a season ago. Though coach Dean Swatsworth reports he has more wrestlers in the room this season, the Golden Tide will once again struggle to field a complete line-up. As such, Swatsworth's aim is to get each wrestler the best match-up he can at every dual in order to help his charges get better and build confidence as the season progresses. Senior Zach Holland (6-2) won the district championship at 145 pounds last season, making his third consecutive trip to the NW Regional tournament. He was second at districts as a freshman and fourth his sophomore year. Holland is currently ranked 13th in the state at 145 pounds by FloWrestling. Swatsworth also thinks junior Jake McCracken (17-13) could have a break-out season. McCracken had 20 victories as a freshman. Assistant coaches are Johnny Sutika, Chris Folmar, Chris McCracken, and Ryan Aughenbaugh.
Johnsonburg Rams (15-9 dual meet record)
Coach Mike Votano thinks this is the most talented squad Johnsonburg has had for several years and believes the Rams have a shot at this season's district team title. He has put his faith in a core group of experienced wrestlers who have tasted success. This season the Rams return five regional qualifiers, including senior Tyler Watts (26-8) and juniors Nolan Shaffer (28-11), Dalton Stahli (15-7), Cole Casilio (33-6), and Isaac Zimmerman (28-10). Watts was the district runner-up at 170 pounds and is projected to be the man at 182 this season. FloWrestling currently has Watts ranked 17th at 170 pounds. Shaffer was the District 9 runner-up at 132 pounds, Stahli has made the trip to regionals the previous two seasons (last time at 138 pounds), Casilio earned district runner-up status last season at 152 pounds (but is the expected 160-pounder), and Zimmerman placed third at districts in the 170-pound class. Zimmerman is ranked 19th in the state at 160 pounds by FloWrestling. Though he didn't make the trip to regionals last spring, junior Cole Norlin (22-10) was a district runner-up as a freshman. He will be at 126 pounds this season. Votano also has high hopes for senior Cameron Marciniak (15-5), who wrestled anywhere from 145 pounds to 160 pounds last season, and junior 145-pounder Cole Haight (16-10). Serving as assistant coaches are Dylan Nelson, Eric Iorfido, Dane Condino, and Preston Mahoney.
Kane Wolves (11-3 dual meet record)
Kane coach Mike Swartwood has a pretty simple goal for his grapplers; he wants them to be better at the end of the year than they were at the beginning. He'll see this improvement if his charges demonstrate increasing confidence in their abilities on the mat as the season progresses. Swartwood has four returning regional qualifiers, including two whose season ended at the state tournament in Hershey. Senior Teddy Race (11-3) made his postseason run to states at 182 pounds, while Cameron Whisner (31-11), also a senior from East Forest wrestling as part of the co-op, did so at 170 pounds. FloWrestling currently ranks Race fourth in the state at 182 pounds and Whisner fourth at 170 pounds. Swartwood indicated, however, that Race would be at 170 pounds this season, with Whisner bumping to 182 pounds. Sophomore Harley Morris (24-13) punched his ticket to regionals by finishing second at districts at 120 pounds and classmate Shawn Nystrom (12-10) went as a heavyweight after finishing fourth at the district tournament. Nystrom will remain at heavyweight this season, with Morris expected to float between 126 pounds and 133 pounds. Swartwood is also looking forward to having seniors Layne Hillard (1-2), Ben Westerburg (10-8), and Nate Asp (4-2) back in his line-up. Hillard and Westerburg should both see time at 138 pounds and 145 pounds. Asp will split time between 152 pounds and 160 pounds. Assisting Swartwood are Eugene Brown, Eric Whisner, Jonah Davis, and Mike Swartwood, Jr.
Oswayo Valley Green Wave (5-14 dual meet record)
The Green Wave are a young team with many of the wrestlers just learning the fundamentals of the sport. Coach Tyler Newton's small roster does, however, feature some quality wrestlers. Senior Colton Gietler (27-12) qualified for the NW Regional tournament after finishing third at districts as a 145-pounder. Projected to wrestle at 152 pounds this season, Gietler is currently ranked 12th at 145 pounds by FloWrestling. Two wrestlers Newton looks to see improvement from are last season's 132-pounder Gage Aldrich (10-17), a senior, and 120-pounder Zane Malogrino (8-17). Aldrich will move up to 138 pounds this season, with Malogrino continuing to hold down the 120-pound spot. Assistant coaches are Corey Thompson, Lance Newton, and Nick Allen.
Port Allegany Gators (19-3)
Port Allegany thanks in part to the co-op with Smethport will field an experienced team, with 18 of the 26 wrestlers on the preseason roster either juniors or seniors. Depth won't be a problem for the Gators either, as coach Brad Greenman will be able to call upon multiple wrestlers at 12 of the 14 weight classes. Braedon Johnson (34-4), a junior from Smethport, qualified for states last season after taking first at districts and second at regionals in the 120-pound class. Greenman has him penciled-in at 126 pounds this season, though FloWrestling currently ranks him eighth in the state at 120 pounds. Senior Bryent Johnson (23-7), also from Smethport, qualified for states as a sophomore. He was a district champion during his junior year and advanced to regionals last year after earning the second step on the podium at districts in the 106-pound class. He is projected at 113 pounds this season, with FloWrestling ranking him 20th in the state at that weight. The Gators have two other returning regional qualifiers on the roster, senior Eli Petruzzi (29-10) who was third in the district at 132 pounds as a junior, and junior Justin Young (30-6), last season's district runner-up at 195 pounds. Young also advanced to regionals as a freshman. Greenman has Petruzzi at 138 pounds this season and Young at 220 pounds. Both are ranked by FloWrestling, Petruzzi currently 18th at 132 pounds and Young currently ninth at 195 pounds. Greenman will be assisted by Chad Saltsman, Adam Greenman, Nate Schwab, Nick Budd, and Josh Saltsman.
Redbank Valley Bulldogs (17-3 dual meet record)
Last season the Redbank Valley squad won more dual meets (17) than any previous Bulldog team. Coach Mike Kundick thinks this year's team is better. With 27 wrestlers on the preseason roster, Kundick points to depth as his team's strength. And though there are some new faces on the varsity, there are also a number of wrestlers who bring a postseason pedigree to the line-up. No wonder the Bulldogs are optimistic that a District 9 team title might be attainable come February/March. The current line-up is highlighted by two returning district champs, senior Ethan Wiant (33-10) and junior Trenten Rupp (22-10). Wiant parlayed his district title into a fourth-place at regionals, making the trip to Hershey for the first time in his career. Though he competed at 132 pounds last season, Kundick projects him at 145 pounds and is prepared to bump him to a higher weight class should it be required to win a dual meet. Wiant recently committed to Clarion University and is ranked fourth in the state at 145 pounds by FloWrestling. Rupp is a two-time regional qualifier and has a trip to states on his radar this season. He will be bumping up from 113 pounds to compete at 126 pounds. Redbank Valley features three other regional qualifiers in addition to Wiant and Rupp. Junior Hudson Martz (24-13), expected to again be the 182-pounder, made the trip to regionals last season after finishing fourth at districts. FloWrestling ranks Martz 14th in the state at 182 pounds. Ridge Cook (17-3), a sophomore, qualified for regionals as a 106-pounder in his first varsity postseason. Kundick envisions Cook competing at 113 pounds this time out. Junior Aiden Gardner (28-4) qualified for regionals as a freshman but experienced a disappointing postseason his sophomore year due to illness. He will probably again float between 195 pounds and 220 pounds as the dual meet situation warrants. Kundick is very confident in a maturing Kobe Bonnano (13-9). The junior has solid heavyweight size this season as opposed to last (when he could also make 220 pounds). Assistant coaches are Ruben Carrillo and Devin Laird.
Ridgway Elkers (1-18 dual meet record)
Coach Curt Olson's Elkers were another team done in by low numbers last season. Though Ridgway added some new faces thanks to the efforts of the junior high coaches recruiting kids to the sport, Olson's varsity roster continues to be a bit thin and very young. Injuries during the football season did not help matters. These concerns aside, Olson does have some experienced wrestlers upon which he can rely. Senior Jake Wicket (15-13) qualified for NW Regionals after finishing third at districts last year. He will remain at 152 pounds. Bumping up from 126 pounds to 132 pounds will be senior Gary Emmerick (20-13), while sophomore Tyler Merritt (8-10) will be making the move from 132 pounds to 138 pounds. Junior Jake Kunselman (9-4) remains the Elkers' heavyweight for another season. Junior Joe Miller (0-2) will be at 170 pounds, with classmate Ben Briggs (1-5) handling 145-pound duties. New to the varsity is senior Valdemar Kranz (an exchange student who has never wrestled before), junior Armandt Rosario, and sophomores Hunter Wall, Eddie Switzer, and Bailey Lewis. Olson is assisted by Colton McClain, Bryan Slatery, Brett Herzing, Jeff Slatery, and Brian Coder.
Sheffield Wolverines (8-12 dual meet record)
According to coach Jack Rice, this season's version of the Wolverines has depth but lacks experience. As such, his goal, a 10 win season, would be a modest but significant achievement. Highlighting Rice's roster is junior Ethan Finch (31-11), who had a break out season last campaign when he captured the district crown at 170 pounds, finished second at the NW Regional tournament, and made his Hershey debut. Though Rice expects Finch to go at 182 pounds this season, FloWrestling currently has him ranked third in the state at 170 pounds. Moving from 138 pounds to 145 pounds will be senior Kevin Marfink (10-14), with sophomore Cooper Traister (10-17) anticipated to move to the 138-pound class (he wrestled at 132 pounds last season). It looks like sophomore Landon Meade (5-20) will remain at 152 pounds. Assistant coaches are Tom Holden and Jim Bailey.
Editor's Note: The Class 3A preview will be posted at a later time