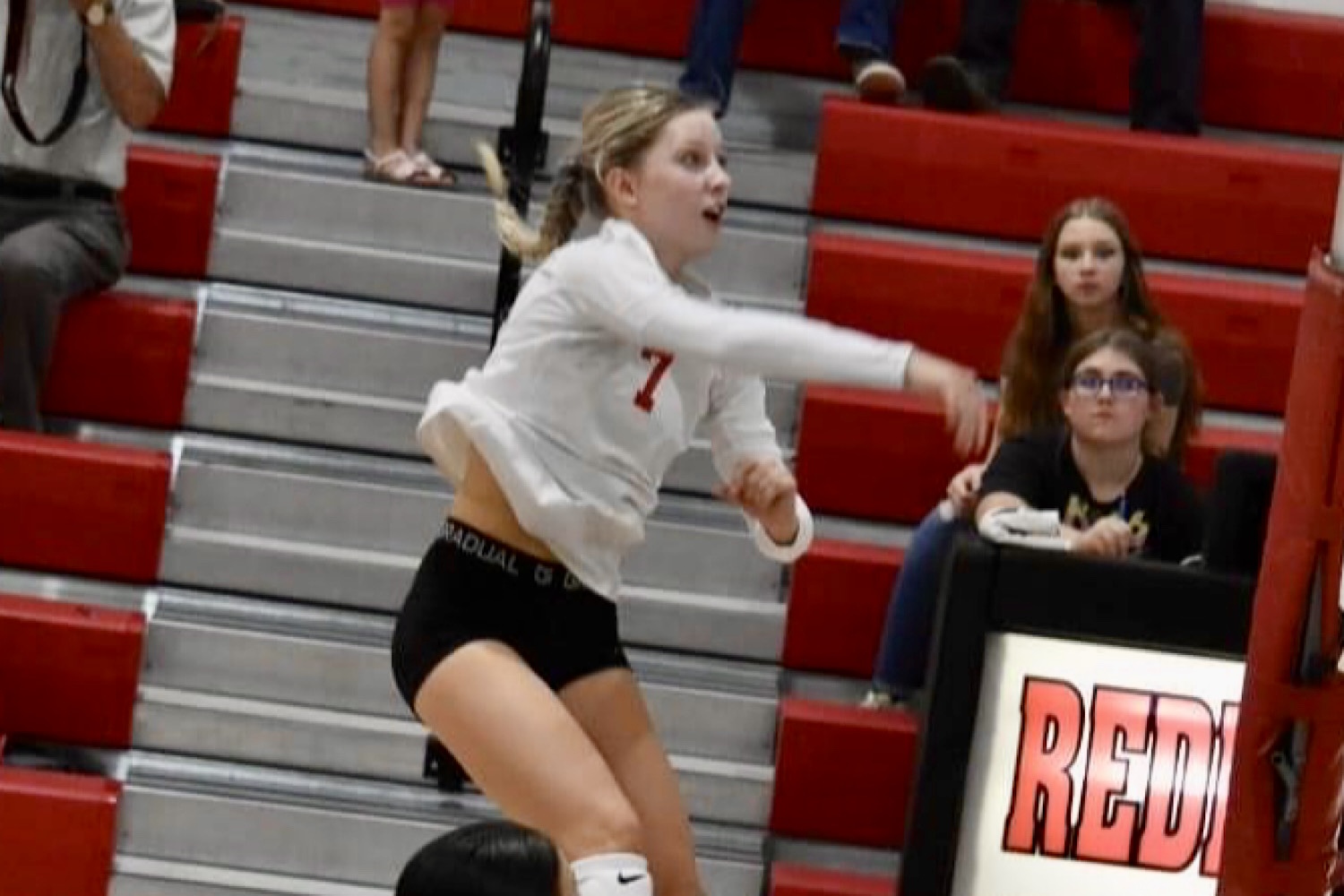 SENECA, Pa. (EYT/D9) — Mylee Harmon had 17 kills and Taylor Ripple pitched in 15 kills as the Redbank Valley volleyball team outlasted Cranberry, 20-25, 25-15, 25-22, 28-30, 15-12, on Tuesday night.
(Pictured above, Redbank Valley's Mylee Harmon/photo by Stephanie Bonanno)
It was the second five-set match in as many nights for the Bulldogs. Redbank Valley fell to undefeated Clarion-Limestone in five on Monday night.
This time, the Bulldogs prevailed.
Izzy Bond also had double-digit kills with 11.
Harmon and Ripple each added 15 digs. Bond had 13 digs. Kira Bonnano added 12 digs and freshman setter Elaina Carrico continued to impress with 43 assists.
Aryanna Ferringer had a huge match for Cranberry with 28 kills.
KARNS CITY 3, UNION 0
Kendall Ritzert had 12 assists, five aces and three digs to help lead the Gremlins to a 25-18, 25-13, 25-19 win.
Naomi Venesky had six kills and Ava Fox had five kills, eight digs and four aces for Karns City.
KEYSTONE 3, VENANGO CATHOLIC 0
Gwyn Manno had 18 service points with 12 aces as the Panthers earned a 25-6, 25-8, 25-4 sweep.
Katherine Burrows had four kills, 12 service points and eight aces. Emilee Dixon had six assists.
The Keystone junior varsity team also won, winning both sets 25-16.
Mia Bailey had 11 aces and five assists.
BOYS SOCCER
Nathan Frederick scored three goals as Clarion-Limestone kept rolling with a 5-0 win over Brookville.
Dan Schweitzer and Wyatt Boyden also found the back of the net for the Lions.
GIRLS SOCCER
Hanna Dailey scored three goals and Aubrey Price added another on a penalty kick as Karns City blanked Forest, 4-0.
Sarah Dodd had two assists and Phoebe Brandon another. Savanna Prescott got the shutout in net.
CLARION 6, BROOKVILLE 2
Lexi Coull had a monster match with five goals to lead the Bobcats.
Alex Leadbetter scored the other goal for Clarion.
REDBANK VALLEY 3, KANE 0
Lia Hageter scored two goals and Alex Shoemaker scored the other as the Bulldogs blanked the Wolves.