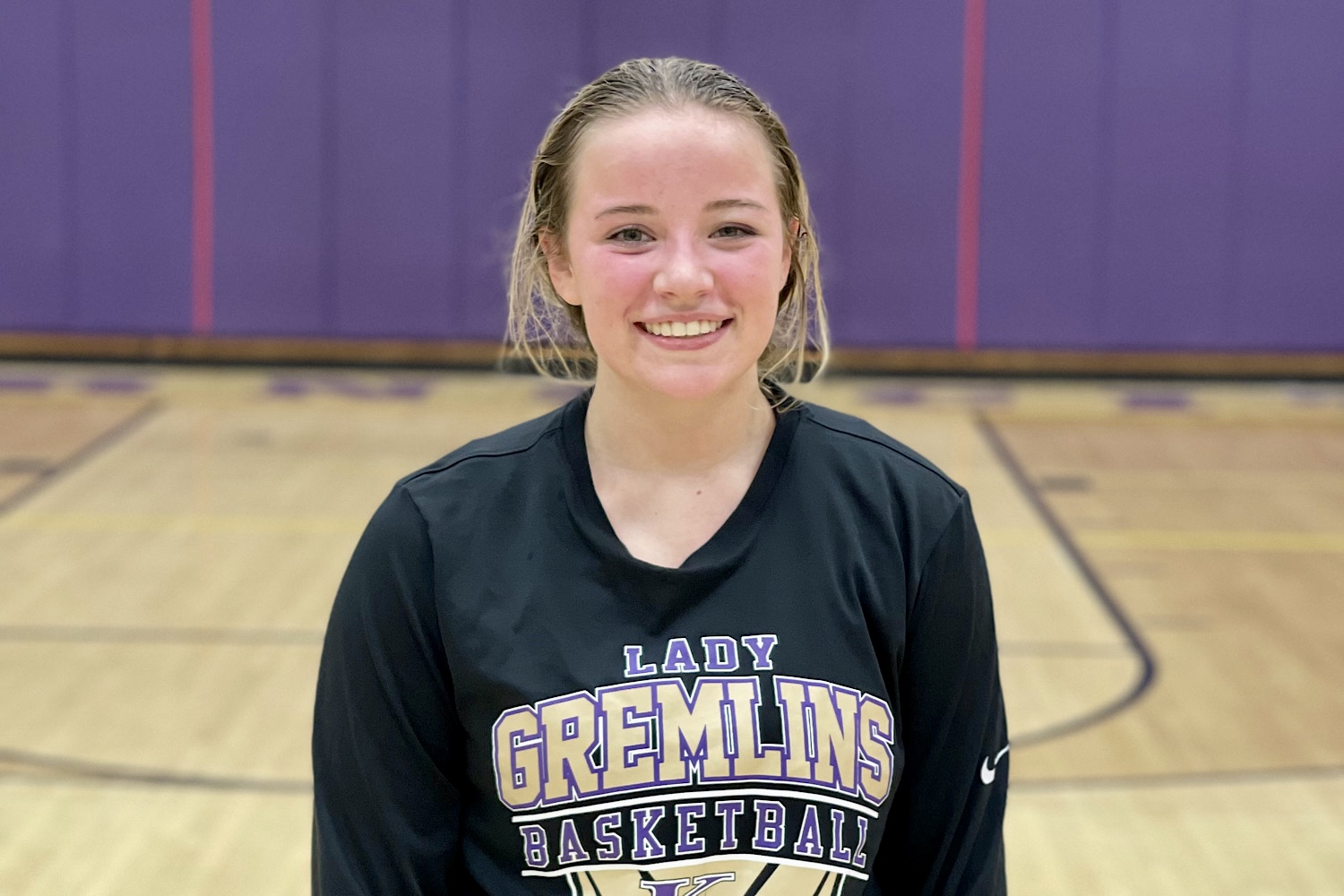 KARNS CITY, Pa. (EYT/D9) — The Karns City girls basketball team has been second half warriors this season.
The Gremlins were again on Monday night at home against Oil City.
(Pictured above, Karns City's Brooklynn Taylor)
After slogging through the first two quarters and taking a slim 13-9 lead over the Oilers into the halftime locker room, Karns City's defense gave up just four points in the final two quarters on the way to a 33-13 win.
Brooklynn Taylor scored 11 points to lead the Gremlins. All but three of those points came in the second half for the sophomore guard.
Chloe Fritch, another sophomore, added nine and Shae Pistorius six for Karns City.
Madalynn Wenner scored four points to lead Oil City, which came into the game 3-0 this season.
After an 0-2 start, Karns City has won three straight.
CRANBERRY 42, A-C VALLEY 11
Freshman forward Jadyn Shumaker scored 12 points to lead a balanced Berries' scoring attack to topple the Falcons.
Garland added nine points and Findlay eight for Cranberry, which picked up its first win of the season.
The Berries used a 21-point third quarter to pull away from winless A-C Valley, which got seven points from Maddy Dehart.
BROCKWAY 34, FOREST 27
Madelyn Schmader scored 12 points as the Rovers opened up a 22-17 lead at the half and held off the Fires in the fourth quarter.
Sophia Schmader added nine points and Rheanna Spinda eight for Brockway.
Forest was paced by Kaylie Rooke, who scored nine points and also pulled down nine rebounds and blocked five shots.
Amber Guzzi added seven points and five rebounds for the Fires.
BRADFORD 42, UNION 41
Alanna Benson banked in a 3-pointer in the final seconds as part of her 18-point game to sink the Damsels.
Union had one last shot at the buzzer, but missed.
Kalie Dixon also reached double figures for Bradford with 11 points.
Gracie Gallagher led the Damsels with 12 points and Hailey Theuret chipped in nine.
NORTH CLARION 66, JOHNSONBURG 38
Lauren Lutz scored 22 points and also had 14 rounds to lead the Wolves.
Maria Bauer added 10 points for North Clarion, which led 20-2 after the first quarter and cruised the rest of the way.
KEYSTONE 43, BROOKVILLE 29
Natalie Bowser had a huge night for the Panthers.
Bowser scored 25 points and also grabbed 20 rebounds in Keystone's win.
Eden Wonderling scored 19 points to lead the Raiders.