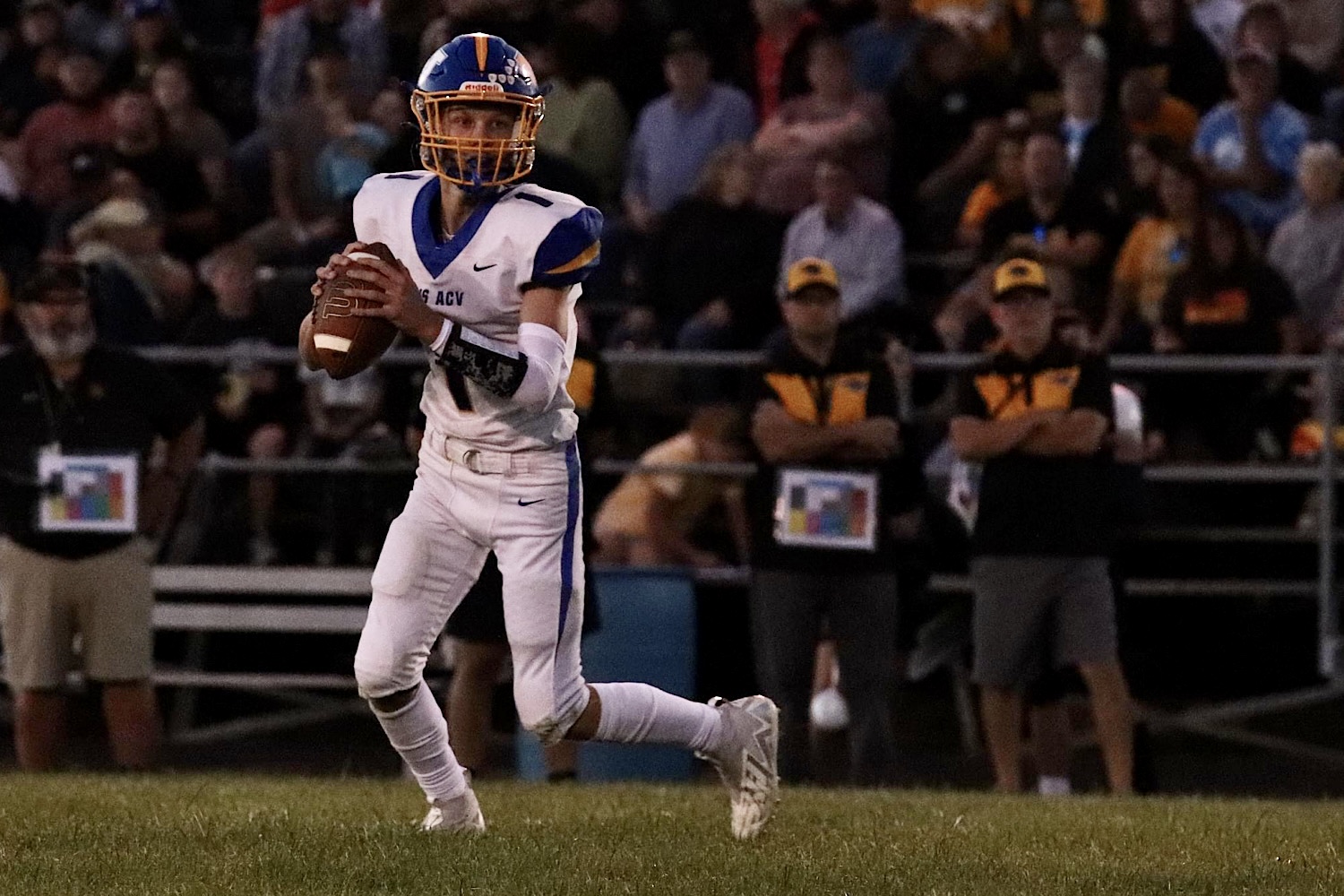 RIMERSBURG, Pa. (EYT/D9) — It was difficult for the members of the Union/A-C Valley football team to gaze up at the scoreboard at Vidunas Stadium last week.
Union 0, Guests 72.
It was a whole lot easier looking up at those numbers this week.
Bouncing back from that 72-0 setback to Central Clarion, Union/A-C Valley played inspired defense, forcing three turnovers and hounding Brockway quarterback Brayden Fox all Friday night.
The result on that scoreboard: Union 12, Guests 7.
(Pictured above, Union/A-C Valley quarterback Brody Dittman, seen here against Keystone two weeks ago, threw for 216 yards and a TD and also intercepted two passes on defense in the Falcon Knights' win over Brockway on Friday)
"They definitely showed a lot of resilience," said Falcon Knight coach Dan Reed. "It would have been very easy to throw in the towel (after that 72-0 loss last week). We had a very good team coming in this week and I think our guys wanted to show that maybe they were a little better than they looked last week."
Brockway (3-1), which came in rolling and undefeated, scored first late in the first quarter on a 1-yard run by Blake Pisarcik.
Brody Dittman found Owen Bish on a 7-yard TD pass to cut the lead to 7-6 in the second quarter and then Easton Wingard's 6-yard run gave Union/A-C Valley the 12-7 lead with 3:54 on the clock in the third quarter.
The defense did the rest over the next 16 minutes.

Redbank Valley, Keystone, and Union/A-C Valley sports coverage on Explore and D9Sports.com is brought to you by Heeter Lumber.
Dittman had two interception and Aidan Fox recovered a fumble.
Meanwhile, the ground game did just enough to eat some clock.
Dittman also found Owen Bish on a pass up the seam for a key first down in the fourth quarter that allowed the Falcon Knights to burn some precious clock.
That drive started at the Union/A-C Valley 1. It didn't results in a score, but the long drive put Brockway's back against the wall late in the game, fighting the clock.
"Our defense was in the situation of bend, but don't break," Reed said. "They definitely picked up their yards and moved the ball on us, but we didn't give up points — just one touchdown. I thought the coverage in the secondary was excellent tonight. We put pressure on them, just enough to get the quarterback outside the pocket and forced him to make some throws on the run. I thought the combination of coverage and pressure did a good job."
Bish had a big night on both sides of the ball.
He caught four passes for 86 yards and also had 11 tackles on defense.
"He's a kid I feel comfortable playing anywhere on offense," Reed said. "I think he'd do a great job at quarterback if we put him back there. We thought about putting him at tailback a little bit because if his breakaway ability and his ability to run downhill and he's really helped us there. We played him in the slot tonight and he did a lot of damage out there.
"On defense, boy, he was just all over the place making tackles, coming up and did a great job hitting," Reed added. "So he really had a great game."
So did Dittman, who was 12-of-21 passing for 216 yards and a touchdown.
The big plays in the passing game kept drives alive.
That kind of production has been an emphasis for Reed this season.
"We talked about that in the offseason. That's what we want to do," Reed said. "And I think we did that tonight and it made a big difference in the game."
Now Reed is hoping this will be a springboard for his team going forward.
Union/A-C Valley is just a one-point loss in the opened away from being 3-1 itself.
"The schedule is tough. We have a lot of tough games on our schedule," Reed said. "All you can really do is take them one at a time and worry about trying to go into your next week with a win because it's gonna be a tough battle every week."

Redbank Valley, Keystone, and Union/A-C Valley sports coverage on Explore and D9Sports.com is brought to you by Heeter Lumber.