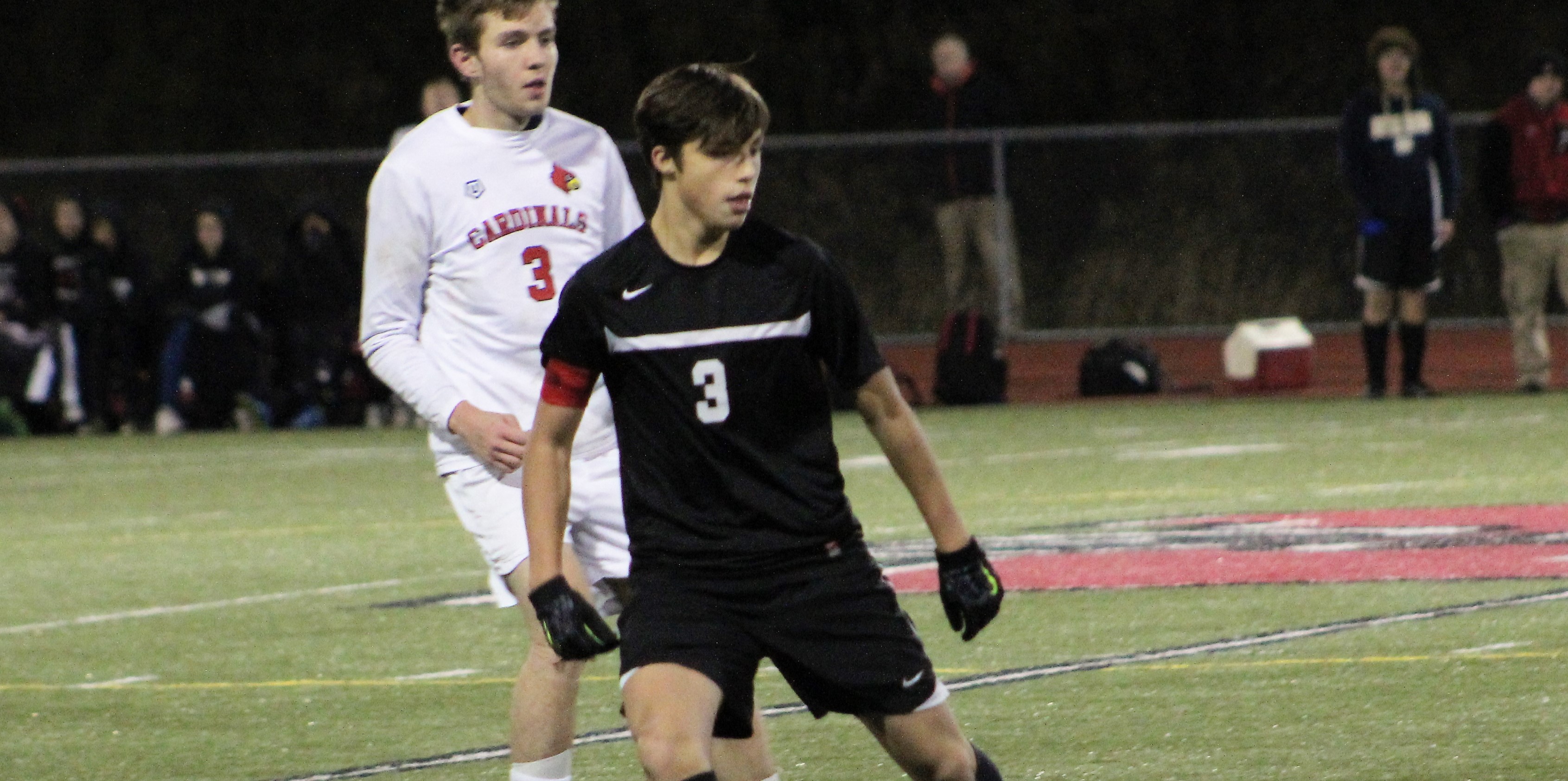 Oct. 25, 2018, soccer and volleyball recaps.
(Photo of Brockway's Hunter Allenbaugh. Photo by Jared Bakaysa of JB Graphics. See more of Bakaysa's work here)
BROCKWAY 5, DUBOIS CENTRAL CATHOLIC 0
DUBOIS, Pa. – Two goals in the first half from Zane Puhala helped top-seeded Brockway advance to its third consecutive District 9 Class 1A final appearance with a 5-0 victory over fourth-seeded DuBois Central Catholic.
Puhala netted his first goal of the night just five minutes into the game with a long kick from about 30 yards out.
"Me, Hunter Allenbaugh and Coach Ritchie talked before the game, and we thought we needed to hop on them quickly," Puhala said. "Getting that goal early was big."
Watch more of what Puhala had to say about the win.
Allenbaugh tallied a goal at the 19th minute of the game with a long kick of his own that was about 35 yards out. Puhala then scored his second goal of the game eight minutes later to give the Rovers a 3-0 lead that stuck through halftime.
The Rovers were able to get 12 shots on goal in the first half while the Cardinals only managed to get three.
Brockway continued their offensive attack in the second half with a pair of goals from Jake Anderson and Santino Inzana in a span of two minutes.
Anderson scored off of a feed from Noah Bash at the 62nd minute and Inzana tallied a goal two minutes later.
The Cardinals finished the game with four shots on goal with Brockway racking up 20.
Brockway will take on Karns City in the District 9 title game at 7 p.m. Thursday, Nov. 1 at Clarion University's Memorial Stadium.
KARNS CITY 6, ELK COUNTY CATHOLIC 0
BROCKWAY, Pa. – Four first-half goals, including one from Nate Rondinelli, who finished with the hat trick, led second-seeded Karns City to a 6-0 win over third-seeded Elk County Catholic, in the District 9 Class 1A semifinals at Brockway's Varischetti Field.
Owen Collwell, who had two goals of his own, started the scoring for the Gremlins when he buried a shot from 25 yards out.
Rondinelli then made it 2-0 when he scored from the top of the 18, and Collwell pushed the lead to 3-0 when he hit a line drive a shot off an ECC defender.
Dakota King finished the first half scoring off a beautiful cross from Austin Fahlor to make it 4-0 Karns City at halftime.
It was more of the same for the 18-1 Gremlins in the second half with Rondinelli scoring two more goals including the sixth goal of the game off a well-executed give-and-go with King.
Jake Weckerly wasn't tested much in recording his 11th shutout of the season.
Karns City will take on Brockway in the District 9 title game at 7 p.m. Thursday, Nov. 1 at Clarion University's Memorial Stadium.
PORT ALLEGANY 1, KANE 0
BRADFORD, Pa. – Howie Stuckey's goal in the 62nd minute lifted top-seeded Port Allegany over upset-minded and fifth-seeded Kane, 1-0 in the District 9 Class 2A semifinals at Bradford.
After a scoreless first half and first half of the second half, Stuckey finally broke the ice with about 18 minutes to play when he beat Brennan Schutz with a shot.
Brandon Peterson made the goal stand up making six saves for the shutout for the Gators.
Schutz had four saves for Kane.
Port Allegany will take on third-seeded St. Marys in the title game at 7 p.m. Monday, Oct. 29, at Bradford.
ST. MARYS 2, PUNXSUTAWNEY 0
BROCKWAY, Pa. – St. Marys scored early and late in the first half to knock off Punxsutawney, 2-0, in the District 9 Class 2A semifinals at Brockway's Varischetti Field.
Nathan McAnany scored late in the fifth minute to give the third-seeded Dutch a 1-0 lead over the second-seeded Chucks.
Then, with just 24.3 seconds left in the first half, Vini Nunes made it 2-0 St. Marys with another tally.
Nunes' goal in the 40th minute was the final one scored in the contest, as neither team found the back of the net after halftime.
The Dutch will take on top-seeded Port Allegany in the title game at 7 p.m. Monday, Oct. 29, at Bradford.
VOLLEYBALL
DUBOIS 3, KARNS CITY 0
KARNS CITY, Pa. – Sydney Kaschalk had 15 kills, four aces and three blocks to lead visiting DuBois to a 3-0 (25-20, 25-16, 25-17).
Kaylee Sadowski added eight kills and 13 digs for the Lady Beavers with Cate Gregory running the offense with 35 assists while adding five aces.
Emma Clark paced Karns City with six kills and three blocks. Emily Wolfe added two kills and six digs, Emily Huff had two kills and four aces, Rayna Miller and Peyton Turner each had two kills and Mackenzie Dunn added 14 digs.