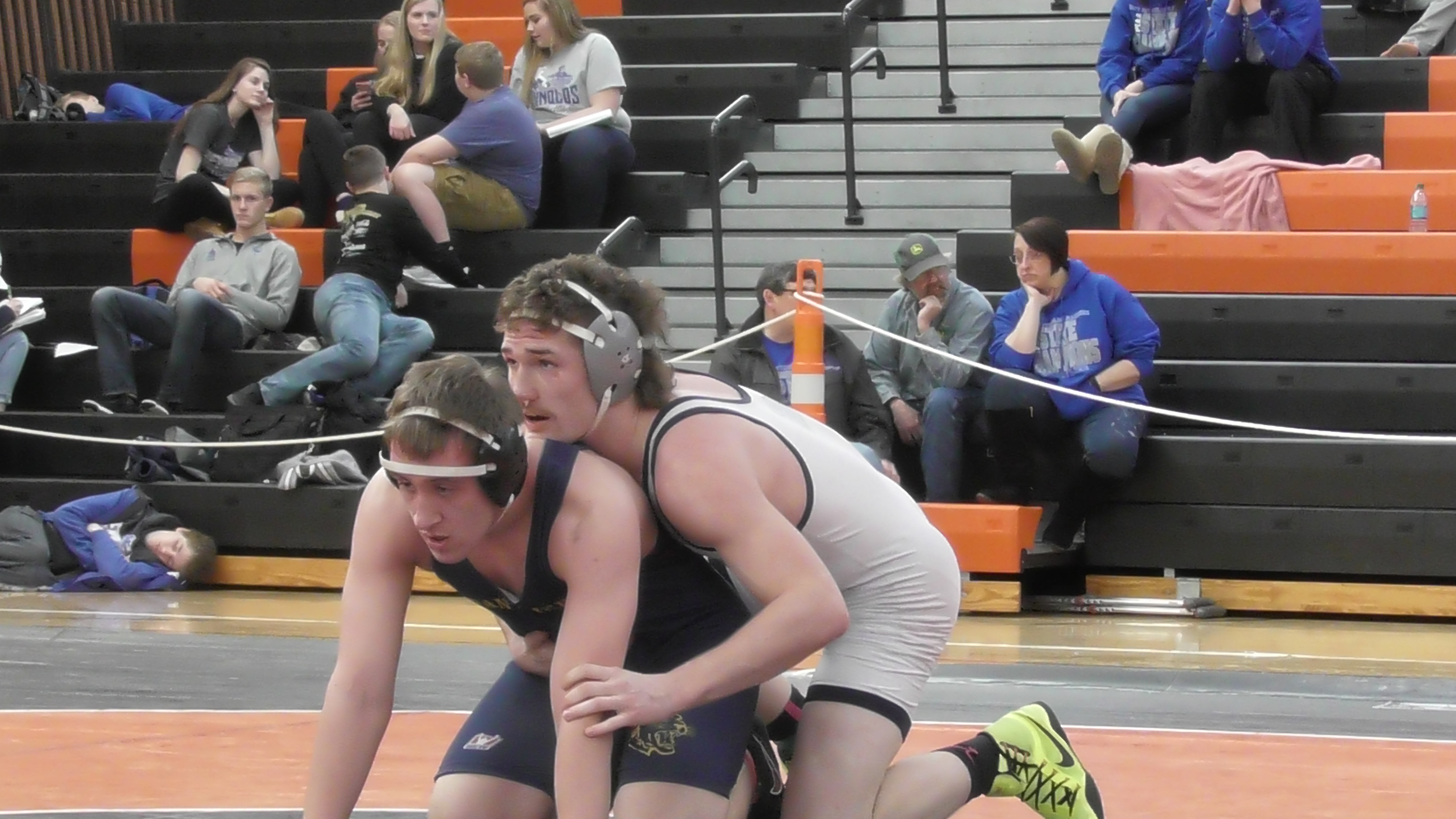 HERSHEY, Pa. — Exacting some revenge from last year's first-round loss to Northern Lebanon, the D9 champion Brookville Raiders won the rematch with a 39-28 decision over the District 3 third-placers in Thursday's opening round at the PIAA Class 2A Dual Meet Championships held at Giant Center.
(Photo of Brookville's Xavier Molnar, who got a key win Thursday in leading the Raiders into the PIAA Class 2A Dual Meet Quarterfinals)
With the match tied at 22-22, the Raiders got three straight bonus-point wins from their state-ranked upperweights in Xavier Molnar, Tyler Cook and Colby Whitehill.
Molnar pinned Brandan Madeira in the third period at 195 pounds, Cook slapped a 17-2 technical fall on Cole Messimer at 220 and Whitehill avenged a 2-0 loss to Kye Sonnen at heavyweight last year with a first-period pin this time around.
The Raiders forfeited the final bout at 106 to set the final score.
Also winning for the Raiders earlier were Cabe Park (pin) at 120, Kai Sorbin (pin) at 126, Dontae Constable (10-1 major) at 138 and Caleb Hetrick (3-1 decision) at 152.
According to the latest www.papowerwrestling.com state rankings, the Raiders were ranked No. 3 and Northern Lebanon No. 12.
Next up for Brookville in Friday's quarterfinals is District 4 champion and No. 2-ranked Southern Columbia at noon. Southern Columbia beat the Raiders, 33-29, in last year's third-place match. The winner advances to Friday night's semifinals at 8 p.m. while the loser drops into the consolation bracket and a 4 p.m. matchup with either District 1 champion Faith Christian or WPIAL champion Burrell, which the Raiders beat 39-23 at the Johnson Motors Ultimate Duals in Brookville in January.