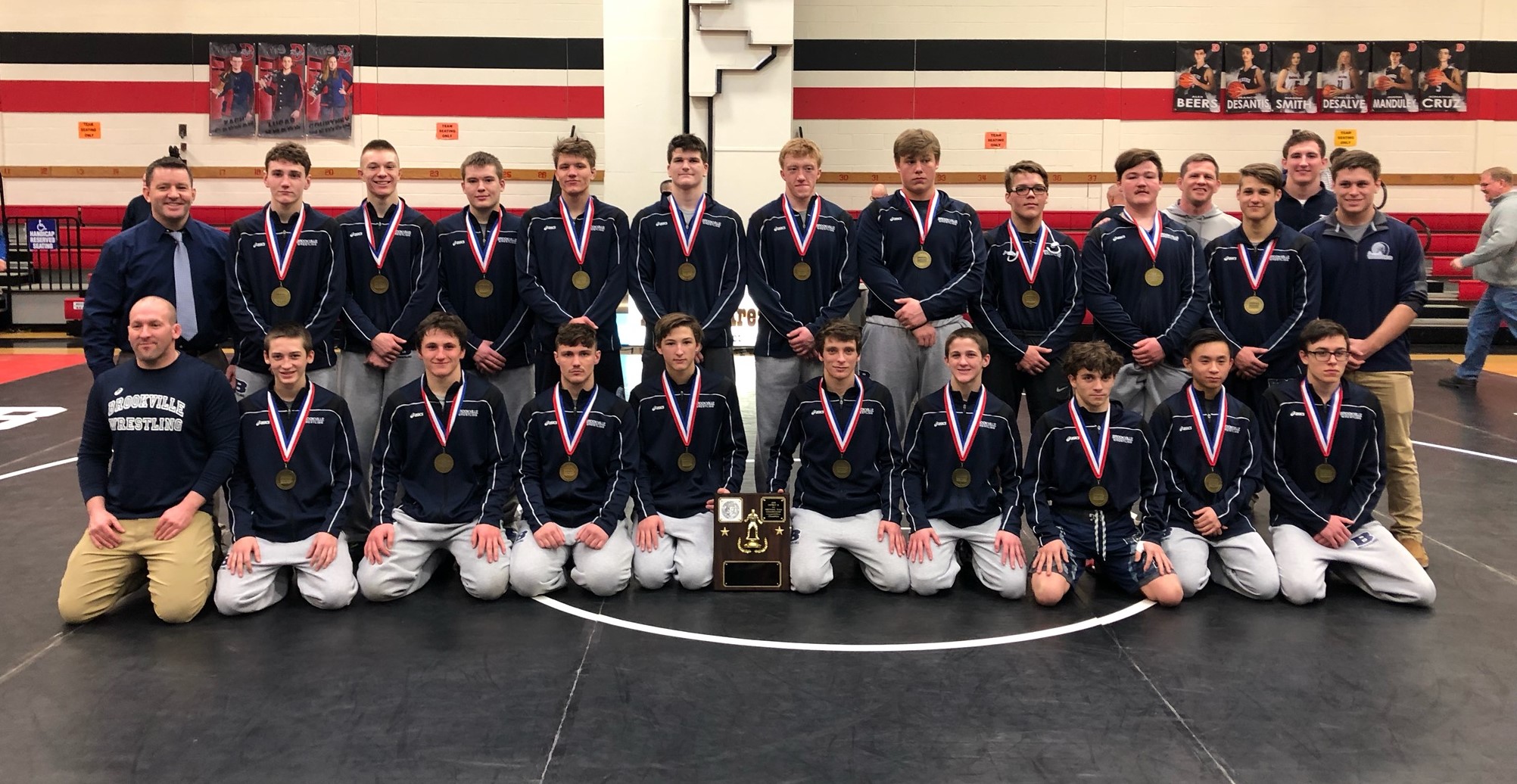 DUBOIS, Pa. – Jacob Cable's reversal and near fall late in the 152-pound match turned the tide for Brookville, and the Raiders went on to win their sixth straight District 9 Class 2A Dual Meet title, 45-21, over Port Allegany Saturday afternoon at DuBois High School.
(Submitted photo)
Port Allegany had a strong start and was leading the Raiders, 18-15, following a pin by the Gators Issac Smoker over Cody Hetrick at 1:47 of the third period of the 145-pound bout.
And it looked like Port was about to add to its lead when Alex Sanders used an escape at 1:23 of the third period followed by a takedown with 1:04 left to go ahead 5-3 on Cable.
But with the clock ticking under 20 seconds, Cable got the reversal and the near fall to pull out a stunning 8-5 victory that tied the match at 18.

District 9 wrestling coverage on D9Sports.com is brought to you by Luton's Plumbing, Heating, and Air Conditioning.
That late win seemed to spark the Raiders, who rolled off three pins in a row to take complete control of the match.
First, at 160 pounds, Wyatt Griffin pinned Taro Tanaka at 1:21 of the third period after taking an 8-0 lead after two periods, to give Brookville a 24-18 lead.
Then, at 170 pounds, Elliot Park rolled to a 5-0 lead after one period and made it 7-0 before pinning Ethan DeBockler with 46.7 seconds left in the second to give the Raiders a 30-18 advantage.
Finally, at 182 pounds, Braden MacBeth all but gave Brookville its sixth straight title when he pinned Derek Kallenborn at 55.1 seconds of the first period to make it 36-18.
Faced with the nearly impossible task of getting three straight wins to have a chance at the title, especially with Colby Whitehill, ranked 19th in the nation, waiting at heavyweight for Brookville, Port Allegany didn't even get a win let alone a pin at 195 pounds.
Nathan Taylor made sure of that for Brookville beating Dalton Distrola, 8-1, scoring all eight points in the first two periods, to put the Raiders ahead by an insurmountable tally of 39-18.
The teams still elected to wrestle the 220-pound match with Port Allegany getting one more victory when Justin Young moved up from 195 pounds and knocked off Tanner LaBenne, 10-6, in a bout that saw Young grab a 5-0 lead before LaBenne fought back to make it 8-6 in the final seconds before a late two-pointer set the final score of the bout making it 39-21 Brookville overall.
The Gators then forfeited at heavyweight setting the final match score at 45-21.
Things started out well for Brookville in a match that started at 106 pounds when Owen Reinsel pinned Bryent Johnson with 23.8 seconds left in the first period in a matchup of state-ranked wrestlers.
Port Allegany, though, got the better of the next three matches.
At 113 pounds, Reese Volmer got the Gators on the board when he beat Cayden Walker, 5-2.
Port Allegany then took a 9-6 lead when Isaiah Cayden pinned Josh Popsen at 26.6 seconds of the first period at 120 pounds.
At 126 pounds, Braedon Johnson was able to take an early 2-0 lead that he then expanded into 4-0 30 seconds into the third period against Parker Fleming before coming away with a 4-1 win that gave Port Allegany at 12-6 lead.
Brookville tied the match back up at 132 pounds when Cabe Park pinned Eli Petruzzi with 51.3 seconds left in the second period, and then the Raiders retook the lead in a hard-fought bout at 138 pounds when Wyatt Kulik rallied and then held off Montgomery Tanner, 6-5.
Kulik led 4-2 at the end of the first period, but Tanner took a 5-4 lead at the end of the second.
But with 1:03 left in the third, Kulik got two points to go back and front, and then he was able to hold off an attempt by Tanner to crawl out of bounds in the final seconds to get the 6-5 victory that put Brookville back ahead, 15-12.
Brookville will take on Lake Lehman out of District 2 in the opening round of the PIAA Championships at the Giant Center in Hershey, Pa., at 2 p.m. Thursday, Feb. 7.
BROOKVILLE 45, PORT ALLEGANY 21
106 Pounds: Owen Reinsel (B) pinned Bryent Johnson (PA), 1:37 (Brookville 6-0)
113 Pounds: Reese Volmer (PA) decision over Cayden Walker (B), 5-2 (Brookville 6-3)
120 Pounds: Isaiah Cayden (PA) pinned Josh Popson (B), 1:34 (Port Allegany 9-6)
126 Pounds: Bradeon Johnson (PA) decision over Parker Fleming (B), 4-1 (Port Allegany 12-6)
132 Pounds: Cabe Park (B) pinned Eli Petruzzi (PA), 3:09 (Match tied at 12)
138 Pounds: Wyatt Kulik (B) decision over Montgomery Tanner (PA), 6-5 (Brookville 15-12)
145 Pounds: Issac Smoker (PA) pinned Cody Hetrick (B), 4:13 (Port Allegany 18-15)
152 Pounds: Jacob Cable (B) decision over Alex Sanderson (PA), 8-5 (Match tied at 18)
160 Pounds: Wyatt Griffin (B) pinned Taro Tanaka (PA), 4:39 (Brookville 24-18)
170 Pounds: Elliot Park (B) pinned Ethan DeBockler (PA), 3:14 (Brookville 30-18)
182 Pounds: Braden MacBeth (B) pinned Derek Kallenborn (PA), 1:05 (Brookville 36-18)
195 Pounds: Nathan Taylor (B) decision over Dalton Distrola (PA), 8-1 (Brookville 39-18)
220 Pound: Justin Young (PA) decision over Tanner LaBenne (B), 10-6 (Brookville 39-21)
Heavyweight: Colby Whitehill (B) won by forfeit (Brookville 45-21)
CLASS 2A SEMIFINALS
Brookville advanced to the championship bout with a hard-fought 32-29 win over Brockway.
The Raiders got a pin from Whitehill at heavyweight over Hayden Thompson (37 seconds), a technical fall from Cabe Park over Garrett Park at 126 pounds (20-5), decisions from Hetrick over Linkin Nichols (4-1) at 145 pounds, Griffin over Andrew Hickman (10-5) at 160 pounds and MacBeth over Eric Johnson (4-3) at 195 pounds and a forfeit wins for Reinsel at 106 pounds and Cole LaBenne at 170 pounds.
Brockway got a pin from Dominic Inzana over Popson (5:58) at 120 pounds, a technical fall from Anthony Glasl over Fleming (16-1, 5:58), decisions from Mark Palmer over Walter (3-0) at 113 pounds, Santino Inzana over Kulik (5-2) at 138 pounds, Noah Bash over Cable (4-2) at 152 pounds) and Garrett McClintick (6-4 sudden victory) at 182 pounds and a forfeit win by Justin Smith at 220 pounds.
Port Allegany, meanwhile, topped Redbank Valley, 35-26, in the other semifinal. Results from that match weren't immediately available.
D4/9 CLASS 3A DUALS
District 9 was shutout of the championship matches in Class 3A when Clearfield fell to Selinsgrove, 40-32, and top-seeded DuBois lost on a late pin to Williamsport in the semifinals by a single point, 37-36.
The pin came from Williamsport's Riley Harris over DuBois' Kam Stevenson at the 1:52 mark of the 113-pound bout.
DuBois had led 36-25 following a pin at heavyweight by Alex O'Harah over Ethan Williamson (3:23). But the Beavers had to forfeit at 106 pounds giving Williamsport a chance, and Harris grabbed that chance to give the Millionaires the victory.
Williamsport also got pins at 120 pounds from Braden Bower over Braxton Adams (1:52), at 160 pounds from Owen Mahon over Gauge Gulvas (4:39) and at 170 pounds from Anthony Robinson over Garret Starr (4:43). The Millionaires also picked up what turned out to be a crucial bonus point at 220 pounds when Charles Crew picked up a 13-1 major decision over John Pendleton. Williamsport also got a 5-3 decision at 195 pounds from Dade Splain over Ryan White.
DuBois got pins at 138 pounds from Ryan Gildersleeve over Tylil James (2:40), at 145 pounds from Ed Scott over Roman Morrone (1:44) and at 182 pounds from Eric Schneider over Cale Cooklin (56 seconds). Decisions for the Beavers came at 126 pounds from Chandler Ho (6-0) over Riley Bower and at 132 pounds (8-4) by Trenton Donahue over Carter Dawson. Dalton Woodrow also got a forfeit win for DuBois at 152 pounds.
In the other semifinal, Selinsgrove got pins from Shawn Matthews over Peyton Smay at 132 pounds (4:31), Scott Kissinger over Justin Hand at 145 pounds (3:47), Coy Bastian over Cole Smay at 170 pounds (47 seconds) and Nate Schon over Oliver Billotte at 220 pounds (52 seconds). The Seals also picked up an 11-1 major decision at 182 pounds from Ryan Aument over Brett Zattoni, a 10-5 decision at 138 pounds from Teague Hoover over Jude Pallo, a 4-3 decision at 113 pounds from Aiden Gaugler over Nolan Barr and a forfeit win at 195 pounds from Blaise Zeiders.
Clearfield got pins at 126 pounds from Luke Freeland over Walker Garden (2:19), Mark McGonigal at 160 pounds over Dean Hollenbach (2:55) and at 285 pounds by Avry Gisewhite over Aaron Hooke (5:10). The Bison also picked up a technical fall at 120 pounds from Karson Kline over CJ Boyer (16-0 at 5:04), a 6-3 decision by Caleb Freeland over Max Charles at 152 pounds and a forfeit win by Jonathan Thomas at 106 pounds.
In the quarterfinals, Clearfield beat Cranberry, 43-32.
Pins for the Bison came at 113 pounds (Nolan Barr over Michael Stanley, 48 seconds), 120 pounds (Karson Kline over Evan Hepler, 45 seconds), 160 pounds (Mark McGonigal over Cody Deloe, 1:20), 170 pounds (Cole Smay over Daniel Wry, 3:22), 220 pounds (Oliver Billotte over Xavier Barton, 1:50) and at 106 pounds (Johnathan Thomas over Jacob Ulmstead, 5:13).
The Bison also picked up a 9-0 major decision from Caleb Freeland over Garret Hogue at 152 pounds and a 5-2 decision from Brett Zattoni over Jesse York at 182 pounds.
Cranberry recorded puns at 126 pounds (Carter Stanley over Luke Freeland, 4:27), at 145 pounds (Charles Shreffler over Jude Pallo, 1:15) and at heavyweight (Trey Wright over Avry Gisewhite (2:58).
The Berries got a pair of major decisions as well with Mitchell Rossey beat Peyton Smay, 19-8, at 132 pounds and Duane Clark topping Justin Hand, 11-2, at 138 pounds. Brayden Crocker got a forfeit victory for Cranberry at 195 pounds.
In the other semifinal, Williamsport topped Shikellamy, 42-35.