SHIPPENVILLE, Pa. (EYT/D9) — McKayla Kerle swung her putter like a pendulum and watched the ball roll over the slope of the green, finally dropping into the cup with a satisfying rattle.
Then she did it again.
And again.
When she was content with her work on the practice green, she grabbed her wedge and chipped ball after ball toward the pin.
Kerle, now a senior at Clarion Area High School, was determined to improve her play around the greens — a nagging inconsistency in her otherwise stellar game.
"I've really started working on my short game a lot," Kerle said. "I'm trying to get all of that figured out."
Clarion Area High School sports coverage on Explore and D9Sports.com is brought to you by Redbank Chevrolet and DuBrook.
The long hours putting and chipping have paid off.
Kerle has shaved eight strokes off her 18-hole average since last year. She recently wrapped up her third consecutive championship on the Great Lakes Junior Golf Tour.
Last fall she shot an 80 at Clarion Oaks Golf Club — her home course — to cruise to the win the District 9 Class 2A girls individual championship. Chloe Fritch of Karns City was second with an 88.
Kerle is aiming to be even better this season with her sharpened skill around the greens and a new mental approach.
"I've started focusing on not shooting for birdies and just trying to get par," Kerle said. "Just try to stay consistent."
That may sound counterintuitive, but Kerle said she got in trouble at times in the past by being too aggressive.
Sometimes gambling for a birdie turned into a bogey.
No such worries this summer. Kerle won four of the nine tour events she played in — including the two-round Edward Jones Investments Tour Championship at Downing Golf Course last week — and was second in two others.
Her average was 83.39.
"It was good to be able to keep the title because I've done it the past two years, too," Kerle said. "It's just kind of a thing I aim for, to win the tour championship. That's always been a goal of mine."
Her new goal is to defend her D9 crown.
"I'm not focusing so much on the competition," Kerle said, "but shooting a better score than last year."
After winning the D9 crown by eight strokes, Kerle advanced to the PIAA Girls Class 2A Individual Golf Championships and finished tied for 13th with a 12-over-par 84.
Clarion doesn't have a girls golf team, so Kerle competes with the boys team.
Her brother, Kameron, is a sophomore on the team, The Bobcats are also coached by her parents, Jay and Jackie Kerle.
McKayla and Kameron have developed quite a rivalry of late.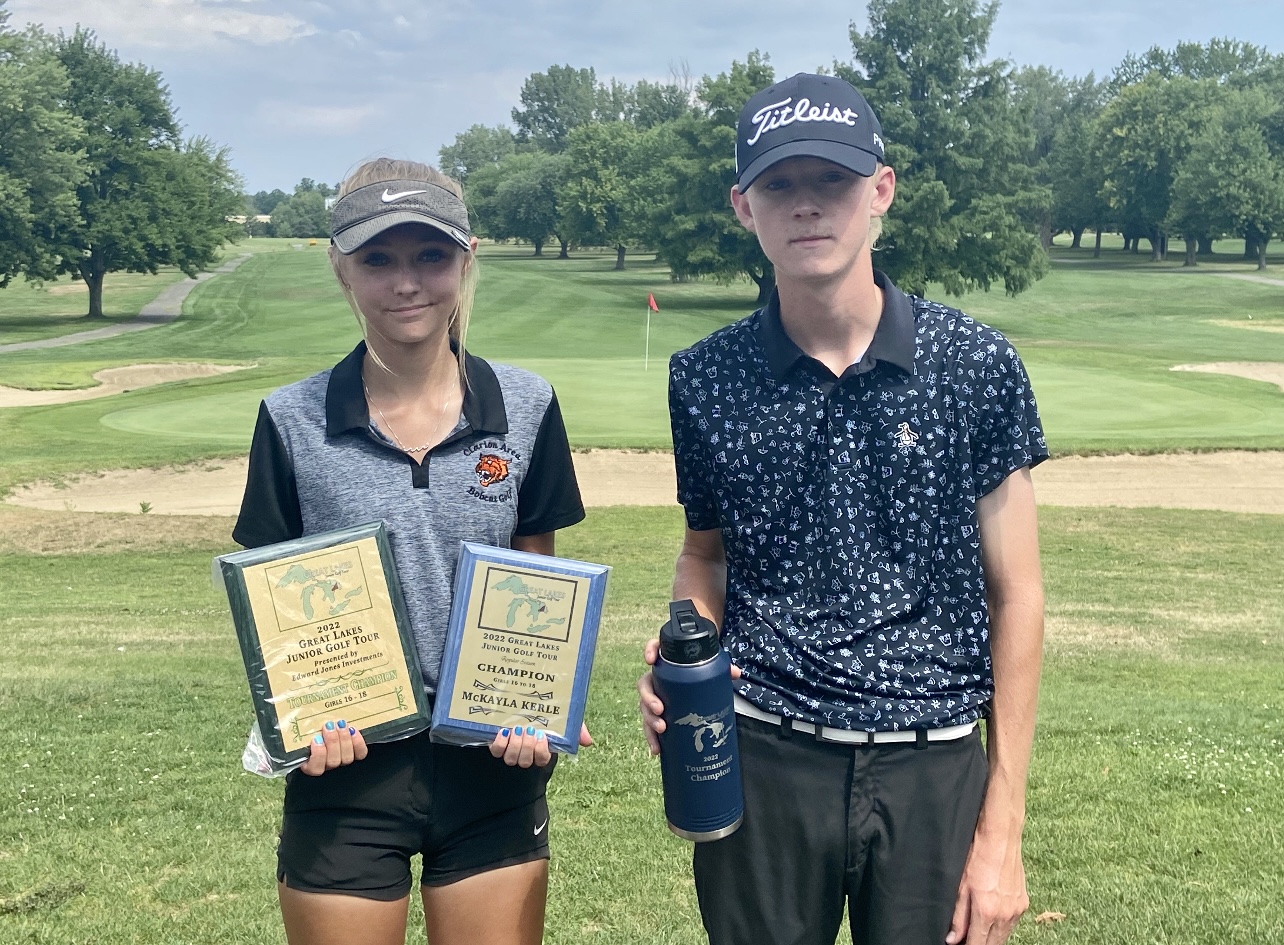 (McKayla Kerle and her brother, Kameron)
Kameron began golfing at a very young age. McKayla — almost begrudgingly — came to the sport late. She didn't come serious about golf until she was in the eighth grade.
"It's pretty competitive between the two of us," McKayla said. "It helps being able to go out and practice with him and having someone to compete with. He still usually beats me — he's a little better than me. But it's nice to have him to play with because he pushes me and drives me to want to beat him."
Jackie said she has seen her two children bond over the game.
"I feel like as the years have gone on, they've become closer," she said. "It's something they can do on their own together. McKayla's driving now, so they can just hop in the car and go to the course on their own and just play competitively against themselves."
McKayla is a big hitter off the tee. Her drives typically carry 250 yards, straight and true.
That's a good thing since when she plays for the Clarion boys team, she's not hitting from women's tee box.
"I get 85%, so I don't get as close as the red tees," she said. "I typically go off the ones the seniors' use."
McKayla said the added distance helps her game when it comes time to compete in girls' postseason events.
If there's one club she struggles the most with, she said, it's her 5-iron.
She rarely touches it.
"I think it's in my head," McKayla said. "I think I can't hit it, so I can't hit it. I've been working the last couple of weeks with it to try to figure it out."
No worries if she doesn't; She's very comfortable with her short irons.
"From my nine to my gap wedge to my eight iron — that's probably where I'm my best because I know how far I can hit consistently with them," she said.
Both McKayla and Kameron have their sights set on big seasons at Clarion this fall.
McKayla is cognizant of the fact that this is her final season as a Bobcat — she intends to play in college somewhere next year.
"I just want my final year to be a really good one," McKayla said. "I'm pretty excited."
Clarion Area High School sports coverage on Explore and D9Sports.com is brought to you by Redbank Chevrolet and DuBrook.