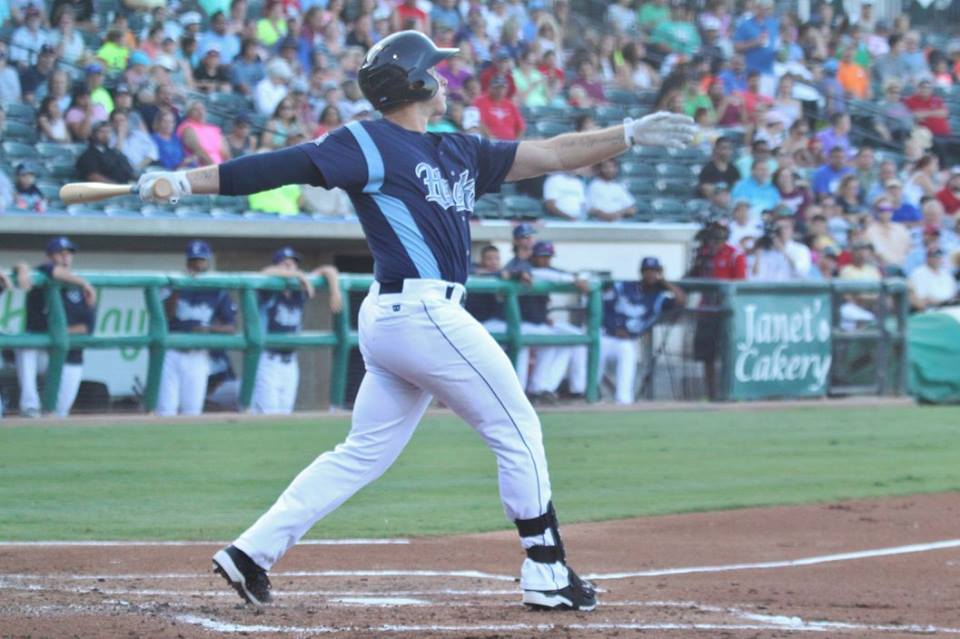 HOUSTON, Texas  – Clarion High School graduate Jon Kemmer has been named the 21st best prospect in the Houston Astros organization by MLB Pipeline.
Kemmer, a left-handed hitting and throwing outfielder, is coming off a season that saw him earn the team MVP honors for the Class AA Corpus Christi Hooks after he led the Texas League in hitting (.327), slugging (.574) and OPS (.988).
A well-traveled players coming out of college – Kemmer spent time at Allegheny (Md.) Junior College, Clarion University and Brewton-Parker (Ga.) – Kemmer, a 21st round pick of the Astros three years ago has hit .290 with 38 home runs and 131 RBIs while slugging .500 with a .365 on-base percentage giving him a career minor-league OPS of (.865). He hit 18 home runs and drove in 65 RBIs while helping Corpus Christi to the Texas League postseason last year. (See his career stats)
MLB Pipeline gives the 25-year old, who earned his first invite to Major League Spring Training this year, a 45 overall scouting grade (on a scale of 20 to 80 – see scale explanation) including a 55 for hitting and a 45 for both power and arm.
The MLB Pipeline report on him says "Using what one club official calls a "brute force" approach, Kemmer makes consistent hard contact thanks to his uncanny feel for the barrel. He has the bat speed and strength to produce perhaps average power, and he handles lefties and righties equally well. His build is reminiscent of former Astro Luke Scott and he could put up similar numbers, with higher batting averages and lower slugging percentages.
"Kemmer's value comes entirely from his bat because he's a below-average runner and corner outfielder with fringy arm strength. Though he's old for a prospect at 25 and will have to prove himself at every level, he has passed every test so far and only Triple-A remains."
For a complete list of the Houston Astors Top 30 prospects, click here.
Watch Kemmer hit a two-run double last year for Corpus Christi.