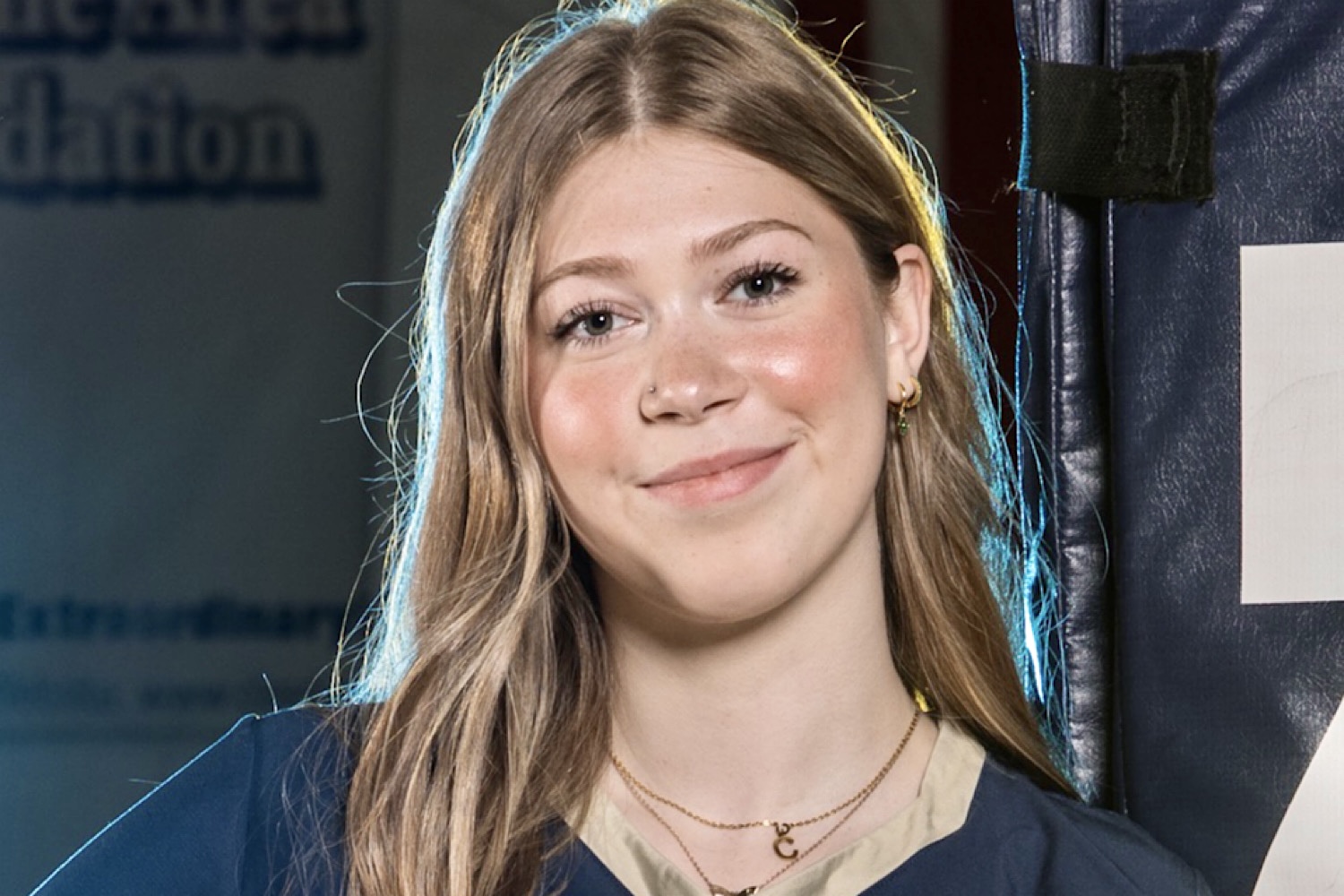 STRATTANVILLE, Pa. (EYT/D9) — Redbank Valley and Taylor Ripple gave the Clarion-Limestone volleyball team all they could handle on Monday evening, but ultimately the Lions came out on top of a 24-26, 25-20, 28-26, 23-25, 15-13 decision at the Lion's Den.
(Pictured above, Clarion-Limestone's Ansley Burke led the Lions with 15 kills in a five-set thriller over Redbank Valley)
Ripple put away 15 kills and picked up 17 digs for the Bulldogs.
"You have to give a lot of credit to Taylor Ripple as time and time again she kept them in things," said C-L head coach Ryan Troupe. "You look back at a match like this as to how to get better moving forward. A match like this shows us what we need to do moving forward. Being able to close out matches will be a strong emphasis for us for sure."
Five points turned out to be the largest lead by either team in the opening set, which would be a 17-12 lead by Redbank.
C-L clawed back to eventually tie things up at 23-all. Redbank ultimately come out on top 26-24.
C-L held a four-point lead, 17-13, before Redbank battled to tie things up at 19. After C-L gained a side out for a 20-19 lead, Jenna Dunn served for a pair of aces while gaining two more service points for a 24-19 lead. After a service error gave the ball back to Redbank, the Bulldogs then hit an attack out of bounds to give the Lions the 25-20 win.
The third set turned out to be like a boxing match as neither team could deliver the knockout blow to the other.
Redbank built a 22-17 lead thanks to four service points from Mylee Harmon. C-L tied the set at 23 and then 24 before Hannah Beggs put away a kill for a 25-24 C-L lead. The two teams once again went back and forth until the Lions came out with a 28-26 victory.
Early on in the fourth set, it looked like the Lions were going to run away with things in building an 18-8 lead. However, Ripple and her Bulldog teammates had other ideas as they kept hustling and scrapping to eventually tie things up at 23-all before notching the final two points to send the match to a deciding fifth set.
"Redbank is one of the scrappiest teams I think we've seen all season," said Troupe. "They were getting to balls our girls would normally have put away. I think it frustrated us to a degree. We certainly have to use this match and that game in particular to learn from."
C-L led 5-2 early in the fifth set, but Redbank tied things up at 6-6. There were seven more ties from that point, the last coming at 13-all. Alyssa Wiant put away a kill for a 14-13 lead and then the Lions put another ball away for the 15-13 victory to secure the match.
Ansley Burke put away 15 kills for C-L, while Jenna Dunn added nine, Hannah Beggs eight, Maddy Greeley six, and Wiant five.
Wiant and Dunn each served for five aces. Beggs picked up 15 digs while Dunn added 11 digs. Kaylee Smith handed out 35 assists.
"We got through it and hopefully we'll learn from it and get better for it," said Troupe. "You have to look at a win like this as a learning experience in showing you what you need to do in order to improve."
Izzy Bond put away 18 kills for Redbank Valley, while Harmon put away eight. Harmon and Izzy Bond also each picked up 11 digs. Elaina Carrico handed out 26 assists.
C-L gets no rest or practice time as they are back in action Tuesday evening as they'll host another tough foe in North Clarion.
KEYSTONE 3, OIL CITY 0
Ava Patrick had six kills and Bryanna Mong had 11 assists as the Panthers swept the Oilers, 25-22, 25-15, 30-28.
Katherine Burrows led at the service line for Keystone with 14 points and six aces.
Gywn Manno had 15 digs for the Panthers.
Keystone also won the junior varsity match, 25-8, 25-14.
Isabella Brandon led the way with 11 service points, five aces and four kills.
CRANBERRY 3, A-C VALLEY 0
Ayanna Ferringer had seven kills as the Berries swept the Falcons, 25-23, 25-22, 25-19.
Allie Rembold had 11 assists for Cranberry.
Maddy Dehart led A-C Valley with five kills and three blocks. Bella Ielase had nine digs and Lexi Altman had 12 assists.
PUNXSUTAWNEY 3, KARNS CITY 0
Ciara Toven had 14 kills and Samantha Griebel eight kills to lead the Chucks to the 25-17, 25-16, 25-17 sweep.
Danielle Grienel had 35 assists for Punxsutawney.
Ava Fox had six kills, seven digs and three aces for Karns City. Naomi Venesky pitched in five kills and three digs, Kendall Ritzert 10 assists and Nicole Taylor eight digs for the Gremlins.