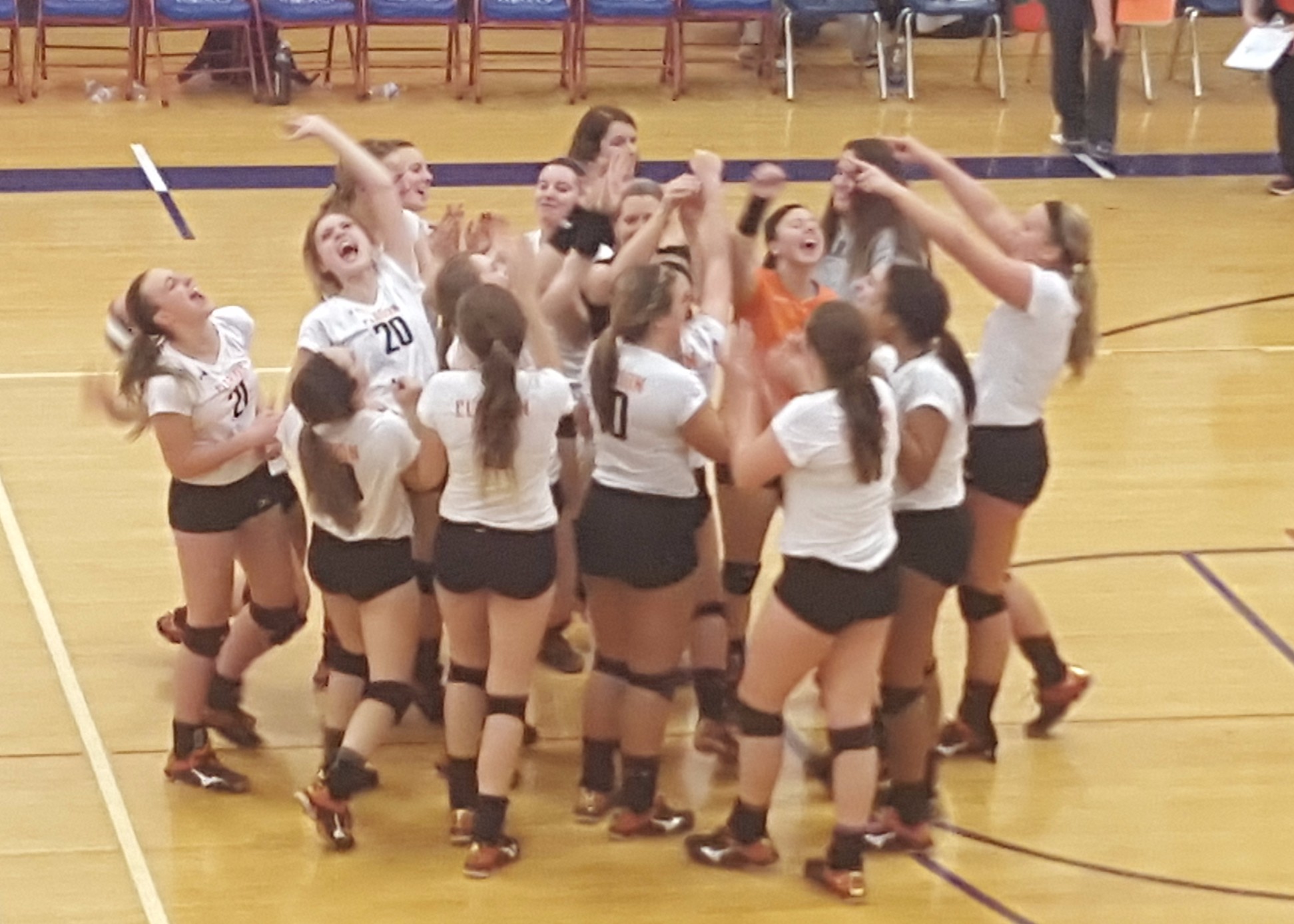 By Chris Rossetti
ST. MARYS, Pa. – Trailing two sets to none to top-seeded A-C Valley it looked like Clarion's stranglehold on the District 9 Class A volleyball title was about to end.
But behind the play of senior outside hitter Keanna Over the Lady Cats rallied to win the final three sets, including coming back from a 12-6 deficit in the fifth-and-deciding-set, to claim their sixth straight title and their ninth in 10 years.
Over recorded 13 of her 19 kills in the final three sets including six in a crucial third set after Clarion went down 2-0.
"She plays big," Campbell said. "When she doesn't back down she just has a gun. When she doesn't worry about her size vs. somebody else's size she is just gutsy. I love to see it."
While Over's play was crucial to the comeback for Clarion, so was the Lady Cats ability to minimize their errors.
In the first two sets, won by scores of 25-19 and 25-18 by A-C Valley, Clarion handed the Lady Falcons 30 points because of hitting, serving, receiving or net violation errors. In the final three sets, won by scores of 25-16, 25-13 and 16-14 by Clarion, A-C Valley only scored 22 points off Lady Cats errors including just 12 in the final two sets.
"We stopped doing the dumb stuff," Campbell said. "We are young. But we decided to take matters into our own hands, and we just need to trust the team and give the ball back in a way that is controlled but tough and say we believe in us and our team. We just settled a little bit."
Even after rallying to take sets three and four, Clarion looked to be in serious trouble in the fifth set when A-C Valley used a set-starting 5-1 run to take a 12-6 lead following a kill by Halee Wetzel and an error on Clarion's Sydney Kiser.
But back-to-back kills by Over followed by an ace from Alexis Constantino following a Clarion timeout settled the waters for the Lady Cats and forced A-C Valley into calling a timeout of its own.
"We do drills where if you let a ball drop on the floor you lose all your points," Campbell said. "We just rose up and said let's play like that. Let's get one point at a time and just take a deep breath. You have all night."
A-C Valley didn't respond well to the timeout, as back-to-back errors by the Lady Falcons got Clarion back within a point, 12-11.
But a kill by sophomore Josey Terwilliger seemed to stop the bleeding for A-C Valley and put it up 13-11.
But an error by Wetzel followed by a kill from Olivia Burns then knotted the match at 13 bringing the crowd to a frenzy.
Another error by Wetzel put Clarion on the brink of the championship, but Over crossed the back line on her serve and was called for an error tying things up at 14.
Burns then took over with back-to-back kills, the final coming off an A-C Valley block and going out of bounds to set up a wild celebration by the Clarion faithful.
Burns added 15 kills for Clarion, while Gloria Kroh had 45 set assists and Anna Reed 37 digs.
Morgan Cratty led A-C Valley with 11 kills, while Terwilliger and Wetzel each had 13. Kierstan Rothen and Alyssa Babcock ran the offense with 11 assists each.
Following the defeat A-C Valley was forced right back into action in the District 9 "True Second Place Match" that took place because Elk County Catholic, who Clarion beat 3-2 in the semifinals topped Coudersport, who A-C Valley beat 3-1 in the semifinals, 2-1 in the consolation match. ECC then beat A-C Valley 2-1 in the true-second match meaning the Lady Crusaders join Clarion in the PIAA playoffs.  
NOTES – It was Clarion's 11th District 9 Class A championship in the past 15 years and their 14 title since 1991. The Lady Cats have won 11 of the 16 title competed for in Class A since the PIAA moved to three classifications in 2000 … The only team in the last decade to win a Class A title other than Clarion was Redbank Valley in 2009.
Class A
2014-Clarion over ECC
2013-Clarion
2012-Clarion
2011-Clarion
2010-Clarion
2009-Redbank Valley
2008-Clarion
2007-Clarion
2006-Clarion
2005-Clarion-Limestone
2004-Clarion-Limestone
2003-Coudersport
2002-Clarion
2001-Clarion
2000-DuBois Central Catholic