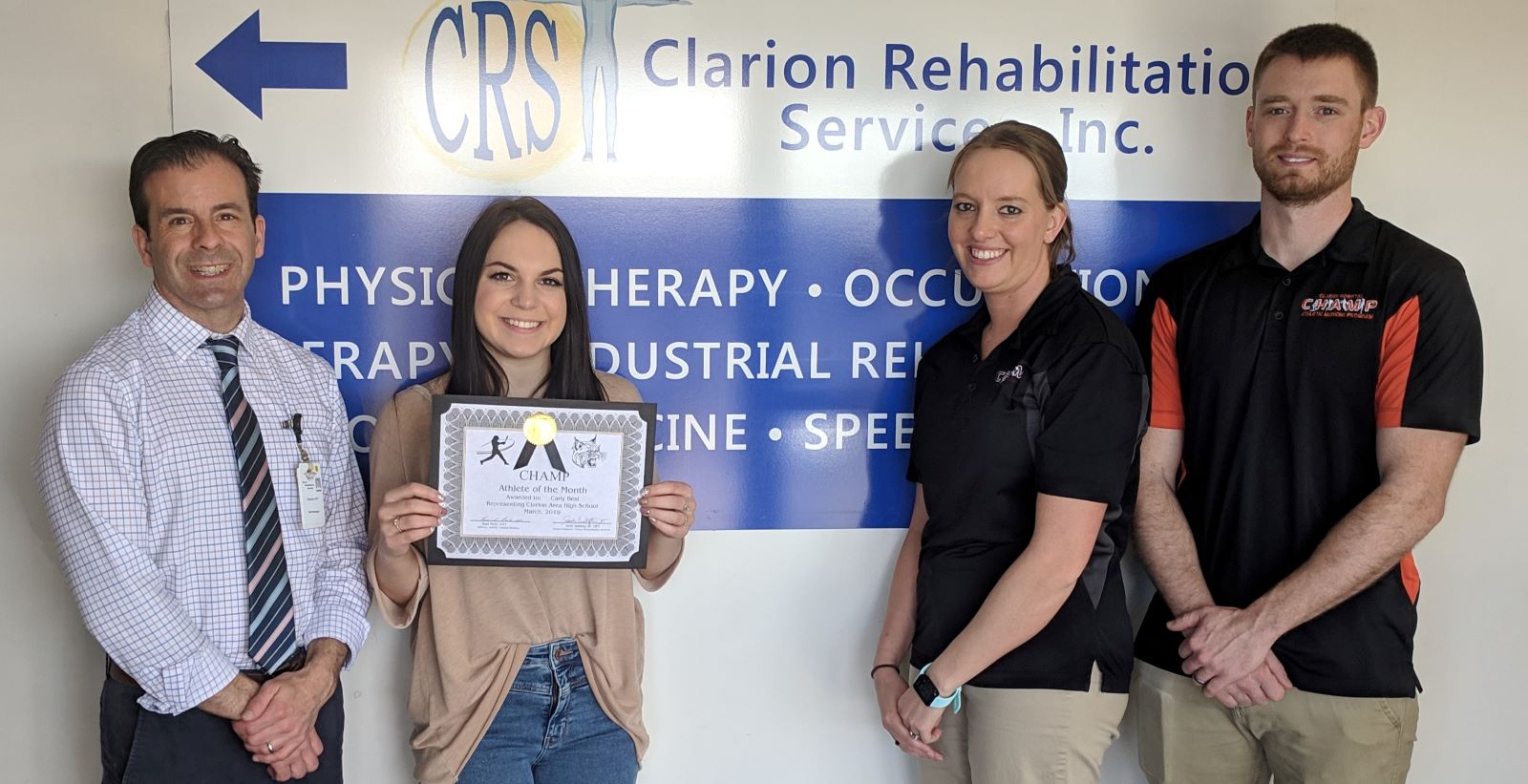 CLARION, Pa. – Clarion Area's Carly Best in the March Clarion Rehab Services and CHAMP (Clarion Hospital Athletic Medicine Program)Student-Athlete of the Month.
(Photo from left: Seth Babington, Owner of Clarion Rehab Services; Carly Best; Kari Best, Director of Sports Medicine for CHAMP; and Rich Herron, Clarion Area Athletic Trainer. Submitted photo)
Carly is a senior at Clarion Area High School. She participates in softball and is a member of the National Honor Society. Carly also serves as class secretary. She is a member of the yearbook committee and helps with tutoring. Her hobbies include softball, reading, exercising and volunteering.
Carly's future plans are to attend Slippery Rock University for pre-occupational therapy and hopes to qualify for the doctoral program in three years.
Her favorite sports memories include "winning the District Championship game for softball my freshmen year and hitting my first grand slam in travel ball."
Carly states the most inspiring person in her life is "probably my dad for always wanting to coach our teams, being at every single softball game and always being proud of us (my sisters and I) no matter what."
She would also like "to thank Rich Herron and Clarion Rehab/CHAMP for this recognition."
Clarion Rehab Services and CHAMP would like to thank DE Sports, Inc. and Pizza Pub for sponsoring March's CHAMP Student-Athlete of the Month. Carly was awarded gift certificates to both of these local establishments.