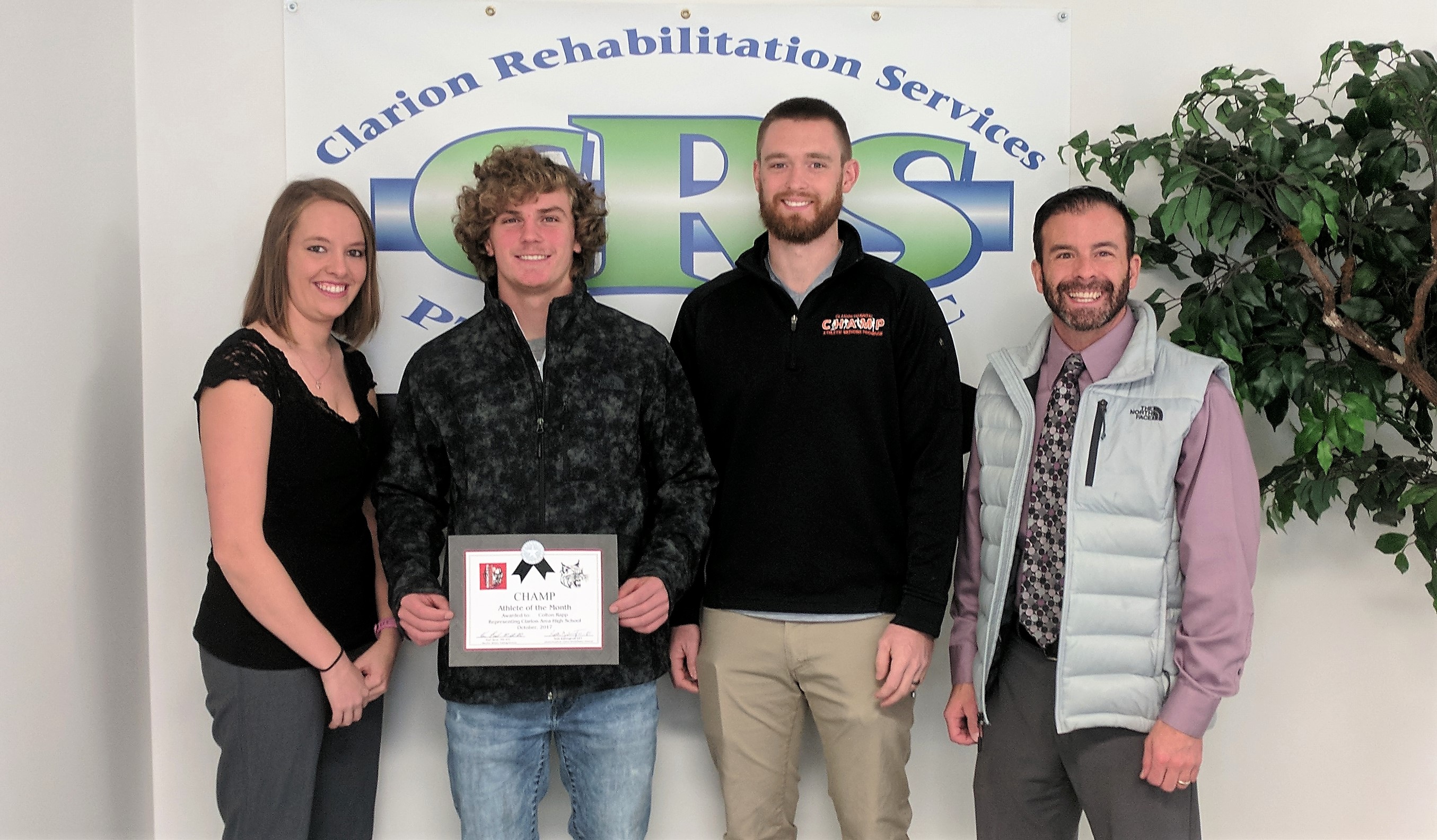 CLARION, Pa. – Colton Rapp of Clarion was recently named the Clarion Rehab Services/CHAMP (Clarion Hospital Athletic Medicine Program) October Student-Athlete of the Month.
(Photo (from left): Kari Best, Director of Sports Medicine at CHAMP, Colton Rapp, Rich Herron, Clarion High School Athletic Trainer, and Seth Babington, Owner of Clarion Rehab)
Rapp is a senior who plays football and wrestles. In addition to athletics, Colton likes lifting, archery, hunting, kayaking and fishing.
After graduation, he plans to attend a university – he hasn't decided which one – to study Exercise Science before continuing on to get his Doctorate in Physical Therapy.
"My favorite sports memory was winning the District 9 title in football this year," Rapp said.
Rapp also creates his parents for being the most inspiring people in his life.
"They always keep me reaching for my goals," Rapp said.
According to Rapp's Athletic Trainer, Rich Heron, the senior never allows a challenge to slow him down.
"Colton is a great leader with a great work ethic," Heron said. "I've never seen him shy away from a challenge. He suffered an injury last year that could have jeopardized his playing time this year, but he worked extremely hard throughout his rehab in order to play at a high level. That hard work has paid off, and he has been having a great season."
As the Student-Athlete of the Month, Rapp received gift certificates to both DE Sports, Inc. and The Pizza Pub, who are sponsors of the program.