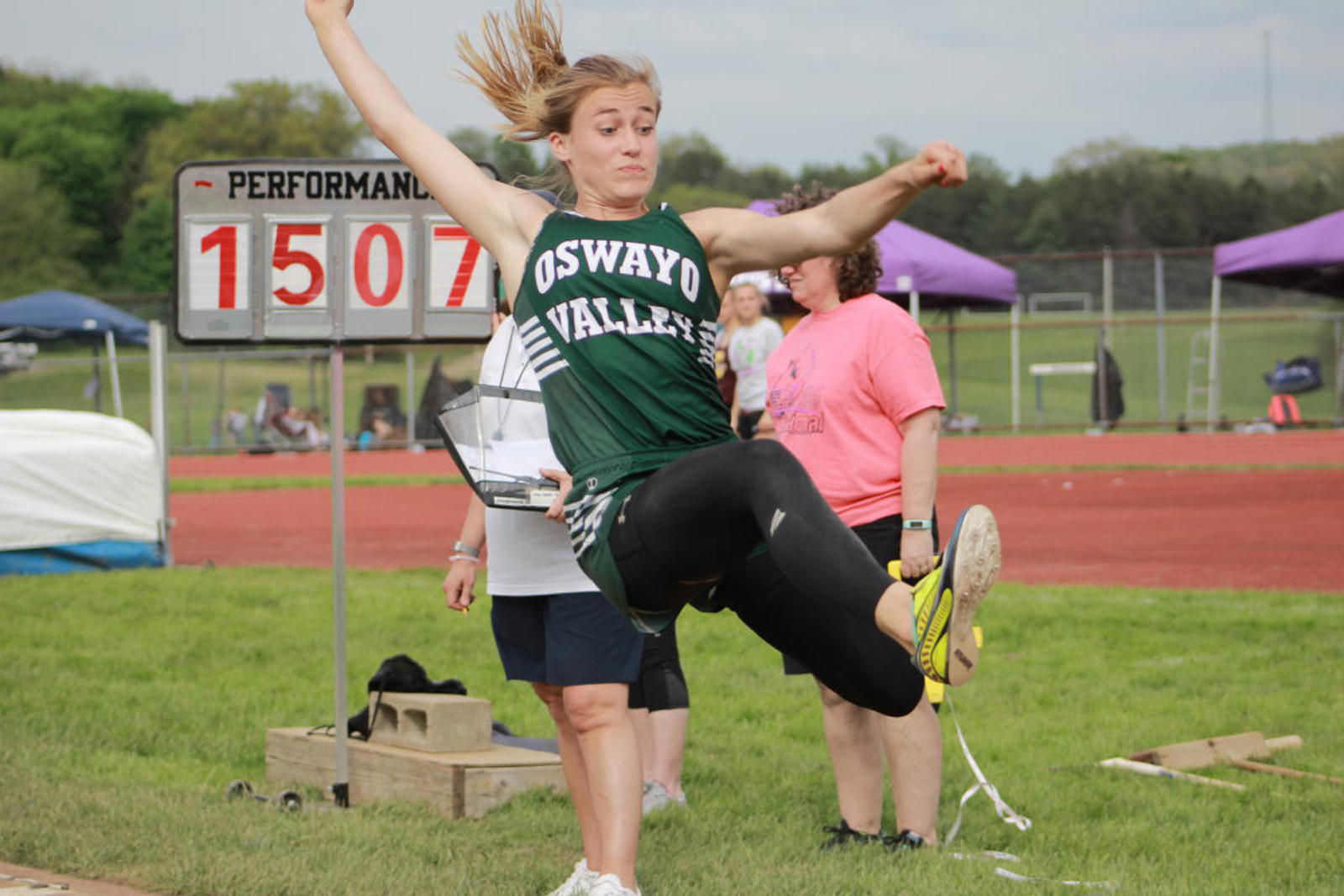 Despite losing so much to graduation last spring, District 9 Class 2A track and field has plenty of talent back this year.
(Photo: Sara McKean of Oswayo Valley is the top returning girls' track athlete in District 9. Photo by Jared Bakaysa of JB Graphics. See more of Bakaysa's work here)
For the boys, graduation claimed three athletes who claimed five state medals while on the girls' side, three athletes who won six medals — including state champions Trinity Clark of Kane in the javelin and Tori Obenrader of North Clarion in the shot put.
Returning medalists back for the boys:
Moniteau's James Parenti and Keystone's Brody Coleman are the highest medal winners that are returning after both earning fourths in the discus and triple Jump, respectively. Other returning individual medal winners are Ian Thrush (Brookville – 6th in 200), Bryan Dworek (Brookville – 7th in long jump), Sam Hetrick (Redbank Valley – tied-7th in high jump), and Bailey Blint (Kane – 8th in discus).
Three relays also claimed medals. Brookville's fifth-place 4×100 relay that returns Thrush, Dworek and Jack Krug and eighth-place 4×400 relay that has Thrush, Krug and Dillon Olson back. Elk County Catholic's fifth-place 4×800 relay returns Jacob Carnovale and Ben Hoffman.
Brookville tries to win its third straight D9 team title on the boys' side while Elk County Catholic is the defending girls' champion.
The following is a list of athletes that are top returning district place-winners by event, with district finish and state meet finish if applicable.
— Returning athletes are based on last year's age. Some may have not elected to compete this year.
— All District 9 coaches are encouraged to send results to d9track@gmail.com. Dan Alderton will be compiling rankings and statistics throughout the season for D9Sports.Com. 
BOYS
110 Hurdles
2. Dillon Olson , Sr., Brookville PIAA: 13th
3. Austin Newcomb, Jr., Clarion-Limestone
4. Addison Singleton, Sr., Brookville
5. Cameron Hooven, Jr. Brookville
100 Dash
1. Ian Thrush, Jr., Brookville PIAA: 11th
3. Jacob Koss, Jr., Elk County Catholic
4. Bryan Dworek, Sr., Brookville
1600 Run
2. Ethan Brentham, Sr., Brookville PIAA: 18th
3. Jacob Carnovale, Sr., Elk County Catholic
4. Tristan Amell, So., Coudersport
5. Daniel Fisher, Jr., Cranberry
6. Jonny Ritsick, Sr., DuBois Central Catholic
400 Dash
2. Hunter Jones, Sr., Karns City PIAA: 9th
7. Kaden Scherer, So., Karns City
300 Hurdles
2. Brody Coleman, Sr., Keystone PIAA: 11th
3. Dillon Olson, Sr. Brookville PIAA: 9th
6. Ethan McDeavitt, Jr., Moniteau
800 Run
1. Christian Tanner, Sr., Smethport PIAA: 19th
2. Linkin Nichols, Jr., DuBois Central Catholic PIAA: 14th
200 Dash
2. Ian Thrush, Jr., Brookville PIAA: MEDAL 6th place
3. Bryan Dworek, Sr., Brookville
5. Jack Krug, So., Brookville
3,200 Run
1. Ben Hoffman, Jr., Elk County Catholic PIAA: 15th
2. Darion Gregory, Sr., Smethport PIAA: 14th
3. Tristan Amell, So., Coudersport
4. Nathaniel Lerch, Jr., Clarion
5. Ethan Brentham, Sr., Brookville
6. Holden Cowburn, Sr., Northern Potter
Relays (State Qualifiers)
4×100
1. Brookville PIAA: MEDAL 5th Place
2. Johnsonburg PIAA: 24th
4×400
Brookville PIAA: MEDAL 8th Place
Elk Co. Catholic PIAA: 24th
4×800
1. Elk County Catholic PIAA: MEDAL 5th Place
2. Smethport PIAA: 15th
High Jump
1. Sam Hetrick, Jr., Redbank Valley PIAA: MEDAL Tied-7th
T2. Anthony Cortina, Sr., St. Marys Now in Class 3A
T4. Cameron Hooven, Jr., Brookville
Pole Vault
1. Teddy Race, Jr., Kane PIAA: Tied-17th
2. Kyle Norling, Sr., Moniteau PIAA: 16th
4. Aaron Hottel, Jr., Kane
6. Nathan McAnany, Sr., St. Marys
Long Jump
1. Bryan Dworek, Sr., Brookville PIAA: MEDAL 7th place
6. Brody Coleman, Sr., Keystone
Triple Jump
1. Brody Coleman, Sr., Keystone PIAA: MEDAL 4th place
Shot Put
1. Bailey Blint, Sr., Kane PIAA: MEDAL 4th place
6. Alex Agosti, Sr., St. Marys Now in Class 3A
7. Devin McGrath, Sr., St. Marys Now in Class 3A
8. Isaiah Morse, So., Kane
9. James Parenti, Sr., Moniteau
Discus
1. James Parenti, Sr., Moniteau PIAA: MEDAL 4th Place
3. Bailey Blint, Sr., Kane
4. Adam Park, Sr., St. Marys Now in Class 3A
Javelin
4. Raivis Bobby, So., Elk County Catholic
5. Kyle MacBeth, So., Brookville
T6. Cale Albaugh, Sr., Sheffield
GIRLS
100 Hurdles
2. Brooke Quairiere, Jr. Brookville PIAA finish: 15th
3. Makena Nesbitt, Jr., Punxsutawney Now Class 3A
4. Taylor Newton, Sr., Elk County Catholic
5. Jordan Bundy, Sr., Johnsonburg
6. Cierah Manross, Sr, North Clarion
100 Dash
1. Olivia Sorg, Jr., Elk County Catholic PIAA finish: 26th
2. Faith Coole, Sr. Oswayo Valley PIAA finish: 27th
3. Madeline Cowan, Sr., Johnsonburg
4. Morgan Johnson, Jr. Brookville
5. Madison Johnson, Jr., Brookville
1,600 Run
3. Lauren Varsek, Sr., Cranberry
5. Olivia Roberts, So., Punxsutawney Now Class 3A
6. Emma Fiscus, So., Brookville
400 Meter Dash
1. Kate Horner, Sr., Punxsutawney PIAA: 17th Now in Class 3A
2. Dana DuBots, Sr., Coudersport PIAA: 15th
3. Evelyn Cobaugh, So., Johnsonburg
4. Hannah Knoll, Sr., Karns City
5. Carley Shick, Jr., Redbank Valley
6. Anna Kennemuth, So., C-L
300 Hurdles
2. Dani MacBeth, Sr., Brookville PIAA: 22nd
5. Tayinna Johnson, Jr., Moniteau
6. Rachel Greeley, Sr., C-L
800 Run
1. Amanda Williams, Sr., Johnsonburg PIAA: 17th
2. Phylicia Hockman, Sr., Clarion PIAA: 20th
3. Tianna Bowser, Sr., Coudersport
4. Emily Peterson, Jr., Kane
6. Madison Koza, So., Kane
200 Dash
1. Sara McKean, Sr., Oswayo Valley PIAA: 18th
2. Olivia Sorg, Jr., Elk County Catholic PIAA: 25th
3. Madeline Cowan, Sr., Johnsonburg
5. KK Girvan, Jr., Clarion
6. Lauren Stimaker, Jr., Coudersport
3200 Run
2. Amanda Ford, Sr., Northern Potter PIAA: 23rd
3. Lauren Varsek, Sr., Cranberry
5. Chelsea Hunt, Jr., Elk Co. Catholic
6. Kalynne Ziegler, So., Cranberry
Relays (State Qualifiers)
4×100
1. Johnsonburg PIAA: 12th
2. Oswayo Valley PIAA: 13th
4×400
Brookville PIAA: 13th
Elk Co. Catholic PIAA: 19th
4×800
1. Elk County Catholic PIAA: 20th
2. Punxsutawney PIAA: 23rd
High Jump
1. Taylor Newton, Jr., Elk County Catholic PIAA: MEDAL Tied-4th
3. Audri Marconi, So., Kane
4. Lexi Lauer, Sr., Clarion
5. Laken Lewis, Jr., Clarion
Long Jump
1. Sara McKean, Sr., Oswayo Valley PIAA: MEDAL 4th Place
2. Cassidy King, Sr., Johnsonburg PIAA: 16th
3. Madison Johnson, Jr., Brookville
4. Laken Lewis, Jr., Clarion
5. Erica DeLullo, Sr., Johnsonburg
6. Dani MacBeth, Sr., Brookville
Triple Jump
1. Sara McKean, Sr., Oswayo Valley PIAA: MEDAL 5th Place
2. Kamme Guisto, Sr., Cameron County PIAA: 24th
3. Cassidy King, Sr., Johnsonburg
5. Laken Lewis, Jr., Clarion
Pole Vault
1. Kendall Grossman, Jr., Moniteau PIAA: MEDAL 2nd Place
2. Laken Lewis, Jr., Clarion PIAA: Tied-9th
3. Mattisen Drake, Sr., Brookville PIAA: Tied-12th
T6. Makena Nesbitt, Jr., Punxsutawney
Shot Put (All top 6 placewinners graduated)
8. Tessa Weaver, Sr., Keystone
10. Sara Knox, Jr., Karns City
11. Taegan Ludwig, Jr., Punxsutawney Now Class 3A
12. Emily Leichtenberger, So., Sheffield
Discus (All top 6 placewinners graduated)
9. Marissa Jack, Sr., Smethport
10. Rosalyn Page, So., Coudersport
12. Sara Knox, Jr., Karns City
15. Skylar Sherry, Sr., Johnsonburg
Javelin
3.  Skylar Sherry, Sr. Johnsonburg PIAA: MEDAL 2nd Place
7. Haylee Cherry, Jr., Johnsonburg
11. Emily Leichtenberger, So., Sheffield
12. Sydney Miller, Sr., Brookville
13. Sierra Hillman, Jr., Kane
14. Maddy Craig, Sr., Clarion-Limestone