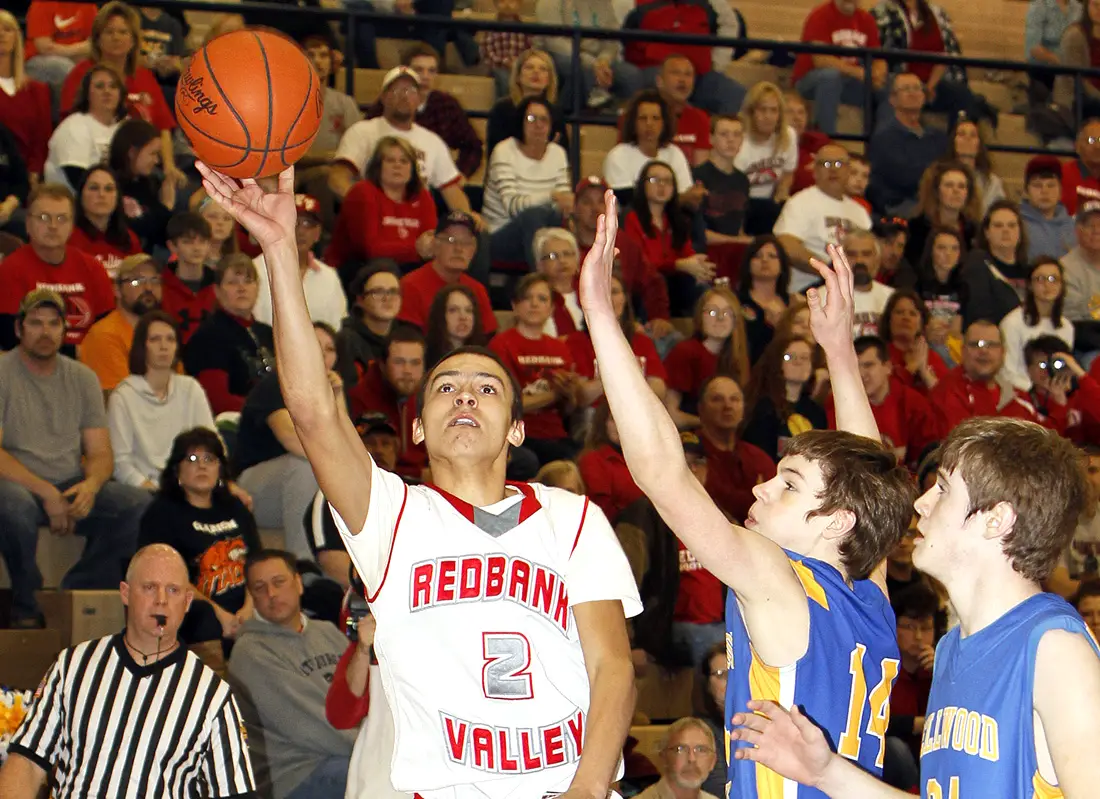 Photo info: Redbank Valley's Sam Heeter (Photo by George Powers. His website here)
By Rich Rhoades
DuBOIS — For the first time since 2004, District 9 has a Class AA boys' team making noise beyond the opening round of the state playoffs.
With Redbank Valley's venture into the second round Wednesday night against West Branch, it's the first time since the Keystone Panthers got to the quarterfinals that a Class AA team from the district won at least one state playoff game. That year, Keystone beat Saegertown and Westmont-Hilltop before losing to Beaver in the quarterfinals.
(9-1) REDBANK VALLEY (21-6) VS. (6-2) WEST BRANCH (22-4)
When: 7:30 p.m. Wednesday March 11
Where: DuBois Area Middle School
How they got here: Redbank Valley beat District 6 third-place finisher Bellwood-Antis, 60-53, in the first round Saturday at Clarion University's Tippin Gym, while West Branch advanced with a 69-66 win over District 10 third seed Mercyhurst Prep at Bald Eagle Area High School.
Winner gets: Winner of the (7-1) Aliquippa vs. (10-2) Fairview game Saturday at a site to be determined.
About Redbank Valley: In their first trip to states since 1991, The Bulldogs won their first state playoff game since their only one back in 1979 when they beat Chestnut Ridge in Saturday's win over Bellwood-Antis. The Bulldogs lost in the second round to Ford City that year, 73-49. … Jake Dougherty (16.2 ppg.), Devin Shumaker (11.7 ppg.), Sam Heeter (9.6 ppg.) and Zach Westover (8.8 ppg.) lead the Bulldogs in scoring, but Dalton Dougherty (7.6 ppg.) is coming off a career-high 18 points he scored against Bellwood-Antis. … Both Dalton Dougherty (18 points, 12 rebounds) and Westover (12 points, 14 rebounds) turned in double-doubles against Bellwood. … Going into the playoffs, Jake Dougherty was averaging a double-double with 10 rebounds per game. Westover was second in rebounding at 9.8 per game. In four postseason games (not counting KSAC title game), the Bulldogs have scored 50.8 points per game while yielding just 40.5 points per game. … They entered the postseason averaging 57.1 points while giving up 47.4 points per game.
About West Branch: West Branch, located between Clearfield and Philipsburg, played in the same league as Bellwood-Antis and dropped both regular-season meetings (83-74 and 67-49) before knocking the Blue Devils off in the D6 semifinals, 54-53, in overtime. … The heroics weren't limited to that game as the Warriors beat Mercyhurst Prep on a buzzer-beating 3-pointer from Kody Trude for the team's first-ever state playoff win in their first state playoff appearance since 2005. Prep had just tied the game on a four-point play with seven seconds remaining. West Branch led by 13 points with 3:49 remaining. Brandon Zwick scored 20 points while Trude scored 15 points and Skyler Krise finished with 13 points. … Through the regular season, Trude led the team in scoring at 22 ppg., followed by Austin Krise (17.1 ppg.) and Zwick (13.4 ppg.). All three players are juniors. Senior Skyler Krise (7.6 ppg.) was the fourth-leading scorer. Trude, at 6-foot-4, averaged a double-double with 10.5 rebounds per game. … West Branch, similar to Redbank Valley, is widely known as a wrestling school. The two have never met in a dual meet and probably not on the basketball court as well.