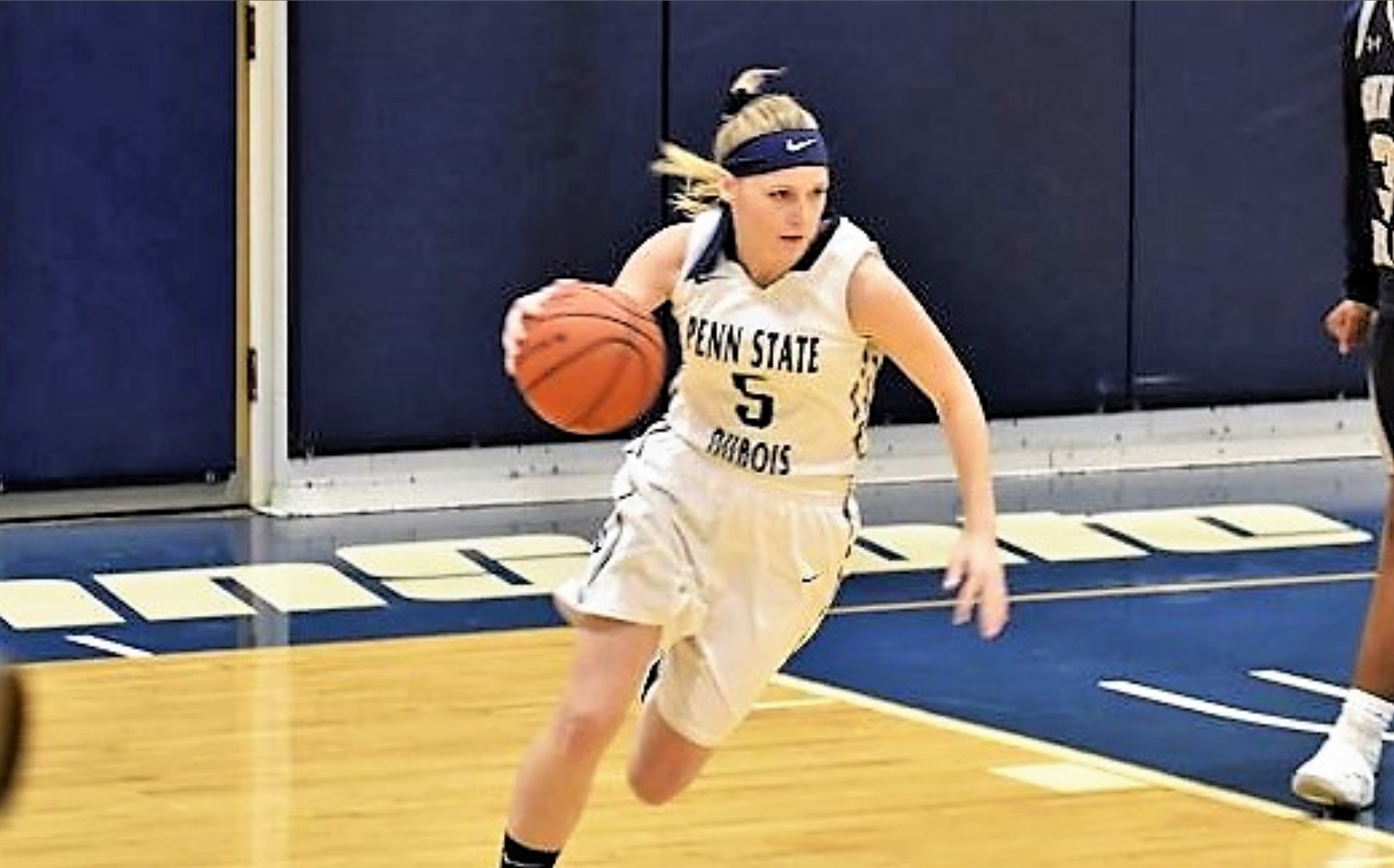 DUBOIS, Pa. – The Penn State DuBois' women's basketball team is off to a good start in the new year going 2-1 since Jan. 1.
(Photo of Penn State DuBois' Morgan Silvis. Silvis played high school ball for the Forest Area Fires. Photo courtesy of Penn State DuBois Athletics)
The Lions own wins over Lorain County Community College (67-50) and Penn State Mt. Alto (80-59) and fell to Penn State Fayette (96-75) giving them a record of 8-4 overall and 4-3 in conference play heading into a game Friday, Jan. 18, at home against Penn State Wilkes-Barre.
In the win over Lorain, Kristen Williams had a team-high 16 points to go with five rebounds. Brockway graduate Leah Lindemuth added 10 points and five steals off the bench, while Otto-Eldred grad Melody Young had nine points and 12 rebounds. Also for DuBois, Lauren Young chipped in five points and a team-best 13 boards, and Hope Bridge, a Punxsutawney graduate, added eight points and four rebounds.
The victory over Penn State Mt. Alto featured a 19-point, 6- rebound effort from Bridge with former Forest Area player Morgan Silvis adding 14 points off the bench. Also for the Lions in the win, Williams had 10 points, Maddie Sprankle added eight points and eight rebounds, Melody Young had eight points and 10 rebounds and Lauren Young seven points and eight boards.
Despite the loss to Penn State Fayette, DuBois had four players reach double digits.
Williams had 12 points and four assists, Lauren Young added 12 points and nine rebounds and Silvis and Cierra O'Shell each had 10 points. Bridge chipped in nine points and four boards, and Melody Young added eight points and seven rebounds.
Sprankle and Lauren Young are the team's leading scorers on the year both averaging 11.7 points per game for head coach Pat Lewis. Bridge adds 11.3 ppg with Melody Young chipping in 11.2 ppg, O'Shell 10.0, Lauren Young 9.2, Silvis 7.6 and Lindemuth 6.9 also contribute.
Lauren Young and Melody Young both average a team-best 10.7 rebounds per contest with Bridge chipping in 7.2 boards.
MEN'S TEAM 1-4 SINCE JAN. 1
The Penn State DuBois men's basketball team has battled hard but come up short more often than not since the turn of the new year going 1-4 since Jan. 1.
The Lions started the calendar year with an 88-61 win over Westmoreland Community College but have since dropped four straight, including a 75-72 decision to Penn State Fayette Tuesday, Jan. 15. Other losses include 79-65 to Grove City, 82-40 to Penn State Shenango and 70-53 to Penn State Mt. Alto.
Penn State DuBois is now 4-11 on the year and 0-9 in conference play heading into a home game with Penn State Wilkes-Barre Friday, Jan. 18.
The win over Westmoreland Community College saw Zack Dahlstrand net a team-high 23 points while adding seven rebounds. Tyler Davis from nearby Rocky Grove High School chipped in 20 points off the bench with Punxsutawney graduate Dylan Huey adding 14 tallies.
Huey had another big game in the loss to Grove City scoring a game-high 22 points to go with four rebounds and three steals. Dahlstrand added 12 points and Mekhi Willis had eight points, five rebounds and five assists.
Against Penn State Shenango, Jonathan Turk was the lone DuBois player to find double digits scoring 11 points. Huey added nine points and four rebounds with Curwensville grad Bernard Rauckhorst chipping in seven points.
Huey, Dahlstrand and Turk all netted a team-best 11 points in the loss to Penn State Mt. Alto with Osagie Evbuomwan adding seven points. Huey also contributed a team-best seven rebounds.
The close loss to Penn State Fayette saw all five starters reach double digits for Penn State DuBois led by 12 points each from Willis, Davis and Huey. Union grad Cole Morris added 11 points with Dahlstrand chipping in 10. Morris, Dahlstrand and Willis all collected six rebounds with Willis adding four steals and Huey three swipes. In addition, Turk scored eight points and Curwensville grad Josh Terry added seven.
On the season, Dahlstrand leads the club averaging 14.5 points per game with Huey adding 14.1 and Brandon Bernhardt 10.0. Since joining the club for the Shenango game, Turk is adding 10.0 ppg over three games. Davis is also having a solid season averaging 7.5 ppg with Morris contributing 6.8 ppg.
Evbuomwan has a team-high 5.0 rebounds per contest with Bernhardt and Huey each adding 4.8.
For more on Penn State DuBois Athletics via D9Sports.com click here.
E-mail Brent Saylor to find out how your school can become a part of the D9Sports.com College Spotlight.