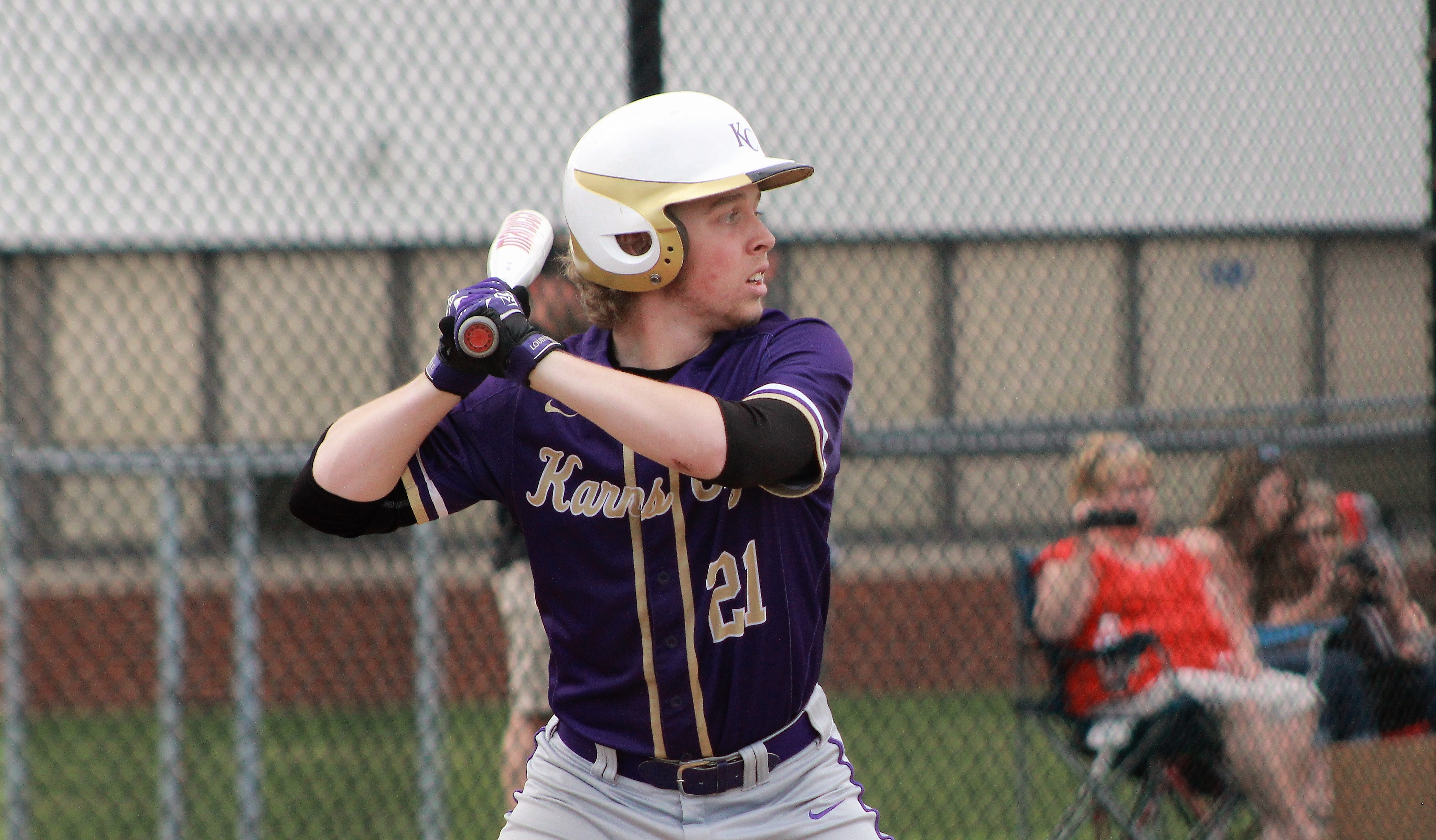 DUBOIS, Pa.  – Penn State DuBois' baseball and softball teams recently received commitments from a pair of District 9 athletes.
(Photo of Karns City's Tyler Young. Photo by Jared Bakaysa of JB Graphics. See more of Bakaysa's work here)
Karns City's Tyler Yough committed to play baseball for the Lions, while Clearfield's Karly Rumsky committed to play softball.
Yough helped Karns City to a 15-1 record and a District 9 runner-up spot in Class 3A last year by hitting .444. He was also 6-1 with a 1.30 ERA on the mound.
🚨Commitment!! We are very excited to announce the commitment of last years KSAC player of the Year. RHP/ INF Tyler Yough from Karns City High School pic.twitter.com/hUephM58Px

— PSD Baseball (@PSDbaseball) December 16, 2018
Rumsky, meanwhile, had eight extra-base hits including three triples for Clearfield a season ago helping the Lady Bison to a 9-12 record and a District 9 Class 4A playoff spot.
🚨Commitment Alert🚨 Clearfield's Karly Rumsky, OF, commits to PSUD! Had 8 extra base hits and led Clearfield with 3 Triples last season. Only 2 errors during 21 games. Welcome @karly_rumsky . @psdubathletics @Lauresaann pic.twitter.com/nHf9LfNnpm

— PSD Softball (@SoftballPsd) December 17, 2018
Both players will begin their Penn State DuBois careers in time for the 2020 season.
Penn State DuBois baseball won the USCAA National Championship, which was played in DuBois, last season and finished the year with a record of 31-11.
Penn State DuBois softball was 5-17 a year ago.
WOMEN'S BASKETBALL FALLS TO PSU GREATER ALLEGHENY
The Penn State DuBois women's basketball team dropped a 74-69 decision to visiting Penn State Greater Allegheny Saturday.
PSU DuBois led 31-24 at halftime before PSU GA outscored the hosts 25-15 in the third quarter to take control of the game.
Maddie Sprankle led PSU DuBois with 17 points with Melody Young (Otto-Eldred) recording a double-double of 13 points and 15 rebounds. Morgan Silvis (Forest Area – West Forest HS) added seven points and eight rebounds and Lauren Young had three points and 12 boards. Also for PSU DuBois, Hope Bridge (Punxsutawney) chipped in six points and nine boards.
Tina Clybourn led the victors with 21 points with Jayla Ellis adding 14 points, Brandy Taylor 13 points and Lexus Santiago 10 points.
PSU DuBois (6-3 overall, 3-2 conference) is now off until 6 p.m. Jan. 3 when it hosts Westmoreland County Community College.
MEN'S BASKETBALL DROPS TOUGH DECISION TO PSU GREATER ALLEGHENY
A strong first half helped visiting and unbeaten Penn State Greater Allegheny to an 87-70 win over Penn State DuBois Saturday in men's basketball action.
The visitors, who improved to 11-0 on the season, roared to a 45-31 halftime lead and never looked back.
Cole Morris (Union) led PSU DuBois with 16 points and three assists with Dylan Huey (Punxsutawney) adding 14 points. Joshua Terry chipped in eight points and six rebounds, Zack Dahlstand scored nine points and Bernard Rauckhorst added seven points off the bench.
PSU GA was paced by a game-high 28 points from Jordan Payne with Kenneth Rouse adding 24 points and Makis Rivera 13 points and eight rebounds.
Penn State DuBois is 4-6 overall and 3-5 in conference play. The Lions return to action at 8 p.m. Jan. 3 when they host Westmoreland County Community College.
For more on Penn State DuBois Athletics via D9Sports.com click here.
E-mail Brent Saylor to find out how your school can become a part of the D9Sports.com College Spotlight.