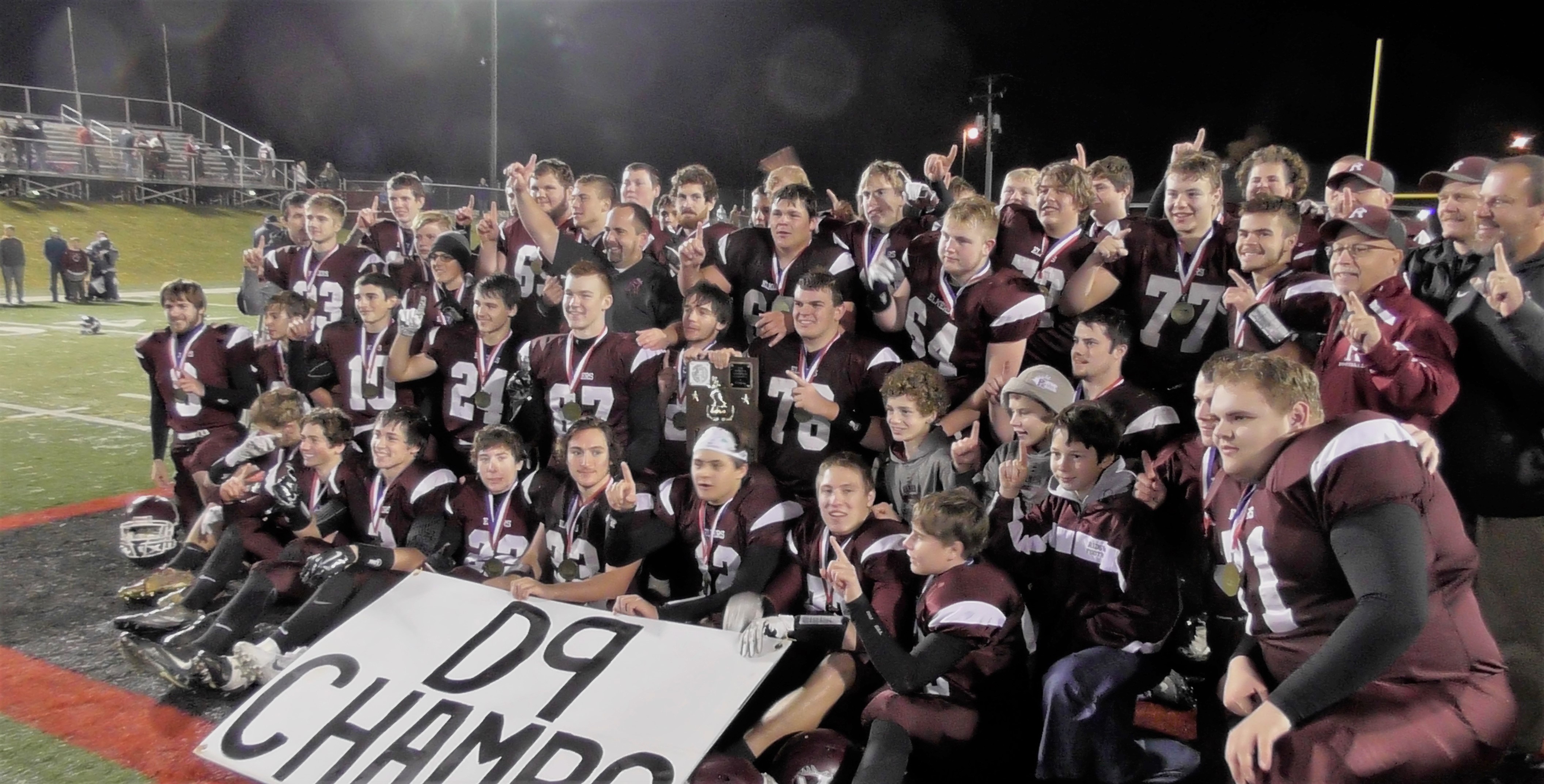 Between June 27 and July 24 D9Sports.com will be counting down the Top 20 stories in District 9 from the 2016-17 school year starting with No. 20 June 27 and finishing with No. 1 July 24.
No. 17: Ridgway Claims D9 1A Football Title
Prior to the 2016 football season, the Ridgway football program had been to the D9 title game twice in its history with one title. And those appearances came in the early days of the D9 playoffs with the championship, in Class 1A, coming in 1989, just three years into the D9 football playoffs, and the runner-up finish coming in 1993.
The title, ironically enough, was a 3-0 win against Johnsonburg, whose kids now play football at Ridgway.
And the two schools combined to bring glory back to Elk County in football in 2016.
Ridgway finished the regular season 8-2 with the two losses coming against 2A schools in Brockway and Kane.
The Elkers, the top seed in the 1A playoffs, got a bye into the semifinals where they had no troubles against Curwensville coming away with a 33-0 win thanks to a stifling defense that limited the Golden Tide to 112 total yards of offense including just 60 yards rushing.
That set up a title-game matchup against fellow Elk County rival Elk County Catholic.
And a tremendous fourth quarter that saw Ridgway outscored the Crusaders 22-0 turned a one-touchdown game after three quarters into a 42-13 rout that brought the title back to Ridgway for the first time in 27 years. Neil MacDonald ran for two touchdowns and Johnny Mitchell ran for a score and threw for another in the victory.
Mitchell talked about the victory.
Ridgway's season ended the next week against powerhouse Farrell, but it is a season that won't soon be forgotten in the Ridgway/Johnsonburg area.
Top 20 Sports Stories in District 9 for the 2016-17 School Year
No. 20 – Three District 9 girls' place in the javelin at the PIAA Championships
No. 19 – Brockway Girls and Port Allegany Boys Claim First-Ever D9 Soccer Titles
No. 18 – Ridgway Boys' Basketball Marches to PIAA Elite Eight
No. 17 – Ridgway Claims D9 1A Football Title
No. 16 – Released July 3
No. 15 – Released July 4
No. 14 – Released July 5
No. 13 – Released July 6
No. 12 – Released July 7
No. 11 – Released July 10
No. 10 – Released July 11
No. 9 – Released July 12
No. 8 – Released July 13
No. 7 – Released July 14
No. 6 – Released July 17
No. 5 – Released July 18
No. 4 – Released July 19
No. 3 – Released July 20
No. 2 – Released July 21
No. 1 – Released July 24