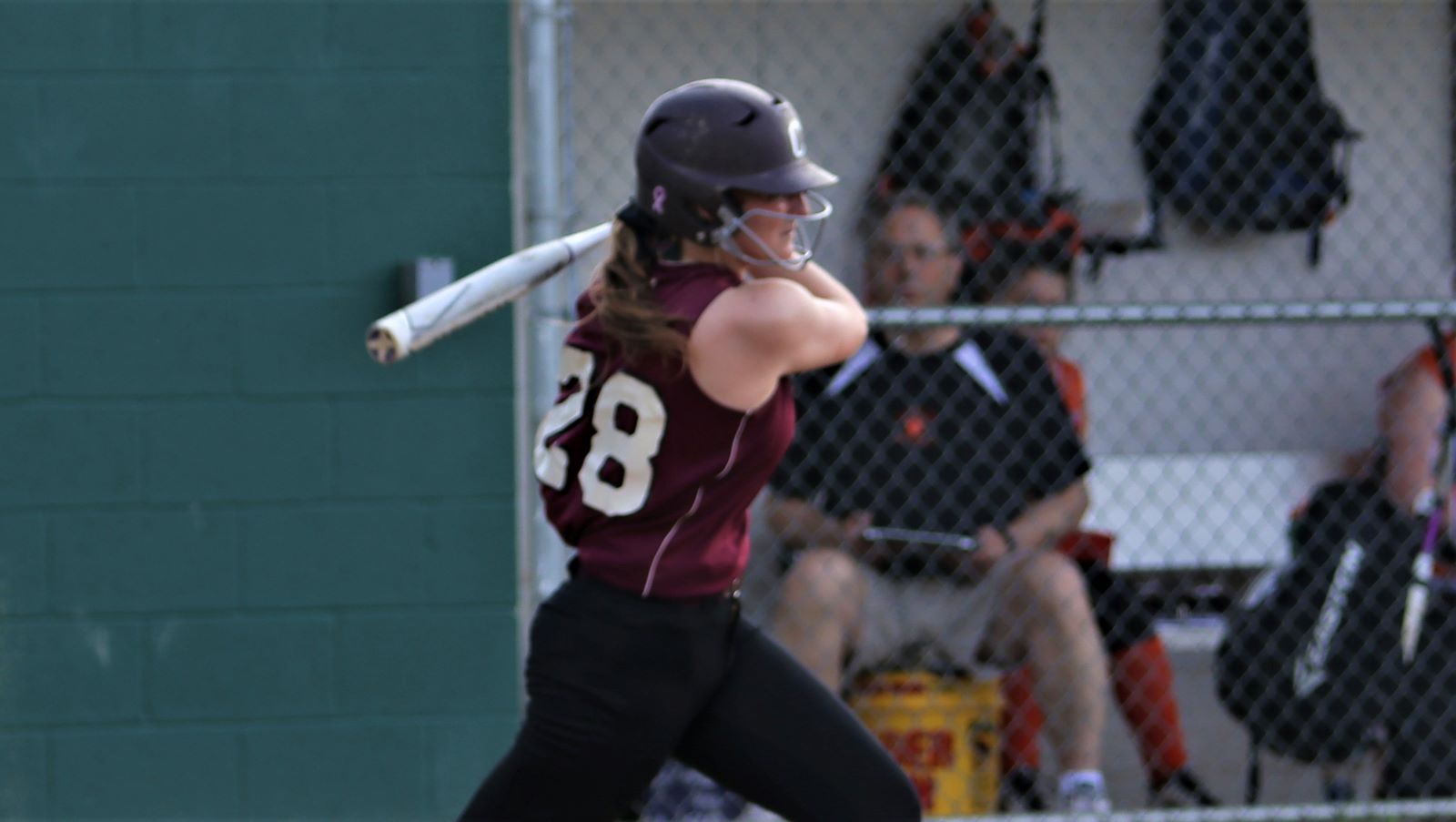 SLIPPERY ROCK, Pa. – For a minute, Cranberry's season of miracle comebacks looked like it would continue.
(Photo: Malliah Schreck had four RBIs in her final softball game for Cranberry. Photo by Jared Bakaysa of JB Graphics. See more of Bakaysa's work here)
Relisten to the game:
Trailing by two and down to its last out, Malliah Schreck tied the game with a base hit to right in the top of the seventh. But in the bottom of the seventh, Frazier's Logan Hoffman scored from second when a ball got past third baseman Emily Duncan as the Commodores pulled off a walk-off, 5-4, win in the PIAA Class 2A semifinals.
"That has kind of been the mojo of this team all year," Cranberry manager Glenn Barcinas said. "It never quits. They never go away. I told them I would have loved to have had one more inning. We had grabbed the momentum back. But, you have to tip your hat to Frazier. That is a good team. They are good on the bases and had timely hitting."
Down 4-2 going to the seventh, Maddie Cornelius started the rally with a one-out single to center, and Kaylie Bruce followed with another single to center putting runners on first and second.
A groundout by Rachel McCauley moved the runners to second and third, and Schreck delivered the two-run single to right to tie the game.
"The girls, they just don't quit," Barcinas said. "They put in the time. They believe they are going to be in every game. They don't go away."
But in the bottom of the inning, Hartman, the winning pitcher, led off with a single to left and went to second on a sac bunt Juliann Johnson. Kathryn Barch then walked, and Emi Curcio hit a ground ball to third that went through Duncan allowing Hartman to race home from second.
That was the third run Frazier scored because of less-than-stellar defense by the Berries.
In the third inning, Megan Celaschi and the Commodores literally stole a run when Cranberry catcher Jenna Reynolds tried to pick Barch off of first base with two outs and runners at the corners.
Then in the fifth, after Celaschi had reached second on a double error following a single to left, Johnson put down a sacrifice bunt, and Celaschi raced around third and scored when McCauley threw behind her at third instead of to the plate.
"The deeper you go (in the playoffs) the more magnification there is on (mistakes)," Barcinas said. "It cost us."
The umpires didn't do Cranberry any favors either potentially costing the Berries multiple runs on two different occasions.
In the first inning with the bases loaded and one out, Schreck hit a pop up that third baseman Barch backpedaled on before dropping the ball. Watson, who led off the game with a single, sprinted home. Frazier, meanwhile, threw the ball to third and tagged the bag but not the runner coming from second, Bruce. While this was going on, the ball ended up at home plate, and McCauley, who was at first, headed towards second where she was tagged out before ever reaching second base.
The four PIAA umpires looked at each other but no visible calls were made. Frazier manager Don Hartman went out to get clarification on what happened and many figured the infield fly rule must have been called.
But the umpires ruled they didn't call the infield fly rule (the rule is meant to protect the offense from a double play when runners are at first or second or the bases are loaded with less than two outs and is intended to keep the defense from purposely dropping the ball to create a double play). They then said Bruce was forced out at third and McCauley was out going to second. But, bizarrely, they allowed Watson's run to count. It shouldn't have under their ruling as McCauley never reached second base despite being forced towards second base meaning the inning should have ended on a force-out double play which would have nullified the Watson run.
Before anyone thinks that helped Cranberry, though, keep in mind if the play had been ruled the way it should have been ruled with the infield fly being called, Watson would have scored, Bruce would have been safe at third because she wasn't tagged, only the bag was tagged. McCauley would have still been out at second, but that would have only been the second out of the inning.
"It's not the first time that has happened this year," Barcinas said (he was referencing a similar missed call in the opening round of the PIAA playoffs). "I will say, that isn't the only one (call) I would question. They (the umpires) have a job to do. They didn't (explain why they didn't call the infield fly), and like I said, this isn't the first time."
Another call of a questionable nature that went against Cranberry happened in the third inning with the Berries down 2-1.
With one out, Cornelius reached on a bunt single and went to third on a single to right by Bruce. McCauley followed with a rocket of a single right past the first baseman into right field with Conrelius coming home and Bruce going to third.
But after the play, Hartman again emerged from the dugout to discus the play with the umpires. After another umpire huddle, it was determined the ball grazed off of Bruce leading off first base, which therefore made her out and the ball dead and put Cornelius back at third with McCauley safe at first on with a single. It is on a very rare occasion that when a ball hits a runner it isn't called immediately and is instead called after the play is over and following a huddle by the umpires.
"I don't know who called that," Barcinas said. "They did say it hit her. That's a dead ball. I will leave that to the officials to talk about. It is what it is."
No umpires were available after the game to discuss either play.
Bruce being out was magnified when Schreck laced a double to left-center field scoring Cornelius for real this time and sending McCauley to third. But, now with two outs, Megan Hadden ended the inning by grounding out to third.
Schreck's double did tied the game at two – Frazier scored two runs on a two-out single to center by Rylee Evans in the first inning – but the Commodores stole the run back in the bottom of the inning.
Down 3-2 in the fourth, Cranberry had a chance to perhaps tied the game or take the lead when Maria Anderson walked leading off and went to second on a one-out single to center by Jenna Seigworth. But with Watson at the plate, Anderson was caught trying to steal third, and Watson struck out to end the threat.
The loss ends Cranberry's season at 15-6 and it ends the career of three four-year starters – Watson, Schreck and McCauley.
"We are going to have some holes to fill there," Barcinas said. "Some power, great pitching, but it's an opportunity for the younger kids coming up. We are definitely going to dearly miss them. As I told them, our softball has ended but it's time to turn the page as far as a new chapter in life. I wish them nothing but the best."
Frazier will play for a PIAA title against Brandywine Heights, a 12-10 winner over Susquenita. The title game is set for 4 p.m. Thursday, June 13, at Beard Field at the Nittany Lion Softball Park on the campus of Penn State University.
FRAZIER 5, CRANBERRY 4
Score by Innings
Cranberry 101 000 2 – 4
Frazier 201 010 1 – 5
CRANBERRY – 4
Andrea Watson p 4110, Maddie Cornelius rf 4220, Kaylie Bruce dp 4120, Jenna Reynolds c 0000, Rachel McCauley 1b 3020, Kaylyn Melat pr 0000, Malliah Schreck ss 4024, Megan Hadden rf 4010, Maria Anderson lf 2000, Emily Duncan 3b 3010, Jenna Seigworth 2b 3010. Totals 31-4-12-4.
FRAZIER – 5
Logan Hartman p 4220, Juliann Johnson c 1000, Skylar Hone cr 0100, Kathryn Barch ss 3010, Rylee Evans dp 3012, Haley Somers lf 0000, Savannah Berklovich 1b 3000, Mackenzie Kelly 2000, Tori Washinksi 2b 3010, Megan Celaschi cf 2210. Totals 21-5-6-2.
LOB: Cranberry 8. Frazier 7. Errors: Cranberry 3. Frazier 1. 2B: Schreck. Barch. SAC: Johnson (2), Barch. SB: Celaschi (2), Barch (2), Curcio. CS: Anderson. DP: Frazier 1 HBP: Johnson by Watson.
PITCHING
Cranberry
Andrea Watson 6 ⅓ IP, 5 H, 5 R, 3 ER, 4 BB, 4 K, 1 HP
Frazier
Logan Hartman 7 IP, 12 H, 4 R, 3 ER, 2 BB, 6 K
Winning pitcher: Logan Hartman
Losing pitcher: Andrea Watson