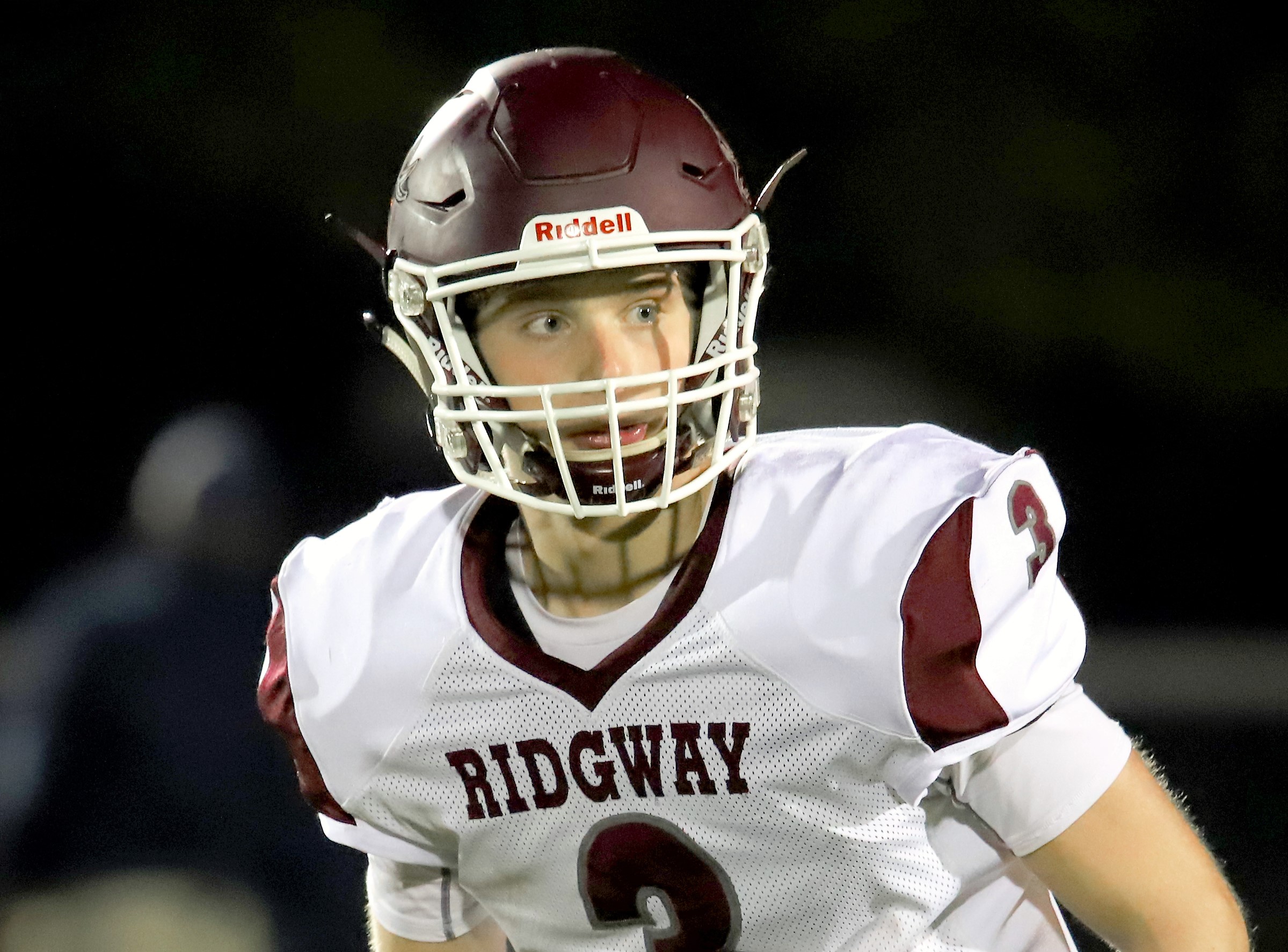 With defending Class 1A champion Ridgway bumping up to Class 2A and Clarion getting knocked off in last week's preliminary round, District 9 will have two new champions in those classifications this year.
(Ridgway's Paul Gresco helps lead the Elkers into Saturday's Class 2A semifinal game against Moniteau. The Elkers were the Class 1A champion in each of the last two years. Photo by Kyle Yates Check out more of Yates' work here www.facebook.com/YatesPhoto)
This weekend's semifinal rounds have No. 2 seed Clarion-Limestone (9-2) facing Coudersport (6-4) in Brockway and No. 1 seed Smethport (10-0) meeting No. 5 seed Curwensville (7-4) at Bradford in the Class 1A matchups, both of them on Friday night with 7 p.m. kickoffs.
Saturday, both Class 2A semifinals are scheduled for DuBois' E.J. Mansell Stadium with Ridgway (9-1) and Moniteau (7-4) at 1 p.m. and Brockway (8-2) and Brookville at 6 p.m.
All four games are rematches from the regular season.
Here's a closer look at this week's games:
FRIDAY
CLASS 1A
Smethport (10-0) vs. Curwensville (7-4), Bradford H.S., 7 p.m.
While the unbeaten Hubbers won their first playoff game since claiming the 1998 Class 1A title with a 28-0 shutout of Union/A-C Valley, the Golden Tide avenged a regular-season loss to Elk County Catholic with a 26-0 shutout on the road in St. Marys.
Smethport dealt the Golden Tide a 20-7 loss Curwensville back in the fourth week of the season, outgaining them 270-180. Blake Kinner ran for 171 yards and a touchdown while Braedon Johnson and Noah Lent also scored touchdowns.
Kinner went over 1,000 yards for the season in last week's win over the Falcon Knights. He's at 1,082 yards on 104 carries with 13 TDs. Nathan Hollowell (136-685, 9 TDs) is another threat out of the backfield. He ran for 98 yards and a TD last week while catching a TD pass from quarterback Grant Ognen (57-for-113, 797 yards, 10 TDs, 3 Ints.), who runs the passing game in an offense that averages 293 yards per game — 203 rushing, 90 passing. Ognen's top receivers are Alex Sanderson (26-357, 4 TDs) and Bryent Johnson (18-251, 5 TDs).
Defensively, Sanderson picked off two passes against Union/ACV last week and shares the team lead at three with Logan Christie. Kinner (6.8) leads the team in tackles per game ahead of Dale Burdick (5.5) while leading the unit with 7.5 sacks.
The Golden Tide, who are looking for a second straight trip to the D9 Class 1A title game after losing, 9-7, to Ridgway last year, were very opportunistic in last week's win over Elk County Catholic, turning around a regular-season loss to the Crusaders. The Tide helped force five turnovers and blocked a punt in their shutout win.
Cole Bressler, who led the Tide with 14 tackles against ECC, ran for 161 yards on 17 carries and scored all three of the team's touchdowns and two two-point conversions. For the season, he's rushed for 714 yards and 11 TDs. Blake Passarelli leads the team with 795 yards with seven TDs.
Quarterback Noah VonGunden (55-for-129, 809 yards, 6 TDs, 5 Ints.) is closing in on a rare 1,000-yard passing season for a Tide passer. His top receiver is Jake McCracken (24-328, 3 TDs).
VonGunden (7.0), Bressler (6.7) and Dylan Hipps (6.7) are the Tide's leaders in tackles per game defensively. Bressler has 15 tackles for losses while Avery Francisco leads the team with 18, including 5.5 sacks. Hipps leads the team with 6.5 sacks.
The Tide are trying to get back into the final for the second straight year. They lost 9-7 to Ridgway in last year's final.
C-L (9-2) vs. Coudersport (6-4), Varischetti Field, Brockway, 7 p.m.
The first time these teams met, it was the Lions who notched a 34-22 win at the C-L Sports Complex the fourth week of the season. C-L led 34-6 before Coudersport scored twice in the fourth quarter to set the final.
Last week, both teams put up big numbers in first-round wins. The Lions dumped Otto-Eldred 48-18 while the Falcons avenged a 41-27 loss at Redbank Valley with a surprisingly lopsided 52-7 rout on the same field.
While junior Austin Newcomb is closing in on a district record for rushing yards for a season with 2,442 yards, See Story Here, he's also looking to build on what's already a district record for points in a season with 284 points — 41 TDs and 19 2-point conversions. While Newcomb has put up huge numbers, he's not the only one who's helped the Lions pile up 4,033 rushing yards as senior Ayden Wiles (154-1,089, 17 TDs) went over 1,000 for the season.
Newcomb and Wiles have combined for 60 of the team's 70 TDs. Quarterback Colby Himes (51-for-110, 1,030 yards, 10 TDs, 6 Ints.) just went over 1,000 yards for the season. His top receiver, not surprisingly, is Newcomb (25-572, 5 TDs).
Defensively, Mitch Knepp (8.1), Newcomb (7.1) and Kyle Bottaro (7.0) lead the Lions in tackles per game.
The Falcons feature a run-oriented attack led by senior running back Stephen Kelly (157-1,296, 21 TDs) and quarterback Hayden Keck, who's rushed for 461 yards and 11 TDs. He's thrown for 517 yards with seven TDs and three interceptions. John Minor (7-253, 3 TDs) is the leading receiver.
Defensively, Eli Ayers leads the unit in tackles per game (6.8). Brandt Kightlinger has seven sacks while Minor leads the team with four interceptions.
This is the fifth playoff meeting between the teams. The Falcons have won three of four so far, including last year's 44-40 win at C-L in the opening round. The Lions beat the Falcons 21-14 in the 2004 semifinals. Coudersport won semifinal matchups in 1994 (11-6) and 2001 (30-15) won the way to district titles.
C-L hasn't been to the D9 title game since losing to Curwensville in 2004, while Coudersport hasn't been there since losing to Clarion in 2009.
CLASS 2A
Ridgway (9-1) vs. Moniteau (7-4), Mansell Stadium, DuBois, 1 p.m.
While the Elkers earned a first-round bye as the top seed, the Warriors knocked defending champion Clarion out of the playoffs with a 20-14 win over the Bobcats at Clarion University. They avenged a 34-14 loss to the Bobcats in the second week of the season.
Moniteau scored two defensive touchdowns against Clarion and scored the game-winner with Cody Wise's 1-yard run with 1:53 left in the game. Nick Martino scored on a 62-yard fumble return and Donavan Francois returned an interception 55 yards for a TD.
The Warriors get another crack at the Elkers, who beat them 36-14 the third week of the season. Ridgway outgained Moniteau, 370-147, as quarterback Paul Gresco threw three TD passes, Gabe Watts ran for 95 yards on five carries and two touchdowns and Evan Furlong went for 100 yards on 11 carries.
Gresco (100-for-151, 1,155 yards, 11 TDs, 7 Ints.), Watts (75-489, 7 TDs) and Jake Wickett (77-413, 7 TDs) lead the offense that's now without Furlong, who is out with an injury. Daunte Allegretto (12-308, 3 TDs), Austin Green (19-247, 5 TDs) and Isaac Schloder (21-214, 3 TDs) are the leading receivers.
Robert Briggs (8.7) leads the Elkers' defense in tackles per game with Allegretto's team-best seven interceptions an impressive number on a strong unit.
Cody Wise (176-1,357, 8 TDs) is over 1,300 yards rushing for the Warriors while quarterback Chance Nagy (33-for-86, 430 yards, 2 TDs, 9 Ints.) is second on the team on the ground with more yards rushing — 691 on 97 carries with eight TDs — than passing yards. Nick Martino (105-348, 6 TDs) also gets carries out of the backfield.
Wise leads the defense in tackles per game at 7.1. James Parenti has made 18 tackles for losses.
Moniteau hasn't been to the D9 title game since falling to Karns City in 2015 in Class 2A, while Ridgway won the last two District 9 Class 1A titles before moving up to 2A this season.
Brookville (6-4) vs. Brockway (8-2), Mansell Stadium, DuBois, 6 p.m.
The first time these teams met was way back in the second week of the season where the Rovers held off the Raiders, 28-25, at Varischetti Field. It was a season-turning loss for the Raiders who essentially lost their sophomore quarterback Jack Krug for the season.
Krug broke his collarbone early in the game and the Rovers got two big kick returns for touchdowns from Jon Wood to grab the win. Krug did return later in the season but aggravated his injury in a half of action against St. Marys. So his season ended with 930 yards and 14 touchdowns in just over seven quarters of playing time.
Eventually, the Raiders found their quarterback in sophomore Robert Keth, who's on the verge of throwing for the second-most yards by a Raiders passer in team history despite playing just 6 1/2 games behind center. He's 1,841 yards, completing 104 of 186 passes with 21 touchdowns and nine interceptions.
The Raiders are close to having two 1,000-yard receivers. Cabe Park (53-1,182, 16 TDs) is already there while Bryan Dworek, who missed the first three games of the season including the Brockway game with an ankle injury, is close with a team-best 58 catches for 938 yards and 10 touchdowns. Ian Thrush (25-579, 8 TDs) is the team's third option.
Both teams are coming off bye weeks. The Raiders were quieted by DuBois in a 16-7 loss two weeks ago while the Rovers topped Curwensville, 24-14, for their fourth straight win after losing two straight in the middle of the season to Ridgway and Bradford, two teams the Raiders beat.
For the Rovers, it's a balanced act of running and passing. Quarterback Peter Downer (95-for-185, 1,582 yards, 18 TDs, 7 Ints.) runs the offense with 1,000-yard back Tyler Serafini (171-1,020, 3 TDs) and Wood (82-493, 6 TDs) in the backfield.
Wood (27-410, 6 TDs), Josh Solnosky (16-332, 6 TDs), Garrett McClintick (13-325, 2 TDs) and Connor Ford (17-214, 2 TDs) are Serafini's receiving targets.
Brockway hasn't won a playoff game since in 2015 when it reached the finals with wins over Elk County Catholic and Redbank Valley before losing to Kane. Brookville hasn't won a playoff game since 2010, a streak of five games, since its last win in the Class 2A semifinals against Moniteau.
It's the 65th meeting between the teams and eight in the postseason. The Raiders hold a 4-3 edge in those games with Brockway winning the last meeting, a 50-0 rout in the 2010 district final.