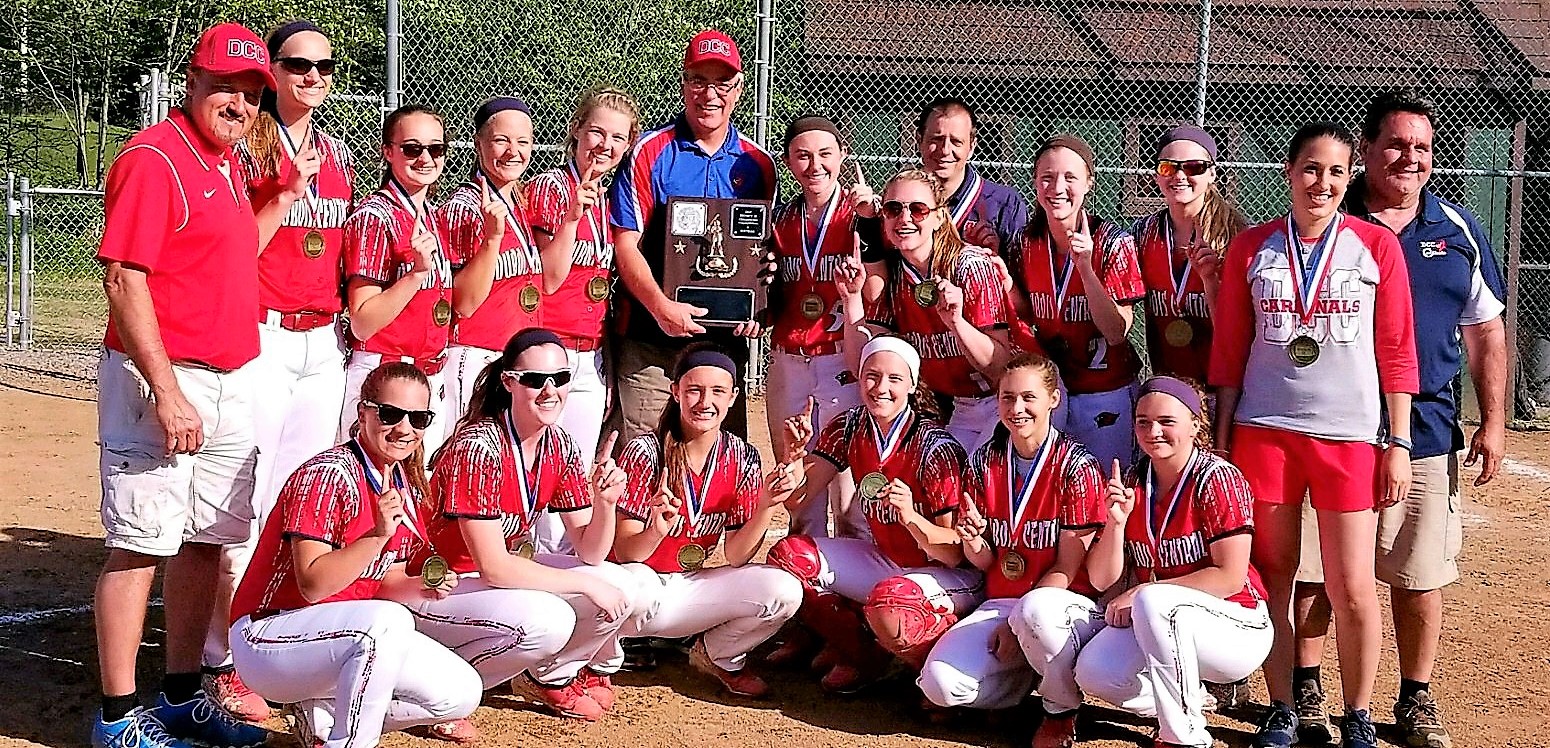 ST. MARYS, Pa. – DuBois Central Catholic jumped on Coudersport early for three first-inning runs and then rode the arm of senior Riley Assalone and late insurance markers to its second straight District 9 Class 1A softball title, 9-0, over the Lady Falcons.
It was the third title in four years for the Lady Cardinals, who beat Clarion, 2-1, in last year's championship game after defeating Smethport, 4-0, in 2014.
"I don't know if DuBois Central has won three in four years in any girls' sport," DCC manager George Heigel, whose team went to the PIAA semifinals a year ago, said. "That's a big deal. When you win a single A championship in any sport, it's a big deal. You are talking about (playing) a lot of schools (to win a 1A title).
"When we won the first one (in 2014), it was exciting. It was fun. It was something to build on. The next year (2015), we had a really good year but Elk County Catholic had a good team that won the state championship, but it was still a pretty good year for us.
"Last year was a fun ride, and I think losing to West Greene (in the PIAA semifinals) gave our kids perspective that we could do this. Going into this year, I tried to amp up the schedule some and put them in situations before the playoffs. I thought going into the district tournament we were more prepared this year. I thought we played better competition throughout the year, and it paid dividends, at least so far. Hopefully, it continues for the next two weeks."
DCC (21-1), which needed to score late in last year's championship game to beat Clarion, 2-1, wasted little time making a statement it was the best team in the title game this year scoring three first-inning runs off Coudersport starter Madison Smith knocking Smith from the game after just an inning.
Jordy Frank started the scoring with a one-out solo home run, and Ashley Wruble followed with a ball that hit off the top of the wall that Heigel said may have been the hardest hit ball of the inning. Freshman Shay Gulvas then connected on a two-run home run making it 3-0 DCC.
"I think (scoring early) relaxed our team, but more importantly, I think it concerned Coudersport a little more. I've been on that side, when you aren't quite certain you can play with the other team. If you let a team stay in the game and let them play with you for two, three or four innings, the confidence grows and they start to think they can beat you.
"But when two of the first five batters hit home runs and a third hits the top of the fence, I think it had an impact on (Coudersport's) attitude towards us. I think we were confident (when we scored), but I think there was more of an impact on how they felt."
If the three early runs didn't impact the Lady Falcons, the pitching of Assalone sure did.
The four-year starting pitcher had some ups and downs early in the year, but she has locked it down as of late and was dominant against Coudersport Thursday throwing a four-hit shutout striking out 12 and walking none while hitting a batter.
"Riley was phenomenal," Heigel said. "She was hitting spots inside and outside. Whatever I called, she hit both yesterday (in a semifinal win over Elk County Catholic) and today. Her rise ball, her curveball and her screwball, she was placing them where they needed to be. She was dominant. I'm hoping she can continue that for the next four games."
After the rough first inning, Coudersport (15-5) replaced Smith with Shaelyn Black, and Black held DCC's offense in check for the first three innings she worked.
But the Lady Cardinals got to her in the fifth when they scored three runs before adding three more against her in the sixth.
"She threw harder than the first pitcher," Heigel said. "But we caught up to her in the fifth. Once the lineup turned over and everyone saw her a second time, they were catching up to her."
Macey Hanes started the fifth with a triple and scored on a sacrifice fly to the first baseman by Frank. Wruble then walked with two outs, and Gulvas picked up her third RBI with a single making it 5-0. Gulvas later scored on an Alyssa Bittner single.
Gulvas has been a big time player in her first year with DCC and played an instrumental role in the title game going 2-for-4 with the home run, two runs scored and three RBIs.
Heigel credited his four seniors – Frank, Assalone, Hanes and Libby Maurer – with the development of the younger kids.
We are really, really, really fortunate to have the four seniors we have to set the tone," Heigel said. "They practice really hard, and they work in the offseason really hard in the weight room. The weight room is a big deal. No one talks about that. We spend a lot of time in the weight room in the offseason starting in the summer then in the fall and in the late winter. We work a lot on our core and on our arms and wrists for bat speed. Our senior class sets the tone in the weight room and it carries down not just in the weight room but in practice and game preparation."
It also helps when one of those seniors – Frank – is one of the top offensive threats in the district.
Frank, who is headed to St. Francis (Pa.) next year to continue her softball career, had a strong title game as well going 2-for-3 with the home run, two runs scored and four RBIs.
Two of those RBIs came on a two-run single in the sixth that made it 8-0, and she scored her second run on a double by Assalone, who helped herself out by going 2-for-4 with an RBI.
Both teams move into the PIAA playoffs.
DCC will take on the third-place team out of the WPIAL, Carmichaels, while Coudersport plays District 6 runner-up Claysburg-Kimmel. Both of those games will be Monday at sites and times to be determined.
DUBOIS CENTRAL CATHOLIC 9, COUDERSPORT 0
Score by Innings
Coudersport 000 000 0 – 0
DuBois CC 300 033 x – 9
COUDERSPORT – 0
Joplins Osgood ss 3010, Chelsey Streich 3b 3000, Macy Gleason c 3000, Shaelyn Black 1b/p 3000, EmmaRae Easton 2b 3020, Madison Smith p 1000, Erica Williams 1b 2000, Stephanie Fry dp 3010, Tori Miller rf 0000, Annie Chambers lf 1000, Katiejo Pekarski ph 1000, Emma Powell cf 3000. Totals 26-0-4-0.
DUBOIS CENTRAL CATHOLIC – 9
Macey Hanes cf 4210, Jordy Frank c 3224, Riley Assalone p 4021, Ashley Wruble 2b 2210, Shay Gulvas ss 4223, Libby Maurer 3b 4010, Alyssa Bittner 1b 3011, Maia Cogley dh 2110, Maddie Nasuti lf 0000, Sabrina Spencer rf 2000, Jody Koso ph 1000. Totals 29-9-11-9.
LOB: Coudersport 6, DCC 7. Errors: Coudersport 2, DCC 0. 2B: Wruble. 3B: Hanes, HR: Frank, Gulvas. SB: Maurer, Hanes, Frank. SF: Frank. HBP: Chambers by Assalone, Bittner by Black, Maurer by Black
PITCHING
Coudersport
Madison Smith 1 IP, 3 H, 3 R, 3 ER, 0 BB, 1 K, 0 HP
Shaelyn Black 5 IP, 8 H, 6 R, 4 ER, 4 BB, 4 K, 2 HP
TOTALS: 6 IP, 11 H, 9 R, 7 ER, 4 BB, 5 K, 2 HP
DuBois Central Catholic
Riley Assalone – 7 IP, 4 H, 0 R, 0 ER, 0 BB, 12 K, 1 HP
Winning pitcher: Assalone
Losing pitcher: Smith