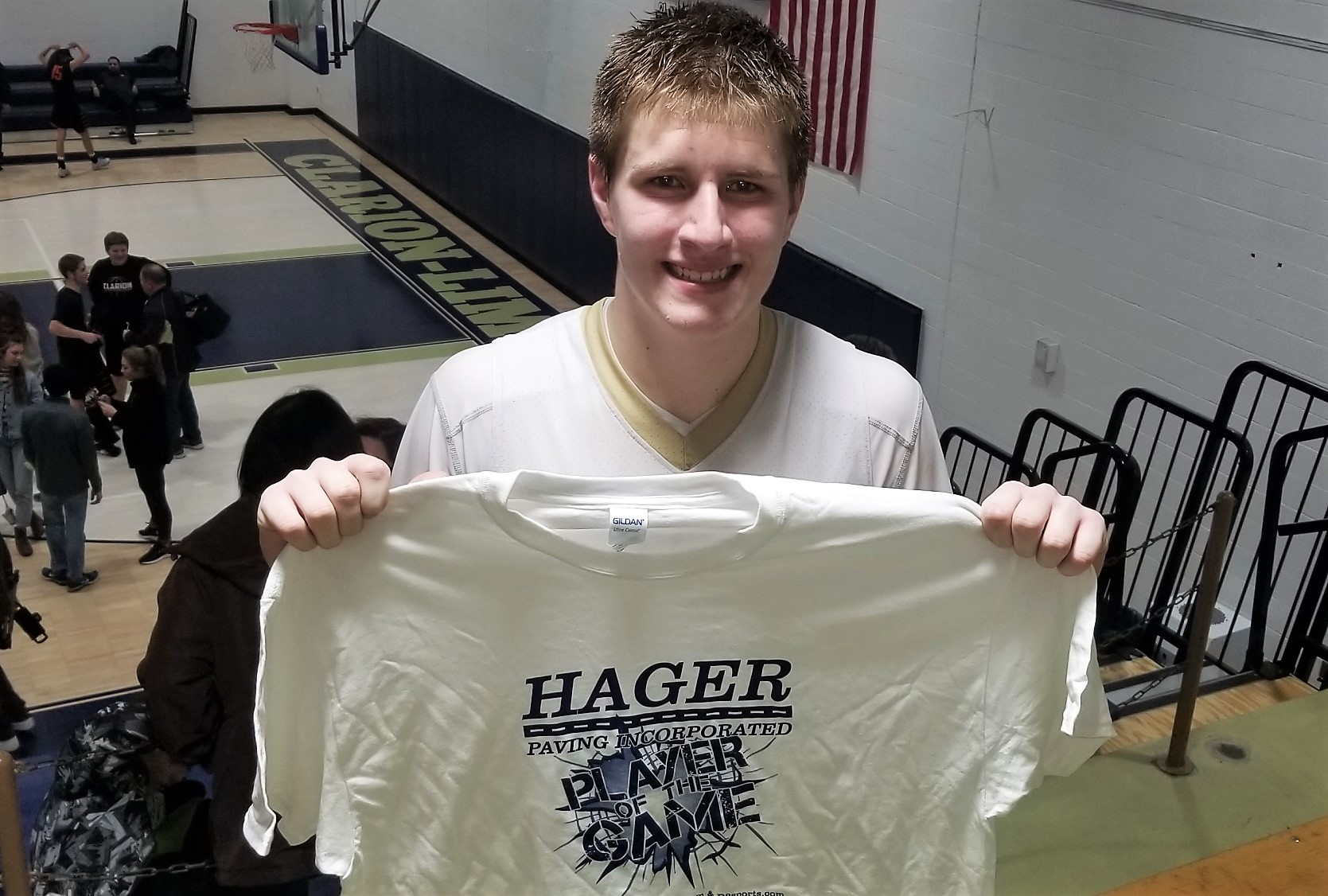 Dec. 12 boys' basketball recaps.
(Photo of C-L's Curvin Goheen)
CLARION-LIMESTONE 71, CLARION 62
STRATTANVILLE, Pa. – A 17-0 first-half run helped Clarion-Limestone knock off visiting Clarion, 71-62, in the KSAC North opener for both teams.
Curvin Goheen had a double-double for the Lions with 13 points and 16 rebounds and talked about the victory.
Relisten to the game:
Also for the Lions, Deion Deas had a game-high 22 points with Julian Laugand also adding 13 points and Hayden Callen 10.
For Clarion Cal German and Josh Craig each scored 13 points with Nick Frederick adding 10.
KEYSTONE 51, A-C VALLEY 44, OVERTIME
FOXBURG, Pa. – Troy Johnson scored seven of his team-high 14 points in overtime as Keystone withstood a late charge from A-C Valley to pick up a 51-44 road KSAC South victory.
The Panthers seemed in complete control of the game going to the fourth quarter up 11, 38-27, but A-C Valley behind four points apiece from Eddie Stevanus and Levi Orton outscored Keystone 13-2 in the eight-minute frame to force overtime.
Stevanus, whose free throw tied the game late in regulation, led all scorers with 16 points with Orton adding 12 and Merwin nine.
Brooks LaVan chipped in 11 points for Keystone with Isaak Jones scoring eight and Dawson Steele seven.
UNION 50, MONITEAU 45
RIMERSBURG, Pa. – Caden Rainey and Truman Vereb combined to score 37 points, as Union used a quick start to defeat visiting Moniteau, 50-45, in KSAC South action.
The Golden Knights, who got 19 points from the freshman Rainey and 18 from Vereb, led 15-2 at the end of the first quarter and held the lead throughout.
Luke Bowser chipped in nine points in the win for Union with Quintin Weaver collecting 10 rebounds.
Ethan McDeavitt paced Moniteau with 12 points, Gage Neal added nine and Bob Matthews eight.
VENANGO CATHOLIC 70, CRANBERRY 59
OIL CITY, Pa. – Ben Gillispie scored a career-high 35 points and added 17 rebounds, as Venango County knocked off visiting Cranberry, 70-59, in a rematch of a game won by Cranberry Saturday in a tournament at Rocky Grove.
Andrew Burda added 14 points for the Vikings in the KSAC North opener while Parker Slagle scored 11 points.
JT Stahlman paced Cranberry with 18 points, Preston Forrest added 14 and Dan Fisher and Brandon Forest each scored nine.
KARNS CITY 83, REDBANK VALLEY 59
NEW BETHLEHEM, Pa. – Big nights from Austin Fahlor and Chase Beighley gave Karns City an 83-59 KSAC South road win over Redbank Valley.
Fahlor tickled the twine for a game-high 29 points with Beighley adding 23 points and six assists. Nathan Waltman added a double-double with 13 points and 13 rebounds, and Ethan McElroy chipped in nine points.
Keaton Kahle had a team-best 22 points for Redbank Valley with Chris Marshall and Tanner Kerle each adding 11 points.
NORTH CLARION 71, FOREST AREA 33
TIONESTA, Pa. – Thirren different North Clarion players played and scored as the visiting Wolves rolled to a 71-33 win over Forest Area at West Forest.
Logan Minich and Kyle Mills each scored 11 points to lead North Clarion with Zyler Hargenrader chipping in nine points and Korey Mills seven.
Noah Burke tied for game-high honors with 11 points for Forest Area.
BROCKWAY 58, KANE 40
BROCKWAY, Pa. – Led by 12 points apiece from Noah Adams and Matthew Clark, Brockway topped visiting Kane, 58-40.
Alec Freemer added 11 points and Zane Puhala 10 for the Rovers.
Zuke Smith and Alex Rezzelle each scored 10 points for Kane.
CLEARFIELD 73, BALD EAGLE AREA 48
HYDE, Pa. – Cade Walker and Karson Rumsky each scored 23 points to lift Clearfield to a 73-48 Mountain League home win over Bald Eagle Area.
Walker added six rebounds in the victory for the Bison while Kegan Hess had an all-around solid game with 11 points, five rebounds, four steals and four assists.
Jaden Jones led Bald Eagle Area with 20 points with Andrew Bucha adding 15 points.
RIDGWAY 68, ST. JOSEPH'S CATHOLIC ACADEMY 61
RIDGWAY, Pa. – Matt Dush scored 19 points to lead Ridgway to a 68-61 win over visiting St. Joseph's Catholic Academy.
Jake Reynolds added 16 points for the Elkers with Zack Zameroski adding 12 and Will Thompson 10.
Cameron Khoza and Jack Mangene each scored 16 points for St. Joseph's.
OSWAYO VALLEY 52, FRIENDSHIP CENTRAL (N.Y.) 23
SHINGLEHOUSE, PA. – Noah Wichert led a balanced Oswayo Valley offensive attack with 10 points, as the Green Wave topped visiting Friendship Central (N.Y.), 52-23, to give first-year head coach Nick Goss his first win.
Daytona Tilley added nine points for Oswayo Valley with Michael Welch, Honor Gross and Carter Steadman each scoring eight points.