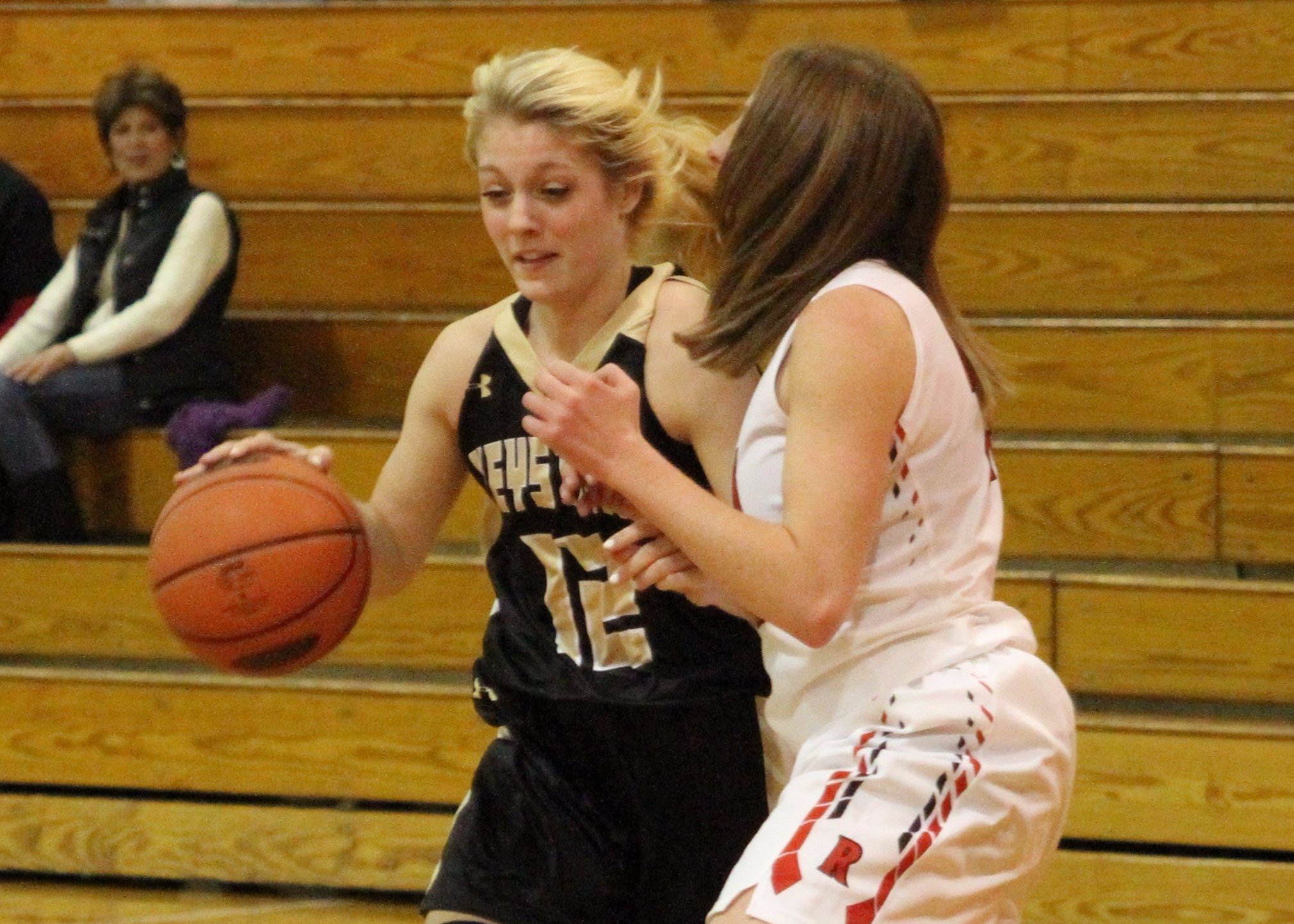 GIRLS
KEYSTONE 62, REDBANK VALLEY 51
Read complete story on ExploreClarion.com
NEW BETHLEHEM, Pa. – Taylor and Josselin Geer each scored 21 points to lead Keystone to a 62-51 win at Redbank Valley in a key early-season KSAC South contest Tuesday night.
The Geers, who are not related, were solid throughout the night but were at their best in the fourth quarter with Taylor scoring nine points and Josselin seven to help Keystone break open a 3-point, 47-44, game early in the quarter and turn it into the double-digit victory.
"We work well together," Taylor Geer said. "We try our best to stick up for our team and help lead. We are there for each other. So, that's nice."  
Amber Hess added 15 points for the Lady Panthers, while Brooke Hinderliter led all scorers with 25 points for Redbank Valley while adding eight rebounds. Becca Dougherty chipped in with nine points and Lexi Holt seven.
NORTH CLARION 58, CLARION 32
FRILLS CORNERS, Pa. – Behind 23 points and 13 rebounds from Abbie Schmader, North Clarion sent  loud and clear message that it's the team to beat in the KSAC North this season with a 58-32 win over visiting Clarion.
The She-Wolves jumped out to a 29-19 halftime lead behind 10 points from Schmader and six from Tori Obenrader, who finished with eight points, 13 rebounds and five assists.
Sarah Schettler chipped in seven points for North Clarion, while Gloria Kroh led Clarion with eight points and five rebounds. Anna Reed chipped in four point and five steals, while Alexis Constantino had seven points for the Lady Cats.
KARNS CITY 46, MONITEAU 31
KARNS CITY, Pa. – Three Karns City players scored in double figures to lead the Lady Gremlins to a 46-31 win over visiting Moniteau in an early-season showdown between two of the top teams in the KSAC South Tuesday night.
LeeAnn Gibson scored 15 points to pace KC, while Emily Hegedus had 14 and Alyssa Gibson 11.
Moniteau, which turned the ball over 35 times, were led by Alazia Greaves' 10 points. Emma Bair added eight points and Kristina DeMatteis had seven.  
CRANBERRY 55, FOREST AREA 15
TIONESTA, Pa. – Hannah Duncan and Bree Swartzfager combined to score 24 points to lead Cranberry to a 55-15 win over Forest Area at West Forest Tuesday night.
Duncan netted a game-best 14 points on seven baskets with Swartzfager chipping in with 10 points. Emily Kahle added seven and Morgan Powers and Tamaria Flinspach each scored six as nine different Berries scored.
Cranberry jumped out quickly and led 17-3 at the end of the first quarter and 31-6 at halftime.
Morgan Silvis led Forest Area with six points.
VENANGO CATHOLIC 46, CLARION-LIMESTONE 41
STRATTANVILLE, Pa. – Ava Homan scored 22 points to help Venango Catholic escape an upset bid by Clarion-LImestone, 46-41, Tuesday night at C-L.
Homan scored 10 of her points in the fourth quarter and added 16 rebounds, three assists, four steals and one block.
Sarah Groner added six points and 13 rebounds.  
Paige Aaron led C-L with 17 points while five hitting five 3-pointers and Josie Stitt scored 15 points to go with 12 rebounds.
C-L trailed 44-41 with 9.7 seconds left when Homan came away with a steal, was fouled and hit two free throw to seal the win.
ST. MARYS 51, PORT ALLEGANY 46
PORT ALLEGANY, Pa. – Rachel Bauer netted 18 points while hitting four 3-pointers to beat Port Allegany, 51-46, Tuesday night at Port Allegany Tuesday night.
The Lady Dutch trailed 35-31 going to the fourth quarter but outscored Port Allegany 20-11 in the quarter behind 10 Rachel Armanini points. Armanini scored 11 in the game, while Caitlyn Bankovich added 10 points and 15 rebounds. Armanini added six boards and Bauer five.
Autumn Buchsenschutz led all scorers with 34 points  
BOYS
ELK COUNTY CATHOLIC 63, DUBOIS 53
ST. MARYS, Pa. – Nate DaCanal scored 31 points to lead Elk County Catholic to a 63-53 win over visiting DuBois in D9 League action.
DaCanal scored 20 points in the second half including 12 in the third quarter to help the Crusaders outscored DuBois 36-26 in the second half. The game had been tied at 27 at the break.
Gabe Kraus added 14 points for ECC.
Zach Sloan scored 17 points with John Oberlin and Bradyn Schwabenbauer chipped in 11 points each.   
MOSHANNON VALLEY 79, CURWENSVILLE 46
CURWENSVILLE, Pa. – RJ Olson scored 10 points, but Curwensville feel to visiting Moshannon Valley, 79-46, in Moshannon Valley League play Tuesday night.
Noah Strickland and Zach Marshall each added eight points for the Golden Tide.
COMMODORE PERRY 46, CRANBERRY 41
SENECA, Pa. – Ben Zerbe netted 12 points and Evan Lutz added 11 but Cranberry dropped  46-41 decision to visiting Commodore Perry Tuesday night.