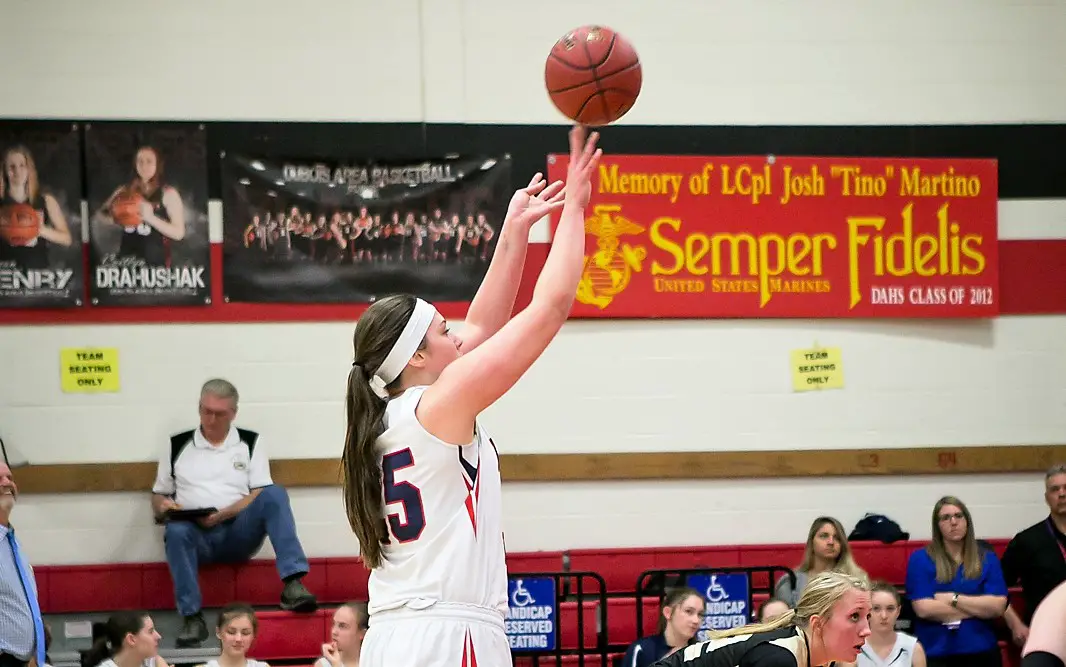 Dec. 17 girls' basketball recaps.
(Photo of Kane's Ella Marconi. Marconi had 24 points in the Lady Wolves overtime win over ECC and had the assist on Hannah Buhl's game-winning 3-pointer. Photo by Tessa Boschert. Check out more of Boschert's work here)
KANE 57, ELK COUNTY CATHOLIC 54, OVERTIME
KANE, Pa. – Hannah Buhl's 3-pointer from the top of the key with six seconds left in overtime lifted Kane to a 57-54 win over visiting Elk County Catholic in AML action.
With the score tied at 54, Buhl brought the ball up court and dished it off to Hannah Brocon who dumped it inside to Ella Marconi. Marconi then fed it back to Buhl at the top of the key, and she calmly buried the game-winning shot.
Watch Buhl's winning shot. Video courtesy of Terry Dreihaup.
ECC trailed 37-32 going to the fourth quarter but rallied to tie the game at 47 thanks in large part to three 3-pointers from Sady VanAlstine, who finished with six 3-pointers and 20 points.
But in overtime, Kane got four points from Marconi and three apiece from Buhl and Emily Bucheit to outscore ECC 10-7 and get the win.
Marconi led Kane with 24 points and 10 rebounds with Bucheit adding 16 points and five boards and Buhl nine points and six assists.
Taylor Newton added a double-double for the Lady Crusaders with 24 points and 14 rebounds.
CLEARFIELD 57, BROOKVILLE 53
HYDE, Pa. – Alayna Ryan scored 26 points as Clearfield stunned visiting Brookville, 57-53.
The Lady Bison had lost to Brookville by 24, 54-30, Dec. 7 at Brookville but used a fast start to turn the tables on the Lady Raiders 10 days later.
Clearfield led 20-12 at the end of the first quarter and 32-25 at halftime before holding off a second-half charge by the Lady Raiders.
Tesa Miller added nine points, 14 rebounds and four blocked shots for the Lady Bison with Megan Durandetta adding 12 points on four 3-pointers.
Morgan Johnson had a team-high 21 points for Brookville with Marcy Schindler adding 12 points.
The Lady Raiders lost despite going a perfect 13 of 13 from the free-throw line.
A-C VALLEY 51, BROCKWAY 28
FOXBURG, Pa. – Led by 14 points from Cami McNany, A-C Valley had four players score in double digits in a 51-28 win over visiting Brockway.
Olivia Boocks added 13 points for the Lady Falcons with Kylee Eaton and Rachel Cullen each scoring 11.
Morgan Lindemuth paced Brockway with seven points.
DUBOIS 39, CENTRAL MOUNTAIN 32
MILL HALL, Pa. – Chelsea DeSalve scored 14 points to help visiting DuBois to a 39-32 win over Central Mountain.
Maddie Smith and Taylor Smith each added seven points in the win for the Lady Beavers.
Avery Baker led Central Mountain with nine points on three 3-pointers.
JOHNSONBURG 51, BRADFORD 42
JOHNSONBURG, Pa. – Getting all its scoring from four players, Johnsonburg knocked off visiting Bradford, 51-42.
Rylee Casilio led the Ramettes with 15 points, Cassidy King added 14 points and nine assists, Mario Jones chipped in 12 points and Lindsey Kocjancic had 10 points and nine rebounds.
Hannah Lary led Bradford with a game-high 16 points and Kelcie Moffett added 11 tallies.